"The Stack" 4-24-20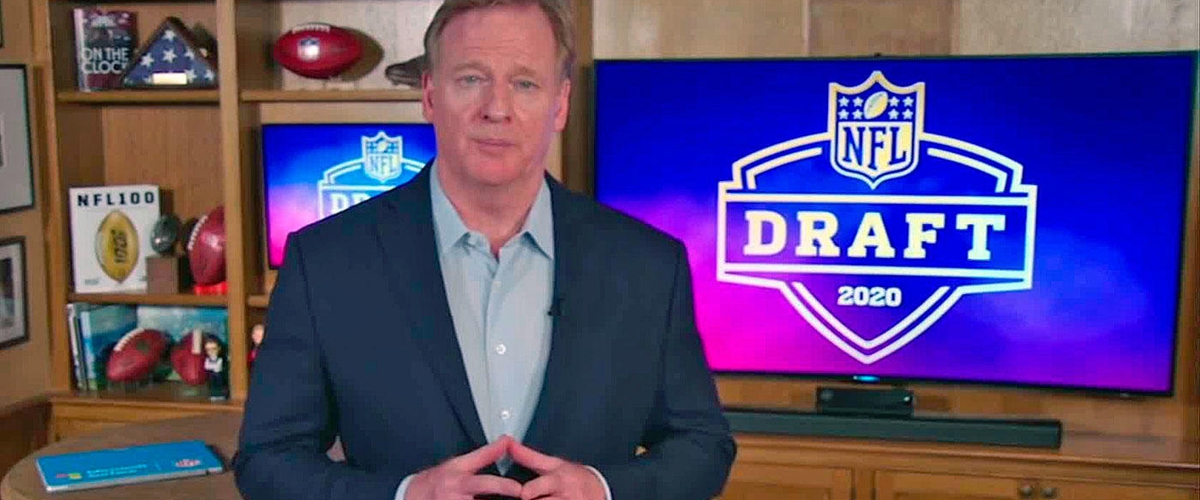 NFL Commissioner Roger Goodell made the picks from his basement and apart from awarding Las Vegas the 2020 NFL Draft when he meant to say 2022, the first round of the NFL Draft and the telecast went off without any significant issues. It was a jam packed night!
The Stack is back on this Friday and that was an interesting first round of the NFL Draft. Interesting on several fronts. Some of the picks that were made were surprising. The relative chalk of the first round was surprising. The lack of trades. All surprising. We have reaction to the first round so let's get right to "the stack" for today, Friday, April 24th:
2020 NFL Draft first round reaction
There were absolutely no surprises with the first two picks. Joe Burrow to the Cincinnati Bengals and Chase Young to Washington were expected to happen. It would have been a major upset had it not happened.
For all of the talk that Detroit was trying to trade out of the third pick, it didn't happen. It's all smoke and mirrors apparently. In fact, there were no trades in the top ten picks. That hasn't happened for at least a few years I believe. The Miami Dolphins were apparently trying get the third pick so they could package the third and fifth pick to the Bengals to acquire the top pick. It didn't happen. In fact, it appears that it was never even a consideration. The Dolphins didn't try to do it according to some people. It would have taken more than two top five picks to land the top pick though, I can tell you that. The Dolphins stood pat at 5 and took Tua Tagovailoa who they have liked for a long time. The doctors gave the team the thumbs up. That was good enough for them. They are getting a great quarterback. Hopefully he stays health. The Los Angeles Chargers were really hoping Tua would fall to them, but they followed the Tua pick with Oregon QB Justin Herbert. That's fine and he can sit and learn behind Tyrod Taylor. The Chargers needed to draft a quarterback. They need a star for the new L.A. stadium.
There were really no surprises in the top ten. Andrew Thomas being the first offensive tackle taken (#4 by the Giants) is a little surprising, but the top offensive lineman are all close enough to one another that it wasn't shocking. Cornerback C.J. Henderson sure looked excited to go the Jacksonville Jaguars at number nine….NOT! He's a very solid corner though and the Jaguars added another stellar defensive piece in K'Lavon Chaisson, the edge player from LSU with pick 20. That defense is going to be solid here in relatively short time.
The Kansas City Chiefs have a pretty unstoppable offense. The speed with Sammy Watkins and Tyreek Hill and Mecole Hardman is undeniable. So the Oakland Raiders, in honor of their late owner Al Davis who loved speedy players, took the fastest wide receiver in the draft in Henry Ruggs III. The Denver Broncos took Jerry Jeudy. If you can't stop them, join them. The Dallas Cowboys offense may be the Chiefs of the NFC. Somehow, some way, Oklahoma wide receiver CeeDee Lamb fell into their laps. Pair him with Amari Cooper and Michael Gallup, not to mention Ezekiel Elliott and Dak Prescott has an arsenal of weapons at his disposal. The Cowboys offense is going to be really good.
The Minnesota Vikings hit homeruns with their picks. LSU wide receiver Justin Jefferson falling to them at pick 22 was a gift and they got an absolute steal in him. What a great wide receiver. They were able to trade down to the second to last spot in the first round and get a cornerback they coveted in Jeff Gladney. Plus they picked up a couple of more draft picks. Well done. Well done, Vikings.
Tampa Bay must have felt spooked that someone was going to jump ahead of the San Francisco 49ers since the 49ers said the 13th pick was open for business so they jumped up one spot to take arguably the best tackle in Tristan Wirfs from Iowa. It cost them a fourth round pick, but that appears to be fine for the Bucs. The 49ers in return used that fourth round pick and sent a fifth round pick to the Vikings to move up from 31 to 25 to take Brandon Aiyuk, the wide receiver from Arizona State. The New England Patriots traded out of the first round. What a shock, Bill Belichick! The Los Angeles Chargers jumped back into the first round with the Patriots to take Oklahoma linebacker Kenneth Murray. It cost them 2nd and 3rd picks, but they're okay with that.
Then we get to the Green Bay Packers. The Packers traded up from the 30th pick to Miami's 26th pick. What could they be looking for? A wide receiver? A linebacker? A tight end to give Aaron Rodgers another weapon? Oh, they drafted Aaron Rodgers replacement? That's fine. Wait, WHAT?! Yes, Jordan Love, a quarterback from Utah State that some have said have certain comps to hall-of-famer Patrick Mahomes was drafted by the Packers. The trade and selection happened 15 years to the day that Aaron Rodgers was taken by the Packers to eventually replace Brett Favre. Love is a project, but the Packers obviously see him eventually taking over for Rodgers at some point. It won't help them now (which is good for Vikings and Bears fans…okay and you too Lions fans), but this has the chance to be a stellar pick for the Packers down the line. I'm worried.
Finally, we get to some of the picks that quite frankly just didn't make a lot of sense. Clemson cornerback A.J. Terrell is good, but taking him at 16? That's bold Atlanta. The need is obvious, but the player at that spot doesn't match. USC offensive tackle Austin Jackson is a great story and can be a really good football player, but he will take a little bit of time and the Dolphins need offensive line help now. I think Houston's Josh Jones or Boise State's Ezra Cleveland may have been a better pick. The Philadelphia Eagles had Justin Jefferson right in their laps and chose TCU wide receiver Jalen Reagor instead. Kind of curious. The New Orleans Saints could have chosen Jordan Love, but decided not. Not a good choice. Some defensive help or maybe another wide receiver would have been helpful. No, they went with Michigan center Cesar Ruiz. Just not sure that was the pick that they needed to make there. And then Seattle at 27 taking Texas Tech linebacker Jordyn Brooks when offensive or defensive lineman help would have been a better choice was…interesting.
There are a number of good players still available in the 2nd and 3rd round which starts tonight at 7 PM ET on ESPN, the NFL Network and ABC. It's going to be a great night.
Coming up Monday: Final NFL Draft thoughts & reaction