"The Stack" 4-26-19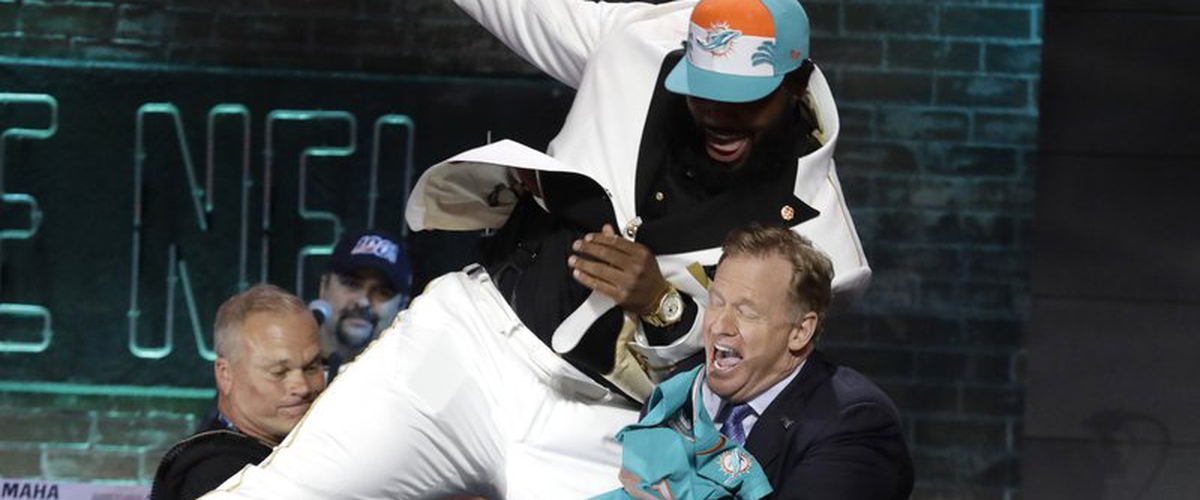 Christian Wilkins was maybe a little too excited when NFL Commissioner Roger Goodell called his name #13 overall. He nearly knocked the commissioner over in one of the more memorable moments of the night from Nashville.
The Stack is back on this Friday and I (we) thought we would see some very unexpected moves and lots of excitement in the first round of the NFL Draft. While there were some eyebrow raising moves, it didn't have as much movement as I thought there would be. We'll react to it all plus update you on what happened in the NBA and NHL Playoffs last night in "the stack" for today, Friday, April 26th:
NFL Draft round one reaction
To all but a few people's surprise, the Arizona Cardinals did draft Oklahoma quarterback Kyler Murray number one overall. It is the first time that the same school has had quarterbacks drafted number one overall in consecutive seasons.
The first major surprise was at four with, you guessed it, the Oakland Raiders who selected Clemson defensive end Clelin Ferrell. Ferrell is very good, but fourth overall good? I don't think so. Not with Josh Allen and Ed Oliver still available. Very Raider-like move.
The next surprise was only a couple of picks later when the New York Giants took Duke quarterback Daniel Jones at pick number six. His stock really skyrocketed in recent weeks and the links to the Giants have been well-established, but taking him at six when he more than likely would have been available at pick # 17, that is a bit of a stretch. Speaking of quarterbacks, how Washington was able to stand pat and land Ohio State quarterback Dwayne Haskins at pick #15 is beyond me. I thought they would have trade up to get him. For him to fall into their laps is amazing. Not sure if this franchise deserves it, but oh well.
Houston defensive tackle Ed Oliver ended up in Buffalo at pick number nine. Good pick for them. Denver then at ten didn't take quarterback Drew Lock (he is still available as we head into Friday night). They traded the pick instead to Pittsburgh who took Michigan linebacker Devin Bush. The pick fills a big hole in the Steelers defense, but it is a costly one for them as they gave up next year's first round pick and a couple of other picks this year. That's a steep price for a team that is not likely to win the division. Denver, picking at 20, took Iowa tight end Noah Fant. That's a good get for a team with Joe Flacco as their quarterback. Flacco loves his tight ends. Fant's teammate, T.J. Hockenson, was drafted number eight overall by Detroit.
There were a lot of offensive lineman that started to go. The Atlanta Falcons took guard Chris Lindstrom at pick #14 and then traded back into the first round to take Washington offensive tackle Kaleb McGary at pick #31. Protecting Matt Ryan appears to be the goal.
Oh yeah, and the moment of the night came courtesy of Clemson defensive tackle Christian Wilkins. After being drafted #13 overall by the Miami Dolphins, when he got on stage he jumped into Commissioner Roger Goodell. Goodell fortunately did not fall and didn't take the brunt of the fall, but it was still a pretty cool and entertaining moment.
There were a number of trades in the latter half of the first round. Green Bay traded up from 30 to 21 to take safety Darnell Savage Jr. from Maryland. Philadelphia jumped ahead of Houston at pick 22 to take Washington State offensive tackle Andre Dillard. That is a good move by the Eagles. Washington traded back into the first round and took Mississippi State defensive end Montez Sweat. Assuming his heart condition is okay, that is going to be a good move.
It was the Oakland Raiders and New York Giants who ultimately stole the show though. They each had three first round draft picks. We knew the Raiders had three picks and they used them all getting Ferrell, Alabama running back Josh Jacobs and Mississippi State safety Johnathan Abram. In addition to Jones, the Giants landed Clemson defensive tackle Dexter Lawrence and then traded back up into the first round at pick #30 and took Georgia cornerback Deandre Baker. It helps fill a void in the secondary, but I'm still not sure if the anyone really know what the Giants are doing. Their fans certainly aren't happy.
Expect a run on wide receivers and secondary players in the second round. It is going to be a fun night tonight. Lots of good players still available. Enjoy it everyone!
NBA and NHL Playoff results
Only one game in the NBA Playoffs last night and as a result of the result, we will get our only game seven of the first round. San Antonio stayed alive, beating the Denver Nuggets somewhat handedly 120-103. Game seven is Saturday in Denver. I'll take Denver, but it won't be easy.
On the ice, the second round of the NHL Playoffs began and Columbus suffered their first loss of the playoffs. Trailing 1-0 in the third period, they scored two goals in a 13 second span only to see Charlie Coyle score one of his two goals to tie the game 2-2. Coyle's second goal would be the game-winner in overtime as Boston won 3-2 to take a 1-0 series lead. In St. Louis, it was the Blues who took a 1-0 series lead over the Dallas Stars thanks to a 3-2 victory. The Blues were able to win in regulation and never trailed in the game. Vladimir Tarasenko scored two goals. There will be more good games on the ice this weekend. I can just about guarantee it.
Coming up Monday (hopefully): NFL Draft reaction plus reaction to other top stories in sports
Listen to this week's "The Sports Block" podcast here.