"The Stack" 4-6-18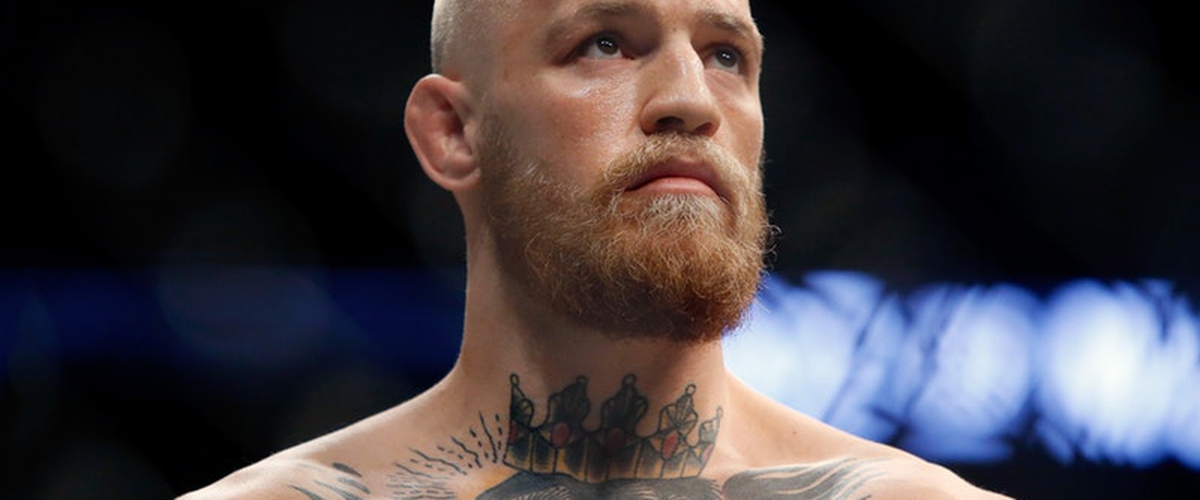 Conor McGregor went berserk yesterday, crashing a UFC media session at the Barclays Center causing damage and assaulting several fighters. Whatever he gets charged with and however many lawsuits he gets slapped with won't be enough for this waste of time.
*Warning: Some strong language contained in today's blog.*
The Stack is back on this Friday and we don't have a whole lot to talk about, but boy am I go to unleash the fury on Conor McGregor. Though I will be a bit of a hypocrite in writing about him, this guy is just the biggest turd in the punch bowl you can possibly find so let's get right to it and see what's in "the stack" for today, Friday, April 6th:
Spieth in the lead after day one of the Masters
Stop me if you have heard of this one before. Jordan Spieth is leading at Augusta National. It's true, Spieth played a very brilliant round in shooting six under (-6), holding a two stroke lead over Tony Finau and Matt Kuchar. Wait, Finau sounds familiar. I've heard of him before. That's right, you have. He's the guy who got a hole-in-one during the par 3 competition on Wednesday and while celebrating dislocated his ankle and popped it back into place. For him to be playing is remarkable let alone shooting four under (-4) and being two strokes off the lead. That's downright almost a miracle.
A lot of players in the 87-man field played well though on Thursday. Rory McIlroy, a favorite to win by many, finished at three under (-3). Ricky Fowler and Phil Mickelson are each two under (-2). Don't underestimate Phil winning this tournament though I feel like most people wouldn't keel over of shock if Lefty won another green jacket.
Then there is Tiger Woods. Woods finished one over (+1). It was a mixed bag on the first nine and then he ran into issues on Amen Corner on the back but rallied with two birdies on 14 and 16 to finish at just one over par. All things considered it was a good round for Tiger. He is seven strokes off the lead, but he can certainly make a comeback. The key will be his driving. He must be accurate. If he's not, oh boy.
The saddest we saw on Thursday had to be poor Sergio Garcia. Your defending Masters champion threw up a 13 on the par 5 15th. He hit five balls in the water. Are you kidding me?! As Andy North said on ESPN, Garcia puts a lot of spin on his wedge shots and where they were hitting on the green, the back spin was too much and it rolled off the green, down the ridge and into the water. We've seen guys like Ernie Els struggle with the putter on a hole, but for déjà vu to happen over and over and over again to Garcia hitting the exact same shot, that was something else. This is something he won't be able to overcome. Today's action should be really exciting and we'll find out who is moving on moving day before going into the weekend.
Conor McGregor commits assault, makes ass of self at Barclays Center
I can't believe I am writing about UFC, but when stuff happens like what went down at the Barclays Center in New York yesterday, it's impossible not to mention something. There is no holding back on this one. I've never like Conor McGregor. I find him to be an abrasive, arrogant asshole. I don't find him entertaining. I find him to be a foul human being. I don't give two sh**s that he is a great fighter. The guy is not a role model in any shape or form. That was on full display yesterday when he crashed a media session ahead of UFC 223. McGregor had been stripped of his title defense in the weight division because he hasn't fought since 2016. Seems like a decent enough reason. Not to him. He threw a dolly at a bus causing lacerations to Khabib Nurmagomedov I believe thanks to the window breaking. He threw a guard rail as well. What was the most alarming thing about the video is that it didn't seem like a lot of people were trying to stop McGregor or restrain him.
A lot of damage was done. So much damage in fact that the UFC has removed three fights from the card this Saturday. UFC President Dana White called what happened the most disgusting thing in UFC history. He's right. He also said there will be a lot of lawsuits filed against McGregor. I hope he is right with that statement as well. McGregor has been caught by police and is in custody. White deserves blame as well for not doing anything prior to perpetuate McGregor and to make him a famous fighter. He's made money off McGregor no doubt. What McGregor did though was outright disgraceful. Was he on something? That would certainly explain his behavior. If he wasn't though (and I'm hoping that's the case), then good. Get this man out of our sights. He is scum. He is garbage. A pile of shit. Yes, I am talking about him which makes me a bit of a hypocrite, but this man does not deserve the fame and fortune and the spotlight any longer. Sue the pants off him, make him pay for his crime and then discard him into the gutter somewhere or send him back to Ireland where we will not have to hear from this POS ever again. There is no defending what McGregor did. Get the hell out McGregor. You're the worst of the worst of the worst.
Coming up Monday: Masters reaction, what the NHL Playoffs would look like if they matched up 1-16 and other headlines from the world of sports
---