"The Stack" 5-2-18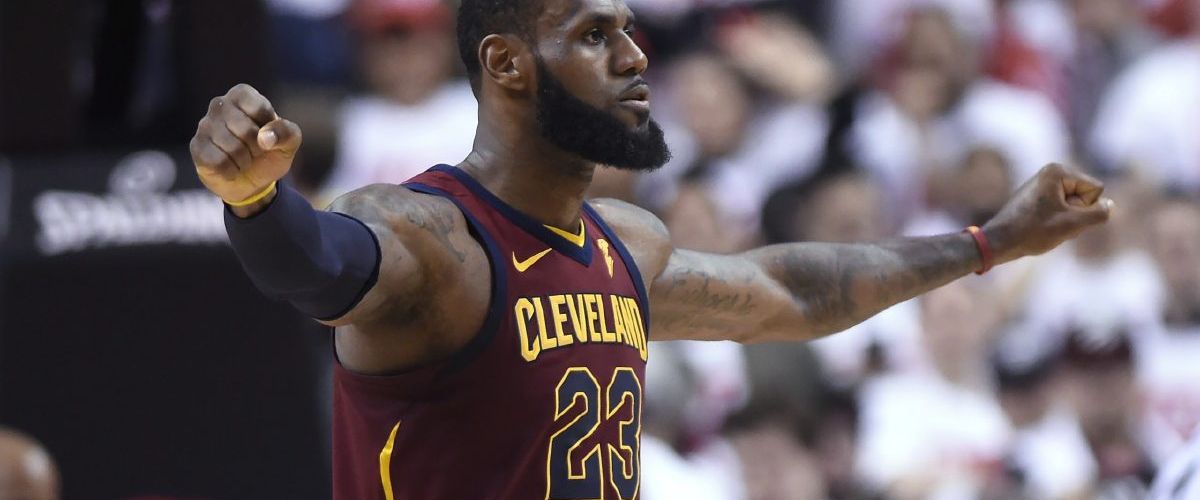 LeBron James recorded another triple-double and the Cavs battled all the way back to hand the fragile Toronto Raptors a devastating loss. This series is over as far as I'm concerned.
The Stack is back on this Wednesday and boy did we have some great playoff games last night on the court and on the ice. Let's get to some reaction right now in "the stack" for today, Wednesday, May 2nd:
Cavs rally to take game one over Raptors, Warriors up 2-0 on Pelicans
Stop me if you've heard this one before…the Toronto Raptors choked in a playoff game. Oh you have heard of that huh? Well it happened again last night with the Raptors ahead comfortably in the fourth quarter. That's when they decided to go ice cold from the floor and miss just about everything they put up including their last eleven shots (normally this would be where I would say they shot so many bricks they built a house, but I won't go there) allowing the Cleveland Cavaliers to come back and force overtime. Really it was primarily LeBron James. He is the Cavaliers after all. James was once again great and this time he had a little help. He recorded another triple-double with 26 points 11 rebounds and 13 assists. About the only things he didn't do well were shooting from the foul line (1 of 6) and from three point range (1 of 8). J.R. Smith helped by making five of six from beyond the arc and finishing with 20 points and Kyle Korver chipped in as well with 19, but James is the primary reason why they were even in the game. This series is over. The Raptors are a fragile team psychologically. Losing that game at home with the lead they had and shooting as poorly as they did in the fourth quarter and overtime, I don't see them coming back. They absolutely blew it. Same old Raptors.
In the Bay Area, Golden State welcomed Steph Curry back, but it wasn't nearly as easy a game as what they had in game one. All five starters were in double figures for the New Orleans Pelicans and they were in this game from start to finish. You can maybe thank Klay Thompson's terrible shooting night for the reason why this game was so close. He was 4-for-20 from the field including 2-of-11 from three point range. Curry came off the bench and scored 28 points in 27 minutes so any potential rust appears to be gone. He looked pretty, pretty good. Kevin Durant also scored 29 points. The Pelicans may win a game in this series, because they played really well in this game, but it wasn't enough. The Warriors will win this series easily.
Wednesday's NBA Playoff game
Utah Jazz @ Houston Rockets 8 PM ET TNT (Rockets lead series 1-0)
Capitals, Jets take 2-1 series leads
What a night in the NHL Playoffs. The Washington Capitals and Pittsburgh Penguins clearly have no love lost for one another. Tom Wilson delivered a huge hit to Zach Aston-Reese of the Penguins that left Aston-Reese with a broken jaw in the second period. That hit will surely be looked at by the NHL. Don't be surprised if Wilson gets suspended. That was just some of the hard hitting in this game though. After the Capitals jumped out in front 1-0 on a power play goal in the second period, the Penguins scored two goals in less than three minutes to take a 2-1 lead. They would own a 3-2 lead through two, but the Penguins wouldn't score again and they couldn't hang onto the lead. Matt Niskanen scored his first goal on the playoffs five minutes into the third period and then Alex the Great scored with just under two minutes to go to put the Capitals ahead 4-3. They would win by that score. The Capitals had numerous odd man rushes in the third period and all of that pressure in the offensive zone eventually paid off. Big win for the Capitals. We'll see how they look in game four and what the response Pittsburgh will show.
In Winnipeg, you know how you quiet that raucous crowd? Score three goals in the first period. That is exactly what the Nashville Predators did. Boy they looked fantastic in that first period. Unfortunately for them, a hockey game contains minimum three periods and they were outplayed in the last two. The Jets offense came to life in the second period scoring three goals in less than three minutes and by the 14:00 minute mark in the second period we were tied 3-3. Dustin Byfuglien would add the go-ahead goal late in the second period and though the Predators tied it up in the third, the Jets were too strong. Blake Wheeler tallied a power play goal and then an empty net goal and the Jets would go on to win 7-4. Obviously the Predators need to play better in game four or they are going to be in a world of hurt. Pekka Rinne must play better in net too, but this is a team effort and the defense stunk from the start of the second period on. The Predators know they can play better, but Winnipeg is such a difficult place to play. It's going to be tough to take down this tremendously talented Jets team.
Wednesday's NHL Playoff games
Tampa Bay Lightning @ Boston Bruins 7 PM ET NBCSN (Series tied 1-1)
Vegas Golden Knights @ San Jose Sharks 10 PM ET NBCSN (Golden Knights lead series 2-1)
Coming up Thursday: Wednesday NBA and NHL Playoff reaction