"The Stack" 7-12-18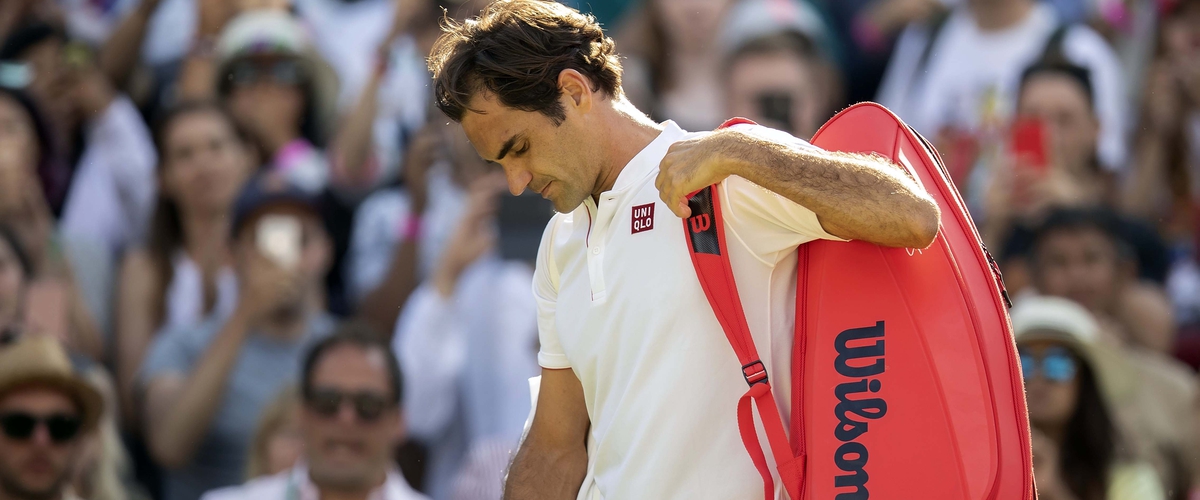 Roger Federer lost in five sets to Kevin Anderson of South Africa in the quarterfinals of Wimbledon. The fifth set was epic with Anderson winning 13-11.
The Stack is back on this Thursday and despite the later post, we are doing much better than, say, Papa John today. He maybe should seek some professional help as well as not blame the NFL on sagging pizza sales. We have a number of topics, but they aren't extensive so it will be a fairly short blog so let's get right to "the stack" for today, Thursday, July 12th:
Croatia tops England, advances to World Cup Final
Things were looking good for jolly ole' England five minutes into their semifinal match with Croatia. A free kick netted them a 1-0 lead. Unfortunately though, England couldn't build on their lead missing on several opportunities and only went in up 1-0 at the half. The second half, for some unbeknown reason, they looked tired. They shouldn't have been. If any team should be tired it would be Croatia whose previous two matches had gone to extra time and penalty kicks. Yet during the second half it was Croatia getting more of the opportunities and applying more pressure on England. Ivan Perisic scored in the 69th minute to tie the game 1-1. The match would go to extra time where Mario Mandzukic high kicked a beautiful ball to give Croatia a 2-1 lead. How he didn't kick the English defender in the head, I do not know. England had a chance to tie and they beat the goalkeeper put Croatia had a defender there to prevent the goal and preserve the 2-1 lead. They would win by that 2-1 score and now face France in the World Cup final on Sunday. Croatia is seeking their first World Cup title. Good luck. It's going to be tough to take down the French. Belgium and England square off for third place on Saturday.
Roger Federer loses at Wimbledon
It was rather stunning to see the top seeded Roger Federer lose to Kevin Anderson of South Africa, but what made this that much more eye opening is the marathon fifth set that the two had. Anderson won the epic fifth set 13-11 to win the match 2-6, 6-7 (7-9), 7-5, 6-4, 13-11. I'm not going to lie, I don't know anything about this Kevin Anderson fellow, but he deserves our appreciation for not only beating the top seed, but for winning that epic fifth set. That's a lot of tennis. Kind of reminds me John Isner a few years back when he and the guy he was going against went 29 games or something like that right?
Speaking of Isner, he is in the semi-finals after beating M. Raonic of Canada 6-7 (5-7), 7-6 (9-7), 6-4, 6-3. This seems like a golden opportunity for Isner who gets to avoid Novak Djokovic or Rafael Nadal until the championship match should he beat Anderson. I suspect he will. Can Isner finally break through for the American men? We're going to find out soon.
Home Run Derby field set
The Home Run Derby bracket has been set. Bryce Harper will try to win the event at his home ballpark Monday night. He is the two seed in the event and it isn't too often that a player in the Home Run Derby in his ballpark wins. The bracket is as follows:
1) Jesus Aguilar (Milwaukee) vs. 8) Rhys Hoskins (Philadelphia)
4) Alex Bregman (Houston) vs. 5) Kyle Schwarber (Chicago Cubs)
2) Bryce Harper (Washington) vs. 7) Freddie Freeman (Atlanta)
3) Max Muncy (Los Angeles Dodgers vs. 6) Javier Baez (Chicago Cubs)
While it would be really cool to see Harper win this, I just don't think it is going to happen. Right now (I'll make the officially prediction on Monday), I'm leaning Max Muncy with the Dodgers. This kid is sensational.
PGA announces new golf schedule
The PGA Tour is making some big changes to next year's schedule. It was already mentioned that there would be some changes to the PGA Tour's schedule beginning next year including having some tournaments in Detroit and Minnesota. The order of the major tournaments though is the biggest and most noteworthy item coming out of the schedule release earlier this week.
First off, The Player's Championship (Golf's fifth major really) is moving from May to March. Now we get to see all of those balls go into the water on the island green on the par 3 17th a couple of months earlier.
The Masters stays as is in April. The PGA Championship is moving from August to May. The U.S. Open remains in June and The Open Championship remains in July. Instead of the FedEx Cup Playoffs though starting in September, now they start at the beginning of August ending the week of August 25th. This is a smart move by the PGA Tour as it means golf won't be competing with college football or the NFL. We'll see how the new schedule plays out next year, but initially, I'm a big fan of what they have done.
Coming up Monday for sure (if no blog tomorrow): MLB All-Star thoughts, The Open Championship pick and more.
Listen to this week's edition of "The Sports Block" podcast here.
---