"The Stack" 7-16-18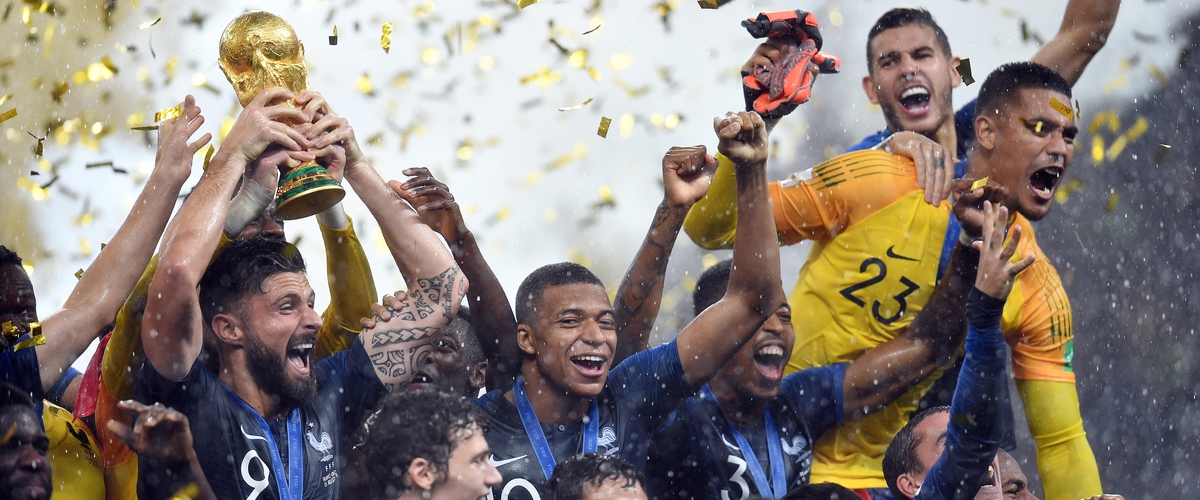 France is your 2018 FIFA World Cup champion. They beat Croatia 4-2 to win their second World Cup title. It was a very entertaining tournament to say the least.
The Stack is back on this Monday and more than likely this will be our lone blog for the week since we're heading on vacation. With that being said we have a lot to get into and discuss. We may have a blog on Friday depending on how things go, but now let's get to "the stack" for today, Monday, July 16th:
France wins World Cup
For the second time in their history and the first since 1998, France is on top of the soccer (futbol) world once again after beating Croatia 4-2 in the World Cup Final. Croatia definitely dominated early on in this match, but France would get their second goal on a penalty kick after Croatia touched a corner with their hand. France would not look back going on to win 4-2 and winning the World Cup. Croatia winning would have been such a cool story, but France was tremendous all the way through the tournament. They had some great goaltending and some good defense. They deserved to win it all. Oh by the way, the third place game saw Belgium beat England 2-0. Look out for England in 2022. They are going to be really good.
Wimbledon winners
Serena Williams' quest to win her first major since giving birth is going to have to wait. Williams lost in straight sets to Angelique Kerber 3-6, 3-6. I believe this is Kerber's first Wimbledon title. Williams just didn't have it in the final match, but she had a really solid tournament. We'll see how she does at the U.S. Open.
Meanwhile the men's side was completely bonkers. Kevin Anderson of South Africa and John Isner pulled off an absolutely mesmerizing fifth set 26-24 on Friday. Isner has played in a long match before, but give all of the credit in the world to Anderson who had a big fifth set in his previous match. This one was bigger and it is no wonder he was gassed against Novak Djokovic on Sunday losing in straight sets 2-6, 2-6, 6-7 (3-7). Anderson deserves our admiration and respect though for what he did this last week. It was something else to watch. Very special.
MLB All-Star festivities start
The baseball world is ascending upon our nation's capital for the MLB All-Star game (Tuesday) and Home Run Derby (today). I've already gone on record to say that I think Max Muncy will win the Home Run Derby. As cool as it would be to see Bryce Harper win it all, I just think Muncy is such a cool story that he will take over and belt out home run after homerun.
As for the all-star game itself, it certainly appears as though the AL has the more stacked team. It's unfortunate Eduardo Escobar from the Minnesota Twins didn't make it in the final voting despite leading the majors in doubles. He's having a career year, but the fans aren't interested. I'm not too excited for this game myself. Major League Baseball may have to do away with rule of having a representative from every team, because I don't think a team like the Kansas City Royals or Baltimore Orioles is necessary deserving of having a player on the team. Having said that, I understand shy MLB does it, but it still is unnecessary, especially this year. The A.L. still has the better team and I think they win by a score of 5-2. Enjoy all of the festivities from D.C.!
The Open Championship pick
The Open Championship is at Carnoustie and it sounds like it is going to be a difficult tournament. The fairways are dry and speedy. I always love this tournament begins. It is my favorite tournament a) because it is a link-style tournament and b) the elements can change drastically from hole to hole making it difficult for the players.
Hopefully we don't see weather being too much of a factor. I normally would pick Jordan Spieth or Rory McIlory to win this tournament and I really hope one of them does. Spieth is your reigning champion after all. I would also like to see good old Tiger Woods being in contention, but I don't see that happening. Dustin Johnson is always a good one to pick, but I'm going to go with Hideki Matsuyama to win his first major. I don't know why, but at some point I think he is just too good not to win a major. Ricky Fowler is another good pick, but I'll take Matsuyama for the win. This should be a great tournament. I can't wait.
Reminder to watch the ESPY's live on Wednesday at 8 PM ET on ABC.
Coming up next week: The Open Championship reaction plus other top stories in the sports world
---