"The Stack" 7-30-18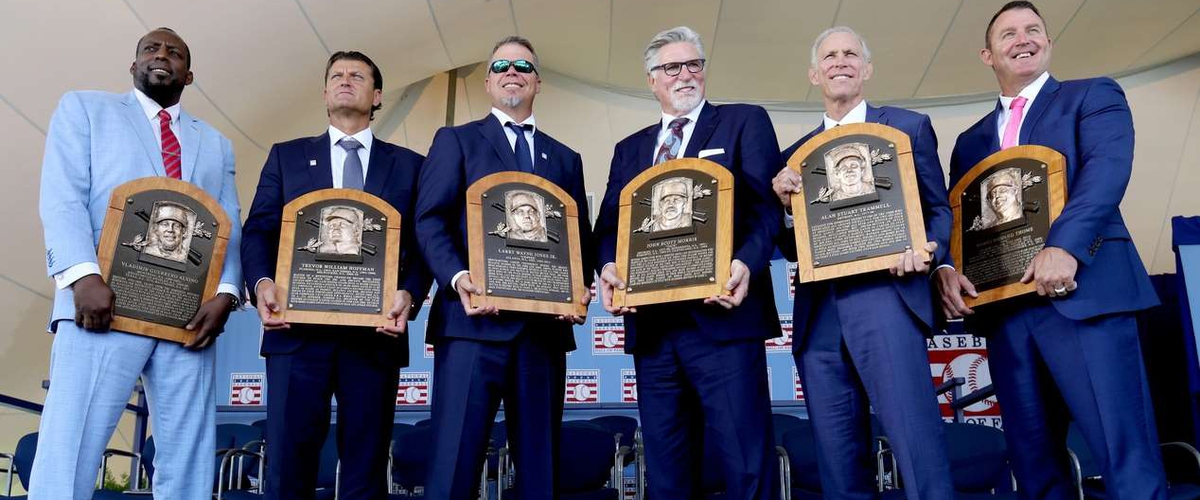 The MLB Hall of Fame induction ceremonies in Cooperstown, New York, were yesterday. Six new faces are now in the hall.
The Stack is back on this Monday and I really don't have a whole lot for you today. Soon we'll be getting into the college football and NFL previews. NFL training camps have all started. Nice to know that football (and fantasy football) is right around the corner. Let's take a gander and see what we can find in "the stack" for today, Monday, July 30th:
Braves' Newcomb apologizes for offensive tweets
Another week, another MLB player is having to apologize for some offensive and distasteful tweets sent back when they were a teenager in high school. During the All-Star game, it was Josh Hader, a relief pitcher from the Milwaukee Brewers. On Sunday, it was Atlanta Braves starting pitcher Sean Newcomb. The 25-year old has just come off a very impressive outing against the Los Angeles Dodgers where he had a no-hitter until the ninth inning. Maybe that's why this story came out when it did, because people were trying to find out about this kid. He apologized and said he regretted sending out the tweets. Is he truly sorry though or just sorry that he got caught? Let this be a lesson to all other athletes, celebrities and everyday ordinary folk like you or myself. Don't press send on racist, homophobic or offensive tweets. Arizona State football head coach Herm Edwards was famous for that quote, "Don't press send". And at the very least maybe have an agent or someone (preferably yourself) check your Twitter account and make sure that nothing damaging is on there. Have I said stuff on Twitter that other people haven't agreed with and maybe find offensive? Sure, but nothing like what Newcomb and Hader said. It's true that he can certainly learn from this and that is my hope. I hope Newcomb isn't the same person as he was back at 18, but it's still not good for him to have said what he said. Let this be a lesson to all. MLB has to do something about this and it seems like they are…somewhat.
MLB Hall of Fame members enshrined
Cooperstown, New York, welcomed six new members into the baseball hall of fame on Sunday. Chipper Jones, Vladimir Guerrero, Trevor Hoffman, Jim Thome, Jacks Morris and Alan Trammel all were inducted over the weekend. Jones was a beast all of those years in Atlanta. Guerrero was a stellar hitter. Hoffman was the best closer when he played this side of Mariano Rivera. Jim Thome hit a lot of home runs! Jack Morris will best be known for those ten innings of shutout baseball in game seven of the 1991 World Series for the Minnesota Twins. And Trammell was a very good all-around player. This is a very good class and they all delivered some powerful speeches. Fun to see.
NFL Training camp injuries
It wouldn't be an NFL training camp without fan bases worried about injuries to their most important players and their favorites. Unfortunately, there are always bad, season ending injuries and this year has been no exception. Los Angeles Chargers cornerback Justin Verrett is done for the year after tearing his Achilles in a week ago. Vita Vea, the rookie defensive tackle with the Tampa Bay Buccaneers went down with a knee injury and was carted off, but that injury isn't expected to be too serious. The Carolina Panthers lost an offensive lineman potentially for the season. And those are just a few of the more notable injuries. Hopefully we don't see many more serious injuries, but if we do, we'll try and get it in the blog.
Oh by the way, New York Jets rookie quarterback Sam Darnold and Chicago Bears linebacker Roquan Smith still have not signed their rookie deals. Could be a while longer before we see them in camp.
Coming up later this week: Training camp news and more
---