"The Stack" 8-2-18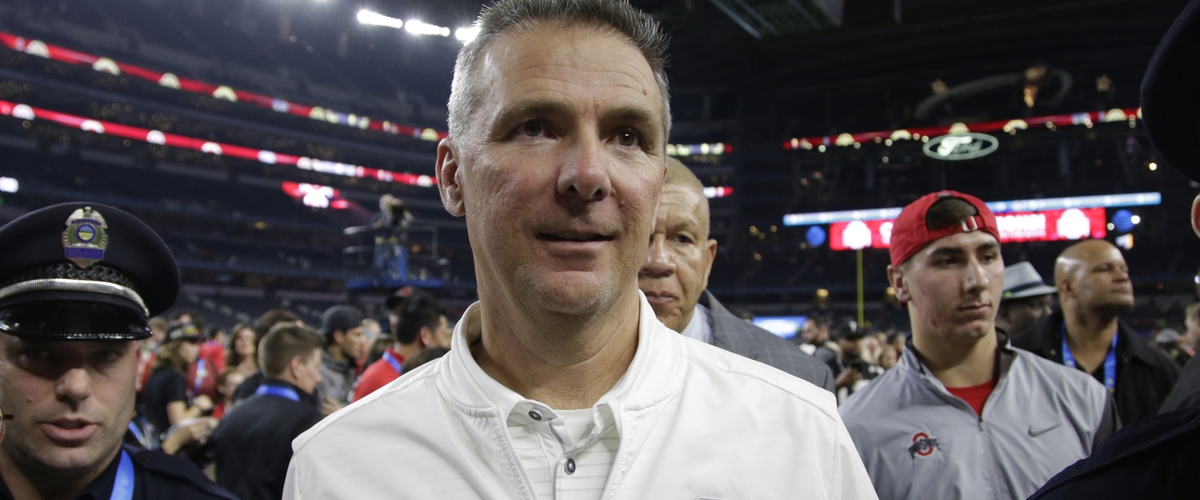 Ohio State head football coach Urban Meyer has been placed on paid administrative leave following a story that he knew about the domestic violence issue involving former wide receiver head coach Zach Smith long ago which contradicts what he said at Big Ten Media Day a couple of weeks ago.
The Stack is back on this Thursday and I've meant to get a blog out the last couple of days with the MLB Trade Deadline going on, but life just gets in the way and we've been busy. We're back to day though and there's a major story going on in the sports world, particularly college football. We'll get to that and the trade deadline deals so let's get right to "the stack" for today, Thursday, August 2nd:
MLB Trade Deadline deals
The MLB trade deadline has come and gone and there have been a lot of deals made. The New York Yankees and the Boston Red Sox went toe to toe making moves, because the stakes are high in the AL East. The Yankees acquired starting pitcher J.A. Happ from the Toronto Blue Jays last week as well as closer Zack Britton from the Baltimore Orioles. They made another move on Monday acquiring starting pitcher Lance Lynn from the Minnesota Twins for a couple of players. The Red Sox countered by acquiring second baseman Ian Kinsler from the Los Angeles Angels of Anaheim… (STOP)! This comes on the heels of them trading for Tampa Bay Rays starting pitcher Nathan Eovaldi last week.
The Houston Astros are coming under scrutiny with their trade for Toronto Blue Jays closer Roberto Osuna for former closer Ken Giles and a couple of minor leaguers. Osuna is coming off of a 75 game suspension for a domestic violence related incident. The Astros certainly deserve criticism for this move, but they are looking to win and they deem that most important.
The Atlanta Braves acquired Cincinnati Reds outfielder Adam Duvall for a few minor leaguers.
There was more though on Tuesday. Arguably the biggest move was the Tampa Bay Rays sending starting pitcher Chris Archer to the Pittsburgh Pirates for a couple of minor leaguers. Very interesting move by the Pirates and they gave up a couple of really high end prospects.
Jonathan Schoop was traded from Baltimore to Milwaukee. The Brewers are loading up to make a serious run at the playoffs. They have a pretty loaded lineup.
There were plenty of trade winds swirling around Minnesota Twins second baseman Brian Dozier. He ended up getting traded to the Los Angeles Dodgers for second baseman Logan Forsythe and a couple of other minor leaguers.
Arguably though the biggest news of the day leading up to the trade deadline was a trade that did not happen and that would be involving Bryce Harper of the Washington Nationals. It sounded like Harper was going to be traded based on how disappointing this year has been for the Nationals. But no, they kept him and are trying to win a third straight NL East title. We'll just see if they are able to keep him in the offseason too. Hope they do. It was definitely a busy trade deadline. A lot of teams made some big moves. Bad teams are building for the future. We'll see how it all pans out.
Urban Meyer placed on paid administrative leave
The big story on Wednesday happened in Columbus, Ohio, where the Ohio State University placed head football coach Urban Meyer on paid administrative leave following a story that was published by Brett McMurphy with Stadium in which former wide receiver coach and assistant coach Zach Smith's ex-wife Courtney, whom Zach is accused of domestic violence acts against, says that sent text message to Urban Meyer's wife about what was going on. Urban's wife was supposed to tell him. Courtney said in an interview on watchstadium.com that she told Shelly, Urban's wife, about everything and that all of the coaches' wives knew, but obviously Meyer did nothing about it. Many around Meyer knew what was going on, but Meyer claimed he didn't know at all. It's starting to become clear that he was lying. Now it should be noted that Zach was never charged with anything, but still, this is an ugly story. Now we wait and see what happens with the investigation that Ohio State conducts, but it seems increasingly likely that Urban Meyer has coached his last game at Ohio State. How, with a domestic violence case on the line, if he knew about it and didn't do anything can the university keep him? How, in light of Baylor, can Ohio State possibly keep him? If it is proven that Meyer lied when he first heard about it and with what he said at Big Ten Media Day a couple of weeks ago, he has to go. This will tarnish his legacy. Quite frankly, Meyer should never coach again.
From the football side of it, this is a big distraction for the football team. I was all set to pick the Buckeyes to make the College Football Playoff, but if Urban Meyer isn't the coach, how will the Buckeyes fare? I'm guessing they will still have a good year, but there will be a few more losses than what they would have if Meyer was the head coach. Meyer knew. Meyer lied. He needs to pay the price and unfortunately, Ohio State's football team may not be the same for a while, but that is something that is of secondhand importance compared to the domestic violence issues that happened between Courtney Smith and her ex-husband Zach. It is an ugly situation unfolding in Columbus.
NBA agrees to deal with MGM
The NBA has always seemed to be progressive when it comes to embracing sports gambling and they have taken that next step by agreeing with MGM to be their gaming partner. They are the first major sports league to pair up with a gaming partner. MGM will receive the rights to use NBA highlights, logos and a direct data feed from the NBA that will help them grow their sports betting business. Well done by NBA Commissioner Adam Silver for embracing this. We'll see if other leagues follow suit.
Listen to this week's "The Sports Block" podcast here.
Coming up Friday or next week: Reaction to top stories in sports