"The Stack" 8-17-18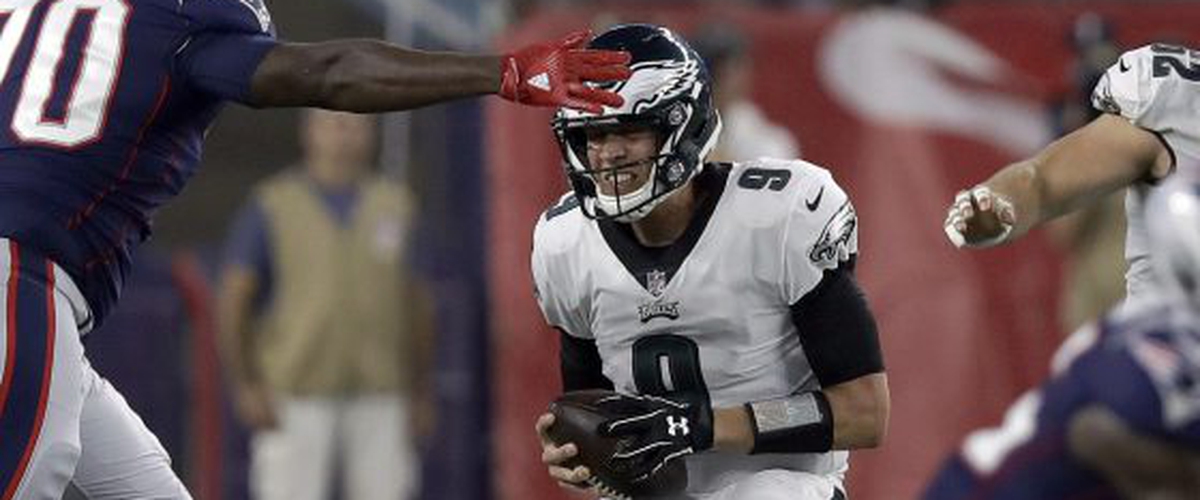 Philadelphia Eagles quarterback Nick Foles suffered what is being called a strained shoulder last night after taking a hit against the New England Patriots. His status going forward is unknown.
The Stack is back on this Friday and again, we don't have much today. Just some NFL talk I guess. Kind of boring today. Congrats to Brendt Snedeker for shooting a 59 yesterday at the Wyndham Championship. Pretty amazing stuff. John Elway said some stuff about Colin Kaepernick yesterday and what he said may help Kaepernick's collusion case against the league. Now let's get right to "the stack" for today, Friday, August 17th:
Foles injures shoulder
The Philadelphia Eagles are already patiently waiting for starting quarterback Carson Wentz to recover from his torn ACL and get on the field (they/he thinks he may be ready for week one). They may need him now to absolutely start after Nick Foles injured his shoulder against the New England Patriots last night. Foles got hit and you could tell almost immediately when he got up that something was up. It is diagnosed I believe as a strained shoulder. While unlikely to keep Foles out more than a few weeks, the mere fact that Nate Sudfeld may have to start week one has to be slightly terrifying to the Eagles and their fans. Yes, he did throw for over 300 yards in last night's 37-20 loss, but do you think he can really do that against the Atlanta Falcons in a regular season game? I have my doubts. If the Eagles trade for someone, say Teddy Bridgewater, then you know they have their doubts as well.
Other games Thursday, the Green Bay Packers and Pittsburgh Steelers put up some pinball like numbers. The Packers won 51-34. Aaron Rodgers threw a touchdown pass to new teammate Jimmy Graham. The Packers offense looked really well. Mason Rudolph got the start for the Steelers and threw a pick-six. Not ready to take over for Big Ben yet.
And Washington beat the New York Jets 15-13. Sam Darnold played most of the first half and looked okay, but only threw for 62 yards an interception. The new ESPN MNF crew was okay. Still not the same as Mike Tirico and John Gruden from a few years ago, but they weren't bad. It will take some getting used to. They will be fine.
Friday's NFL Preseason schedule
Kansas City Chiefs @ Atlanta Falcons 7 PM ET
New York Giants @ Detroit Lions 7 PM ET
Buffalo Bills @ Cleveland Browns 7:30 PM ET NFL Network
Miami Dolphins @ Carolina Panthers 7:30 PM ET
Arizona Cardinals @ New Orleans Saints 8 PM ET
Coming up Monday: Reaction to top stories in the sports world
---