"The Stack" 8-25-17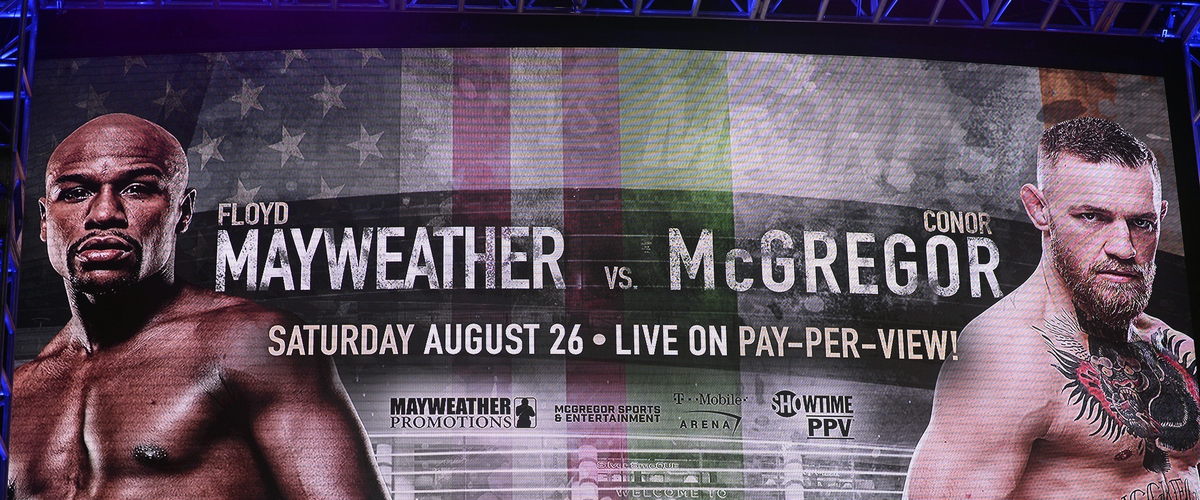 The "big" fight is tomorrow in Las Vegas. Floyd Mayweather vs. Conor McGregor. Get excited folks. Or don't.
The Stack is back on this Friday and we are one day away from the big fight. The press conference was fairly uneventful on Wednesday. I can't believe I'm doing it, but I will give a winner for the fight and more so let's get right to it and see what's in "the stack" for today, Friday, August 25th:
Mayweather-McGregor fight
So here we are. Less than 48 hours until the "big" fight. I must admit, I am not looking forward to this one iota. In fact, I am not even going to waste my time with it. Not going to any viewing parties. Won't go to a local bar. Whatever happens, happens. Might I miss history if Conor McGregor does indeed pull off the upset and hand Floyd Mayweather his first loss ever as a professional boxer? Yes and I am okay with that. Same goes for if Mayweather beats McGregor, as most expect he will, to improve to 50-0 a feat that would surpass the great Rocky Marciano. This fight isn't really a fight. It's a show. And we have had this force fed down our throats for well over two years now. First it was, "Will the fight happen?" After the announcement was made it was, "Well it finally happened." Then there was the world tour which was an absolute circus. Since then as we have gotten closer and closer to the fight people really seem to think that McGregor has a shot. The money in Vegas certainly is leaning towards McGregor. Vegas needs a Mayweather victory. At the end of the day, Mayweather has been boxing his whole life and McGregor has merely been practicing his boxing skills for the past few months. I don't think he has a real good shot of winning, but you never say never. Stranger things have happened, even by Vegas standards. I got conned into Manny Pacquiao-Floyd Mayweather a couple of years ago. I will not be conned into this one. Enjoy the fight everyone and should history be made, let me know.
College football kicks off….sort of
College football's official kickoff to the season is next Thursday highlighted by the great game featuring Ohio State against Indiana. Woo-hoo! What fun! While the full week one schedule is fascinating and very exciting including Alabama against Florida State, there are some actual college football games happening this weekend. By the way, let me remind you of the big college football preview blog that we will have next Thursday. You don't want to miss it. The schedule for the five games this Saturday is below:
Oregon State @ Colorado State 2:30 PM ET CBSSN
Portland State @ BYU 3 PM ET ESPN
Hawaii @ UMass 6 PM ET
#19 South Florida @ San Jose State 7:30 PM ET CBSSN
#14 Stanford vs. Rice 10 PM ET ESPN (Game being played in Sydney, Australia)
None of these games do much for me at all. South Florida though is an interesting team to watch for this year with Charlie Strong as their head coach. They have a good quarterback too. Watch out for the Bulls. So yes the true college football season is next Thursday, but if you want to see some football that counts for something unlike the NFL preseason (though the games do matter for depth purposes and finding hidden gems), then tune in on Saturday for some college football action.
Rich Hill and the oh so close perfect game, no hitter that turned into a loss
Couple of strange things happened in baseball the past couple of days. Los Angeles Dodgers pitcher Rich Hill had a perfect game through eight innings against the Pittsburgh Pirtaes Wednesday night and it would have been nine if not for a costly error by his teammates, but yet he still had the no-hitter through nine innings. Here was the problem though. His team couldn't score any runs. The game was scoreless going into the 10th inning and Hill still had the no-no intact until Josh Harrison hit the game-winning walk-off homerun to give the Pirates a 1-0 win. It is one of the more amazing things you will see in a baseball game. What an amazing finish.
Then we get to yesterday where the Detroit Tigers and New York Yankees cleared the benches multiple times due to pitchers being thrown out for hitting batters. Tigers slugger Miguel Cabrera punched Yankees catcher Austin Romine which only led to more bad blood. Between the pitchers hitting batters and Cabrera punching Romine, there were eight total ejections. Expect suspensions. This was one crazy game. The Tigers won 10-6, but the real story is the benches clearing and Cabrera punching Romine after Romine kept yacking at him. I'm looking forward to the next time these two teams meet. I'm guessing there may be some retaliation. At the very least, no love lost.
NFL preseason week 3
This is the NFL's true dress rehearsal week as first team offenses will play significantly with most first stringers playing well into the third quarter. There were two games last night. The Philadelphia Eagles took down the Miami Dolphins 38-31. Both Jay Cutler (Dolphins) and Carson Wentz (Eagles) looked good. Wentz was especially good with his two new targets in Alshon Jeffrey and Torrey Smith.
The only other game Thursday night was Carolina taking down Jacksonville 24-23. Jaguars quarterback Chad Henne wasn't great, but he wasn't terrible which will probably help him keep the job though Blake Bortles did end up throwing a touchdown. The starting quarterback position in Jacksonville is very interesting.
Two games tonight then the rest are on Saturday apart for three on Sunday. Tonight's schedule includes:
New England Patriots @ Detroit Lions 7 PM ET
Kansas City Chiefs @ Seattle Seahawks 8 PM ET CBS (Tony Romo is not calling the game after the birth of his third son)
Enjoy the football and boxing this weekend everyone.
Coming up Monday: Mayweather-McGregor fight reaction, U.S. Open (tennis) and more.
---