"The Stack" 9-6-17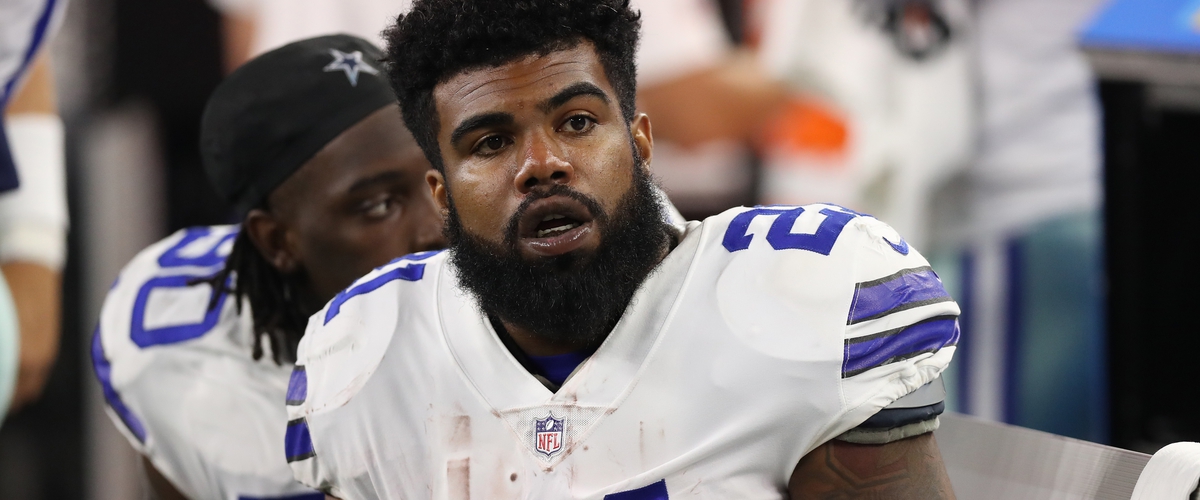 Dallas Cowboys running back Ezekiel Elliott's six game suspension has been upheld however he will be allowed to play Sunday against the New York Giants due to the timing of the ruling of his appeal.
The Stack is back on this Wednesday and ahead of our 2017-18 NFL season preview, there is some big news out there to get to. Let's not waste a moment and see what is in "the stack" for today, Wednesday, September 6th:
Ezekiel Elliott ban upheld, can play Sunday
So Harold Henderson upheld Dallas Cowboys running back Ezekiel Elliott's suspension. The move is somewhat surprising given the increasing amount of evidence that seemed like was supporting Elliott. His accuser is not the most reliable. The NFL's own investigator even wasn't fully believing Tiffany Thompson yet Elliott still has a six game suspension coming. Having said that, Elliott is allowed to play this Sunday against the New York Giants due to the way the appeal played out and when the announcement was made. Surely the NFLPA is going to go to federal court with this and they hope to get a decision here soon, but as it stands right now Elliott still will be suspended six games. He just will be allowed to play in the season opener and perhaps more games after that before and if the suspension does take place. This is an ugly situation all the way around. The NFL has once again bungled a domestic violence situation and is going after a star of one of the most popular teams in the NFL (see last year's decision on New England Patriots quarterback Tom Brady). Elliott isn't innocent in all of this either. No doubt he played a role in it, but the more you keep reading and hearing, the more it sounds like Elliott is more and more innocent. We'll see what a federal court thinks about this. Upholding this decision also means that the NFLPA and the players are going to do whatever they can to change who gets to make decisions on these matters in the future…even if that means a work stoppage in 2021.
Bucs-Dolphins game postponed
Hurricane Harvey wreaked havoc on Houston and east Texas and an even more powerful storm could be on the way to hitting the United States. The main target of Hurricane Irma though appears to be Miami and the state of Florida. Irma is now a category 5 storm. It looks like it is going to hit Puerto Rico and then likely hit Florida. There is a chance that it could turn and move north which would ultimately put the Carolinas in some risk, but the NFL isn't taking any chances. With the storm likely to hit Florida, the NFL announced that Sunday's game between Tampa Bay and Miami will not be played in Miami. They may play it at a neutral site or play the game during the team's shared bye week in week 11. That would seem to make the most sense, but it is not an ideal situation for either team or the league. Playing 16 straight games would be very tough on the players and the coaches too for that matter. Not getting that bye week to heal up would increase the likelihood of injuries, but when we're talking about a life threatening storm, playing a game for 16 straight weeks maybe doesn't seem so bad. The league will come out with an official decision here soon. Stay safe everyone. Irma is coming.
College football weekend forecast
Hurricane Irma has also forced some schedule rearranging for week two in college football. Memphis and UCF will now play Friday night instead of Saturday. While our attention is focused on Irma, it should be really focused on this week's slate of huge games in college football. If you thought the opening week was good, this week could be even better.
The early slate of games doesn't appear to have much of anything interesting. Even the late afternoon isn't all that appealing though #18 Miami (FL) traveling to Arkansas State (3:30 PM ET ESPNU) is intriguing because of the chance for an upset. Arkansas State only lost by seven at Nebraska last week. The Hurricanes (how appropriate) did travel to play Appalachian State last year and beat them pretty easily. We'll see what they can do to the Red Wolves. #23 TCU against Arkansas in Arkansas at the same time as Miami (FL)-Arkansas State (3:30 PM ET CBS) also is a game that should be pretty entertaining. Nebraska at Oregon (4:30 PM ET FOX) should be a dandy of the game and then we get to the real meat and potatoes of the week.
#13 Auburn travels to Death Valley to take on #3 Clemson (7 PM ET ESPN). This game is a true test to see where both teams are at. They weren't really test in their respective week one matchups. Is Clemson really the third best team in the land? Can Auburn challenge Alabama? With Jarrett Stidham as their quarterback I certainly think that gives Auburn a pretty good chance to go in and take down the Tigers (Auburn is the Tigers as well, shockingly enough), but I think Clemson will be too strong and beat Auburn pulling away late.
The marquee game of the night is taking place in Columbus, Ohio (7:30 PM ET ABC) when #5 Oklahoma takes on #2 Ohio State. Great matchup. Two great quarterbacks and offenses. This is going to be a fun one. College Gameday will be there. Oklahoma is looking to seek revenge for the loss they suffered at home last year to Ohio State, but I think the Buckeyes are too much. Ohio State wins this game pulling away late in the third quarter.
As if that wasn't intriguing enough, #15 Georgia makes a rare appearance in Indiana (South Bend specifically) to take on #24 Notre Dame (7:30 PM ET NBC). Can Notre Dame show that they are a different team from a year ago? Georgia looked awfully good against Appalachian State. This is going to be a tough one for Notre Dame, but I think they might eek this one out late in the game.
Is #14 Stanford really for real? We're going to find out when they take on #6 USC (8:30 PM ET FOX) who was disappointing in their season opening win against Western Michigan. They got the win, but Sam Darnold needs to play better. I think he will and though Stanford's defense is going to make things difficult, I see USC just being too powerful and winning this game.
If you can stay up when these games are done, the Holy War in Utah is taking place between Utah and BYU (10:15 PM ET ESPN2), Boise State travels to #20 Washington State (10:30 PM ET ESPN) and if you are a glutton for punishment, P.J. Fleck and Minnesota take on Oregon State (10 PM ET FS1).
All in all, this should be a great weekend of college football. Hope it lives up to the hype and we see some great games! Enjoy week two of college football everyone.
Coming up Thursday: 2017-18 NFL season preview
---