"The Stack" 8-27-20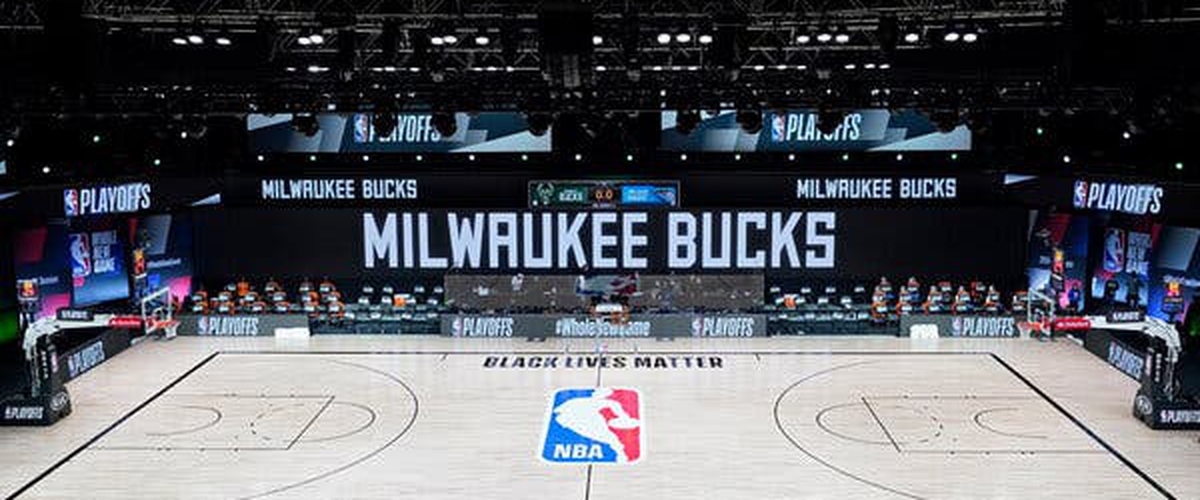 The NBA players boycotted playoff games on Wednesday and carried on into today sparking similar movements in leagues across the sports world.
The Stack is back on this Thursday and honestly I really don't know why. I don't want to talk about it. We're just rehashing the same thing over and over and over again. But it is significant news when players boycott…in the playoffs! So we'll discuss that and maybe why they are doing it in "the stack" for today, Thursday, August 27th:
Bucks boycott, NBA games postponed on Wednesday & Thursday
By now you all know about Jacob Blake being shot seven times in the back by a police officer in Kenosha, Wisconsin, Sunday night. While details remain somewhat murky and confusing, there is video out there showing Blake trying to get into his car, an officer tugging on his tank-top and then you hear shots fired. Seven to be exact. It's led to plenty of outrage and another round of protests across the country, mostly peaceful, but some not with rioting and looting in certain areas. Obviously that shouldn't happen and it needs to be condoned. It doesn't always seem that that happens.
Know what else shouldn't happen? Another black person dying at the hands of the police when it didn't need to end that way. Have we learned nothing from George Floyd? Now is not the time or the place to get into that though. And I get it. Blake has a criminal rapsheet and maybe he shouldn't have placed himself in that situation. Totally fair and a valid point. That needs to happen in many of these instances, but never should shooting to kill be an option when the threat isn't there. Sorry, I didn't mean to go there. It's just very frustrating. And don't even get me on the 17-year old who shot and killed two people who were protesting and somehow didn't have a single shot fired at him. Yeah, because that doesn't make this look any worse. Oh wait it does. And people are getting fed up.
Pertaining to this blog post, and because this is a sports blog, athletes are fed up and they to their stance to a whole new level on Wednesday and it carried over into today. The Orlando Magic and Milwaukee Bucks were scheduled to be the first NBA game played on Wednesday. The Magic showed up on the court. The Bucks did not. They boycotted the game. The Bucks' owners supported them releasing a statement. Soon after the Bucks boycotted the game, the Magic joined them and the NBA postponed the game. It didn't take long for the other games to be postponed as well. For the most part, the players, teams and organizations were praised for their stand. There were plenty of people who voiced their displeasure about it, but there always will be descent from those who disagree. What got really interesting was later Wednesday night when he players held a meeting to see if they should continue with the playoffs or just cancel the season altogether. Both LA teams, the Clippers and Lakers, voted to stop playing while the remaining teams wanted to proceed. Tensions and emotions were high. While Thursday's games were also postponed, another round of meetings were held and ultimately it was decided that everyone would continue playing and the playoffs will go on.
Baseball had mixed reactions as only a few games were canceled. The Milwaukee Brewers were first in cancelling their game, shortly after the Bucks boycotted. It makes sense. Dee Gordon had a clear message for the Seattle Mariners. Their game against the San Diego Padres shortly thereafter. The LA Dodgers and San Francisco Giants joined shortly after that. And it continued into Thursday with seven more games:
· Minnesota Twins @ Detroit Tigers
· Colorado Rockies @ Arizona Diamondbacks
· Oakland Athletics @ Texas Rangers
· Boston Red Sox @ Toronto Blue Jays
· Philadelphia Phillies @ Washington Nationals
· Baltimore Orioles @ Tampa Bay Rays
· Miami Marlins @ New York Mets
Other teams are playing, but they are mainly doubleheaders from Wednesday's postponed games.
While the NHL Playoffs went on as scheduled on Wednesday, Minnesota Wild defenseman Matt Dumba and San Jose Sharks Left Winger Evander Kane made their feelings known that they disagreed with the NHL's decision. After a meeting on Thursday between the league and the players and player's association, the NHL postponed Thursday's and Friday's playoff games. Games will resume on Saturday.
It should also be noted that the WNBA postponed games on Wednesday and Thursday and Major League Soccer, yes the MLS, also postponed games. And several NFL teams didn't practice on Thursday so they could focus on social issues including:
· Green Bay Packers
· Tennessee Titans
· Arizona Cardinals
· Chicago Bears
· New York Jets
· Los Angeles Chargers
· Washington
· Indianapolis Colts
· Denver Broncos
Sports has a unique way of be a force for change and good in society. I hope that happens, but I doubt it. It will only happen if people are open to the message and open to change. Based on a lot of the responses to these sports leagues not playing, I would say that that message isn't being received and that is too bad. Plenty of teams have released statements about what has taken place in Kenosha and they are saying enough is enough and they are committed to change. That's good. Hopefully the follow through is there and it gets easier.
Athletes, like actors and actresses and even politicians have a unique platform to ignite change in their country, because of the masses that they can reach out to. It's a large platform and they are using it. Some people say, "Stick to Sports" or "Shut up and Dribble." We don't say to anyone else, "Shut up and work those tax books" to accountants, or, "Shut up and treat those sick people" to doctors and nurses. If we don't say that to normal people, why should we be saying that to these athletes? If we don't want them to say anything, then we can't say anything either in a public setting or on social media platforms. I hope people listen to what is going on and think about what we can do as a society, as a country, to make our country going forward and eliminating racism and social injustice. I doubt it, but I hope so. I hope we listen to what the athletes and everyone else out there are saying. It takes two to have a conversation so we must listen to both sides. It seems pretty reasonable what needs to happen. Will what the sports world has done in the last two days change anything and help spark change? It will spark some, but will it be enough? I doubt it and I hope I am wrong when I say that.
August 26, 2020. One of the weirdest and somewhat amazing days we have ever seen in the sports world. Almost as weird as March 12th, 2020: the day the sports world stopped.
Coming up next week: Reaction to top stories going on in the sports world
---