"The Stack" 8-31-20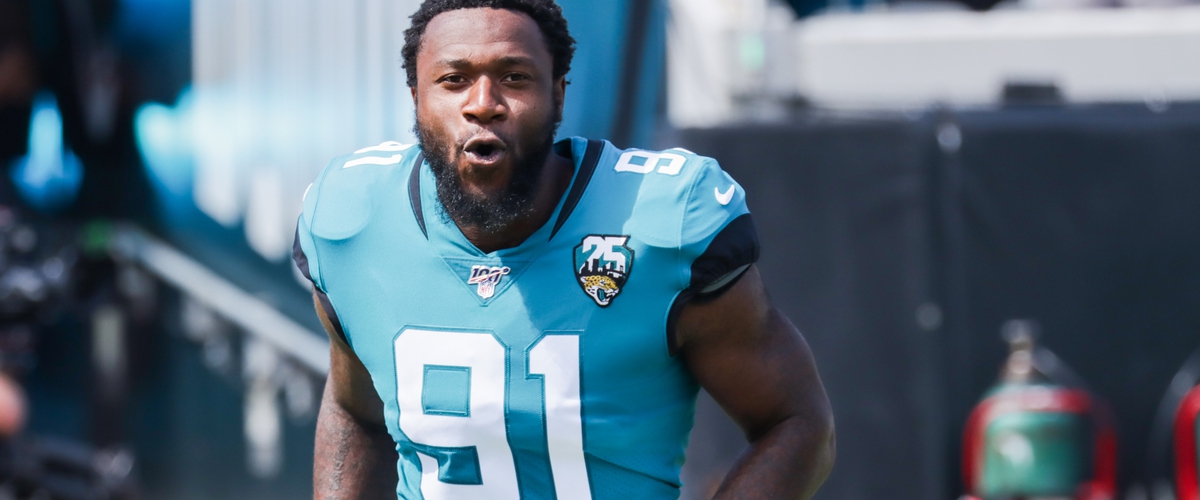 Yannick Ngakoue is on the move. The defensive end was traded from the Jacksonville Jaguars to the Minnesota Vikings on Sunday. Pairing him up with Hunter gives the Vikings the one of if not the best defensive end duos in the league.
The Stack is back on this Monday and we have a few things to talk about today. The NBA and NHL Playoffs have resumed. Jamal Murray was sensational for the Denver Nuggets Sunday night as they staved off elimination and forced a game seven against the Utah Jazz. We're not here to talk about that though. There are some big trades and some unfortunate passings. Now let's get to it and see what's in "the stack" for today, Monday, August 31st:
Vikings land Ngakoue
The Minnesota Vikings couldn't get defensive end Everson Griffen to return to the team as he opted to join the Dallas Cowboys. The Vikings made an upgrade one could make without much argument on Sunday when they traded for disgruntled Jacksonville Jaguars defensive end Yannick Ngakoue. The Jaguars in return get a 2021 second round pick and a 2022 conditional 5th round
pick. It becomes a better pick if either of the following conditions are met:
· 4th round pick if: Ngakoue makes the Pro Bowl this year.
· 3rd round pick if Ngakoue makes the Pro Bowl and the Vikings win the Super Bowl.
I think if the Vikings won the Super Bowl, giving up a second round pick one year and a third round pick the following year would be a small price to pay and they would do it in a heartbeat. Ngakoue has 37.5 sacks in five years and he is only 25 years old. That's also how old Hunter is. With the addition of Ngakoue, the Vikings now boast arguably the best pass rushing tandem in the NFL. This is an especially important move for the Vikings given that they had all three of their starting cornerbacks (Xavier Rhodes, Mackenzie Alexander and Trae Waynes) all left in the offseason. That means their secondary is going to be very young outside of Harrison Smith and Anthony Harris (their starting safeties). Best way to help a young secondary is with a great pass rush. That is what the Vikings now have. Defensive tackle Michael Pierce, the free agent acquisition the Vikings got in the offseason, has opted out of the upcoming season due to COVID concerns. The Vikings defensive line was going to have some issues. It still may, but now the Vikings have a dynamic duo on the ends that will drive opposing quarterbacks mad.
Just how bad did Ngakoue want out of Jacksonville? Enough so that he took over a $5 million pay cut (he'll make a little over $12 million in Minnesota this year) and he is playing in a state where he will be subject to a state sales tax that will take more of his pay out. He must have been seriously unhappy in Jacksonville. He certainly has made his feelings felt in recent months. The Vikings did check on any potential character concerns and felt comfortable bringing Ngakoue on board. The move makes the Vikings a seriously contender in the NFC North and a serious threat in the NFC. As for Jacksonville, they now are loaded with eight picks in the first five rounds of the 2021 NFL Draft and with Trevor Lawrence the prized pick in next year's draft (Ohio State's Justin Fields wouldn't be bad either), the Jaguars are poised to do whatever they can to land him.
Speaking of the Jaguars, today they also released running back Leonard Fournette. Fournette only made it three years in Jacksonville. He wasn't great and he had a few issues, but this is still a stunning turn for a franchise that drafted him in the top ten a few years back. This is another high pick that the Jaguars couldn't keep around. Something needs to change. It needs to be a wake-up call for someone. Or maybe someone needs to get fired. Either way, even the Cleveland Browns are laughing at the dysfunction that the Jaguars continue to go through. Oh man!
MLB Trade Deadline
The headline of the MLB Trade Deadline was the Cleveland Indians trading starting pitcher Mike Clevinger to the San Diego Padres for quite the haul including:
· RHP Cal Quantrill
· LF Josh Naylor
· C Austin Hedges
· SS Gabriel Arias
· LHP Joey Cantillo
· SS Owen Miller
That is quite the haul. Redundant aren't I? The Padres are all in, but the fact of the matter is they still have to deal with the Los Angeles Dodgers and they aren't going away anytime soon.
More importantly though, at least from the Indians side of things, they had to get rid of Clevinger. He had no trust with his teammates after he left to go on a night on the town with some friends in Chicago earlier in the season. His teammates didn't want him on the team anymore. So the Indians got top dollar for him. It's a win-win for them. The distraction is gone, for the most part, and they have significant pieces to be great in the future.
Speaking of the Dodgers, they added Toronto starting pitcher Ross Stripling for two players to be named later. The Dodgers are all in it to win it. They've been close in the previous few years. They are doing everything in their power to ensure that they do indeed win it all this year.
The Miami Marlins made a couple of moves so they were buyers and sellers. There were other moves made by other teams as well. The Padres though, pulled off the biggest move of the day and it could change their season outcome and their outlook for years to come.
Sadness
Some sad news to pass along. Lute Olson, long time men's basketball head coach at the University of Arizona Lute Olson passed away on August 27th at the age of 85. He is one of five coaches with at least 20 wins in 20 seasons. He won a national championship with Arizona in 1997. Arizona was a dominant force while Olson was coaching and they are still one of the pre-eminent programs in college basketball. Olson is the main reason why.
Former Portland Trailblazer Cliff Robinson passed away on August 29th at the age of 53. His family released a statement Saturday evening advising that Robinson passed away from Lymphoma. Robinson was a good college player at UConn and an even better player with the Blazers. The basketball community is sad to see him go.
Then just this morning, John Thompson Jr., legendary Georgetown men's head basketball coach, passed away at the age of 78. Thompson put Georgetown on the map, leading them to the national championship in 1984. They made it to three Final Fours and were a dominant force in college basketball for years. Patrick Ewing is famous for going to Georgetown as is Allen Iverson, but when you think of Georgetown, you think of John Thompson. His son also coached there and while JT III couldn't get Georgetown back to where his father had the program, there is little doubt just how much the Thompson family means to Georgetown. Between Olson and Thompson Jr., college basketball lost two gigantic legends.
While any loss of life is tragic, the death of Chadwick Boseman at the age of 43 struck a nerve to millions of people. Boseman died after battling colon cancer for four years. Best known for his role in the Black Panther, Boseman also played Jackie Robinson in "42". What a film that was. As good as that was, Black Panther was far better. He is gone way too soon.
Coming up later this week: Reaction to top stories in the sports world
---