"The Stack" 9-10-19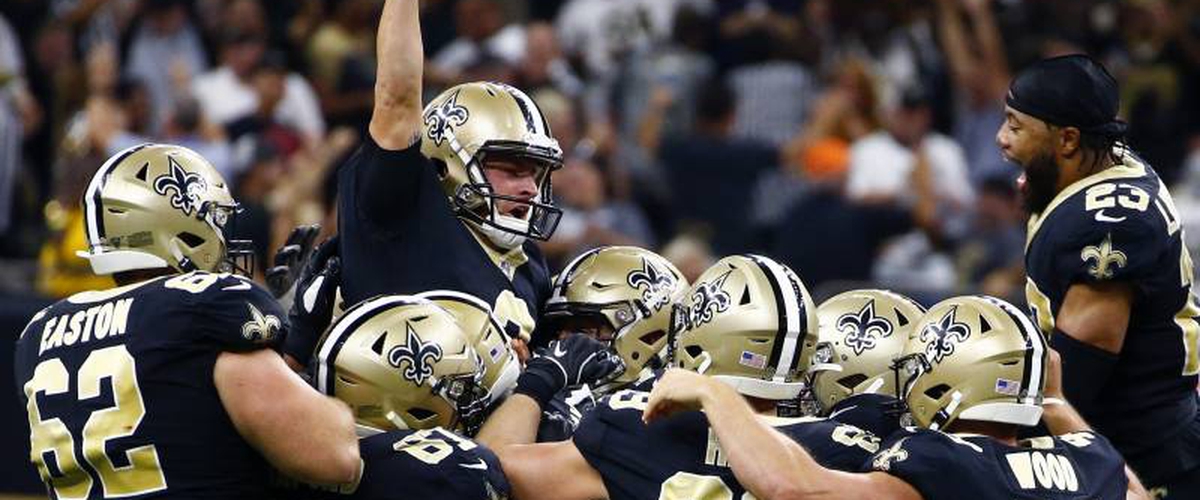 New Orleans Saints kicker Will Lutz made a 58-yard field goal with no time remaining to lift the Saints to a 30-28 win over the Houston Texans in what is easily the best game of the year so far.
The Stack is back on this Tuesday and we already have a game of the year candidate in the NFL. Boy that was a fun game between Houston Texans and New Orleans Saints. I feel bad that the Texans lost. We'll react to both MNF games from last night plus thoughts on the weekend in college football and maybe, just maybe, I'll throw in a thought on Antonio Brown, but if you followed me on Twitter this weekend (@ndstacken), you know my feelings already and you know that he is a New England Patriot so do we really need to rehash anything? Let's get right to "the stack" for today, Tuesday, September 10th:
Saints top Texans on last second field goal
What a game last night to kick off the MNF schedule for the year. Deshaun Watson and the Houston Texans looked good in the first half. Their defense especially was good limiting the potent Saints offense to just three points. There was also a clock issue in the final minute of the half that left the Saints and their fans perplexed and angry to say the least, but it ended up not coming back to haunt them. They must have used it as motivation in the second half, because they came out firing on all cylinders. Drew Brees was great. Alvin Kamara was dynamic. The Texans defense had a tough time stopping the Saints in the second half, but still had a chance to win, down 27-21 with under a minute to go. What did the Texans do? They scored in two plays of course. A long pass to DeAndre Hopkins who went out of bounds led to a beautiful pass and catch to newly acquired Kenny Stills and the Texans took a 28-27 lead. But they left 37 seconds on the clock. Too much time for Brees. That combined with a questionable defensive strategy let the Saints get into Texans territory and Will Lutz booted a 58-yard field through the uprights as time expired. Saints win 30-28. It was the first game in MNF history with two lead changes in the final minute of the game. Not a bad way to kick off the season.
Raiders beat Broncos in MNF doubleheader nightcap
Then we have the Oakland Raiders. Not much going on with that franchise in the last week has there been? They looked like a unified bunch last night. Rookie running back Josh Jacobs had over 100 all-purpose yards and the Raiders beat the Denver Broncos 24-16. The Broncos really didn't look that good. Joe Flacco was fine, but there wasn't much of a running game. Maybe the Raiders were just that determined yesterday. Either way, barring a miracle, this is the last time the Broncos will ever step foot in the Black Hole. We'll see if the Raiders are up for the challenge of Patrick Mahomes and the Chiefs when they come to the Black Hole this next week.
Week 2 college football reaction
So three storied programs, Miami (FL), Tennessese and UCLA are all 0-2. Tennessee. Oh, Tennessee. They had that game with BYU won and they inexplicably give up a 64-yard pass with seconds to go to lead BYU to attempt and make a game-tying field goal. The Vols ended up losing 29-26 in double overtime.
Speaking of double overtime, it took #7 Michigan double overtime to escape Army 24-21. A strip-sack and fumble recovery sealed the win for Big Blue. For the second straight year, Army was oh so close to pulling out an upset over a top ten ranked team (see Oklahoma last year).
#1 Clemson sure made a statement of #12 Texas A&M destroying them 24-3 until A&M scored a touchdown with seconds to go to lose 24-10 and cover the spread.
#14 Washington inexplicably lost to Cal 20-19 on a last-second 17-yard field goal. I didn't even know 17-yard field goals were a thing. Blame the weather maybe. They were on delay for two-and-a-half hours because of some bad thunderstorms, but still? Cal? Come on Washington. Pac-12 sucks yet again.
The game of the day though was in Austin, Texas where #9 LSU beat #6 Texas 45-38. Take that Matthew McConaughey. Joe Burrow was sensational for LSU at QB. He threw for over 400 yards and was the reason LSU won. LSU may finally have a quarterback. Sam Ehlinger was good for Texas too, but early stops by the LSU defense ended up costing Texas in the end. Look out for LSU. Texas can ill-afford one more loss and they still have to play Oklahoma. Good luck. Looking forward to week 3 this week.
Finally….
Before I go, I'm not going to say much more about this, but Antonio Brown makes the league look bad. Is he Tyreek Hill or domestic violence guy bad? No. But he is a petulant child and the way this whole thing went down with him going to New England smells awfully fishy. He orchestrated his exit out of Oakland. I wish nothing but the worst for him going forward.
Coming up Thursday: College football week 3 forecast plus TNF preview & prediction
---