"The Stack" 9-13-19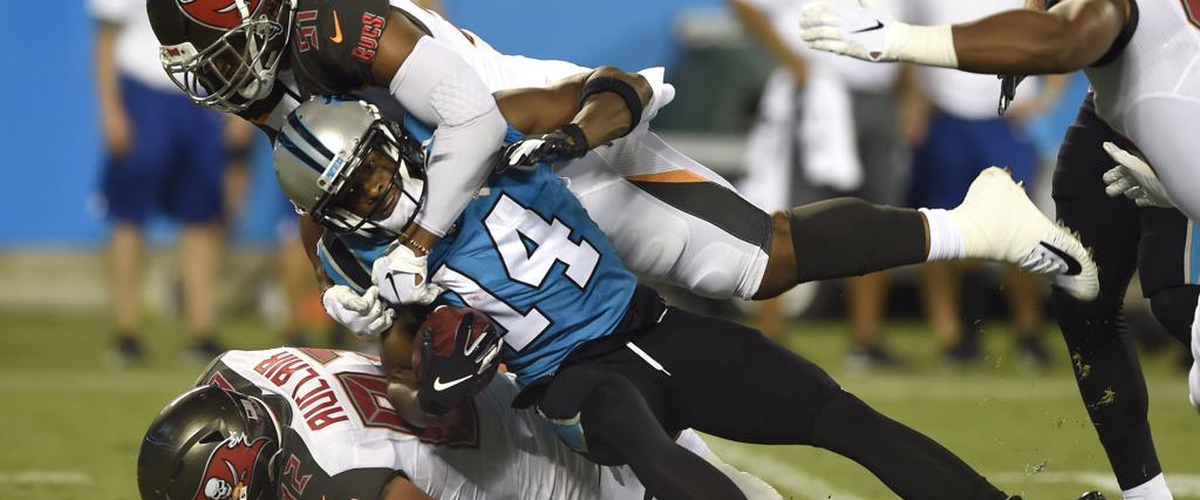 The Tampa Bay Buccaneers wrapped up the Carolina Panthers offense Thursday night, especially Christian McCaffrey. McCaffrey had only 53 total yards. The Bucs would win 20-14.
The Stack is back on this Football Friday and once again, we start our picks for the week in an 0-1 hole. Thursday Night Football was not a good one. The Carolina Panthers are not a good team. Inexplicably, Panthers running back Christian McCaffrey had 53 total yards of offense, Cam Newton looks hurt and the Panthers lost to the Tampa Bay Buccaneers 20-14. Give credit to defensive coordinator Todd Bowles and the Buccaneers defense. They played really good. Two home losses for the Panthers. It could be a very long year in the Carolinas. We were 11-4-1 last week and that included an incorrect Thursday night pick so let's hope Sunday is better in "the stack" for today, Friday, September 13th:
0-0-1 Arizona Cardinals @ 1-0 Baltimore Ravens 1 PM ET FOX
Which quarterback is likely to keep up the momentum and their high level of play from week one…Kyler Murray or Lamar Jackson? Murray needs to play a complete game and not just a fourth quarter and overtime. I'll take Jackson and the Ravens at home. Side note, it will be an emotional game for linebacker Terrell Suggs who returns to Baltimore.
Prediction: Ravens 34 Cardinals 17
1-0 San Francisco 49ers @ 0-1 Cincinnati Bengals 1 PM ET FOX
I was very impressed with the Bengals last week in their loss to Seattle. Wide receiver John Ross III in particular was awesome. There may just be some hope for the Bengals. First home game of the year for them. Second east coast game in a row for San Francisco. I'll take the Bengals.
Prediction: Bengals 23 49ers 20
1-0 Los Angeles Chargers @ 0-0-1 Detroit Lions 1 PM ET CBS
I admit, I am nervous about picking the Chargers in this one, because of the injuries they keep accumulating. No tight end Hunter Henry. Wide receiver Mike Williams may be out. But against a Lions team reeling from that tie last week, even playing an early game, the Chargers are the better team. Give me the Chargers.
Prediction: Chargers 24 Lions 20
1-0 Minnesota Vikings @ 1-0 Green Bay Packers 1 PM ET FOX
For the second straight season, the Vikings play a week two road game at Lambeau Field. Hopefully unlike last year, the game doesn't end in a tie. The Packers defense was great last week, but their offense wasn't. The Vikings ran the ball like crazy with Dalvin Cook last week. Their defense was great. It's going to be close and I'm scared picking them, but I think the Vikings are the better team…barely.
Prediction: Vikings 27 Packers 20
0-1 Jacksonville Jaguars @ 0-1 Houston Texans 1 PM ET CBS
A big AFC South showdown as neither one of these teams wants to drop to 0-2. Houston was so close to beating New Orleans Monday night. It is going to be a tall order for Jaguars rookie quarterback Gardner Minshew, but that defense will wreak havoc on the Texans offensive line and they will win a close one.
Prediction: Jaguars 20 Texans 17
1-0 New England Patriots @ 0-1 Miami Dolphins 1 PM ET CBS
The Miami Dolphins are a disgrace. The players aren't. The team overall and their approach is. Currently the spread is New England -18.5. I know they have had struggles in Miami in the past, but not this week. Not against this team.
Prediction: Patriots 49 Dolphins 10
1-0 Buffalo Bills @ 0-1 New York Giants 1 PM ET CBS
I hope that the Bills were just able to keep their stuff in the visitor locker room at MetLife Stadium since they played the Jets last week. The Giants stink. That Bills defense is very good and their offense is going to do just enough to get the win.
Prediction: Bills 23 Giants 16
1-0 Seattle Seahawks @ 0-1 Pittsburgh Steelers 1 PM ET FOX
Neither team looked impressive last weekend, but the Seahawks looked far better. Surely the Steelers are going to be able to score more than 3 points at home despite playing a pretty good defense team, right? Right?! That Steelers defense better be ready to stop Russell Wilson. I'll hedge my bets and say they will.
Prediction: Steelers 20 Seahawks 17
0-1 Indianapolis Colts @ 1-0 Tennessee Titans 1 PM ET CBS
Another pivotal AFC South matchup. The Colts arguably should have beaten the Chargers last week had Adam Vinatieri not missed two field goals and an extra point. The Titans impressed a lot of people were their thorough demolition of the Browns last week. They have the momentum. They'll pick up the win.
Prediction: Titans 23 Colts 17
1-0 Dallas Cowboys @ 0-1 Washington 1 PM ET FOX
Sorry, I just don't see how Washington beats the Cowboys. Not with how well Dallas looked last week and not with how bad Washington looked the second half of their game against Philadelphia. Washington will rely on Adrian Peterson. He can do some damage against the Cowboys, but Ezekiel Elliott will do more. I'll take the Boys.
Prediction: Cowboys 31 Washington 20
1-0 Kansas City Chiefs @ 1-0 Oakland Raiders 4:05 PM ET CBS
No Tyreek Hill? No problem for Patrick Mahomes and the Chiefs. Raiders should feel happy just getting that win against Denver, because Mahomes and the Chiefs are not losing this one.
Prediction: Chiefs 37 Raiders 23
0-1 Chicago Bears @ 0-1Denver Broncos 4:25 PM ET FOX
I hate picking Joe Flacco to go 0-2, especially with that defense the Broncos have, but I can't see the Bears with head coach Matt Nagy going 0-2 either. I'm not a believer in quarterback Trubisky, but I think Nagy will put him in a good position to help lead the Bears to a victory.
Prediction: Bears 20 Broncos 13
1-0 New Orleans Saints @ 1-0 Los Angeles Rams 4:25 PM ET FOX
A rematch of last year's NFC Championship game. You might remember, there was a missed pass interference call that cost the Saints a trip to the Super Bowl and caused the league to panic and go overboard on new pass interference reply standards. Yeah, New Orleans will never forget. Let's just get this game going so we don't have to talk about it much longer. Give me the home team.
Prediction: Rams 37 Saints 27
1-0 Philadelphia Eagles @ 0-1 Atlanta Falcons 8:20 PM ET NBC
Once DeSean Jackson and Carson Wentz got going, it was smooth sailing for the Eagles last week. Nothing went smooth for the Falcons. They're "pissed". At home, I think we see a different Falcons team and I think they stave off an 0-2 start with an impressive win.
Prediction: Falcons 31 Eagles 23
Coming up Monday: Week 2 Sunday NFL reaction plus MNF preview and prediction
---