"The Stack" 9-20-19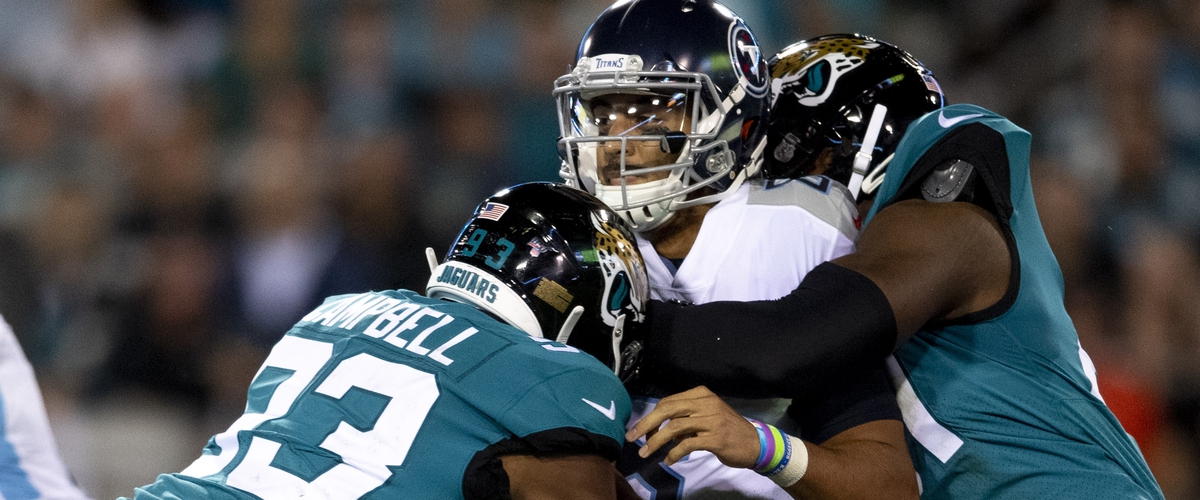 Calais Campbell and the Jacksonville Jaguars defense had a field day against Marcus Mariota and the Tennessee Titans. The Jaguars sacked Mariota nine times, three by Campbell, in their dominating 20-7 win Thursday night.
The Stack is back on this Football Friday and it has been a week. We've been all over the place this week and the blog has been put on the backburner. We'll do the NFL picks today and have a college football weekend forecast blog tomorrow. For the record, I did pick the Jacksonville Jaguars last night. Boy did Calais Campbell look good yesterday with his three sacks. Garnder Minshew II looked good as well and the Jaguars dominated the Tennessee Titans 20-7. What will happen the rest of week 3? Let's find out together in "the stack" for today, Friday, September 20th:
0-2 Cincinnati Bengals @ 2-0 Buffalo Bills 1 PM ET CBS
The excitement is palpable in Buffalo and though the team will try and curb some of the more abhorrent tailgating behavior of some of the fans, it won't stop the fans from really enjoying this one. Josh Allen is going to have a hay day against that awful Bengals defense. Bills roll in their home opener.
Prediction: Bills 27 Bengals 13
0-2 Miami Dolphins @ 2-0 Dallas Cowboys 1 PM ET FOX
Not sure what the Dolphins are hoping for in claiming former Cowboys defensive end Taco Charlton. It's not like whatever secrets he gives them they'll be able to use. They stink. Josh Rosen is starting which is nice, but what's the line currently? 21.5? I'm taking the Cowboys not only to win, but to cover too.
Prediction: Cowboys 38 Dolphins 7
0-2 Denver Broncos @ 2-0 Green Bay Packers 1 PM ET FOX
I don't think Denver is as bad as their 0-2 start and I don't think Green Bay is as good as their 2-0 start. At home though, Aaron Rodgers and company get it done in a lower scoring affair.
Prediction: Packers 20 Broncos 13
1-1 Atlanta Falcons @ 1-1 Indianapolis Colts 1 PM ET CBS
This is a tough one to pick. Logic says to take the Colts, but the Falcons I believe are the better team. They just haven't shown it in two weeks. Has Colts kicker Adam Vinatieri exercised the demons and will he make all of his kicks on Sunday? For his sake, I hope so. Despite it being the home opener for the Colts, I think the Falcons are going to come away with the W.
Prediction: Falcons 27 Colts 24
2-0 Baltimore Ravens @ 2-0 Kansas City Chiefs 1 PM ET CBS
Game of the day, no question about it. That Baltimore Ravens offense looks incredible. Lamar Jackson is throwing great. Mark Andrews, the tight end, has been fantastic. This offense looks almost unstoppable. But can it keep up with Patrick Mahomes and the Chiefs offense? The Ravens lost a heartbreaker here last year. In the Chiefs home opener, I don't think they will be able to pull it off.
Prediction: Chiefs 31 Ravens 27
1-1 Oakland Raiders @ 1-1 Minnesota Vikings 1 PM ET FOX
The Raiders have a lot of guys injured right now. Not sure how many of them will play on Sunday, but it may not matter. Kirk Cousins needs to play well in front of the home fans or the boos will come fast and furious. Dalvin Cook will have another big game and the Vikings will improve to 2-
1.
Prediction: Vikings 27 Raiders 16
0-2 New York Jets @ 2-0 New England Patriots 1 PM ET CBS
Oh yeah. Luke Falk versus Tom Brady. What's the line currently? 22.5 in favor of New England. I'll take them to cover, with or without Antonio Brown.
Prediction: Patriots 34 Jets 9
1-0-1 Detroit Lions @ 1-1 Philadelphia Eagles 1 PM ET FOX
The Eagles are the walking wounded. No wide receiver DeSean Jackson. They likely won't have wide receiver Alshon Jeffrey or tight end Dallas Goedert. Quarterback Carson Wentz isn't 100 percent. And I still like them to defeat the Lions comfortably.
Prediction: Eagles 23 Lions 10
0-2 Carolina Panthers @ 0-1-1 Arizona Cardinals 4:05 PM ET FOX
It would be a big surprise if Panthers quarterback Cam Newton played in this one. Even if he does, I think Kyler Murray and the Cardinals get the win. Murray has looked pretty good through two games. Running back Christian McCaffrey won't be able to do it all for Carolina.
Prediction: Cardinals 24 Panthers 13
0-2 New York Giants @ 1-1 Tampa Bay Buccaneers 4:05 PM ET FOX
The Daniel Jones era begins for the Giants. How will he fair against Tampa Bay? It might not be too bad, but he doesn't have the offensive weapons and he doesn't have the defense to back him up and get the W.
Prediction: Buccaneers 26 Giants 13
1-1Houston Texans @ 1-1 Los Angeles Chargers 4:25 PM ET CBS
The Chargers keep getting hit with injuries, but their defensive line is licking their chops to go against that Houston offensive line. Deshaun Watson will be running for his life and Austin Ekeler and Philip Rivers will do more than enough to get the win for the Chargters.
Prediction: Chargers 24 Texans 16
1-1New Orleans Saints @ 2-0 Seattle Seahawks 4:25 PM ET CBS
Sounds like Saints head coach Sean Payton may employ a two quarterback system with Drew Brees out. Teddy Bridgewater and Taysom Hill will both see playing time. It won't matter though. I'm not sold on the Seahawks by any stretch (they've won both their games by a combined three points), but against backup QBs in Seattle, the Seahawks will be just fine.
Prediction: Seahawks 27 Saints 17
0-2Pittsburgh Steelers @ 2-0 San Francisco 49ers 4:25 PM ET CBS
The first game of the Mason Rudolph era for Pittsburgh since Ben Roethlisberger is done for the year with an elbow injury. We'll see if the Steelers offense can be any good. I'm not thinking so against the 49ers. I haven't quite bought into San Francisco yet, but they are the better team in this matchup and should win pretty easily.
Prediction: 49ers 27 Steelers 17
2-0Los Angeles Rams @ 1-1 Cleveland Browns 8:20 PM ET NBC
Speaking of teams that haven't shown me anything yet, both of these teams have yet to play to their full potential. The Rams haven't been impressive yet and the Browns simply aren't living up to the high expectations placed in front of them by so many. The Rams are the better team, but on primetime, in the first Sunday night game in Cleveland since 2008, I'll take a chance on the Brownies.
Prediction: Browns 24 Rams 23
Coming up Saturday: College football weekend forecast
---