"The Stack" 9-23-19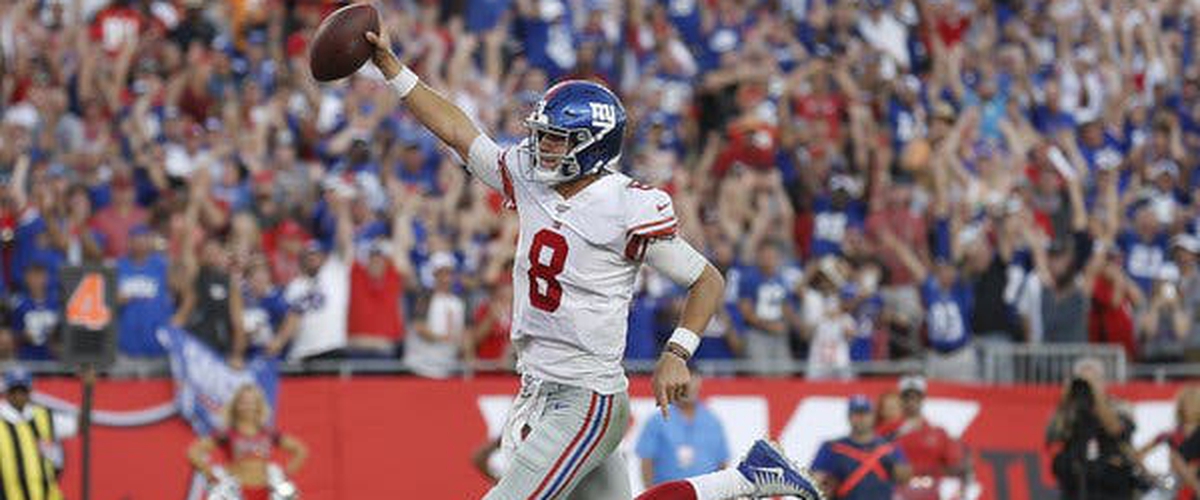 New York Giants rookie QB Daniel Jones was fantastic Sunday afternoon in Tampa. He threw for two scores and ran for two more and the Giants overcame an 18 point halftime deficit to win 32-31. They wouldn't have won if the Bucs had made their field goal as time expired, but it doesn't matter. The Daniel Jones era is here and the hype train is in full force.
The Stack is back on this Monday and man oh man was week 3 wild in the NFL or what? Teams we thought would lose did anything but. A star is born in New York. The Browns…oh the Browns. Now let's get to some recap and reaction in "the stack" for today, Monday, September 23rd:
Bengals 17 Bills 21
The Buffalo Bills were dominating this game early on. Their defense was playing great shutting the Cincinnati Bengals offense down. A couple of turnovers though led the Bills offense to go to sleep for much of the second half until they absolutely needed step up down 17-14. Frank Gore would provide that game-winning score and the Bills remain undefeated. I'm still not sold on them though.
Dolphins 6 Cowboys 31
Speaking of teams going to sleep, the Dallas Cowboys offense certainly was asleep in the first half against Miami. Dak Prescott wasn't sharp. The offense in general was bad. They were better in the second half, but barely covered the spread. Zeke was fine and at the end of the day, the Cowboys are 3-0 and that is all that matters. Josh Rosen was better for the Dolphins, but they are still a very bad team. Very, very bad.
Broncos 16 Packers 27
Once again, the Green Bay Packers defense was phenomenal. They forced Joe Flacco and the Denver Broncos offense to struggle all day. Aaron Rodgers and the offense did better, but this is still a work in progress. Green Bay is undefeated because of their defense right now, plain and simple.
Falcons 24 Colts 27
Oh, Atlanta. Matt Ryan throws a bad interception. The defense didn't help matters much letting the Colts score early and often in the first half. Ryan and the offense rebounded in the second half, but couldn't quite close the deal. What's worse for Atlanta is safety Keanu Neal is done for the year with an Achilles injury. That hurts a lot. Was nice to see Indianapolis Colts kicker Adam Vinatieri respond nicely making all of his kicks.
Ravens 28 Chiefs 33
Baltimore Ravens quarterback Lamar Jackson certainly came back down to Earth a little bit in this game. The Kansas City Chiefs did a good job on him most of the game. Chiefs quarterback Patrick Mahomes is just not of this world. Plain and simple. His throws are unreal. The Ravens' decision to go for two multiple times and failing will be questioned. One of the reasons they were not able to get over the hump and get the win.
Raiders 14 Vikings 34
The formula is pretty simple for the Minnesota Vikings. Give the ball to running back Dalvin Cook early and often. Cook ran for over 100 yards and had another rushing touchdown and the defense was sensational once again shutting down the Oakland Raiders much of the game. It was an impressive performance. Let's see that on the road next week at Chicago.
Jets 14 Patriots 30
Luke Falk (Jets) versus Tom Brady (Patriots) was unfair. The New England Patriots easily took care of business against the injury riddled Jets. Their running game is a bit of an issue, but right now, the Patriots are the best team in the NFL…again…with or without Antonio Brown.
Lions 27 Eagles 24
The Philadelphia Eagles were very shorthanded in this game and it showed. Their wide receiving corp was depleted and rookie running back Miles Sanders fumbled twice. Tight end Dallas Goedert dropped a pass. The defense wasn't great. That's how you lose games to teams like Detroit. Maybe Detroit is actually good.
Panthers 38 Cardinals 20
No Cam Newton? No problem for the Carolina Panthers. Kyle Allen was fantastic throwing four touchdowns and the defense made enough plays to slow down Kyler Murray and the Arizona Cardinals. It helps that the Cardinals defense isn't very good and that the Panthers have Christian McCaffrey. Everything contributed to a big win for the Panthers, their first of the year.
Giants 32 Buccaneers 31
The Daniel Jones era in New York has started and after one game it is spectacular. Jones ran in for two touchdowns and added two more on the ground as the Giants overcame a monster game, well okay at least the first half by Mike Evans (8 catches, 190 yards, 3 TDs), The Bucs decision to take a delay of game penalty at the end for kicker Matt Gay is still puzzling. Yes, Gay should have made the kick, but those five yards were costly. The win for the Giants didn't come without a cost though. Running back Saquon Barkley suffered a high ankle sprain in the second quarter and will miss some time. That hurts the Giants (and my fantasy team).
Texans 27 Chargers 20
The Los Angeles Chargers looked like they had control of this game in the third quarter. They were containing Houston Texans quarterback Deshaun Watson and looked like they would go 2-1. Watson had other ideas. He lit it up in the second half finishing with over 300 yards passing along with three touchdowns. The end to this game was exciting with an unsportsmanlike conduct penalty being called on Houston on the game's final play, ut the Chargers were unable to cash in. Another bad loss for this team. Another thrilling, close game for the Texans.
Saints 33 Seahawks 27
Don't let the final score fool you. The New Orleans Saints were in control of this game all day long. Teddy Bridgewater was effective at quarterback, Alvin Kamara was fantastic out of the backfield rushing and receiving and the Saints scored on all three levels (offense, defense and special teams). Russell Wilson did all he could late, but it was too little, too late. Not sold on either of these team's yet this season, but this was a very impressive win for the Saints.
Steelers 20 49ers 24
Not often a team commits five turnovers, finished -3 in turnover margin and emerges victorious, but that is what the San Francisco 49ers did in this game. That speaks more to the Steelers ineffectiveness on offense with quarterback Mason Rudolph than anything else. Not sure how good the 49ers are, but we do know that the Steelers aren't that good. At least safety Minkah Fitzpatrick had a good game in his first game as a Steeler.
Rams 20 Browns 13
The Browns deserve credit for keeping this game as close as they did given how banged up their secondary was. It was a band-aid crew back there and they did a pretty good job. They unfortunately didn't have much of an answer for Cooper Kupp who had two touchdowns and couldn't be stopped much of the night. Cleveland also deserves plenty of criticism for their playcalling in this one, from calling a run on 4th and 9 just past midfield and not calling for a run any of the four plays on first and goal from the four with under a minute to go in the game. Head coach Freddie Kitchens needs to do better. Quarterback Baker Mayfield needs to do better. If not, this is going to be a long, lost season for Cleveland. Their offensive line certainly could use some work too.
1-1 Chicago Bears @ 0-2 Washington 8:15 PM ET ESPN MNF
Not sure the Bears are back after their walk-off win last week in Denver. I still have concerns with their offense. I do think though that even if the offense is still working to hit on all cylinders that they won't have to do that tonight to emerge with a win against a bad Washington team.
Prediction: Bears 20 Washington 10
Coming up Tuesday: MNF reaction plus college football thoughts from the weekend
---