"The Stack" 9-28-18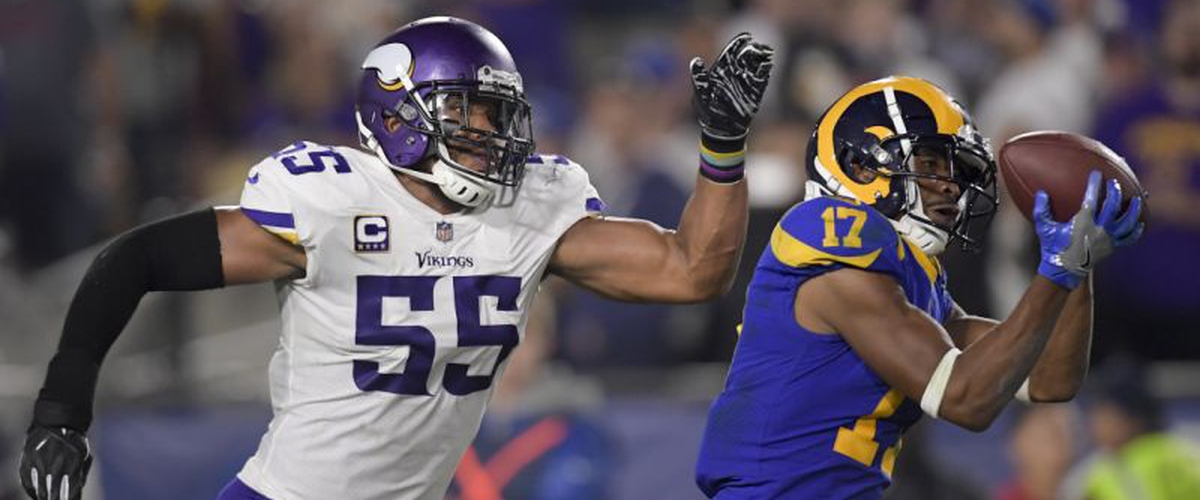 Jared Goff had a career night, posting a perfect passer rating by dropping dimes likes this one to Robert Woods. He, Cooper Kupp and Todd Gurley made Anthony Barr look silly multiple times throughout the night as the Rams beat the Vikings 38-31.
The Stack is back on this Football Friday and our picks have stunk. Flat out stunk so far this year. 9-7 last week leaves us at 25-21-2 on the year. I don't see this week being much better. Hopefully I'm wrong, but there are a lot of 50-50 games this week and I tend to be on the wrong side of those predictions. Hey, we have to continue to try thought right? Unfortunately we are off to a 1-0 start this week following the Los Angeles Rams' 38-31 win over the Minnesota Vikings. Jared Goff was absolutely tremendous. Kirk Cousins and the Vikings offense was good too, but they couldn't keep up with the Rams offense which torched the Vikings defense all night long. What has happened to the Vikings defense? Let's get right to the previews and predictions for week four in the NFL in "the stack" for today, Friday, September 28th:
1-0 Miami Dolphins @ 1-2 New England Patriots 1 PM ET CBS
Who would have ever thought that the Dolphins would be undefeated at this point and the Patriots a game under .500. The Patriots haven't looked right so far this season and I think there are still plenty of people out there (myself included) who don't quite believe in the Dolphins yet. Win in Foxboro on Sunday and I'll almost become a believer. I don't see that happening though.
Prediction: Patriots 30 Dolphins 20
2-1 Philadelphia Eagles @ 2-1 Tennessee Titans 1 PM ET FOX
The Titans had a big win last week in Jacksonville and Marcus Mariota is starting at quarterback for them this week. How healthy is he though? Carson Wentz looked a little rusty last week in his first start at quarterback for the year for the Eagles. I'm guessing that that Titans defense is going to make life difficult for the Eagles offense. I still will take them though, because I think they can put up a few more points than the Titans offense can put up on the Eagles defense. Prove me wrong Titans! Prove me wrong.
Prediction: Eagles 20 Titans 16
2-1 Cincinnati Bengals @ 1-2 Atlanta Falcons 1 PM ET CBS
The Falcons are a desperate team decimated by injuries on the defensive side of the ball. If the Bengals truly want to show that they are a different team, they will win this game. I don't think Joe Mixon will be back, but A.J. Green should be good to go. Potential high-scoring game here. Prove me wrong Bengals! Prove me wrong.
Prediction: Falcons 34 Bengals 27
2-1 Tampa Bay Buccaneers @ 2-1 Chicago Bears 1 PM ET FOX
It has to be Ryan Fitzpatrick I mean Fitzmagic this week at quarterback right? I mean, how can you go to Jameis Winston after what Fitzmagic has done through the first three weeks of the season? Two of those interceptions Monday night were not his fault. Even if he has a couple of interceptions by halftime do not pull him. He is your best chance to win Bucs. I think the Bears defense may be a little too much though and the Bucs defense isn't going to be able to come up with a big stop when they need it. Prove me wrong Bucs! Prove me wrong.
Prediction: Bears 24 Bucs 20
1-2 Detroit Lions @ 1-2 Dallas Cowboys 1 PM ET FOX
The Lions looked like a much different team Sunday night against the Patriots. Maybe Matt Patricia going against his former boss Bill Belichick had something to do with that. The Cowboys are a desperate team as well. Their offense has looked terrible for much of the season. It's time for Ezekiel Elliott and company to put together a good game on that side of the ball. I'll go out on a limb and say they can.
Prediction: Cowboys 27 Lions 19
1-2 Buffalo Bills @ 1-1-1 Green Bay Packers 1 PM ET CBS
Was last week a mirage or the Buffalo Bills have something going here with Josh Allen? Can their defense get after Aaron Rodgers who once again isn't practicing this week? I think it is going to be a long year for Rodgers, because that injury isn't going to get any better. I'd love to see Buffalo win, but the Packers offensive line is better than the Vikings line last week and I just can't see Rodgers losing to the Bills.
Prediction: Packers 27 Bills 13
0-1 Houston Texans @ 1-2 Indianapolis Colts 1 PM ET CBS
Man, the Texans have been disappointing this year. They start slow and come up short. It's been that way each of the first three games. They need to get off to a fast start in this one. Unfortunately, I don't have faith that they can do it. I don't necessarily think that the Colts are better than the Texans, but until the Texans can put it all together, I have to lean towards the Colts in this one.
Prediction: Colts 23 Texans 20
1-2 New York Jets @ 2-1 Jacksonville Jaguars 1 PM ET FOX
The Jaguars were really disappointing last week against the Titans. Their offense was a virtual no show. Leonard Fournette should play this week which would be good. I don't have confidence that the rookie Sam Darnold is going to be able to do much against that Jaguars defense.
Prediction: Jaguars 24 Jets 9
1-2 Seattle Seahawks @ 0-3 Arizona Cardinals 4:05 PM ET FOX
What an ugly game this is. The Seahawks don't look great offensively, but they look way better than the Cardinals. The Cardinals to try and get going offensively are turning to rookie Josh Rosen. I think he provides a spark to the team and against my better judgement, I'm going to go with the Seahawks to squeak out a close one.
Prediction: Seahawks 17 Cardinals 13
1-1-1 Cleveland Browns @ 0-3 Oakland Raiders 4:05 PM ET FOX
Baker Mayfield! Get on board the Baker Mania that is going on in Cleveland. I know the Raiders are a desperate team, but they can't get after the quarterback. They may bait Mayfield into a couple of mistakes, but the Browns just have a different feel to them. Give me the Browns to get above .500 for the first time since the first Bush administration (I'm joking of course…maybe).
Prediction: Browns 27 Raiders 24
1-2 San Francisco 49ers @ 1-2 Los Angeles Chargers 4:25 PM ET CBS
Let's see, a 49ers team without their starting quarterback (Jimmy Garoppolo) against an outstanding offensive team? Not a chance San Fran. Not a chance. Rivers, Gordon and company roll.
Prediction: Chargers 31 49ers 13
2-1 New Orleans Saints @ 1-2 New York Giants 4:25 PM ET CBS
The Saints offense is rolling right now. Drew Brees is playing great. Michael Thomas is off to a historic start and Alvin Kamara is outstanding. Their defense is not so great which is why the Giants have a good chance in this one. I will go with the team with more offensive firepower and that I believe is the New Orleans Saints.
Prediction: Saints 37 Giants 30
2-1 Baltimore Ravens @ 1-1-1 Pittsburgh Steelers 8:20 PM ET NBC
Joe Flacco has looked really good this year for the Ravens and not he gets to face a Steelers defense that has been anything but good. That bodes well for the Ravens, but the Steelers may have figured something out in their win over the Buccaneers Monday night. I will go with the home team in a higher scoring affair than what we have seen in other games in this series.
Prediction: Steelers 30 Ravens 26
Coming up Monday: Week 4 Sunday NFL reaction plus MNF preview (We'll also talk about the Eric Reid signing at some point as well).
---