"The Stack" 10-1-18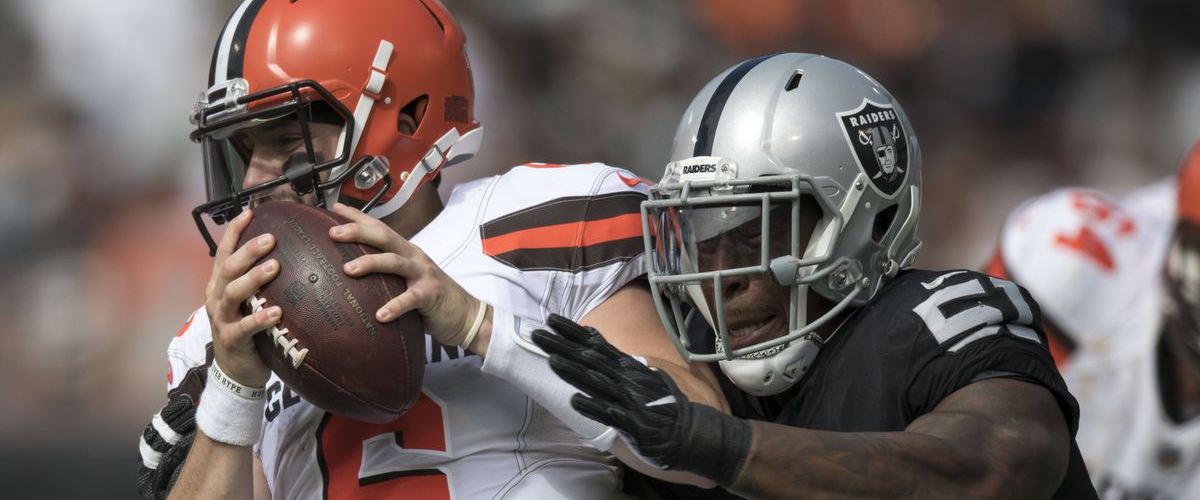 The Raiders forced Baker Mayfield four turnovers and got lucky that the officials overturned a first down late in the game that forced the Browns to punt allowing the Raiders to drive down and score the game-tying touchdown and force overtime. They would go on to win in OT.
The Stack is back on this Monday and it was another exciting Sunday of NFL football. Three overtime games and other games going down to the wire. The Browns got screwed which is very unfortunate. We'll get to all of the reaction from week four plus a MNF prediction in "the stack" for today, Monday, October 1st:
Dolphins 7 Patriots 38
Well of those questions about the New England Patriots and if they have lost it appears to have been answered, at least for now. Tom Brady was spot on with three touchdowns and the Patriots defense rose to the challenge and crushed the Dolphins. The Dolphins offense was not very good. It's like they didn't even show up. So much for an undefeated Dolphins going in and beating the Patriots.
Eagles 23 Titans 26 (OT)
What a fun game this was. The Titans rallied from a 17-3 deficit and ended up getting to overtime against Carson Wentz and the Eagles. After the Eagles scored a field goal to begin overtime, Marcus Mariota helped lead the Titans on a huge drive that saw a couple of fourth down conversions and a beautiful floating pass to Corey Davis for the game-winning touchdown. What a great win for the Titans.
Bengals 37 Falcons 36
The Atlanta Falcons appear to be a snake bitten franchise. For the second time in as many weeks, the Falcons scored over 30 points without a turnover only to see the opposing team (in this case the Bengals) score a game-winning touchdown with just seconds to spare. This time it was A.J. Green from Andy Dalton though the Bengals did suffer a significant loss, losing tight end Tyler Eifert to a gruesome ankle injury. Back to the Falcons though. Four times in the last 80 years has a team scored at least 36 points at home with no turnovers and lost. The Falcons have done it twice in as many weeks. Yikes! Poor Falcons :(
Buccaneers 10 Bears 48
So that Fitzmagic that Ryan Fitzpatrick had? It's gone. Or at least it is gone from the defense. Chicago Bears quarterback Trubisky threw six touchdowns, (SIX!) in route to the Bears rout of the Bucs. Jameis Winston came in for Fitzpatrick and it will be interesting to see what the team does following their bye week. But, boy, Mitchell. Not a bad game.
Lions 24 Cowboys 26
Detroit Lions wide receiver Golden Tate had himself a game with 132 receiving yards a couple of touchdowns. Too bad he didn't play defense. Ezekiel Elliott had a big day rushing the football with over 150 yards and added almost 90 receiving yards and a touchdown, but the Cowboys still needed a drive and a last second field goal to take down the Lions after Matthew Stafford led the Lions for the go-ahead touchdown. Tough loss for the Lions and a much-needed offensive performance and win from the Cowboys.
Bills 0 Packers 22
That Bills performance and win last week over the Vikings…appears to be a mirage. Josh Allen stunk up the joint on Sunday thanks in part to the Packers defense making life somewhat miserable for him. The Packers offense wasn't great, but they didn't need to be. They handled the Bills with ease.
Texans 37 Colts 34 (OT)
What a fun game this was. Deshaun Watson and the Houston Texans had a big lead thanks in large part to Watson doing damage with his legs as well as his arms. They had a 28-17 only to see Andrew Luck and the Indianapolis Colts storm back to tie the game. After trading field goals in overtime, the Colts decided to go for it on 4th and 4 from their side of the field with under a minute to go. They failed to convert and Watson hooked up with Deandre Hopkins to get the team in position for the game-winning field goal which they hit. I understand where they are coming from, but I disagree with the decision for the Colts to go for it. You don't do that so close to the end of the game on your side of the field. Not smart. Colts kicker Adam Vinatieri now has made the most filed goals in NFL history. That is a big deal for sure.
Jets 12 Jaguars 31
Man the Jaguars defense was great in this one. They made Jets quarterback Sam Darnold look like a rookie (he is). It was Blake Bortles though that once again stole the show with over 300 yards passing and a couple of touchdowns. He's going to need to do that next week at Kansas City to even come close to match Patrick Mahomes. This Jaguars is legit.
Seahawks 20 Cardinals 17
Seattle spoiled Sam Rosen's starting debut, but the real story is Seahawks safety Earl Thomas who hurt his leg and will be out for the rest of the season. He shot a middle finger up to the Seahawks sideline as he got carted off. I'm guessing he's played his last down as a Seahawk. Sebastian Janikowski kicked the game-winning field goal as time expired to win it for Seattle and keep Arizona winless.
Browns 42 Raiders 45
What a wild game this was. Baker Mayfield was okay and he had help from fellow rookie running back Nick Chubb who had over 100 yards rushing and two touchdowns. Carlos Hyde also didn't play too bad, but he came up inches short on a third and 2 play that would have ended the game and would have secured a win for the Browns. The officials said he had a first down, but reviewed it and somehow determined there was conclusive enough evidence to overturn it. I didn't see it. Not sure many people saw it. Derek Carr led the Raiders to a game-tying touchdown to Jared Cook and subsequent two-point conversion to Jordy Nelson. They would win on a field goal. Poor Browns. They just can't catch a big break.
Chargers 29 49ers 27
I did not expect C.J. Beathard and the San Francisco 49ers offense to put up the yardage and points that they did, but they made this a game until the very end. They had a drive in the second quarter that was 21 plays long and resulted in a field goal. Philip Rivers and the Chargers though settled down and came back from an early deficit to beat the 49ers.
Saints 33 Giants 18
This just in...New Orleans Saints running back Alvin Kamara is good. I mean really good. He had three rushing touchdowns in the second half as the Saints pulled away and beat the Giants. Mark Ingram is coming back from suspension, but the Saints may be hard pressed to keep Kamara off the field. How can you?!
Ravens 26 Steelers 14
Joe Flacco and company have it going on offense. The new wide receivers have been great like John Brown who hauled in the game's first touchdown and the defense has played well too. The Steelers are in a world of hurt. Their defense isn't great and their offense is out of synch. They need to get it together and quick.
Kansas City Chiefs @ Denver Broncos 8:15 PM ET ESPN MNF
Can the Broncos defense stop Patrick Mahomes? It is going to be awfully difficult. The Chiefs just have so many weapons. Plus, the Broncos defense hasn't been that great. The Chiefs defense stinks so Case Keenum and the Broncos offense have a great chance to score some points, but no enough to take down the visitors.
Prediction: Chiefs 34 Broncos 27
Before we go, two baseball games are being played today to decide divisions. 162 games weren't enough. We need 163! The Milwaukee Brewers have to go to Chicago to take on the Cubs for the NL Central title (1 PM ET ESPN) and the Colorado Rockies go to Los Angeles to take on the Dodgers for the NL West title (4 PM ET ESPN). The losers go to the wild card elimination game. It is going to be very intense and a whole lot of fun. Can't wait. Unfortunately, I am taking the Dodgers and Cubs, but I'm hoping the Brewers and Rockies win.
Coming up Tuesday: MNF reaction, MLB playoffs, Eric Reid and college football thoughts
---