"The Stack" 9-30-19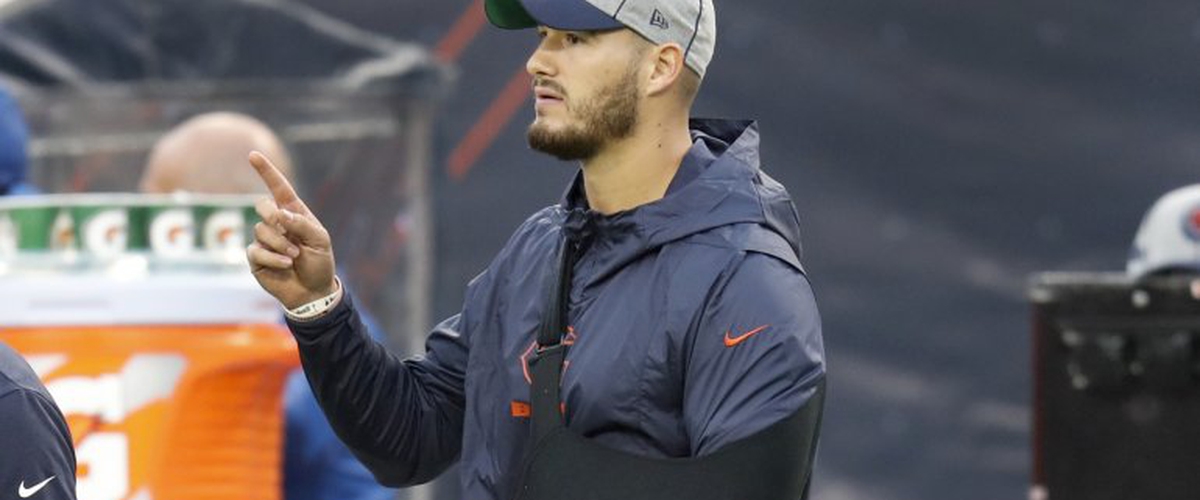 Chicago Bears quarterback Mitchell Trubisky injured his shoulder on the first drive of the game against the Minnesota Vikings. The Bears defense dominated in the 16-6 win, but Chicago's attention is on how long Trubisky will be out.
The Stack is back on this Monday and they (we) are unhappy in Minnesota, ecstatic in Cleveland, disappointed in Detroit and Buffalo and breathing a sigh of relief in places like Kansas City and Jacksonville. We'll react to all of week four's games so let's get right to "the stack" for today, Monday, September 30th:
Titans 24 Falcons 10
There is no other way around this. The Atlanta Falcons are a massive disappointed so far through the first quarter of the season. Their offense doesn't look like they have any rhythm. Their defense let a rookie wide receiver torch them for two touchdowns and they generally look like they don't have any answers. Head coach Dan Quinn needs to figure things out…and fast or he is going to be out of a job. This was a good win for the Titans.
Browns 40 Ravens 25
Baltimore Ravens safety Earl Thomas said he was tired of hearing about all of the Cleveland Browns hype. Head coach John Harbaugh said that the Browns won the offseason, but that was about it. How are they feeling this morning after Baker Mayfield and the Browns put a whooping on that defense Sunday? Ravens quarterback Lamar Jackson has come back down to earth after a scorching first couple of weeks. Browns running back Nick Chubb was fantastic rushing for over 160 yards and three touchdowns, including an 88-yard rushing touchdown and Browns are now tied for first in the AFC North with the Ravens at 2-2.
Patriots 16 Bills 10
In case you didn't know, this New England Patriots defense is good. I mean really good. I mean phenomenally good. They picked off Buffalo Bills quarterback Josh Allen four times and once again made life difficult for the opposing offense. Tom Brady and the Patriots offense weren't great in this game. Credit the Bills defense for that. But, the Patriots offense did enough and they emerged victorious. The blocked punt for a touchdown by Matthew Slater certainly helped as well.
Chiefs 34 Lions 30
What…A….Game! The Detroit Lions did a really good job against Kansas City Chiefs hall-of-fame quarterback Patrick Mahomes. They held him without a touchdown pass and made life uncomfortable. It looked like the Lions had the game won when wide receiver Kenny Galloday dragged his feet to give the Lions a 30-27 lead. The Chiefs though, thanks in large part to a lateral by tight end Travis Kelce to running back LeSean McCoy, would score the game-winning touchdown with 20 seconds left to escape Detroit with a win. Unbelievable.
Panthers 16 Texans 10
The Carolina Panthers were left for dead a couple of weeks ago after their second consecutive home loss to open the season. No Cam Newton. All appears to be okay. Quarterback Kyle Allen wasn't great, but he did enough along with running back Christian McCaffrey and a suffocating defense to beat Deshaun Watson and the Houston Texans. A trick play that had wide receiver DeAndre Hopkins throw a pass was intercepted. That came back to haunt them.
Raiders 31 Colts 24
I think everyone had the Oakland Raiders going into Indianapolis and beating the Colts a week after looking pathetic in a loss to the Minnesota Vikings, right? Okay, maybe not. It helped that Colts wide receiver T.Y. Hilton and linebacker Darrius Leonard didn't play, but the Raiders were awfully impressive on both sides of the ball. Raiders linebacker Vontaze Burfict got ejected in the second quarter. He was good for three-and-a-half games. That's got be some kind of record for him.
Chargers 30 Dolphins 10
The Miami Dolphins actually had a lead in this game at 7-3. It wouldn't last long though as Philip Rivers and Austin Ekeler were too much in this game. The Los Angeles Chargers weren't great in this game, but they did emerge victorious and they covered. That's really all that matters.
Washington 3 Giants 24
New York Giants quarterback Daniel Jones wasn't as good as he was last week, but he didn't need to against an atrocious Washington team. Washington pulled quarterback Case Keenum and put in Dwayne Haskins, but he was not any better, throwing three interceptions. The long year in D.C. will continue. The Giants played well on both sides of the ball.
Seahawks 27 Cardinals 10
Seattle didn't need quarterback Russell Wilson to be great Sunday. He didn't need to do much. Jadaveon Clowney came up with a pick-six, the ground game was effective and the Seahawks easily disposed of the Arizona Cardinals. At least there was one bright spot for the Cardinals. Wide receiver Larry Fitzgerald moved into second for career receptions so that's nice at least.
Buccaneers 55 Rams 40
Stunning. Really that is the only way to describe what the Tampa Bay Buccaneers did to the Los Angeles Rams on Sunday. Wide receiver Chris Godwin had another big game with 170 yards receiving and two touchdowns, Mike Evans had a 67-yard touchdown catch and quarterback Jameis Winston outdueled Rams quarterback Jared Goff. The Rams haven't looked great all year. This may be a wakeup game for them.
Vikings 6 Bears 16
What an ugly game for the Minnesota Vikings. Their offense had no chance…not even against a depleted Chicago Bears defense. Khalil Mack and company made life miserable for Vikings quarterback Kirk Cousins. Don't get me wrong, Cousins wasn't great, but he really didn't have much time at all. Of bigger concern to the Bears…Trubisky left the game on the first drive with a shoulder injury. Chase Daniels came in and played well, but how will this affect them for the duration of the injury, however long that may be?
Jaguars 26 Broncos 24
The Denver Broncos finally recorded a sack. In fact they had three of them in the first half and at one point had a 17-3 lead. After that though, it was the Leonard Fournette/Gardner Minshew II show. Fournette ran for over 220 yards and Minshew II hung in there and threw a couple of touchdowns as the Jaguars rallied to win 26-24. They won the game on a game-winning field goal as time expired, the second such loss for the Broncos at home this season.
Cowboys 10 Saints 12
The New Orleans Saints hadn't won a game in which they didn't score a touchdown since 1998. Cross that one off the list. The Saints defense was sensational all night long, frustrating Ezekiel Elliott, Dak Prescott and the rest of the Dallas Cowboys offense in route to their 12-10 win. Saints quarterback Teddy Bridgewater played okay. Room to grow for sure, but the fact that the Saints won this game speaks volumes.
0-3Cincinnati Bengals @ 0-3 Pittsburgh Steelers 8:15 PM ET ESPN MNF
Something has to give here. Someone is going to win this game…unless there is a tie. I don't see that happening. The Pittsburgh Steelers certainly aren't great this year, but they are better than the Bengals. The defense will come up big, Mason Rudolph and James Conner will play well and the Steelers will pick up their first win of the season.
Prediction: Steelers 23 Bengals 10
Coming up Tuesday: MNF reaction, college football weekend thoughts and MLB wild card previews and predictions
---