"The Stack" 9-5-18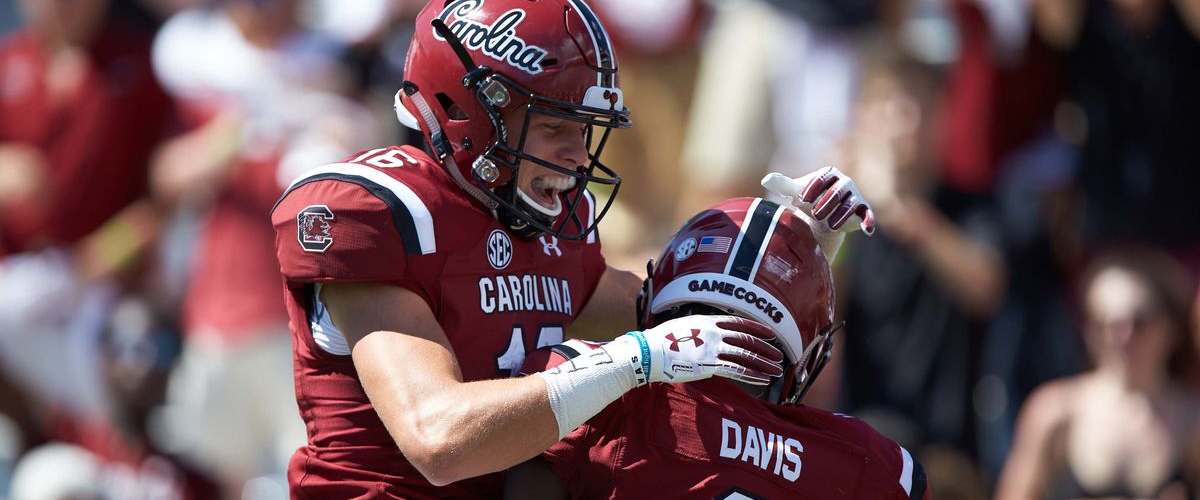 Is South Carolina ready to take down Georgia in the SEC East? The two meet in huge clash on Saturday.
The Stack is back on this Wednesday with not too much to talk about. The WNBA Finals are set. It will be the Washington Mystics making their first ever finals appearance against the Seattle Storm seeking their third WNBA title. Game one is Friday. Trump is upset with the "terrible message" Nike is sending regarding the Colin Kaepernick ad. Surprise, surprise. And Alex Ovechkin of the Washington Capitals, or any other NHL player for that matter might not be allowed to do any more keg stands with the Stanley Cup. Now, let's get to it and see what else is in "the stack" for today, Wednesday, September 5th:
College football weekend forecast
The week two slate in college football this week does not have a lot of intriguing games nor are there games that we could potentially see an upset which inevitably means there will be chaos on Saturday. There are only two games pitting ranked teams against one another. A game in the SEC East that could decide the division features #3 Georgia traveling to Columbia, South Carolina, to take on #24 South Carolina (3:30 PM ET CBS). There are those out there that believe South Carolina is going to win the East and in order to that, they must beat Georgia in week two. I must admit, I'm a little nervous that Georgia isn't going to win. South Carolina is tough, but I think Georgia is simply the better team and should win. The other game with ranked teams is #17 USC at #10 Stanford (8:30 PM ET FOX). Stanford seems to have been the better team in this rivalry as of late. Bryce Love is going to have a bounce-back game and they will take JT Daniels and company.
Other than that, there isn't a whole lot going on out there. #18 Mississippi State travels to the Little Apple (Manhattan, Kansas) to take on Kansas State (noon ET, ESPN). Considering how Kansas State struggled with South Dakota last week, I don't see them being able to take down Mississippi State. Arizona at Houston (noon ET ESPN2 or ABC) could be an entertaining game. Arizona was disappointing last week in a loss to BYU. I think Houston gets them again. Duke at Northwestern (noon ET ESPNU) could be good. Chip Kelly had a disappointing head coaching debut with UCLA last week in a loss to Cincinnati. It isn't going to get any better against Kyler Murray and #6 Oklahoma (1 PM ET, FOX). Kentucky is destined to lose at #24 Florida for the 30-something consecutive time (7:30 PM ET SEC Network). #13 Penn State looked shaky last week in a 45-38 overtime win against Appalachian State. They should rebound at Pittsburgh (8 PM ET ABC). And the fighting Herman Edwards (Arizona State) take on #15 Michigan State in Tempe (10:45 PM ET ESPN). Will Pac-12 after dark be in full effect? We shall see. Enjoy the week of college football everyone. Something is bound to happen that we don't see coming.
U.S. Ryder Cup picks announced
To the surprise of no one, Tiger Woods has been named to the U.S. Ryder Cup team. Captain Jim Furyk picked Bryson DeChambeau, Phil Mickelson and Tiger Woods with his at large picks. He still has one more at large pick, but the team overall is strong. Here are both team USA and team Europe's rosters:
USA: Bryson DeChambeau, Rickie Fowler, Dustin Johnson, Brooks Koepka, Phil Mickelson, Patrick Reed, Webb Simpson, Jordan Spieth, Jordan Thomas, Bubba Watson, Tiger Woods, TBD.
Europe: Paul Casey, Tommy Fleetwood, Sergio Garcia, Tyrrell Hatton, Rory McIlroy, Francesco Molinari, Alex Noren, Ian Poulter, Thorbjorn Olesen, Jon Rahm, Justin Rose, Henrik Stenson
The Ryder Cup is the weekend in September at Le Golf National which is just outside of Paris.
It's going to be a fun tournament. Looking forward to it.
Coming up Thursday: 2018-19 NFL season preview
---