"The Stack" 9-6-18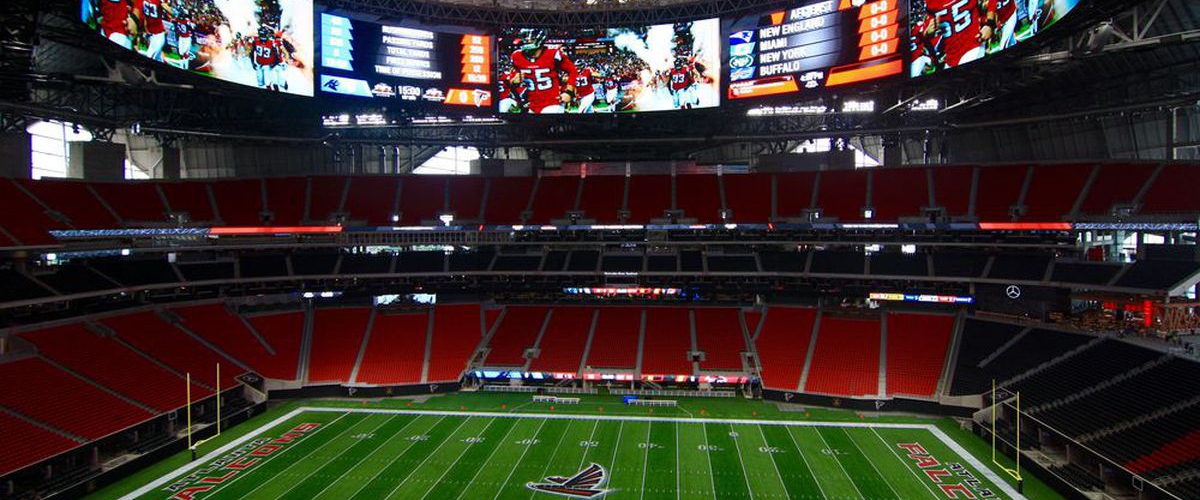 Mercedes-Benz Stadium, home of the Atlanta Falcons is the site of Super Bowl LIII. Will the home team be playing in their stadium in February? The NFL season is about to kick off.
It's Thursday and it is the opening day of the NFL season. Yay?! Are you excited? The excitement and anticipation for the NFL has waned in recent years and it continues to do so thanks to the NFL's inconsistency on the NFL's domestic violence policy, the national anthem issue that they have botched, the safety issues and overall changing the game in terms of hitting and kickoffs. It's not good. Yet, I still like to do fantasy football and I still pay attention to the NFL more so than any other sport. NFL Redzone is great and I will still be watching this season. I have gone really out there with my Super Bowl pick and keeping my fingers crossed that the star players on that team stay healthy. It's not who you think. Let's preview the divisions, pick some playoffs teams, and pick our Super Bowl winner and MVP in "the stack" in our 2018-19 NFL season preview for today, Thursday, September 6th:
2018-19 NFL season preview
There is some big news as the NFL season kicks off tonight with the Atlanta Falcons at the Philadelphia Eagles (8:20 PM ET NBC) (I have the Eagles winning a close one) and it isn't good for news for fans of the Pittsburgh Steelers and Oakland Raiders. Steelers running back Le'Veon Bell still has not reported to the team and he won't be playing this week. It sounds like his agent is concerned about Bell's workload and that perhaps Bell won't show up until week ten which he can do and still become a free agent in the offseason since he is on the franchise tag (which he still hasn't signed). His teammates have sounded off on Bell calling him selfish. They say they have faith in James Conner, but the drop off is incredibly steep going from Bell to Conner. Everyone should know that. As this situation unfolds, the longer Bell holds out, the more I'm unsure just how good the Steelers season is going to be.
Of course the other big story is the Khalil Mack trade that sent the all-pro defensive lineman from Oakland to Chicago. It could be a long year in the Black Hole in Jon Gruden's return to the sidelines. It also makes Chicago a little more difficult to peg in terms of where they are going to finish.
I don't fully understand the new helmet rule(s). I think very few do. I don't think the officials even know. Hell, the NFL doesn't know themselves. So we aren't going to go through and explain it, but there is a very real possibility that there will be calls made that change games and will determine if a team wins or loses which will make or break their playoff chances which could lead to a coaching change. All I know is that the new rules suck.
Unfortunately the national anthem debate will not go away. The president won't stop talking about it. The NFL needs to reach an agreement with the NFLPA and help end this anthem talk once and for all. Come NFL, be better. The stupid shit (vote/rule change) you did in May has lingered into the regular season. I'm sure that is what they were hoping. Now that I've rained on your excitement/NFL parade let's do some division previews:
AFC
East
This may very well be the worst division in football. And let's be real, the New England Patriots are going to win this division. I have thrown the Buffalo Bills a bone and said that they will beat the Patriots in Buffalo in their lone primetime game of the year and Bill Belichick can't beat the Dolphins in Miami, but the Patriots will still win the division comfortably. But overall, the Patriots have lost a lot of valuable players like Dion Lewis in the offseason. You shouldn't doubt the Patriots, but they have three wide receivers on their active roster. They still have Tom Brady though. Now Matt Patricia coordinating the defense. He's now the head coach in Detroit. The Patriots have won at least 12 games in a row I believe the last eight seasons. I'm probably crazy for doing this, but I don't see them winning that many this year.
The Patriots still should win just about as many games as the rest of the division combined. The Buffalo Bills rewarded their fans after their first playoff appearance in the 21st century by trading a good quarterback in Tyrod Taylor to the Cleveland Browns and then drafting Josh Allen from Wyoming number five overall. And they have Nathan Peterman starting right away. Yeah, it's going to be a long season in Buffalo.
The New York Jets are starting rookie Sam Darnold so expect there to be growing pains for the team this year. And Miami? I don't know what to make of the Dolphins. Ryan Tannehill is an okay quarterback, but can their wide receivers stay healthy? How good is their defense going to be? It's going to be an average year most likely in South Beach.
Predicted AFC East Standings
1. New England Patriots (10-6)
2. Miami Dolphins (6-10)
3. New York Jets (4-12)
4. Buffalo Bills (4-12)
North
Like I said above, the Le'Veon Bell situation could throw this division into complete flux. The Steelers were going to have an uphill climb anyway because their defense isn't great and Big Ben is getting older, but they are still the best team in the division. It just may be more difficult now.
Joe Flacco knows he must play well for the Baltimore Ravens or he is going to be out of a job and it will be Lamar Jackson's team. I hope we see both of them on the field at the same time during games. Those plays would be really entertaining. The Ravens defense should be better and they have revamped their receiving group, but will that be enough to get them to the playoffs?
Some people are high on the Cincinnati Bengals. I'm not sure what to make of them. Andy Dalton is a good quarterback. A.J. Green is a great wide receiver, but he struggles to stay healthy. Their defense has lost some good players. How consistent is this Bengals team going to be?
Finally, very few teams and their fan bases are excited for the season than the Cleveland Browns. Have you seen Hard Knocks? With Tyrod Taylor, Carlos Hyde, Nick Chubb, Jarvis Landry, David Njoku and Josh Gordon, that offense is going to be pretty good and their defense is already pretty consistent. Things are looking up in Cleveland. Get that Bud Light ready for Sunday.
Predicted AFC North Standings
1. Pittsburgh Steelers 10-6
2. Baltimore Ravens 7-9
3. Cincinnati Bengals 6-10
4. Cleveland Browns 5-11
South
The AFC South may very well be the best division in football. They have the best defense in the Jacksonville Jaguars. It's a bit of a renaissance for Jacksonville. They have expectations and excitement is high. That defense is great, but the offense is suspect outside of Leonard Fournette? Can Blake Bortles take that next step? BlakeBortlesFacts on Twitter hopes so.
If healthy, I think the Houston Texans can be the best team in the division. Deshaun Watson is a special quarterback. He tore his ACL as a rookie. If healthy, he will be a top five quarterback this season. Wide receiver DeAndre Hopkins sure hopes he can stay healthy. That offense could be very good. If J.J. Watt, Whitney Mercelus and Jadaveon Clowney can stay healthy, this defense is going to be very good as well. Watch out for the Texans.
I can't quite peg the Tennessee Titans. I think Marcus Mariota is going to play better this year than last year and that defense is good, but I think this team is going to be inconsistent at best. Hopefully they prove me wrong. Wide receiver Corey Davis must stay healthy and I am intrigued by the running back duo of Derrick Henry and Dion Lewis. And there are plenty of people who think that just because Andrew Luck is back at quarterback that the Indianapolis Colts can win eight games this year. How? Who does he have around him outside of T.Y. Hilton? I just don't see it.
Predicted AFC South Standings
1. Houston Texans (11-5)
2. Jacksonville Jaguars (11-5)
3. Tennessee Titans (8-8)
4. Indianapolis Colts (5-11)
West
Every year recently it seems like there is a large contingent that says to watch out for the Chargers. Then the Chargers (now the Los Angeles Chargers) disappoint or suffer some big injuries. Yet that defense is pretty good and Philip Rivers can still sling it. I'm buying into the Chargers Kool-Aid. Maybe I shouldn't though. I was high on the Denver Broncos for a while as well, because I like the signing of Case Keenum to be their starting quarterback. Emmanuel Sanders and Demaryius Thomas are still good wide receivers. Plus you have a defense that includes the likes of Von Miller and Bradley Chubb. They could be scary, but the secondary may be a bit of a weak spot considering Aqib Talib is no longer there (he is in LA with the Rams). I'd love to say that the Broncos have enough to get it done this year, but I think they will be just average.
The Kansas City Chiefs are arguably the most entertaining and most threatening team in the division and perhaps the conference because of the bombs that quarterback Pat Mahomes can throw and the toys he can throw to like Tyreek Hill who has ridiculous speed, Sammy Watkins (if he can stay healthy) and tight end Travis Kelce. Add in the leading rusher in the NFL last year as a rookie, Kareem Hunt, and the Chiefs offense is going to be putting up points in bunches.
Unfortunately their defense stinks. Their defense is probably worse than the Oakland Raiders and that is a Raiders defense even without Khalil Mack. Quarterback Derek Carr can say all he wants about the "sting" leaving the team from the trade since they can now get ready for games, the fact that your best defensive player got shipped out has to sting a lot. Head coach John Gruden has his work cut out for him for sure. He may not lost long in his second stint in the Black Hole keeping in mind that the Raiders may move to Las Vegas in the offseason.
Predicted AFC West Standings
1. Los Angeles Chargers (11-5)
2. Kansas City Chiefs (9-7)
3. Denver Broncos (8-8)
4. Oakland Raiders (6-10)
AFC Playoffs
1. Houston Texans
2. Los Angeles Chargers
3. Pittsburgh Steelers
4. New England Patriots
5. Jacksonville Jaguars
6. Kansas City Chiefs
AFC Championship game
Houston VS New England
NFC
East
In case you didn't hear, the Philadelphia Eagles and their terrible fans are reigning Super Bowl champions. This Eagles team is deep and it should be okay that Carson Wentz isn't ready for the start of the season. Nick Foles was good the last couple of playoff games you might remember despite his struggles in the regular season and in the divisional playoff game against Atlanta. Still though, there are a lot of weapons on offense and their defense is stout. That defensive line led by Fletcher Cox should be feared. Malcolm Jenkins is good in the secondary. I see no reason why the Eagles don't repeat as division champions.
The New York Giants will make things interesting. With a healthy Odell Beckham Jr. and a dynamic rookie running back in Saquon Barkley, the Giants offense is going to be lethal provided that Eli Manning can get the ball to them. The Giants are definitely a threat to be a playoff team. Their defense must play better though. If they do, the Giants are going to be tough to beat.
I can't peg the Dallas Cowboys or Washington to save my life. Outside of running back Ezekiel Elliott, what do the Cowboys have on offense? I don't know what to expect from Tavon Austin. Is Allen Hurns really the answer? Can Dak Prescott take that next step in year three? And what about that defense? How much better are they going to be this year? As for Washington, Alex Smith is their new quarterback and while he is good, he is no Kirk Cousins. Does Adrian Peterson really have that much left in the tank? I just don't know what to expect from this team at all. I think it will be a bad year, but I don't have a good read on them.
Predicted NFC East Standings
1. Philadelphia Eagles (12-4)
2. New York Giants (10-6)
3. Dallas Cowboys (6-10)
4. Washington (4-12)
North
Boy the NFC North is going to be a fascinating division to watch this year. Kirk Cousins is now the man in Minnesota having signed a fully guaranteed three-year, $84 million deal with the Vikings in the offseason. The Vikings already boast a great defense so Cousins won't have to do so much on his own. The Vikings let all of their QBs go in the offseason (Case Keenum, Sam Bradford, Teddy Bridgewater) leave. Dalvin Cook returns though. Please don't tear your ACL. Yet we can't give the Vikings the NFC North because that bad man Aaron Rodgers is still quarterbacking the Packers. He recently just got a record deal. Can tight end Jimmy Graham return to the Jimmy Graham of old in his New Orleans Saints days? If so, that is a significant weapon for Rodgers. No Jordy Nelson which will hurt, but that defense should get better as the year goes on. Give the rookies some time though.
The Khalil Mack trade makes the Chicago Bears a far more trendy team, but can Trubisky really do what they need him to? They got Allen Robinson in the offseason and new head coach Matt Nagy will show his creative side on the offense. A top ten defense got better with the addition of Mack. I think the Bears are still a year away from being ultra-competitive, but they will make some noise this year, maybe more so than the Detroit Lions. I'm sure I'm way off on their record, but I really don't know what to make of the Lions. Not sure how good their defense is going to do and can they finally get a strong running back. Rookie running back Kerryon Johnson may be that missing piece. We'll see. I have my doubts, but I have my doubts on the record I have for them as well so something has to give.
Predicted NFC North Standings
1. Minnesota Vikings (12-4)
2. Green Bay Packers (12-4)
3. Chicago Bears (6-10)
4. Detroit Lions (5-11)
South
The New Orleans Saints were a "Minneapolis Miracle" away from playing the Philadelphia Eagles in the NFC Championship game last year. That no doubt stuck with them this offseason, especially Marcus Williams. How will he be this year? Mark Ingram is suspended the first four games of the year, but that's no issue when you have a back like Alvin Kamara. Oh yeah they still have Drew Brees and that defense was really good last year which was a complete surprise. They should be pretty good again this year. But can they fend off the Atlanta Falcons. Matt Ryan worked a lot with tight end Austin Hooper in the offseason. Ryan said earlier in training camp that the offense is much farther along than they were last year at this time. They are comfortable with offensive coordinator Steve Sarkisian. Julio Jones had a down year last year. He hopefully has a monster year this year. They want to play a Super Bowl in their home stadium. They are a viable threat to do so.
The Carolina Panthers have been ravaged by injuries to their offensive line this training camp and preseason so Cam Newton may be running for his life. Not sure how great this team is. I think they are going to be inconsistent this year. Christian McCaffrey will be a workhorse though.
And the Tampa Bay Buccaneers appear to be heading towards a disastrous season. Their first three games of the year are @ New Orleans, VS Philadelphia and VS Pittsburgh. All three games will be without quarterback Jameis Winston which means the ageless wonder Ryan Fitzpatrick will get the start. He may hold onto the job after three games as well. Winston has not been guaranteed anything yet. But this Buccaneers team isn't that great and they are going to struggle mightily this year I believe.
Predicted NFC South Standings
1. New Orleans Saints (12-4)
2. Atlanta Falcons (11-5)
3. Carolina Panthers (7-9)
4. Tampa Bay Buccaneers (4-12)
West
This division has flipped rapidly here in the last few years. Seattle dominated this division, but the Legion of Boom is all but gone outside of safety Earl Thomas who is reporting to the Seahawks after holding out of training camp and the preseason waiting for a new deal. The Seahawks still have Russell Wilson at quarterback so you can't count them out, but they aren't going to be nearly as good as they have been in recent years.
The Los Angeles Rams have taken the NFL and L.A. by the storm the last year-and-a-half. Todd Gurley is a beast of a running back and the Rams went all in this offseason getting guys like defensive tackle Ndamukong Suh and cornerbacks Aqib Talib and Marcus Peters. Plus they traded for wide receiver Brandin Cooks. There is a lot of pressure that comes with these trades and the salary cap is going to become an issue for them, but for this year, it's all or nothing for the Rams.
In case you haven't heard and live in a pineapple under the sea (Spongebob Squarepants!) San Francisco 49ers quarterback Jimmy Garoppolo hasn't lost a game yet in his short NFL career. He is 7-0, but one of his new weapons is already gone with running back Jerrick McKinnon tearing his ACL and being out for the year. Not sure if the 49ers offensive weapons are enough to get them among the NFC's elite this year. Plus with a whole offseason to gameplan, I'm sure Mike Zimmer's Vikings defense has something ins tore for Garoppolo on Sunday.
The Arizona Cardinals have great guys like David Johnson and Larry Fitzgerld, but can quarterback Sam Bradford stay healthy? If not, the Josh Rosen era starts sooner than they may like. The depth of this team is going to be an issue though. I hope they do better than what I have for their record, but I think it may be a semi-long year in the desert.
Predicted NFC West Standings
1. Los Angeles Rams (12-4)
2. San Francisco 49ers (9-7)
3. Seattle Seahawks (8-8)
4. Arizona Cardinals (5-11)
NFC Playoffs
1. Los Angeles Rams
2. Philadelphia Eagles
3. Minnesota Vikings
4. New Orleans Saints
5. Green Bay Packers
6. Atlanta Falcons
NFC Championship
New Orleans Saints vs. Philadelphia Eagles
Super Bowl LIII (Mercedes Benz Stadium, Atlanta, GA)
New Orleans Saints vs. Houston Texans
Super Bowl champion: Houston Texans
MVP: Deshaun Watson, QB (Houston Texans)
I admit, I am stepping out on a huge limb with Watson. Todd Gurley makes a lot of sense to be MVP as does someone like Aaron Rodgers or Alvin Kamara, but I truly think that when healthy, Watson can be the most electric quarterback in the game, even in his second year. Provided he stays healthy and that defense stays healthy, this is a somewhat wild card/dark horse pick to win it all. My faith that it will happen is not high. The NFC is absolutely stacked (pun intended??) with great teams. I know a lot of Vikings fans are thinking Super Bowl or bust this year, but with a new quarterback and a new offensive coordinator, I'm not thinking that way. The Eagles and Rams are going to have issues with the salary cap this next year. The Vikings can take advantage of that and their Super Bowl chances should increase in the next couple of years. I hope I'm wrong as a Vikings fan, but that is what I think will happen. It will be a very interesting season for sure. Enjoy it everyone!
Coming up Friday: Week 1 NFL preview and predictions
---