"The Stack" 9-12-18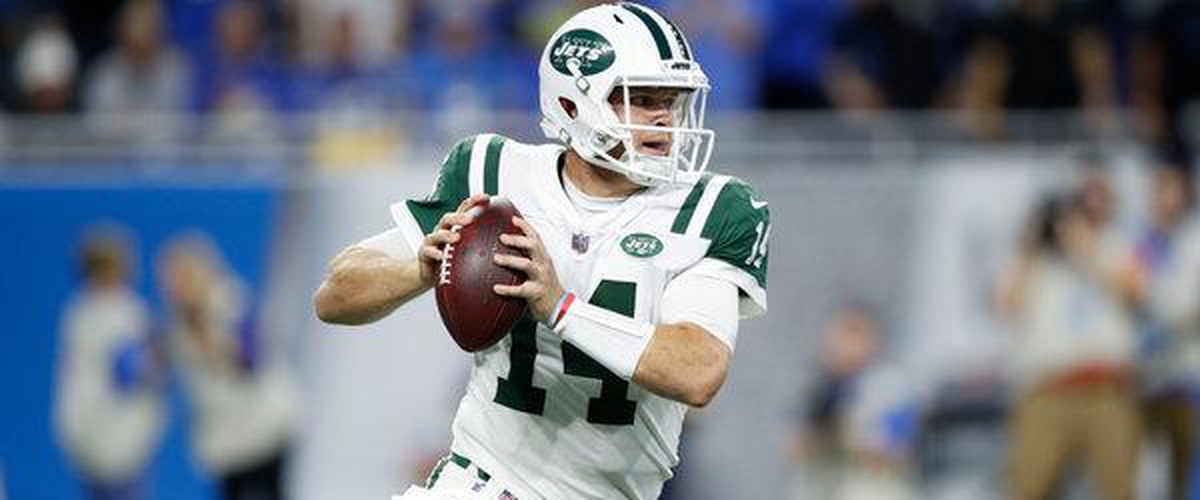 Sam Darnold threw an interception on his very first career pass (just like Brett Favre), but played great from there as the Jets trounced the Lions 48-17.
The Stack is back on this Wednesday with some late reaction to the college football weekend and the MNF doubleheader so let's not waste another moment and get right to "the stack" for today, Wednesday, September 12th:
Darnold shines in debut, Jets take down Lions
The career for New York Jets rookie quarterback Sam Darnold could not have gotten off to a worse start. On his very first career pass on his very first play he threw the ball across his body making it easy pickings for a pick-six to put Detroit up 7-0. That didn't fluster the rookie though. He went on to complete 16 of his next 20 passes to go along with two touchdowns, but he was far from the only Jet to make an impact. Isaiah Crowell added over 100 yards rushing along with two touchdowns, the defense had a pick-six of their own and special teams added a punt return for a touchdown as the Jets smoked the Detroit Lions 48-17. This game was tied 17-17 in the third quarter after the Lions scored on their opening possession, but the wheels came off after that. Matthew Stafford was far from sharp, throwing four interceptions and the rushing game was virtually non-existent. It was almost as though the Lions had no emotion or couldn't care less about a win. Not good for new head coach Matt Patricia.
Rams rout Raiders
Oakland Raiders head coach Jon Gruden's return to coaching started off just great as the Raiders scored a touchdown on their opening possession. The Raiders even had a 13-10 lead at the half thanks to the beginnings of a stellar game from tight end Jared Cook. The Rams were having issues with consistency on both sides of the ball, but that changed in the second half. The Rams came out and put a whooping on. Todd Gurley ran effectively. Jared Goff threw the ball well and the Rams defense was more than up to the task in keeping the Raiders offense at bay. The Raiders in general had no pass rush which is incredibly odd considering they traded Khalil Mack away to Chicago. This could be the beginnings of a long year for Gruden and the Raiders while the Rams look every better than what some of us may have officially thought.
College football week 2 thoughts
There were several statements made though out the weekend in college football. #2 Clemson scored early and hung on to beat Texas A&M 28-26. A&M has some good receivers. They will be tough in a year or so.
#3 Georgia perhaps had the biggest statement win of the day by trouncing #24 South Carolina 41-17. We knew Georgia was legit before this game, but this confirmed it for just about everyone.
Things have not gone according to plan for a couple of coaches in the Pac-12 South so far. Arizona, with Khalil Tate, was embarrassed on the road by Houston 45-18 and Chip Kelly lost another game with UCLA, this one to Oklahoma 49-21. Look for them in "Bowl Bound or Not" later this October on my podcast, "The Sports Block". But it hasn't been all bad. The fighting Herm Edwards of Arizona State are somehow 2-0 following their 16-13 comeback win over #13 Michigan State. Arizona State trailed 13-3 going into the fourth quarter and rallied. Big win for them.
Colorado beat Nebraska 33-28 spoiling head coach Scott Frost's debut. For the first time in my lifetime, Kentucky has beaten Florida. The Wildcats upended the #25 Gators 27-16 in Gainesville. This was a surprising result. And #22 Miami (FL) somehow managed to cover their 60 something point spread with a 77-0 beatdown of Savannah State. A college football weekend forecast is coming up Thursday.
Hurricane Florence wreaking havoc on college football schedule
Last year Hurricane Irma forced a number of college football games to either be postponed or cancelled. This year with Hurricane Florence roaring in the Atlantic and heading for North Carolina and Virginia, college football games are once again getting postponed or cancelled. West Virginia-North Carolina State has been cancelled, but may be made up again if both schools can find a date that works. East Carolina-Virginia Tech has been cancelled due to safety concerns for East Carolina as has UCF-North Carolina. This is the second straight year UCF has had a game cancelled due to a hurricane. Boston College-Wake Forest is bumping up kickoff on Thursday from 7:30 to 5:30 PM ET and there are a number of FCS games and other FBS games that have been postponed or cancelled. We'll have more on this tomorrow.
Coming up Thursday: College football weekend forecast, TNF preview and more.
---