SMU Mustangs vs. Memphis Tigers Game Preview: How to watch, start time, betting line, and prediction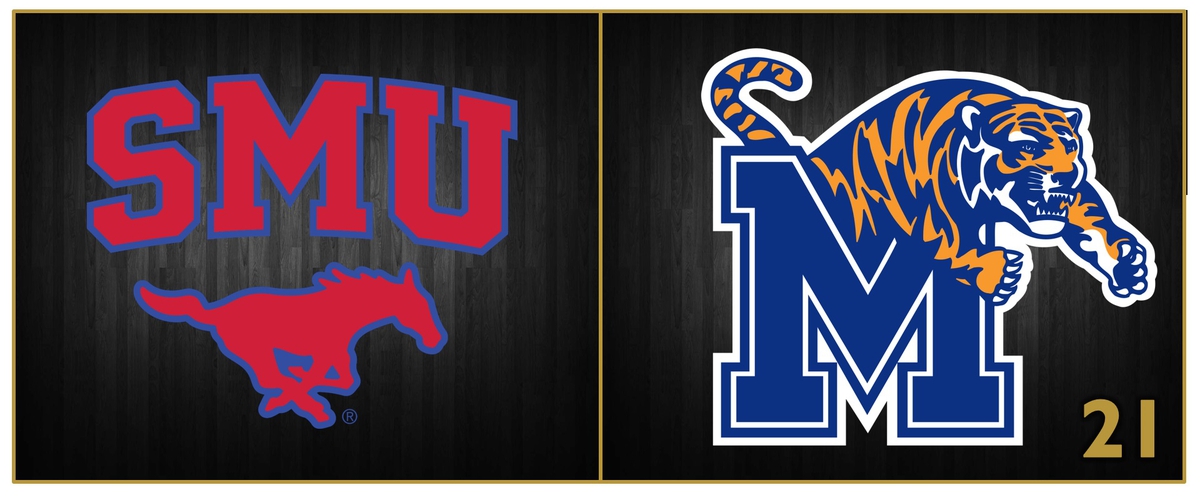 WEEK 12 GAMES OF THE WEEK HOME PAGE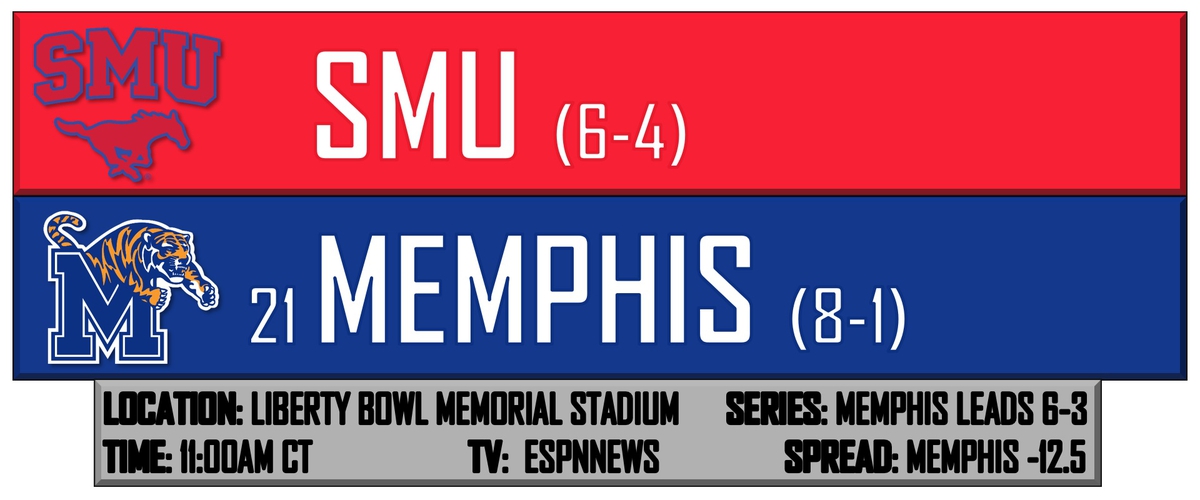 SMU OUTLOOK
It's too bad that the Mustangs were unable to finish the job last week, but that's what happens when a defense can make up for a struggling offense. Digging themselves a 34-11 hole against Navy, the offense finally woke up. It was just a little too late.
One thing to note about this team is they've been in every game this season. The TCU game eventually got away from them, but they were competing with the Horned Frogs. Their other three losses have come by a combined 25 points and, once again, it all starts with the defense. This continues to be a struggling unit as the season progresses, and the offense can't keep winning games by themselves (average score has been 39.6-32.2). That doesn't necessarily mean they're without playmakers, as players like Justin Lawler, Kyran Mitchell, and Jordan Wyatt have all played well up to this point. That kind of play just needs to spread to the rest of the group. Until then, scoring 40+ points will have to be the standard from the offense.
This is an offense that is more than capable of scoring 40+ points. Quarterback Ben Hicks has a trio in both his backfield and receiving corps which he can rely on for production. This balanced offense feature three capable backs that get rotated in. Xavier Jones, Ke'Mon Freeman and Braeden West have combined for a total of 1,736 yards and 18 touchdowns. The scary part about that is all three could be back next year as well. If you try to stop the run, Hicks can go to the air. LSU transfer Trey Quinn has taken to his role of relieving pressure off of Courtland Sutton well, and leads the conference in receiving yards. Quinn's success has prevented defense from solely focusing on Sutton, who is second in the nation in touchdown receptions. And last, but certainly not least, shutting down either of those two means more space for James Proche to work. Oh, and all three could return next year. Throw in Ben Hicks return along with potentially four starters on the offensive line, and this Mustangs offense is going to be dangerous once again next year.
MEMPHIS OUTLOOK
This has always been a team that was poised to make a run at the conference title, and the pieces are all finally coming together. It wasn't always easy though. Injuries ravaged the defensive depth for Memphis at the beginning of the year, and young replacements were called upon to fill those key slots. The growing pains were obvious, but eventually there was less pain. Growth has been evident within this team and, while the defense has been the focus, there's been some key developments offensively.
Doroland Dorceus was expected to be the workhorse in the backfield coming into the season, but injuries prevented his season from getting started. That left the job to backups Darrell Henderson and Patrick Taylor Jr., who have thrived in their roles all year. Henderson has been the feature back, and is on pace to give Memphis its first 1,000 yard rusher since 2009. Taylor has been rotated in, and took over when Henderson was injured against Houston, scoring a career high four touchdowns. That's not all in terms of players emerging. We all knew Riley Ferguson was going to be the man, and his receivers at the top were known. Anthony Miller, Phil Mayhue, and Tony Pollard were all expected to take on bigger roles in the offense. All three have been solid, but depth behind them has also emerged. Joey Magnifico, Sean Dykes, and Pop Williams have all stepped up in a big way at some point in the season, giving Ferguson a plethora of weapons. They'll need every last bit of it if a shootout ensues, and the defense will have their hands full with SMU's offense.
As stated earlier, the defense has matured as the season has progressed. Young players have received valuable experience, and have seen a steep learning curve because they were placed into "produce-now" situations. Steadying the way are leaders Genard Avery, Curtis Akins and Jonathan Cook, who have thrived because there is less pressure on them to get the rest of the group up to speed. Now that this group appears to be ready, they face one of their biggest tests yet.
PREDICTION
Memphis still shows signs of its youth on defense, but those same players are the ones making key plays. SMU's defense has a couple players that can create turnovers, but the depth simply isn't there. Don't be fooled, though. This game could easily be a shootout. Not that you can underestimate Memphis' defense, but SMU's offense is just that good. The Tigers need to avoid a shootout, because the Mustangs can hang around with the weapons they possess.
My pick: Memphis 44 SMU 30