UAB Blazers vs. Florida Gators Game Preview: How to watch, start time, betting line, and prediction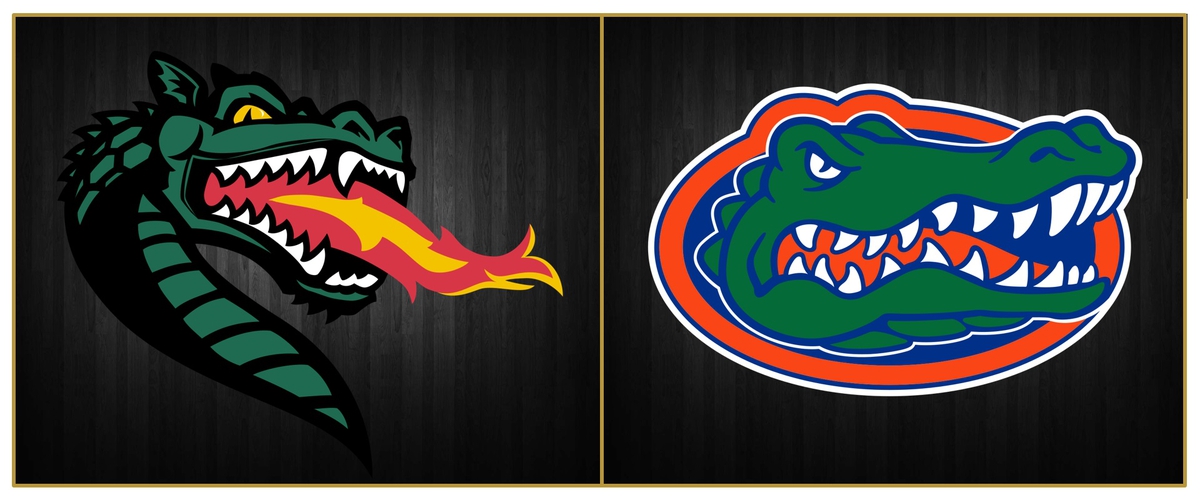 WEEK 12 GAMES OF THE WEEK HOME PAGE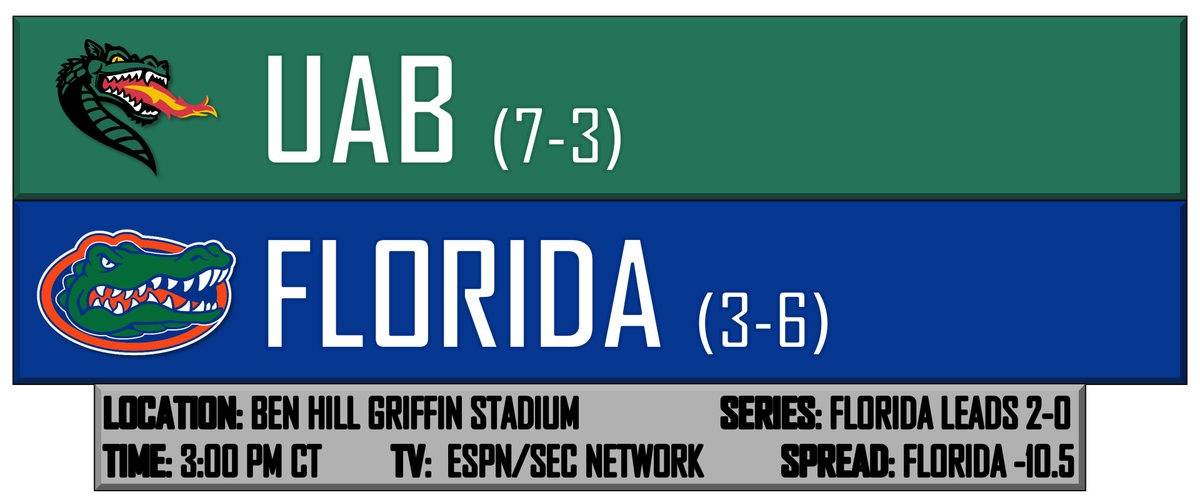 UAB OUTLOOK
Yes, UAB is 7-3, and it's one of the best things about college football this year. This team wasn't given much of a chance to win many games this year, and they've stunned many by winning seven. This has been an emotional ride for fans, players, and coaches alike. To see everyone's expectations go from negative to positive is a big reason why this season will forever be memorable. And they still have two games left before the postseason. They also could be walking into the perfect situation for an upset.
A.J. Erdely has been a nice dual threat to combine with running back Spencer Brown so far, and the two have combined for 22 rushing touchdowns. Good luck taking either one down. Both will need to have their best games yet if they want to pull off the upset in "The Swamp" but that is still a realistic outcome. Defensively, Tevin Crews and Shaq Jones continue to live in the offensive backfield, and Darius Williams is a player that the Gators might want to avoid when throwing the ball.
Losses to Ball State and Charlotte continue to be confusing. The loss to North Texas was by three points, and might have been the point that this team believed they could win the conference. Wins over UTSA, Southern Miss, and Middle Tennessee were eye openers, and the Blazers now find themselves at the top of the West Division with North Texas. This game may not have any conference implications, but can you imagine what it would do for their confidence?
FLORIDA OUTLOOK
Florida should win this game by 30 simply based on talent. There's no reason why UAB should even compete with the Gators. But this is why we play the games. Florida is in for more than they anticipated. Their own expectations quickly went from playoff to struggling to make a bowl game, and even this game has slowly looked less like a blowout. Interim head coach Randy Shannon needs to make sure his players are ready to play, because the Blazers (like this whole season has gone) have nothing to lose.
Who will play quarterback? Felipe Franks and Malik Zaire both have been wildly inconsistent thus far, and neither one can find a rhythm. The offensive line hasn't helped them at all and neither has the running game either (which also could be attributed to the line). The loss of Antonio Callaway hurt tremendously, but Callaway couldn't get out of his own way. Much like the Gators this season. The defense hasn't been itself either, exploiting the offensive struggles even more.
A normally stout defense has been largely average this season. Jim McElwain's shortcomings were never on defense, but it always seemed that any lapse in defense would mean negative results for the Gators. This time, the negative was McElwain losing his job. There are players that will still go to the NFL after this year, but it seems that this isn't the elite group that we've seen in the past.
PREDICTION
A team that has literally nothing to lose playing a team going the wrong way fast and might not be motivated. Florida has so many issues, and adds a long list of injuries that haven't helped either. In reality, there's no reason why Florida should lose this game, but UAB is riding high and doesn't care about what's is supposed to happen. If the Blazers were at home, this is an easy upset pick, but I'm not sure how they'll respond to the biggest crowd they've ever played in front of, and it won't even be full either.
My pick: Florida 24 UAB 23