Look Out AFC, Here Come The New England Patriots
Last week, NFL fans were treated to a rather lame on-field product. In the first game, Houston took care of a soft and rather careless Oakland Raiders team. In a battle of backup QB's, it is clear that the biggest losers were the fans that tuned in. The next few games did not offer much either, as Seattle slowly but surely took Detroit out of their Wild Card matchup, winning 26-6. Sunday's slate brought some hope, with Miami looking for the upset special in Pittsburgh. Those South Florida dreams were crushed in a matter of minutes when the Miami defense got turned inside out by Antonio Brown for a pair of scores. The Steelers march on, looking like a possible road block in New England's path to Houston for the Super Bowl. The final game gave us some highs and lows, the highest being Aaron Rodgers hail mary toss at the end of the first half. Even with the miracle play, this game just lacked passion and urgency. So we sit here, coming off of a rather mediocre weekend of games, with optimism that the final eight teams will give us something to talk about for years to come. All four games this weekend are rematches from the regular season, so storylines will run wild all the way up until kickoff. On the NFC side, Atlanta hosts Seattle and Dallas will host Green Bay. On paper, these games look like matchups worth investing your time in. While I personally do not take Atlanta or Dallas overly serious, these games should live up to the hype and be won by 6 or less. In the AFC, the Steelers will make the trek to Arrowhead Stadium to visit the number 2-seed Chiefs. In this one, it's a high powered offense in Pittsburgh going toe-to-toe with a defense that can be lights out in Kansas City. If you are a Patriots fan, you want these two teams to slug it out for four quarters or maybe even a little bit longer. Talking about these teams is great and all, but there is one team missing from this cluster that has a serious chance at lifting the Lombardi Trophy on February 5th.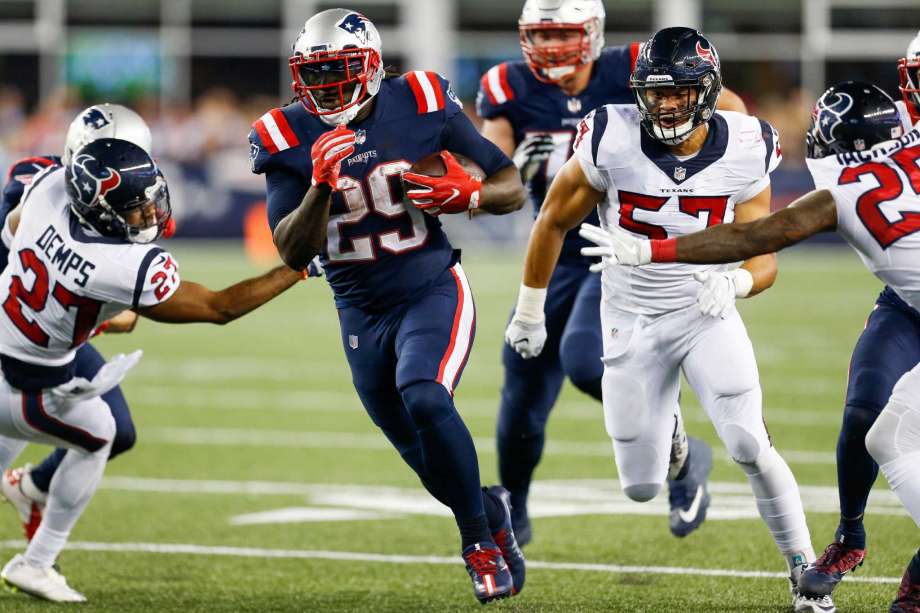 Even though having a bye week is considered a good thing, I am sure we can all agree that we missed the New England Patriots last weekend. Sure, they probably needed the time to rest up and get healthy, but we needed to be rescued from that dumpster fire of a Wild Card weekend. Somehow, we made it through and have finally arrived at the Divisional Round of the playoffs. The Patriots are back on our TV's, ready to make their run at the Super Bowl. If you have tuned into sports radio or read the columns in the newspaper this week, you probably bought into what the media is selling. Not one person is even considering picking the Patriots opponent to win this week. Usually, writers will split their picks amongst themselves so they can be the one to say, "Called it!" when the Patriots season comes to a screeching halt. This week, however, is very different. The Pats opened as 16 point favorites over Houston, the largest spread I've seen in a long time. The handicappers are giving the Texans little to no chance to win this game. Now, I am not going to sit here and say the Patriots are going to lose this football game, I am merely just saying that the playoffs are one and done, so be ready to play football or you get to start vacation a little earlier than planned. Here is what I see when it comes to Houston and New England in a rematch of Week 3, where Jacoby Brissett led the Pats to a 27-0 win.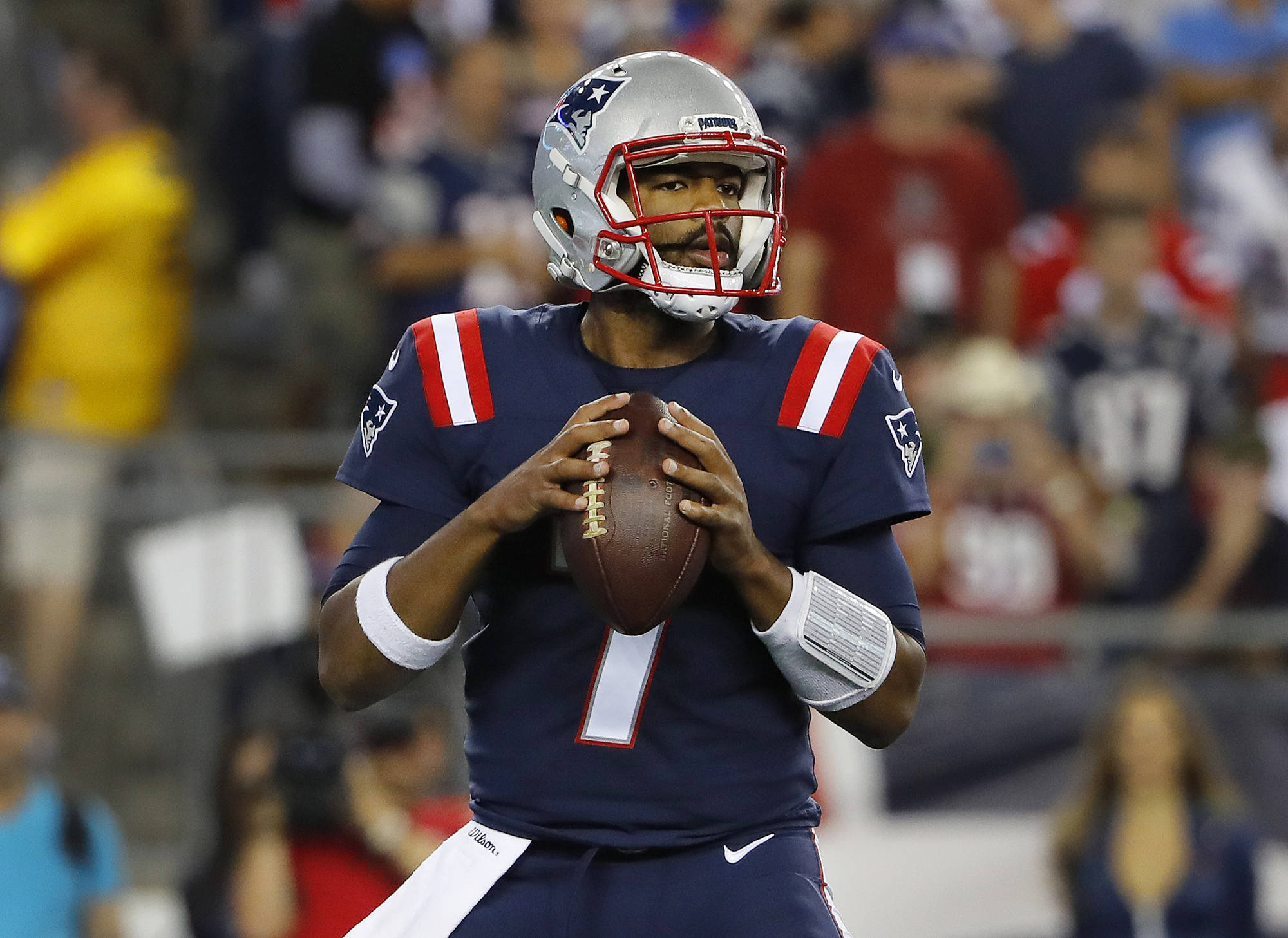 Winslow Townson-USA TODAY Sports
First, some names and numbers to keep an eye out for on Houston. It always starts with the quarterback, so that is where we will begin. Late in the season, Tom Savage took over for the severely underperforming Brock Osweiler, their big free agent splash from the offseason. In fairness, who can play well enough to justify a 72 million dollar contract? Not many. After Savage went down with a concussion, Bill O'Brien had no other choice but to rely on Osweiler to handle the Oakland Raiders at home. He did just that, and actually played decent in their win. That set up a date with the Patriots this Saturday night, something Brock probably isn't looking forward to that much. In week 3, if my memory serves me right, Osweiler would not pull the trigger on deep balls to Will Fuller and DeAndre Hopkins. Two weapons who have game changing ability were kept in check all night against the Pats defense, gathering just 87 yards and 0 touchdowns between them. Whether he was pressured by the coaching staff to keep it simple or not, Osweiler certainly kept it simple that night. He was all too happy to take short yardage with checkdowns to his running back or tight ends. The Patriots defense is built to bend and not break, let the short, underneath routes happen and to stop the deep pass. Bill Belichick lured the Texans into his mouse trap, and it worked the entire game. Osweiler certainly has potential, but his season as a whole was rather unimpressive. The Patriots defense should be able to cover Hopkins and Fuller with Malcolm Butler, Logan Ryan and the two safeties, Harmon and McCourty, over the top. Houston likes to utilize their tight ends, but they are average at best in terms of catching and running with the ball. They don't pose a huge threat to this defense. When the Houston offense struggles, it is not enjoyable to watch. If they come in with a traditional gameplan on Saturday, they will get blown out.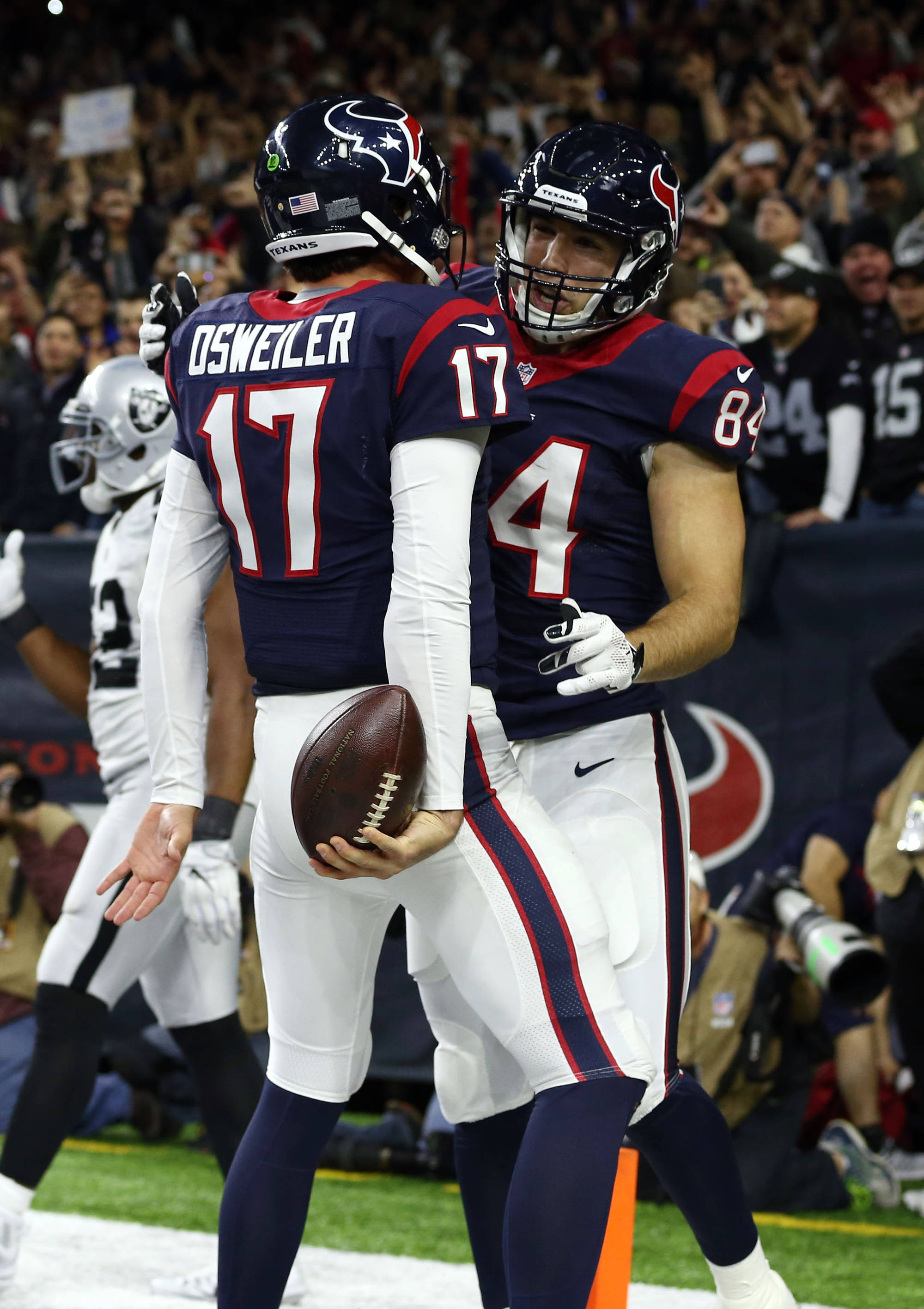 Troy Taormina-USA TODAY Sports
On the defensive side for Houston, they have some playmakers. Most notable to fans would be J.J. Watt, but he is out for the season with a back injury. Next in line would be first overall pick Jadaveon Clowney (#90), a disruptive force coming off the edge. He singlehandedly turned the momentum of last weekend's game by sniffing out a screen pass and intercepting it. The Patriots put together a plan to virtually shut out Clowney in week 3, allowing him to only make one tackle. In the past month or so, however, Clowney has come on very strong. New England has a much improved offensive line in 2016, so they can handle the task of blocking Clowney. My only concern would be if he gets a free shot on Tom Brady, because he brings the pain. One other player to keep your eyes out for on the Texan defense is linebacker Whitney Mercilus (#59). He can rush the passer violently, something Brady and the running backs will have to be aware of. If Clowney and Mercilus can "get home" as they call it, the Patriots could be in a bit of trouble. In the pass game, Brady will most likely pick on cornerback Johnathan Joseph (#24) and Bernardrick McKinney (#55). A.J. Bouye is the better cover corner, so Brady will look to whoever Joseph is matched up against. As far as McKinney goes, he has his hands full with the Patriots running backs. New England loves to get Dion Lewis and James White involved with screens, quick hitters and wheel routes. The linebackers on Houston are big and built for stopping the run. If Brady can tweak the matchups to his favor, the Patriots will shred the Houston defense. The last note on the Houston defense has to be about former Patriot Vince Wilfork. Before the playoffs began, Wilfork made it known that he is strongly considering retirement whenever Houston bows out. With a good chance of that happening this weekend, Wilfork would play his last game where it all began for him. Coming to New England in 2004, Wilfork anchored the Pats defense for 10 seasons before moving on to Houston in 2015. Wilfork gave the Patriots organization everything he had for those 10 seasons, and always did so with a big smile on his face. While his presence was quite large on the football field, it was just as big off the field and in the community. One of the best true nose tackles to ever play the game, Wilfork the player, the leader and the man will be missed greatly if he chooses to retire at the seasons end.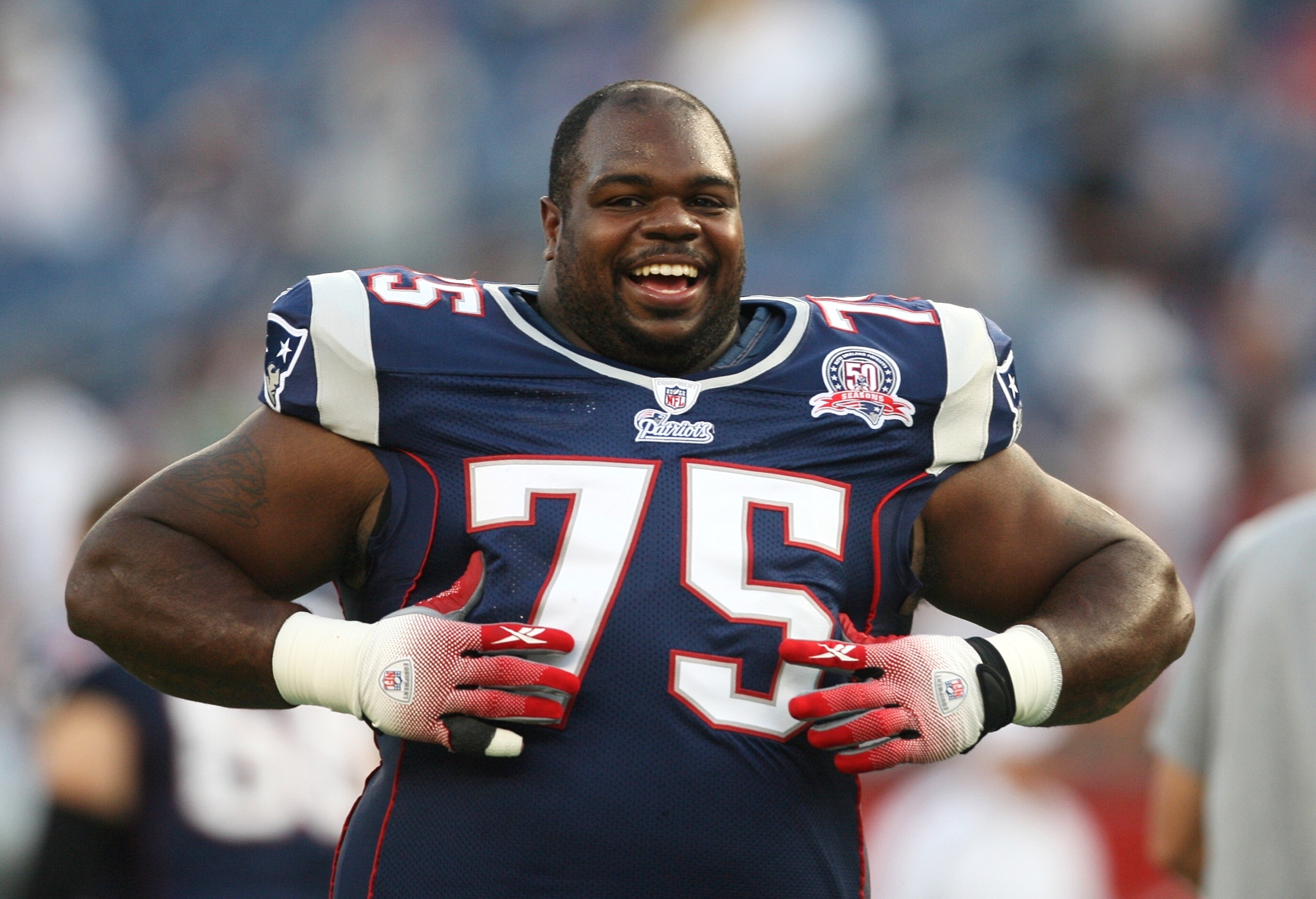 As for the Patriots, we all know the deal. They control home field throughout, a major step in the right direction. They have the weapons on offense to match up with any team in the NFL, especially Houston. Even though Rob Gronkowski will not return, there is enough firepower to outscore any opponent they will see. The emergence of Michael Floyd and the return of Danny Amendola could put the Pats over the top on offense. On defense, status quo. They have been slowly building themselves up and weeding out the players slowing them down, and they put together solid performances the past few months. If there is anything that will hurt them this weekend, it will be overlooking Houston and already having the Kansas City/Pittsburgh winner on their minds. When the New York Jets came into Foxboro on Divisional Round weekend in 2010, Rex Ryan said that he did not have to be better than Bill Belichick in the long term, just for one game. He was, and the Jets shocked the Pats 28-21. However, in this one on Saturday I tend to lean towards the quote I heard this morning from Texans writer John McClain. "The only way the Houston Texans win this game is if Tom Brady comes down with food poisoning and if Bill Belichick is kidnapped on the way to the stadium". Patriots 37, Texans 13.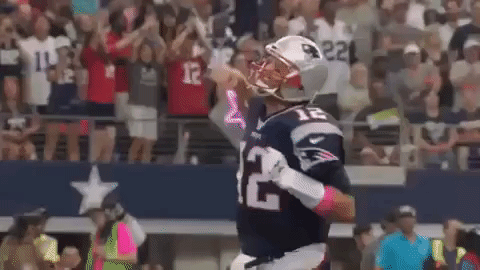 ---