2018 Chicago Bears Mock Draft: Post-Senior Bowl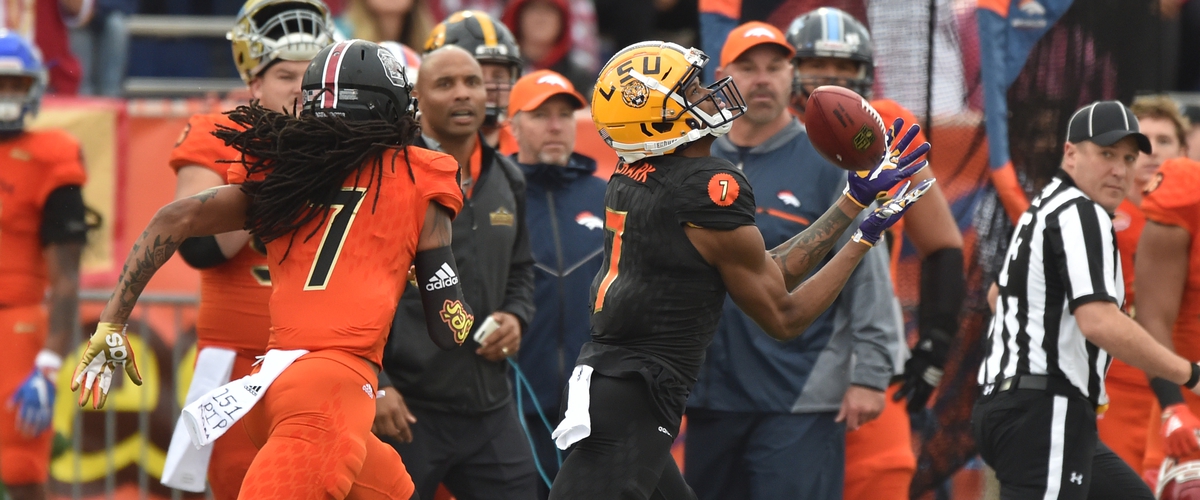 It has been an interesting week down in Mobile, Alabama. Some prospects improved their draft stock while others were deteriorated. Ryan Pace and his crew went to the Senior Bowl to scout the players that they believe could make an impact on their team. They reportedly interview Baker Mayfield, but Mayfield turned down the interview. Washington State's Luke Falk was interviewed by the Bears. The NFL Draft is months away. Players like Will Hernandez and D.J. Chark could rise on the Bears draft board after strong performance in the Senior Bowl. Below on this article is my Mock Draft for the Post Senior Bowl.
1st Round via trade Arizona (Bears trade for Arizona's 1st, 2nd Round pick for a 1st, 5th, 7th round pick) The Cardinals need a quarterback and the Chicago Bears could acquire more picks to add some more pieces for the team.
1st Round: WR Calvin Ridley. Ridley is arguably the wide receiver in the draft. He is a great route-runner and is very fast. He had 63 receptions for 967 receiving yards, his production was limited by the quarterback play of Jalen Hurts. He is a reliable weapon for Mitchell Trubisky and could find much more productive as he did with Alabama.
2nd Round: CB Donte Jackson. Prince Amukamara might not come back to Chicago. Hopefully, Kyle Fuller re-sign with the Bears which it is likely that he would. Jackson could be a #2 cornerback on the team. His size isn't ideal, but he has the athleticism and speed to keep up with speedy receivers and prevent separation against receivers.
2nd Round: OT Connor Williams. Williams could likely fall in the second due to the quarterbacks going to the first round. Williams tore his meniscus early in the season. He could compete for the starting left tackle spot.
3rd Round: OLB Ogbonnia Okoronkwo. Okoronkwo is an explosive pass-rusher and could compete with for the starting spot against Pernell McPhee. McPhee has been injured for the last two seasons. He is a 3-4 outside linebacker, so he also could add good depth for the outside linebackers.
4th Round: CB Holton Hill. Hill could add good depth to the cornerback position. He could be a quality backup. He has ideal size at 6'3 and has the ability to matchup with quality receivers.
4th Round: G Sean Welsh. It is important to add depth on the offensive line. Welsh could be a reliable backup for either Kyle Long or Josh Sitton. Welsh is a very versatile lineman who could multiple positions on the O-Line. Adding him could the offensive, in case Kyle Long is healthy to the start the season.
6th Round: QB Mike White. Though Trubisky the starting quarterback for the 2018 season, it is very important to add a backup for Trubisky. White could be that guy. His athleticism isn't great, but his accuracy is.
7th Round: WR J'Mon Moore. The Bears need as many receivers as possible to help Trubisky. Moore Moore could be a solid receiver and also could good depth for the wide receiver position. He has great height and great quickness. He could also fit in Matt Nagy's West Coast offense.
---