Reviewing the 2018 Chicago Bears draft class.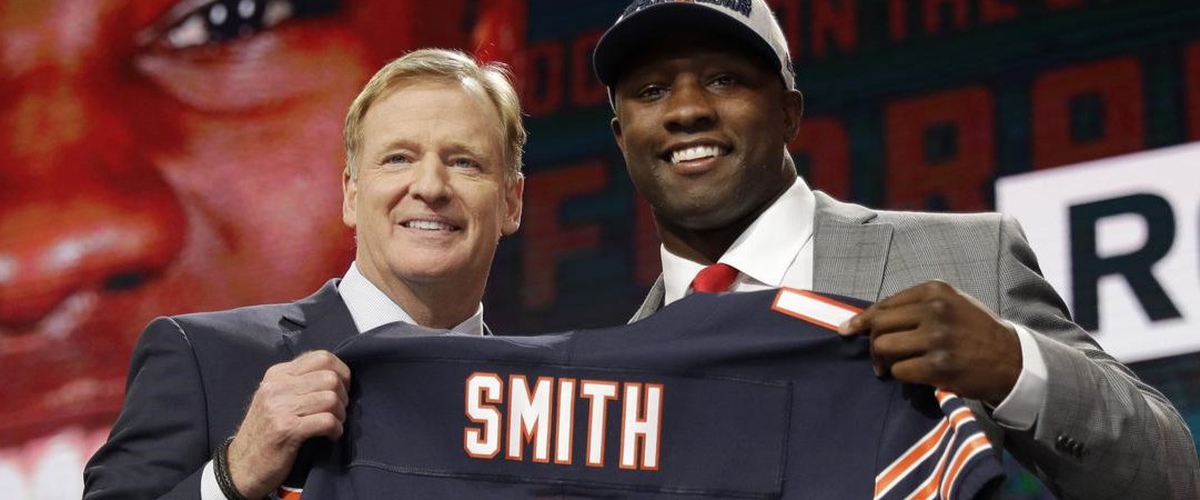 The 2018 NFL Draft is officially over and everything else is history. Chicago Bears drafted 7 players in this year's Draft. They address all the positions of need such as linebacker, defensive front, and offensive line. Even though they paid Kyle Fuller and Prince Amukamara big money contract, they still should've added more competition for the cornerback position. That's just my opinion. On Thursday, GM Ryan Pace drafted linebacker Roquan Smith from Georgia. Smith is believed to be an impactful and draft comparisons to Patrick Willis, Lavonte David, and Deion Jones who are all Pro-Bowl Players. On Friday, Pace select center James Daniels from Iowa and traded a 4th round pick along with next year's 2nd round pick, so they could draft wide receiver, Anthony Miller. On Saturday, Pace drafted linebacker Joel Iyiegbuniwe from Western Kentucky, defensive lineman Bilal Nichols from Delaware, edge rusher Kylie Fitts from Utah, and Javon Wims from Georgia.
After the Draft, the Chicago Bears were highly praised for their draft class. Let's take a look at the 2018 Chicago Bears draft class.
Round 1, Pick #8: Roquan Smith
Smith is the centerpiece that could take the Bears defense to the next level. He fits DC Vic Fangio's 3-4 defense and Fangio is able to utilize him anywhere on the field. He has amazing speed and athleticism. He isn't afraid to deliver the "boom" on opposing players and he is also a natural-born leader. Smith and Danny Trevathan would be a great duo at the inside linebacker position. Despite his versatile skills, he needs to gain more weight if he wants to be effective for the Bears. That was the same issue for Leonard Floyd when he was drafted, but now he's a stud. Gaining weight won't be a big worry for Roquan. GRADE: A+
Round 2 Pick #7: James Daniels
Daniels is ranked as one of the best offensive linemen in the draft. He was projected to late in the 1st Round but fell on Day Two. Daniels has drawn comparisons to Rodney Hudson. He's very physical and is dependable in the passing game and run game. He has versatilitly, which helps the offensive line because of the injuries for the past two seasons. Daniels will be listed as a guard and will soon become the center for the team. Whitehair is originally the center for the Chicago Bears. With Daniels become a center in the NFL, Whitehair will naturally move at guard. From watching the tape, Whitehair's main troubles were his ability to snap the ball. He is a great blocker, so imagine if Whitehair was only blocking. That would be a great move to protect your franchise quarterback. GRADE: A
Round 2 Pick #19 Anthony Miller
Miller is another prospect that was talked about as "1st Rounder." Pace traded up with the Patriots, giving a 4th rounder and next year's 2nd round pick. Miller is a very polish route runner with blazing speed. "With Anthony, you see a guy that at the top of his routes, he likes to stick at the top of the route, so what it does sets the angle for the quarterback.", said Head Coach Matt Nagy. Miller has drawn comparisons to Pro Bowl wide receivers Steve Smith and Antonio Brown.
GRADE: A-
Round 4 Pick #15 Joel Iyiegbuniwe
Iyiegbuniwe is undersized as inside linebacker, standing 6 foot 1. Despite his height, he has long arms that are nearly 33 inches. With those long arms, he could reach the ball carrier to make tackles and deflect high passes. He didn't face a lot of tough competition, but he performed well at his level. In the 2017 season, he had 116 tackles with 11.5 of them were tackles for a loss, two sacks, two forced fumbles, and 1 pass deflection. Iyiegbuniwe adds competition and depth for the linebacker position. GRADE: B
Round 5 Pick #8 Bilal Nichols
Nichols is another football prospect that lacks top-tier competition. Like Iyiegbuniwe, he has the excellent length to tackle opposing players. During his senior season, he had 5 ½ sacks with 4 pass deflections. He's an inside pass rusher and adds competition for the interior defensive line position. He was scouted at the East-West Shrine Game. GRADE: A-
Round 6 Pick #7 Kylie Fitts
Fitts is one of the steals in the draft. He was projected to go in the 3rd or 4th Round, but due to injuries, he fell in the 6th Round. Fitts is an athletic pass rusher with blazing speed. He needs to be healthy to increase his chances as an impactful starter. The Bears can't afford injuries. GRADE: B
Round 7 Pick #6 Javon Wims
Wims is another sleeper in the draft. He has excellent, standing 6'4. He is another weapon along with Gabriel, Robinson, and Miller. He can catch 50/50 balls and is a red zone weapon. He isn't a great route runner, but he's developing.
Overall Grade: A
Overall, Ryan Pace did well in the draft and in free agency. This team is on rise to become one of best teams in the league. The Bears isn't playoff contender now, but they are developing to become playoff contenders. The Chicago Bears could make the Super Bowl in 3-4 years, if Ryan Pace keeps having an off-season like this.
---