Leonard's Leverage Vs. Spur's Future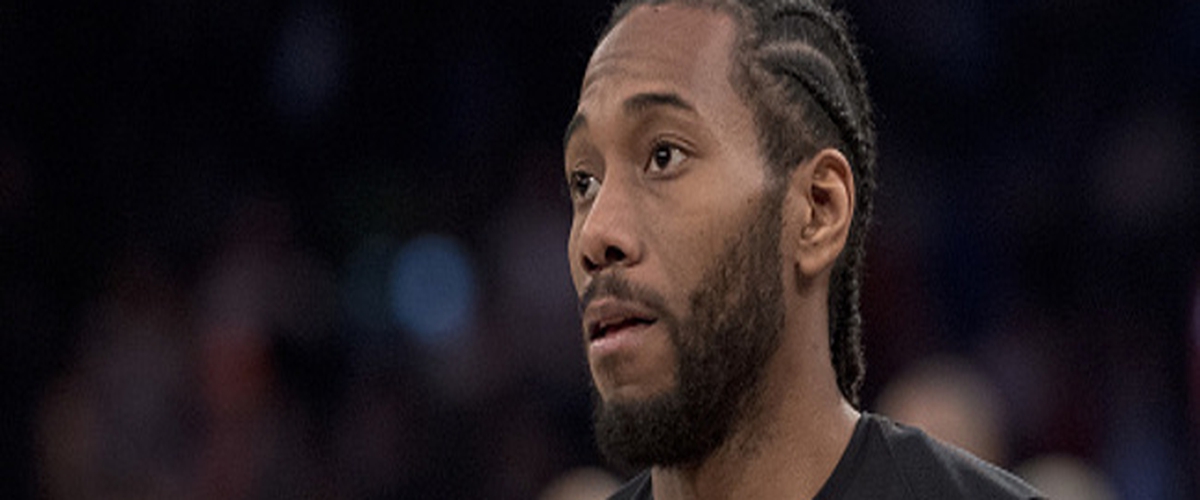 In the modern NBA era where players within the league have more leverage in business negotiations than athletes past, it's crucial that many basketball players utilize their power when given the opportunity. Whenever an individual feels they are unhappy in a certain setting whether it be because of organizational ineptitude, economic unrest, or a complete breach of player/coach trust, that said player has a can't-miss chance to leave his current setting for greener pastures on their own accord either through trade or free-agency.
Kawhi Leonard of the San Antonio Spurs extracted that leverage on full display Friday afternoon when Leonard's advisors leaked to ESPN sources he wanted out of the San Antonio organization. Once revered as the model franchise that's pro-player and has an innate ability to developed unheralded talent, Spurs GM R.C. Buford and Head Coach Gregg Popovich severely mishandled and misjudged the severity of Leonard's lingering quad injury and the sincerity of his character. Revered as the ultimate lunch pail guy determined to do whatever it takes for the team to win, it's safe to say Kawhi was taken aback by his own franchise questioning the authenticity of his injury from the front office to the players throughout the season. Buford never independently call into question the toughness and pain tolerance of his franchise player, but when his employees such as Popovich, and players such as Parker and Ginobli did so behind closed doors and Buford did nothing to stop it, it delivered a bad image to the public and Leonard personally. Surprisingly, Buford didn't assume leaving this energy out to dry could do no good and would possibly discharge Kawhi from the franchise for good.
All isn't completely lost for San Antonio just because Kawhi demanded a trade. As far as we know, Gregg Popovich and Kawhi Leonard's secret meeting could still happen in the next coming days and all rifts Leonard has with the franchise can be resolved through verbal conversation. Pop was able to find a resolution on an almost similar incident with his other All-Star Lamarcus Aldridge last season. Aldridge demanded a trade privately to Gregg Popovich last offseason completely livid on how he wasn't being fully maximized on the team properly. Gregg apologized to Lamarcus on his behalf for not correctly utilizing him schematically on the team vowing to do better. To save face, Pop offered a three-year contract extension to Aldridge's current deal as an added good faith excentive. Lamarcus accepted and proceeded to have his best year in San Antonio with Kawhi mostly out of the lineup and finished as an All-Star and a Second-Team All-NBA Selection to end the 2017-2018 season. The difference between the Aldridge situation and the Leonard debacle is that both players have different gripes with the same franchises with Kawhi loathing something deeper than a personal fit like Aldridge.
An important breach of trust was violated from player and coach, teammate and teammate, and star and franchise. Desiring a second opinion on his quad from a doctor not associated with the Spurs franchise, Kawhi was oddly ridiculed and at times disowned by his coach and certain teammates who felt his independent decision was selfishly jeopardizing the team. For the guys on the team who may have perceived the unfair treatment to one of the most authentic working talents in the game, they did practically nothing to check Pop and the franchise as a whole for their brash comprehensive assessments. So, in retaliation, Leonard has made it known the week before the draft (for better or worst) that he can no longer play for an organization that doesn't believe in what he truly feels and stands for. It leaves the Spurs at a crossroads they've rarely been in before that according to ESPN's Chris Haynes a supermaxdeal can't prevent from happening.
While the Pop-Leonard meeting may seem useless now to many viewers that have received the leaked information from ESPN airwaves, it's practically an inevitable conclusion for the San Antonio Spurs so they can have Leonard fully confirm his desired request. He'll be doing so face-to-face with a franchise that he won two DPOY awards and a NBA Finals MVP for only to have them question his heart to play the game. Whether they decide to still retain his rights for one more year, trade him away before or after the draft, or even have yet another Kumbaya moment with one of their star players during the off-season to make up for lost time is anyone's guess. Suspecting they do the second instead of the former or later, here are some trade deals they could possibly be accepted from other NBA teams around the league that can at most supply a band-aid on what will be a gaping crater without Leonard on deck.
1. Los Angeles Lakers- Josh Hart, Kyle Kuzma, Julius Randle, 2018 first round draft pick
According to ESPN sources, Leonard's desired trade destination like Paul George's in 2017 is the Los Angeles Lakers. Indiana did not abide to George's wishes the summer of 2017 and instead shipped him to Oklahoma City for the contractual rights of Victor Oladipo and Domantas Sabonis the year his contract expired. The Spurs can do the same with Leonard in terms of ignoring his wishes and finding the best deal available, but probably will succumb to the fact that the Lakers may bring the most ammunition to the table than other teams in the league due to the combination of intriguing parts, rookie contracts, and healthy players. Randle is coming off of a career year in the final season of his rookie contract and is demanding a pretty nice pay day. With Leonard off the books, the Spurs will have the funds to keep the Texas native in San Antonio long term. Kuzma proved he's a late first-round pick only in name with high value and upside as a possible starting young wing or a sixth man stretch four in small-ball lineup. Then, second-year shooting guard Josh Hart showed after the all-star break he has what it takes to be a solid two-guard in the league as a versatile scoring option and willing defender. A bevy of young talent that can be coached by Popovich and carry the spurs franchise towards a more hopeful future ahead seems like a picturesque win-win for a franchise losing their star player.
2. Boston Celtics- Jaylen Brown, Terry Rozier, 2019 Sacramento Kings Lottery Protected First Round Pick
Terry Rozier and Jaylen Brown's magnificent 2018 postseasons only made them more accessible to the ever expanding NBA trade market. As good of a run they had putting Boston on the brink of NBA Finals participation, the writings on the wall that neither will be Celtics in next year's future plans. Gordon Hayward will return from injury as the starting two guard sliding First-team All Rookie Jayson Tatum at the three and relegating Jaylen Brown to the bench. That will only make him more expendable than in the past when he was in the starting lineup. While General Manager Danny Ainge is a stickler for cheaper contracts and draft picks, he's more enticed with future all-stars and key cogs off the bench that can pursue the Larry O'Brien Trophy. Smart's value to the team was intensified once he returned from injury in the playoffs while Rosier started strong but flamed out in postseason end. Giving Ainge the chance to cash in on Smart now as a restricted free agent and ship the rights of Terry to another NBA city.
Yet, Rosier and Brown alone aren't enough to give the Spurs in a simple player vs. players trade exchange. The two have upside, but in comparison to Leonard's approaching prime, it would be like bartering a baby pumpkin plant for a ripe pumpkin. This is why the 2019 Sacramento pick makes this simple transaction hold dynamite weight. Sacramento is projected to be horrible yet again next season with possibly four former first round picks in their starting five (three from the lottery). If the pick is top two or three, San Antonio would have a chance to select generation talent like we've rarely seen such as Canadian Sensation R.J.Barrett or athletic specimen Zion Williamson. If Boston comes knocking on the door with the lottery protected 2019 draft pick in their back pocket, it's a deal worth mortgaging your franchise player for for the sake of Spurs basketball.
3. Philadelphia 76ers- Markelle Fultz, Robert Covington, 2018 10th overall pick
While the Lakers present to the Spurs two rookie contracts and a young player desiring to cash out after his rookie deal, Philly gives to San Antonio last year's number one pick, a three and d wing and a pick inside this year's draft lottery Buford and company can use their advantage.
The disadvantage to this transaction stand up tall and blink brightly in neon lights. Fultz played a grand total of 11 regular-season games and didn't touch the floor during the Eastern Conference Semifinals versus Boston. Apprehension and fear from his Head Coach Brent Brown factored into the decision due to Fultz's lack of continuous in-season reps, but what if the injury to his shoulder which was manifested through recreating his shooting form resurfaces again? Can the Spurs doctors bounce back from mishandling Leonard's injury and deliver with the accurate and responsible diagnosis for a young prospect in the twilight of his early career?
Covington would come in the deal to open up the wing position for Leonard to replace. He was a first-team all defender this season with a nice three-point shot in catch-and-shoot situations. However, the shot itself is inconsistent and outside of a catch-and-shoot situation, Covington provides little to nothing off-the-bounce giving Pop only a taller more versatile Danny Green. The 10th place pick doesn't seem as if it holds any underwhelming value on paper until you pay homage to the fact that many teams outside the top-five are trying to trade up to get the big fish in the draft. By ten, Bamba, Ayton, Bagley,and Doncic will be history. Oft-injured but heralded prep star Michael Porter Jr. probably won't make it past fifth, sixth, or seventh. This leaves the Spurs to either take Mikal Bridges who's a well-rounded player on the wing and if he's not there (which is a strong chance) you reach for who? Lonnie Walker? Zhaire Smith? If they don't use the 10th pick on someone who falls but is still a starting player or as bait to trade up, then this whole transaction can be a complete flop.
---