Don't Look Now, But the Houston Rockets Are a Legitimate Threat to Golden State in the West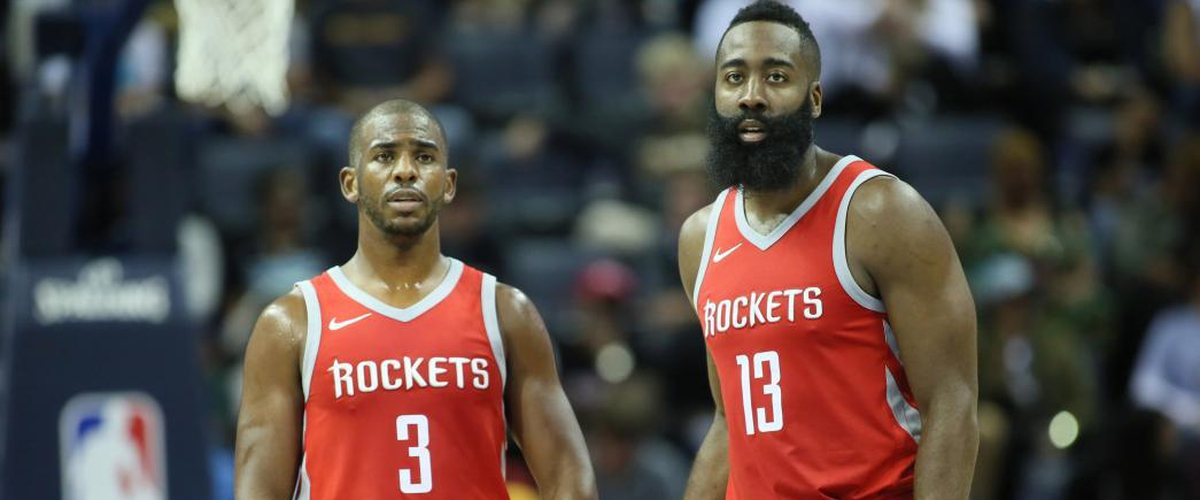 Before the season, many saw the Golden State Warriors sweeping through the Western Conference en route to the NBA Finals. Little did anyone know that the Houston Rockets would come out firing, beginning the season 25-6, good for the second-best record in the NBA (only to Golden State). Chris Paul has battled injuries this season but the team is 15-1 with him; including a 14-game winning streak that was just snapped by the Los Angeles Clippers on Friday. Luc Mbah a Moute and Clint Capela have each missed a bit of time with injuries recently as well. We all knew Golden State would be this good at this point in the season, but what makes Houston so good as well?
This is part of the answer. James Harden and Chris Paul are gelling a lot quicker than many expected. The rhetoric before the season was "two ball-dominant players won't be able to work well together." Chris Paul is shooting 41% from behind the arc this year and is converting on 48% of his field goal attempts, both above his career averages. Harden is knocking down a career-high 39.8 percent of his attempts from three and leads the league with a scoring average of 32.5 points per game. Having two guys who can handle the ball, shoot and find open men anywhere on the court is turning out to be a luxury for the Rockets, not the curse some anticipated it to be. However, there are a lot more than two players necessary to make a team successful.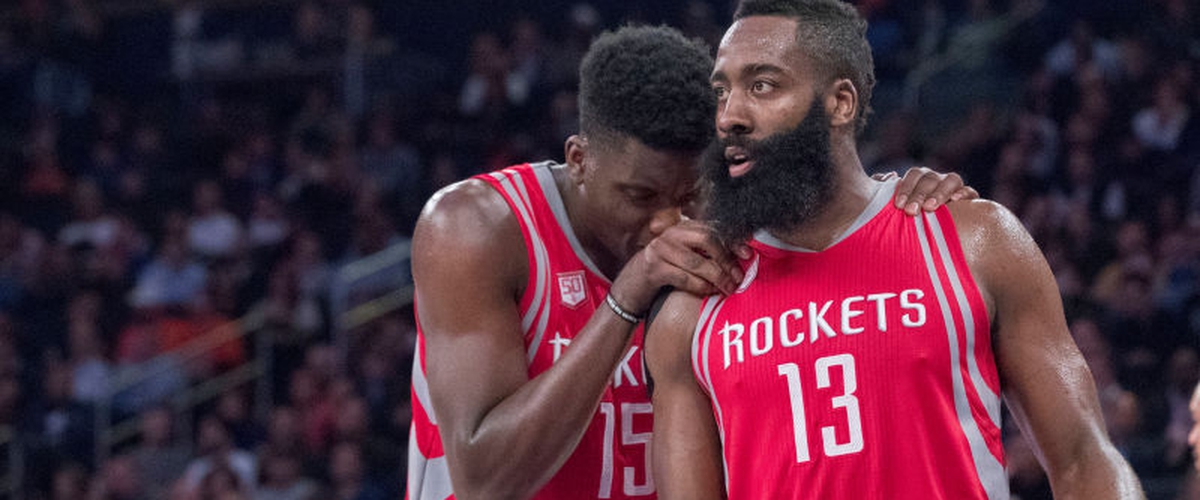 The emergence of Clint Capela has been huge for Houston. Capela has received just one more minute per game compared to last season, but his scoring output has increased from 12.6 points per game to 14.0 points per game. On the boards, Capela has jumped from 8.1 a game to 11.3 a game. He's also swatting more shots night in and night out (1.2 to 1.8). When you throw in an absurd 70% field goal percentage, you've got a pretty darn good player. Where CC has taken the biggest leap forward is in his defensive efficiency. Last season, he finished 29th in the league (still a great place to be). This season, the best defensive player in the league has been, well, Clint Capela. Making the leap from solid contributor on offense and a defensive specialist to an all-around monster has made Capela a frontrunner for Most Improved Player in the NBA. What about the guys around him?
PJ Tucker hasn't been a huge contributor for this squad, but five games with double-digit scoring and another five with double-digit rebounds (two with both) have proven he's a very solid complementary piece - one that Houston was lacking last season. The player who's had a huge impact on this team off the bench is Luc Mbah a Moute. His offensive numbers aren't too impressive (6.8 PPG, 3.4 RPG on 46% FG and 37% from three), but his defensive metrics are frightening. Mbah a Moute currently ranks 25th in the entire NBA in defensive rating, just behind the likes of Dwight Howard, Robert Covington and Kevin Durant. The addition of Tucker provided some solid defense, rebounding and scoring off the bench but Mbah a Moute gives Houston a proven stopper that can guard three or four different positions effectively, as well as efficiently knock down shots. What does this mean for the team as a whole?
We've touched a bit on individual offensive numbers, but the team as a whole is even more impressive. Last season, Houston finished second in the NBA in offensive rating, only to Golden State. This year? First. Guess who's in second place? Golden State. The Rockets have found a way to improve on the offensive end with the addition of Chris Paul and have made themselves even more dangerous from all areas of the floor. Last year, Houston led the NBA in three-point attempts per game with 40 and converted on 35.7% of them, good for 15th in the league. This year, Houston again leads the league in threes per game with 43, but knocks down 37.1% of them, now 11th overall. This has helped the team increase its average margin of victory from 5.8 to 10.0 points. This is all a lot to digest, but it proves that the addition of Chris Paul has, in fact, made this already scary offense even more terrifying to face.
On the defensive side of the ball, we've touched on the emergence of Clint Capela and the additions of PJ Tucker and Luc Mbah a Moute. Each of these players brings some defensive prowess to the table and makes Houston a lot harder to score on this season. If you believe that individual players performing well translates to the team doing so, you'd be right. Last season, without Mbah a Moute + Tucker and with a lesser Capela, Houston finished a mediocre 18th in the NBA in defensive rating. Defense was a huge issue for the team in the Western Conference Semifinals against San Antonio. This season, that shouldn't be nearly as much of a problem. Houston is currently 9th in the NBA in defensive rating, which is a huge improvement. Saying that 9th looks a lot better than 18th would be an understatement. Golden State was the second-best defensive team in the league last year and is number one currently, sending a message to Houston that defensive performance is just as important as what contributions players put forth on the offensive end. Houston has responded to that message with improving one of the worst units in the league and turning it into one that is in the higher tier of defenses.
This version of the Rockets is scary. James Harden has used his second-place finish in last year's MVP voting as motivation to become the frontrunner in this year's race. Chris Paul has been as efficient as ever and despite battling injuries all year, he's gelling with Harden quickly and the two look as if they've played alongside each other for years. The additions of Luc Mbah a Moute and PJ Tucker have given the team some wing help and have served as defensive stalwarts coming off the bench. Eric Gordon, Trevor Ariza and Ryan Anderson have picked up where they left off last season. Last, but certainly not least, the emergence of Clint Capela has been so huge for this squad. Not only is Capela a great rebounder and one of the most efficient offensive players in the NBA, but he's the best defensive player in the league thus far in 2017-18 and is a frontrunner for the Most Improved Player award. When you put all of these elements together, you get a legitimate threat to the Golden State Warriors. I'm not saying Houston is going to win the Western Conference, but the Warriors better be looking over their shoulders every once in a while, just in case.
---