Sabres Basketball Spotlight - De'Auan and DiCarlo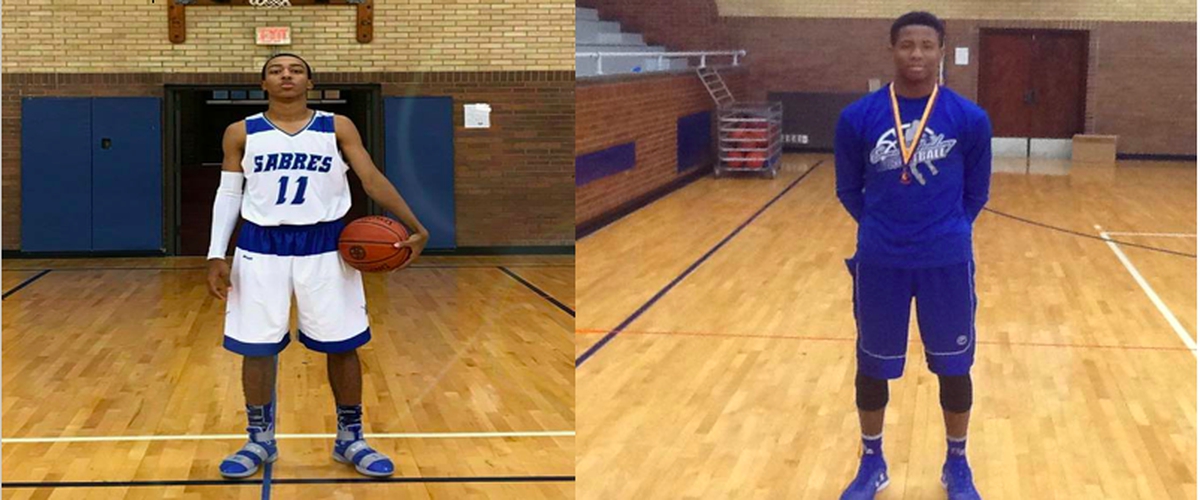 De'Auan McClaine (left) and DiCarlo Jackson Jr. (right) are two star senior players on the basketball team at Sumner Academy of Arts and Science, my alma mater. I've had the pleasure of having class with these two and have had an even greater pleasure of watching them grow both on and off the court over the past four years. They've both come a long way and are turning out to be truly outstanding young men and basketball players. Being home from school during the month of December for winter break, I was able to catch up with both De'Auan and DiCarlo, ask them some questions and watch them play twice. DiCarlo had a game-high 21 points and De'Auan added 14 points as well in a December 12 game against University Academy. It would be an understatement to say I was both pleasantly surprised and proud of the boys' maturation and positivity on and off the court. Below is a transcript of what each young man had to say when I asked them questions.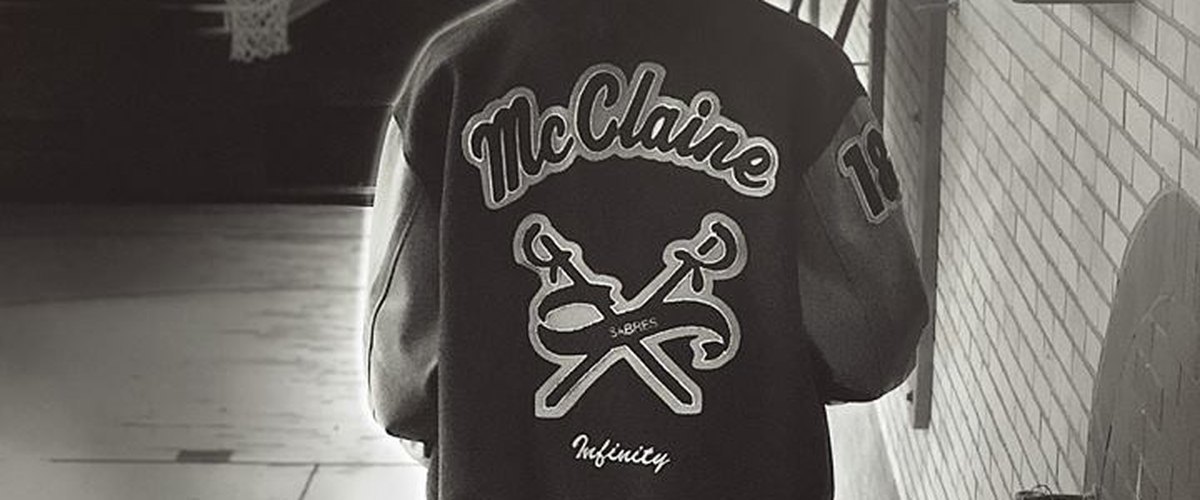 I can personally attest to De'Auan's growth on and off the court. He came into high school as a lanky three-point shooter and is going to leave as a lethal shooter, ball-handler and defender. He's one of the peskiest defenders I've watched and the crowd seems to become completely invested in the game when it sees McClaine has made another great play. I've known De'Auan since his elementary school days and watching his growth has been nothing short of amazing. He's a great young man and is always willing to listen, learn and take the extra step needed to progress as a player and person.
When and how did you discover your passion for basketball?
Honestly, basketball itself has been embedded into my life since I was born, but I didn't start playing until I was 4 years old, I've never stopped working since then.
What's your reason for playing?
Anyone that knows me, knows that I love putting on some sort of show, and that's exactly why I love playing basketball. Displaying my skills, encouraging my teammates, and electrifying the crowd is something I live for.
What are your biggest strengths as a player?
My biggest strengths are my 3-point shooting and baseline driving abilities.

Biggest weaknesses/things you need to work on?
Just getting bigger and having more confidence in my ball-handling abilities.

What's the biggest obstacle you've faced as a player?
Breaking my ankle my 8th grade year was pretty tough for me, and also transitioning from middle school basketball immediately to varsity basketball.

If you could use one word to describe yourself when it comes to basketball, what would it be?
SLEPT-ON (Yes, if you say it fast enough it's one word.)
DiCarlo Jackson Jr. was a force to be reckoned with his Junior season and has only improved since then. Local media personality David Brox pointed this out over the summer in the tweet above. Jackson is Sumner's bread and butter - the player they count on for a little bit of everything. Don't believe me? Check this out:
Making an All-Tournament team is very difficult, especially as a junior in high school. Jackson dominated the Spring Hill Invitational last year and used that slate of games as a springboard for his coming out party. He's been on a tear ever since and is a dark-horse candidate for league/district player of the year. When Jackson came into Sumner, I saw a kid that was tall and thin. I knew he'd have an impact on the basketball court, but not under the circumstances in which he's done so. When DiCarlo fractured his tibia during his junior football season, everyone was devastated. This put his basketball season in jeopardy and was a setback for Jackson. After this, DiCarlo put the saying "minor setbacks make for major comebacks" to its fullest truth. Here's what Mr. Jackson had to say when I interviewed him:
When and how did you discover your passion for basketball?
I discovered my passion for basketball in the 4th grade. I began playing for my first AAU basketball team. The skills and competition were much better than I previously had played and everyone else was passionate for basketball. Soon after, I began to find my love for the game. I was taller than most kids then so I played primarily forward positions, but I became more of a guard as others around began to catch up in height. Now, I've been a 4-year varsity player and 3-year starter.
What's your reason for playing?
My reason for basketball is to just have fun and enjoy myself. The competitiveness of basketball is like no other in my opinion. I love how you can be a team player, but if needed you can take the game into your own hands.
What are your biggest strengths as a player?
One of my biggest strengths as a player is my ability to get to the rim and finish. I feel that no one can stop me from getting to the rim, it's a matter of if you can stop me from scoring. I shot around 65% from inside the paint last season, so more than likely I'm going to be able to finish. I'm also a good team player in my opinion. I if you're open, trust and believe I'm going to get you the ball. My teammates know this!
Biggest weaknesses/things you need to work on?
My biggest weakness may be my three-point shooting. I don't shoot very many threes in games, which I really need to change. I just feel that it's easier getting a bucket in the paint.
What's the biggest obstacle you've faced as a player?
My biggest obstacle I've faced as an athlete is coming back from fracturing my tibia on September 10th - the second football game of the season - during my junior year. Beforehand, I had never fractured or broken anything, so this was completely new to me; not having the ability to move around freely and do things myself. That was the most frustrating thing I dealt with. Also, having to go through physical therapy in order to regain the strength in my leg. I had to really push myself to limits I never had before. The injury even caused me to not be able to play in the first basketball game of my Junior season. I was originally not going to be cleared to play until the end of January, 2017, but I worked for hard that I ended up being cleared by Dec. 8th, 2016. I was slowly implemented back onto the court, but eventually I was back running up and down the court. It was hard given that my right leg still was not as strong as my left leg, but I worked past it. I ended up being one of the top scorers in Kansas, averaging 18 points per game half way through the season. It felt really good knowing that I didn't allow my injury to hold me back. I acted as if it never happened and ended up doing better than many people expected.
If you could use one word to describe yourself when it comes to basketball, what would it be?
Efficient
I also asked De'Auan and DiCarlo a bit about what it means to play for Sumner and play in the USD 500 district:
What does it mean to be a Sabre?
De'Auan: It means that we have a legacy to uphold. Sumner's rich basketball history gives my teammates and I all the more reason to play hard everytime we step on the court, because those who came before us did the same.
DiCarlo: To be a Sabre means to be comfortable in your own skin. At Sumner, we welcome everyone, and show love and appreciate each other. I believe that since I've been a Sabre I've felt almost like I'm at home. It's a family atmosphere here. Everyone jokes around and encourages each other, and loves to see other Sabres succeed.
How does playing in USD 500 impact your attitude as a player?
De'Auan: It impacts me tremendously as a player. Although playing in USD 500 may not necessarily mean you are as wealthy as players in other surrounding districts, it means that every night you have something to prove. It's bigger than basketball.
DiCarlo: Playing in USD 500 impacts my attitude as a player a lot! Every day on the court I feel like I have something to prove. To prove to the city and to prove to everyone else that there's good basketball still down here in the city. Also, word gets around quick around here. You always want to be the team everyone's talking about, so it's even more important to win especially against your fellow USD 500 schools.
What's your favorite thing about playing for Sumner?
De'Auan: Just catching people off-guard with your basketball abilities because they thought that you were trash on the court because you excel in the classroom.
DiCarlo: My favorite thing about playing for Sumner is the culture. We have a rich culture of excellence at Sumner, and I enjoying being able to contribute to it. We have a saying that "You play not for yourself, but those who came before, and will come after you."
As you can see, Sumner Academy has a rich culture and demands excellence of its basketball players both in the classroom and on the court. De'Auan and DiCarlo are perfect examples of that. I was also able to catch up with head coach Moses Wyatt Jr. and ask him some questions about his two star players.
What's your favorite part about coaching De'Auan and DiCarlo?
The relationship we have developed over the years. I have watched them mature from 6th graders to senior young men.
How does coaching in the USD 500 school district impact the mentality and play of this team?
It has made them resilient! With all we have been through in the past 3 years the team morale is at an all-time high. They understand, "Bounce Back" and they have never once complained!
If you could use 1 word to describe De'Auan and 1 word for DiCarlo, what words would you use?
De'Auan – Go-getter
DiCarlo - Indestructible

What does DiCarlo returning from his leg injury say about him?
He is a fighter. He trusts the process. Without struggle there is no progress.

What are your goals for these boys' senior year?
Compete every game, defend home court, make it past a 500 season and do everything in my power to help them become college freshmen.
It was a great trip back to Sumner Academy for myself, and I hope this gives everyone an inside look on the program and culture at Sumner. Everyone from the last man off the bench, to De'Auan and DiCarlo, to coach Wyatt to the Superintendent of schools in USD 500, it takes hard work and dedication to succeed. The school of Sumner Academy, the coaches, teachers and players all exhibit that. It's a family-oriented atmosphere and one that is very conducive to the success of everyone involved. It's been an exciting season for Sumner Academy basketball and I'm very excited for what's ahead for both of these boys, as well as the rest of the program.
You can check out De'Auan's highlights by clicking the link attached to this sentence.
If the link isn't working for you, copy and paste this URL:
https://www.hudl.com/profile/4883988/deauan-mcclaine
You can do the same for DiCarlo by clicking the link attached to this sentence.
If the link isn't working for you, copy and paste this URL:
https://www.hudl.com/profile/4884019/dicarlo-jackson-jr
--------------------------------------------------------------------------------
This is your reminder to put your Best Foot(e) Forward in everything you do today! Always do the right thing and be the best possible version of yourself every day.
As always, if you'd like to get in touch with me or follow my social media accounts, you can find them here:
Facebook: https://www.facebook.com/TheBestFooteForward
Twitter: https://twitter.com/TheBestFooteFWD
Instagram: https://www.instagram.com/thebestfooteforward
Email: bestfooteforward17@gmail.com