Week 7 NFL Picks - The Back to Normal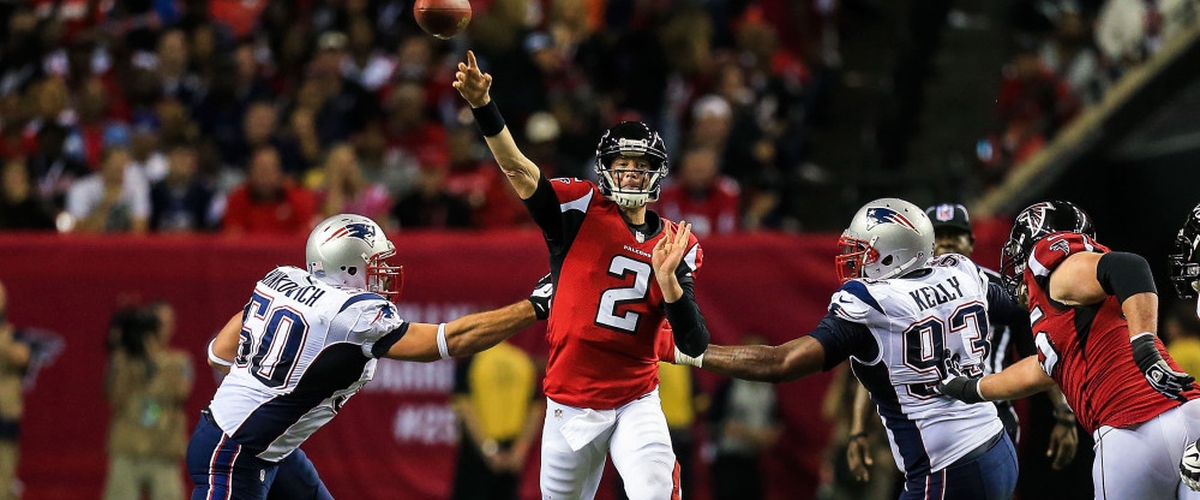 Week 7 is among us! Thursday night, we have an old-fashioned AFC West showdown on our hands when the Chiefs visit Oakland for a game the Raiders desperately need to win. Our primetime game on Sunday is a Super Bowl 51 rematch between the Falcons and Patriots. Monday night, the Redskins will look to make a statement in Philly against the Eagles, who currently sit atop the NFC East at 5-1. Who's going to win big this week? Who's getting upset? Find out in TBFF's Week 6 Picks! We've went 6-8 in back-to-back weeks, let's shoot for above .500 with 15 games on the slate this week!
Bye Week: Detroit Lions (3-3), Houston Texans (3-3)
Kansas City Chiefs (5-1) @ Oakland Raiders (2-4) (Thursday, 8:25 PM ET)
Kansas City is coming off a tough loss to the Pittsburgh Steelers in which the offense looked very flat. Kareem Hunt was limited to just 21 rushing yards, but was able to make himself a threat in the receiving game with an 89-yard effort. Oakland lost to a gritty Chargers team last week, and their offense looked even worse than Kansas City's at times. The good news for Oakland is that Derek Carr is back. The bad news is he threw for just 171 yards, 1 touchdown and an two interceptions last week. Expect Oakland to struggle on defense and expect the Chiefs to bounce back in a big way this week.
The Pick: Chiefs 38, Raiders 21
Tampa Bay Buccaneers (2-3) @ Buffalo Bills (3-2) (Sunday, 1:00 PM ET)
Tampa Bay doesn't have any quality wins on its resume. Wins over the Bears and Giants don't scream legit to me. That, along with the fact that the Bills have wins against the Broncos and Falcons, gives me a good reason to pick Buffalo. Oh yeah, Jameis Winston is going to play through a shoulder injury, also. The Bills should pick up the win at home.
The Pick: Bills 20, Buccaneers 14
Baltimore Ravens (3-3) @ Minnesota Vikings (4-2) (Sunday, 1:00 PM ET)
He's coming back! Not this week, not next week, but soon. This news is exciting not only for Vikings fans, but fans of the NFL in general. Teddy Bridgewater is a great guy on and off the field; it's hard to root against him. Average QB play from Case Keenum and elite defense against a turnover-prone Joe Flacco (8 INT in 6 games) should be more than enough for Minnesota to pick up the win. Baltimore will drop below .500 for the first time this season.
The Pick: Vikings 21, Ravens 17
New York Jets (3-3) @ Miami Dolphins (3-2) (Sunday, 1:00 PM ET)
It was very tempting to pick the Jets in this one. I was asked this week if the Jets were legit, and the answer was no. I was then asked if they could win 7 games. That's intriguing, but I'm still going with no. Losses to the Patriots, Raiders and Bills indicate that the Jets just have a good time against bad competition but are no match against better teams. The Jets won round one of the season series against Miami, but Jay Cutler should bring some of his momentum from last week's comeback to this showdown at home against a division rival in the Jets.
The Pick: Dolphins 23, Jets 13
Arizona Cardinals (3-3) @ Los Angeles Rams (4-2) (Sunday, 1:00 PM ET)
Don't get me wrong - I love Adrian Peterson's move to Arizona. This offense is going to be far more explosive with him in the backfield. The Rams are simply a better team, though. The NFL world has been waiting for the Rams to get their act together defensively, and it may have finally happened. The Rams have allowed 16 and 17 points in their past two outings, respectively. Jared Goff will rebound from last week's mediocre performance with a quality game vs. a quality defense and LA will squeak past the pesky Cardinals.
The Pick: Rams 28, Cardinals 27
Jacksonville Jaguars (3-3) @ Indianapolis Colts (2-4) (Sunday, 1:00 PM ET)
The Colts are bad without Andrew Luck. More bad news:
Luck may not play in 2017. This means Jacoby Brissett should have plenty of time to show NFL teams he is capable of being a starting quarterback in the league. Jacksonville's defense is no joke, however. The Jaguars have allowed the 3rd fewest passing yards per game to opposing quarterbacks this year (166). That number is very low. It won't be pretty, but the Jags should get out of Indianapolis with the win.
The Pick: Jaguars 17, Colts 14
New Orleans Saints (3-2) @ Green Bay Packers (4-2) (Sunday, 1:00 PM ET)
The Saints are the easy pick for this game. They possess a high-powered offense and a defense that is coming off back-to-back surprisingly great performances. I'm going out on a limb and picking Green Bay in this one. The Packers' third-year signal caller, Brett Hundley, threw three interceptions last week against the Vikings and won't want to repeat that performance. Mike McCarthy should have a solid game plan in place for his young QB this week. The Saints simply aren't the same team away from home - I'm picking the Packers pulling off the upset.
The Pick: Packers 24, Saints 20
Carolina Panthers (4-2) @ Chicago Bears (2-4) (Sunday, 1:00 PM ET)
Cam Newton is another quarterback who threw three interceptions last week. He'll come into Chicago with a chip on his shoulder and a lot to prove on Sunday. Some are questioning whether or not the Panthers are true contenders and although a win won't prove it, it'll prevent people from making a big deal if they lose. Mitchell Trubisky faces a tough task this week in the Panthers' defense, one in which he'll come up significantly short.
The Pick: Panthers 28, Bears 13
Tennessee Titans (3-3) @ Cleveland Browns (0-6) (Sunday, 1:00 PM ET)
Poor DeShone Kizer. He was benched for a week, now he's back in the starting lineup. Hugh Jackson needs to make up his mind in regards to his rookie signal caller. It's not possible to find out how DeShone can be if he isn't given a full season or two in the system. Kizer has potential. He's such a raw prospect, but the tools are there. Unfortunately for the Browns, the Titans have a much more potent offense. Tennessee's defense has given up the second most points in the NFL this season, but a low-scoring outing from Cleveland may bump that rank up a spot or two in the right direction.
The Pick: Titans 31, Browns 10
Dallas Cowboys (2-3) @ San Francisco 49ers (0-6) (Sunday, 4:05 PM ET)
Dallas needs this win. They lost back-to-back games before heading into the bye week, and lots of us are scratching our heads as to why. Ezekiel Elliot hasn't been his usual self running the football this season (393 yards and 2 touchdowns) but needs a big game to get his mind in the right place. Dak Prescott has had a couple shaky outings this year and needs a good one to get his confidence back. The 49ers will eventually win a game, but this isn't going to be the one.
The Pick: Cowboys 23, 49ers 14
Denver Broncos (3-2) @ Los Angeles Chargers (2-4) (Sunday, 4:25 PM ET)
Trevor Siemian is dealing with a minor sprain in his left shoulder at the moment. This shouldn't affect his ability to throw the football very much, but it's something to watch out for. 1 touchdown and 2 interceptions last week against the Giants shouldn't reassure Broncos fans very much. Philip Rivers had a very efficient outing last week against the Raiders, totaling 268 yards through the air, 1 touchdown and no interceptions! I'm going out on a limb again this week. You heard it here first - the Chargers are going to win their third game in a row.
The Pick: Chargers 24, Broncos 13
Cincinnati Bengals (2-3) @ Pittsburgh Steelers (4-2) (Sunday, 4:25 PM ET)
This isn't a very difficult pick to make. The Bengals aren't as bad as some say they are, but they're not in the same class as Pittsburgh. As long as Ben Roethlisberger isn't throwing 5 interceptions a game, the Steelers will be able to keep a lot of games close. When Roethlisberger is playing well, the Steelers will be able to dominate. I'm looking at something in between this week. Le'Veon Bell should receive a heavy workload and Pittsburgh should grab a win at home.
The Pick: Steelers 20, Bengals 17
Seattle Seahawks (3-2) @ New York Giants (1-5) (Sunday, 4:25 PM ET)
The Giants had a nice outing on defense last week, but the offense only scored one touchdown. The Seahawks have a dominant defense (one very similar to the Broncos) so it is likely that the same performance may be what's in the cards for the Giants. The issue with picking them this week is... well... the Seahawks don't exactly have the offensive issues the Broncos do.
The Pick: Seahawks 27, Giants 14
Atlanta Falcons (3-2) @ New England Patriots (4-2) (Sunday, 8:30 PM ET)
This is a big matchup! A rematch of Super Bowl 51 is bound to be a shootout between two teams that want to prove their doubters wrong this week. This game could follow a script similar to that of Panthers vs. Patriots earlier in the season. If you can go into Foxborough and put up a lot of points, you've got a shot to win. The Falcons should be able to do that more often than Tom Brady, at least this week.
The Pick: Falcons 41, Patriots 34
Washington Redskins (3-2) @ Philadelphia Eagles (5-1) (Monday, 8:30 PM ET)
Big time matchup between bitter division rivals. With a win, the Redskins can pull to within one game of first place in the NFC East. With a loss, they'll find themselves 3 wins behind Philadelphia. Washington is capable of getting into a shootout with just about any team but with the way the Eagles have been playing, it's hard to pick against them.
The Pick: Eagles 31, Redskins 21
That's it for Week 7 Picks! Let me know if you have anything different - I'd love to talk about it. Let's hope for above .500, 6-8 isn't good in weekly picks or the NFL.
--------------------------------------------------------------------------------
This is your reminder to put your Best Foot(e) Forward in everything you do today! Be the best version of yourself possible and treat others with respect and care.
As always, if you'd like to get in touch with me or follow my social media accounts, you can find them here:
Facebook: https://www.facebook.com/TheBestFooteForward
Twitter: https://twitter.com/TheBestFooteFWD
Instagram: https://www.instagram.com/thebestfooteforward
Email: bestfooteforward17@gmail.com