Week 9 NFL Picks - Contenders or Pretenders?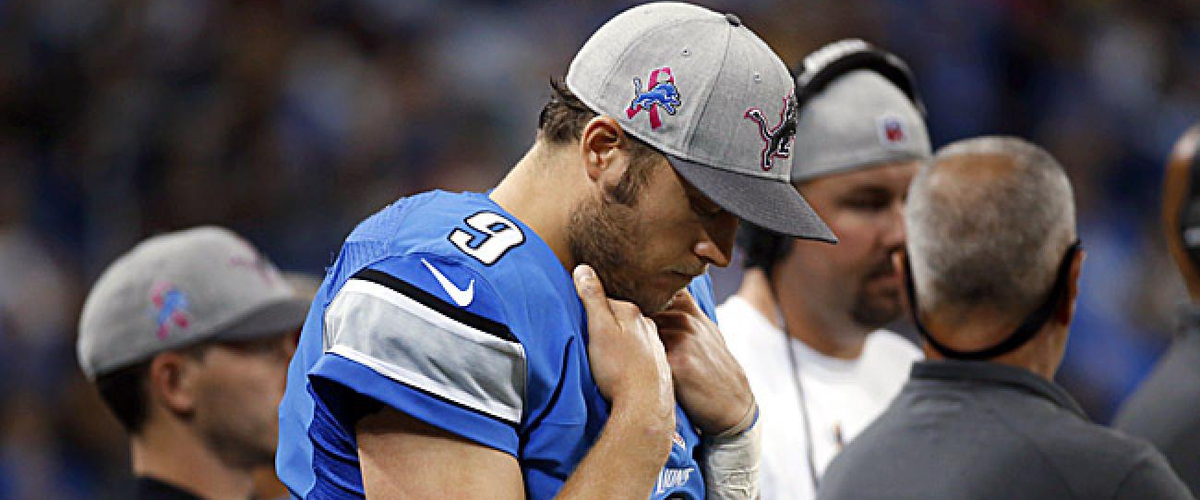 We're here! 8 weeks of football are in the books and things are getting interesting. We're beginning to get a picture of who's a contender and who's a pretender. Aside from the Ravens' 40-0 beatdown of the Dolphins, everything went as expected last week. We went 9-4 in picks last week and with the same amount of games on the slate this week, let's shoot for at least 10-3! On Thursday, the Bills travel to New York to play the pesky Jets in an AFC East showdown. On Sunday night, we'll see a battle of struggling teams when the Raiders square off against the Dolphins in Miami. On Monday night, the slumping Lions will play in Green Bay against the Rodgers-less Packers. Let's get into the picks!
This week's byes: Chicago Bears (3-5), Cleveland Browns (0-8), Los Angeles Chargers (3-5), Minnesota Vikings (6-2), New England Patriots (6-2), Pittsburgh Steelers (6-2)
Buffalo Bills (5-2) @ New York Jets (3-5) (Thursday, 8:25 PM ET)
The Bills head into New York winning four of their last five contests. This team is playing well on both sides of the ball and needs to continue doing so to prove its legitimacy. The Jets are 0-3 in their last three games, but have lost those contests by an average of 5 points per game. This will be somewhat close, but the Bills will win.
The Pick: Bills 27, Jets 21
Indianapolis Colts (2-6) @ Houston Texans (3-4) (Sunday, 1:00 PM ET)
Houston has needed a game like this, and now they've got it. They're so much better than the Colts; this is their chance to prove it. Indianapolis will continue to look like a laughing stock and the Texans will get back to .500 after a blowout.
The Pick: Texans 34, Colts 13
Cincinnati Bengals (3-4) @ Jacksonville Jaguars (4-3) (Sunday, 1:00 PM ET)
Cincinnati somehow finds itself 3-4 at this point in the season. The eye test says otherwise, which is why Jacksonville should feel good about this matchup. The Jags' defense is one of the best in the league and as long as Leonard Fournette plays well/Blake Bortles plays okay, this team will win games.
The Pick: Jaguars 21, Bengals 13
Tampa Bay Buccaneers (2-5) @ New Orleans Saints (5-2) (Sunday, 1:00 PM ET)
Tampa Bay has been perhaps the most disappointing team in the NFL this season. New Orleans has been one of the most pleasant surprises this year. New Orleans has allowed 20 points or less in four of its last five games, and I expect this trend to continue. Jameis Winston's shoulder concerns me - and so does the rest of his team.
The Pick: Saints 28, Buccaneers 17
Los Angeles Rams (5-2) @ New York Giants (1-6) (Sunday, 1:00 PM ET)
This is one of the easier picks of the week. New York is a terrible team and is facing an improving Rams defense this week. Jared Goff should have another solid game and allow Todd Gurley to run wild in a game that could get ugly fairly early.
The Pick: Rams 27, Giants 14
Atlanta Falcons (4-3) @ Carolina Panthers (5-3) (Sunday, 1:00 PM ET)
I can't express enough how important this game is for both of these teams. Atlanta has been very inconsistent this season and is looking to create some momentum going after narrowly defeating the Jets. The problem with that previous statement is that... they narrowly defeated the Jets. Carolina has also been a rollercoaster to watch this year, even more so after trading stud WR Kelvin Benjamin to the Bills. Cam Newton needs to win this game to keep pace with the Saints and to keep his spirits high, and that's what he'll do this Sunday.
The Pick: Panthers 31, Falcons 24
Denver Broncos (3-4) @ Philadelphia Eagles (7-1) (Sunday, 1:00 PM ET)
Call me crazy, but I think this will be a close game. By close, I mean it will be a one-score game. Brock Osweiler may not be a franchise quarterback in the NFL, but he can't be much worse than Trevor Siemian (9 TD, 10 INT) has been this season. Denver's defense is still one of, if not the best units in the league. Philly won't come back down to Earth this week, but they'll be tested.
The Pick: Eagles 28, Broncos 23
Baltimore Ravens (4-4) @ Tennessee Titans (4-3) (Sunday, 1:00 PM ET)
This one is an interesting pick. Tennessee won two games in a row before the bye, but those wins came against the Colts and Browns. Until this team performs consistently, it will be a struggle to pick them each week. Baltimore severely outperformed its ability last Thursday. The Ravens aren't a playoff-calibre team with Joe Flacco under center and a shaky offense in general. Coming into the year, many picked Tennessee to grab a playoff spot. This win will be big in helping them get to that point.
The Pick: Titans 27, Ravens 20
Arizona Cardinals (3-4) @ San Francisco 49ers (0-8) (Sunday, 4:05 PM ET)
This won't be fun to watch. Drew Stanton is a capable backup, but he's no Carson Palmer. He's enough to beat San Francisco, though. CJ Beathard is still the starter for the 49ers until the newly-acquired Jimmy Garoppolo learns the playbook. That spells doom for San Fran in a battle between two bad teams.
The Pick: Cardinals 17, 49ers 10
Washington Redskins (3-4) @ Seattle Seahawks (5-2) (Sunday, 4:05 PM ET)
Washington is struggling and needs a bounce-back game. Naturally, they have to play Seattle on Sunday. The Seahawks recently acquired some offensive line help in the form of Duane Brown and should roll over the Redskins in this one. The 'Hawks are going to get a head start on rounding into playoff form.
The Pick: Seahawks 34, Redskins 24
Kansas City Chiefs (6-2) @ Dallas Cowboys (4-3) (Sunday, 4:25 PM ET)
This is tough. Being from Kansas City, I support the Chiefs and wish them the best in every contest. There are going to be times where I pick against them. This is not one of those times. With Ezekiel Elliot, perhaps I would've picked Dallas, but I think his absence is enough to prevent his squad from winning a shootout against the Chiefs.
The Pick: Chiefs 34, Cowboys 24
Oakland Raiders (3-5) @ Miami Dolphins (4-3) (Sunday, 8:30 PM ET)
Oakland's season is looking grim and Miami came crashing back down to Earth last week. Both of these teams desperately need a win. Jay Cutler returning is actually a positive for the Dolphins, who couldn't muster a single point last week against the Ravens. Smokin' Jay isn't built to win high-scoring games, which is exactly what this one will be... for Oakland.
The Pick: Raiders 38, Dolphins 21
Detroit Lions (3-4) @ Green Bay Packers (4-3) (Monday, 8:30 PM ET)
Green Bay doesn't have Aaron Rodgers. That's going to be a reason to pick against them this week: it's going to be a reason to do so again and again. The Lions desperately need a win after losing three games in a row: this is a perfect opportunity for the offense to score touchdowns and for the defense to get its mojo back.
The Pick: Lions 30, Packers 13
--------------------------------------------------------------------------------
This is your reminder to put your Best Foot(e) Forward in everything you do today! Do the right thing and be the best possible version of yourself.
As always, if you'd like to get in touch with me or follow my social media accounts, you can find them here:
Facebook: https://www.facebook.com/TheBestFooteForward
Twitter: https://twitter.com/TheBestFooteFWD
Instagram: https://www.instagram.com/thebestfooteforward
Email: bestfooteforward17@gmail.com
If anyone is looking for fantastic bye-week analysis about who's favored to win coming off a bye or when facing someone coming off a bye: I encourage you to check out http://cheatsheetwarroom.com/fantasy-football/nfl/bye-weeks.aspx. This is my friend Brad's website. He has some amazing bye-week infographics with tons of helpful information on them. With 6 teams on bye this week, this is a great resource for all bye information. Perfect for picks. Feel free to check it out. You can contact Brad at brad@cheatsheetwarroom.com. Let him know what you think!