Who Fed It And Who Ate It: 2019 Week 13
December is upon us. That generally means teams are in one of three groups; Either at or near the top of the standings to not only clinch an early postseason berth but try to position themselves for a high seed to earn a first round bye, those who sit on the playoff qualification bubble where their respective January destinies are not in their hands, and clubs who are relegated to finish the balance of the regular season while they look toward the future. There will be a look at the NFL heading into this final month later this week. Today, we'll be looking at a coaching termination, a divisional beating, and a team executive whose own future may be in doubt.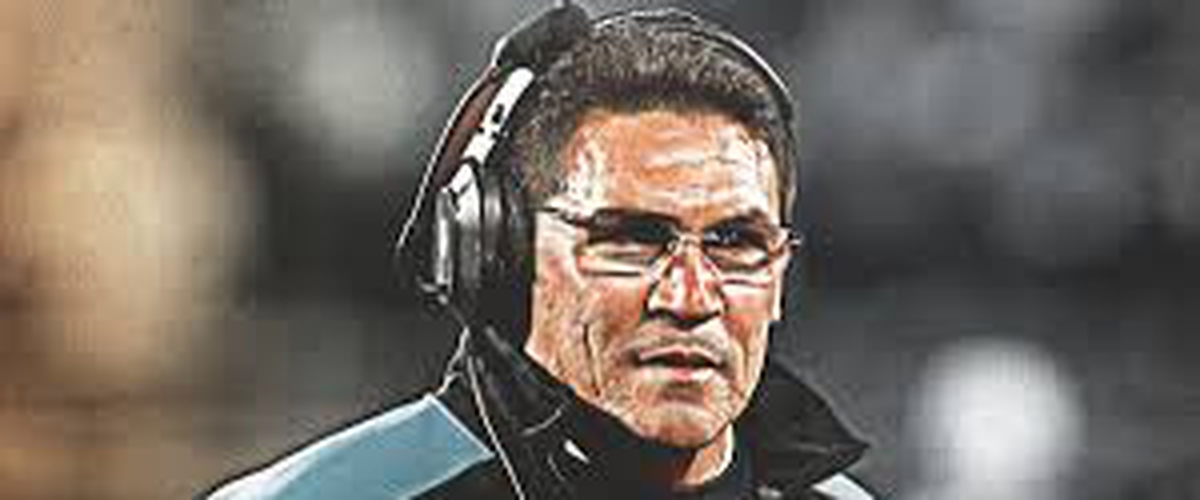 The Carolina Panthers have dismissed head coach Ron Rivera The second fired head coach of 2019 is a former NFC champion and 3 time NFC South champion in Rivera. His overall track record isn't bad: Besides his aforementioned accolades, Rivera's overall record is 79-67-1 for a .541 win percentage. What did Rivera in were two factors, and both revolve around Panthers owner David Tepper. One was Rivera's record under Tepper's stewardship of 12-16, and the fact that the coach was a holdover from the previous ownership of Panthers founder Jerry Richardson. Because new people with an organization very often wish to place their imprimatur upon it, change is done sometimes just for the sake of change. No word yet as to the fate of general manager Marty Hurney, who was also hired by Richardson. For the rest of the year, secondary coach Perry Fewell will be the interim head coach, with offensive coordinator Norv Turner named special assistant to the head coach and quarterback coach Scott Turner was elevated to offensive coordinator. With Tepper making the decision to dismiss Rivera, the idea of Fewell being named acting head coach with Norv Turner being Fewell's assistant is probably Tepper's doing as well. If one were to theorize, the structure was made this way to acknowledge the experience and respect of both Fewell and Norv Turner, as Turner's head coaching experience could benefit Fewell in an advisory role. But the bottom line is that Carolina will be looking for a new head coach for 2020... And by extension, Rivera is, for all intents and purposes, a free agent. With some teams experiencing miserable campaigns, some may make an irrational move in dumping head coaches and/or executives as sacrificial lambs to more craven fan bases, and some could view Rivera as a cure-all. Which is preposterous, of course. Rivera can be successful, provided he lands in the right spot, meaning being hired by a team with a sound executive structure and a clear vision for the club's future. But he's only one man.
And this may be something to watch in January as those not playing games will be making moves to try to be in the Super Bowl hunt next year.
The Ass Kicking of the Week was given to the Oakland Raiders by the Kansas City Chiefs, as the Chiefs hold a veritable lock on the AFC West in a 40-9 thrashing of the Raiders The Raiders have been a pleasant surprise in 2019. They run out to a 6-5 record, sitting a game behind the division leading Chiefs heading into this key matchup. What occurred was a Red and Gold pimp slapping on the Pride & Poise Boys. But in truth, this was a Raiders death by a bevy of self-inflicted wounds. Two particular stats tell the underlying story of this rout; 3 turnovers & 12 penalties for 99 yards for Oakland, where KC had goose eggs in both categories. Teams will lose a lot of games if they play as carelessly as the Raiders, which makes the result against a Super Bowl contender essentially academic. The loss doesn't kill the Raiders' playoff hopes, but they will need to finish strong to stay in the hunt. The Chiefs, meanwhile, almost look to be relegated to a 3 or 4 seed in the AFC playoffs with a two game deficit to the leaders of the conference, the Baltimore Ravens and the New England Patriots. However, KC faces the Pats this coming week, which could have significant ramifications. If the Chiefs defeat the Patriots, Kansas City would hold tiebreakers over both AFC leaders, which means in a three way tie at the end of the season, the Chiefs get home field advantage throughout the playoffs, the Ravens get a first round bye, and the Patriots would be forced to play Wild Card Weekend. Even though the NFC may basically decided, the AFC is wide open with the potential of a barnburner of a finish.
The Washington Redskins go on their first win streak of the year just as reports surface that team president Bruce Allen could be in jeopardy of being dismissed It's not exactly a big secret that the Redskins are a model of dysfunction. From owner Daniel Snyder's meddlesome nature to a medical staff that appears so inept that their treatment of QB Alex Smith and OT Trent Williams have threatened the careers and lives of both men, with Smith requiring multiple surgeries on severely broken leg bones and Williams discovering a cancerous lesion on his scalp only through independent diagnosis. This has cost the 'Skins dearly, as the team was forced to pay Smith $71 million in injury guarantees and Williams has declared he will never play a down for Washington again. Then also consider their last home game against the Detroit Lions, where tickets were being sold on the secondary market for as little as five bucks... And still wouldn't move, as the scores of empty chairs at FedEx Field would attest. With all that, reports came out late in the week that Allen could be on the chopping block as sources inside Ashburn, VA state that the long time executive will be under a job assessment at the end of the season. When rumors arise that a coach or executive is going to be evaluated, there is a very good likelihood that particular individual will be fired. And if that is the case, the Redskins faithful will be overjoyed, as Allen has been viewed as the biggest factor in the team's woes. From the ignominious smear campaign leading to the firing of general manager Scot McCloughan to the short lived tenure of chief operating officer Brian Lafemina, where Allen held more sway than his purported superior, Allen has been viewed more as a political animal and link to the franchise's past (Bruce is the son of George Allen, the most successful coach in Redskins history only behind Joe Gibbs) than an asset to an organization. Most any other club, Allen gets the boot long before he reaches the nine year mark he enjoys with the Burgundy and Gold. So for fans clamoring for Allen's ouster, the Redskins winning their second consecutive game, a 29-21 victory over the Carolina Panthers, can be considered bittersweet. If the Redskins finish strong, it may be a saving grace for Allen, who declared the culture of the Redskins organization "damn good" when head coach Jay Gruden was shown the door earlier this year. But even if Allen were exiled, the biggest obstacle lies in Snyder, whose two decade stewardship of this signature NFL franchise has made for mediocre football at best, a brand name marred by scandal, and a cynical fan base who have treated too long as marks for someone running a long con. While it would take Snyder many years (and a Lombardi Trophy or two) to rehabilitate both his image and that of the Redskins franchise, sacking Allen would at least give a starving fan base a crumb of hope that things can change for the better, since many feel it can't get much worse. But if Allen goes, that next hire to be Snyder's right hand man becomes crucial for the state of the Redskins. Make the right hire, things can start looking up. Make the wrong one, stay mired in irrelevance on the field and retain that abysmal reputation. This could be a major developing story as the month progresses.
---