Top 5 Indiana Pacers Draft Scenarios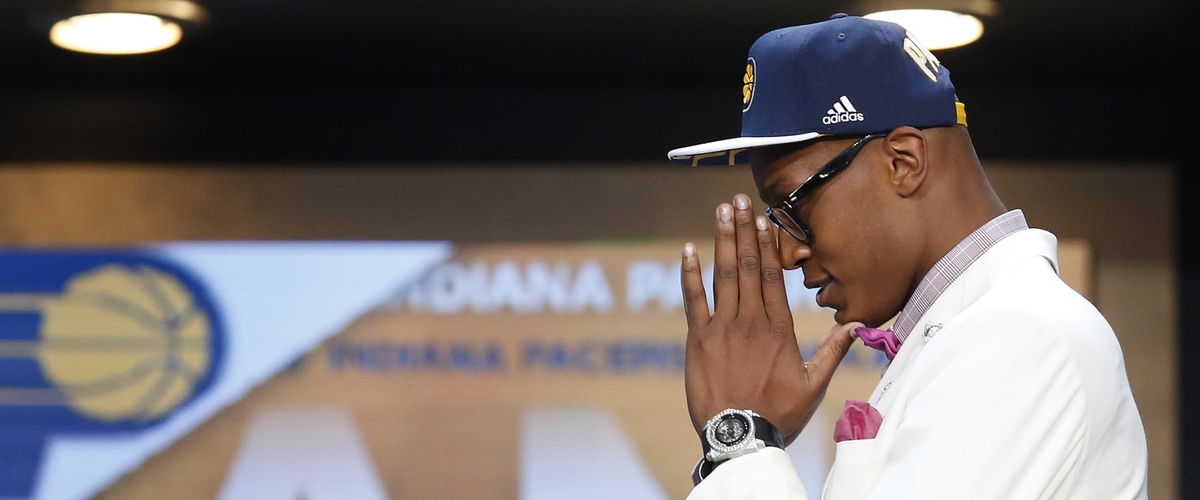 With all the talk over Paul George getting traded, you might have forgotten that the NBA draft is tomorrow. And since a trade has yet to happen, here are my top 5 options for the Pacers if they keep their picks where they are.
#5
1st Round (#18)- Bam Adebayo- C, Kentucky (6'10, 250 lbs.)
2nd Round (#47)- Dwayne Bacon- SG, Florida State (6'5, 200 lbs.)
Adebayo already has the size of an NBA center. Selecting Adebayo here would move Myles Turner to the PF spot, but probably wouldn't happen for another year or two based off Adebayo's improvement on the offensive side of his game. Adebayo's size helps him gather offensive rebounds and put the ball back up immediately, but that's about it. Adebayo doesn't have much of a jump shot, but that can be worked on. Adebayo is a solid defender down low which is a boost down low for the Pacers front court. Bacon is a scorer. He can drive inside, and his shooting improved from his freshman year to his sophomore year in Tallahassee. Bacon's length and size helps him defend the perimeter, you just don't know when he's going to lock-in on defense. Give Bacon some time to keep improving his outside jumper and he could potentially be a solid role player in Indy.
#4
1st Round- Terrance Ferguson- SG, Australia (6'7, 185 lbs.)
2nd Round- Alec Peters- PF, Valparaiso (6'9, 225 lbs.)
Ferguson is one of my favorite prospects in this draft based off the Pacers needs (#12 overall). Ferguson can drive with the best in this class and is also a very good shooter from deep. Ferguson was supposed to go to Arizona this past year but decided to go to Australia and play professionally instead. The Pacers needed a playmaker like Ferguson before Paul George made it clear to the team that he was leaving, now that PG is gone, the need is amplified. Ferguson can grow into a better defender, but he will do most of his damage on the offensive end of the floor. Peters is one of the most underrated shooters in this draft. But, due to playing for a mid-major school and only being 6'9, he's gone under-the-radar. Indiana took Georges Niang in the 2nd round of last year's draft and was played very sparingly this year while also spending time in Fort Wayne. Peters' value is solely on the offensive side, his defense leaves a lot to desire. Peters could bring more to Indy's offense to give himself a chance to get out of the 2nd round pick purgatory that Niang and Joe Young have found themselves in.
#3
1st Round- John Collins- PF, Wake Forest (6'10, 225 lbs.)
2nd Round- P.J. Dozier- SG, South Carolina (6'6, 200 lbs.)
If you would have asked me a month or so ago, I would not have guessed that Collins could possibly be available when the Pacers picked at #18. He might find himself down there. Selecting Collins would leave Myles Turner at the 5 spot as Collins is a true post player, which might bode well for Turner as he can play inside-and-out more with Collins manning the post. Collins did improve a lot from his freshman year to sophomore year on his jump shot and making himself more versatile than he once was. Collins' problems come on the defensive side which could spell doom for the Pacers frontcourt with uncertainty at the 3 spot and with Myles Turner's growth. Dozier is a former point guard so his court vision is better than some other SG's in this class. He can continue to work on his jump shot and offensive game while his defense is already there. Dozier is a very disruptive guard that can guard the 1-3 because of his size and length.
#2
1st Round- T.J. Leaf- PF, UCLA (6'10, 220 lbs.)
2nd Round- Dillon Brooks- SF, Oregon (6'7, 215 lbs.)
Most mock drafts you see have the Pacers taking Leaf, and for good reason. Leaf fits what the Pacers want to do offensively and would go great alongside with Myles Turner. Leaf can score in a variety of ways which fits in well with the Pacers want to do offensively. Leaf's versatility also comes in transition as he has the control to compose himself and shoot a 3 in transition, and with the possibility of Lance Stephenson possibly running the point guard position, Leaf could see valuable time behind Thad Young this season. Brooks is one of my favorite prospects that's projected to go in the 2nd round. He is a highly skilled and aggressive scorer who will primarily play small forward due to his defensive ability. Brooks isn't a great defender or rebounder but if his defense gets close to his offensive ability, Brooks has the tools to be a very good NBA player.
#1
1st Round- Terrance Ferguson- SG, Australia (6'7, 185 lbs.)
2nd Round- Dillon Brooks- SF, Oregon (6'7, 215 lbs.)
Both guys are 6'7, both are explosive, but Brooks has a bigger more mature frame. These two together can work. Will both guys fall to where the Pacers pick? Maybe. Will one make it and the other one not? Maybe. Who knows. This is just a best-case scenario in my mind. Only time will tell what happens to the Pacers roster.
---