2017 NBA Mock Draft Final Version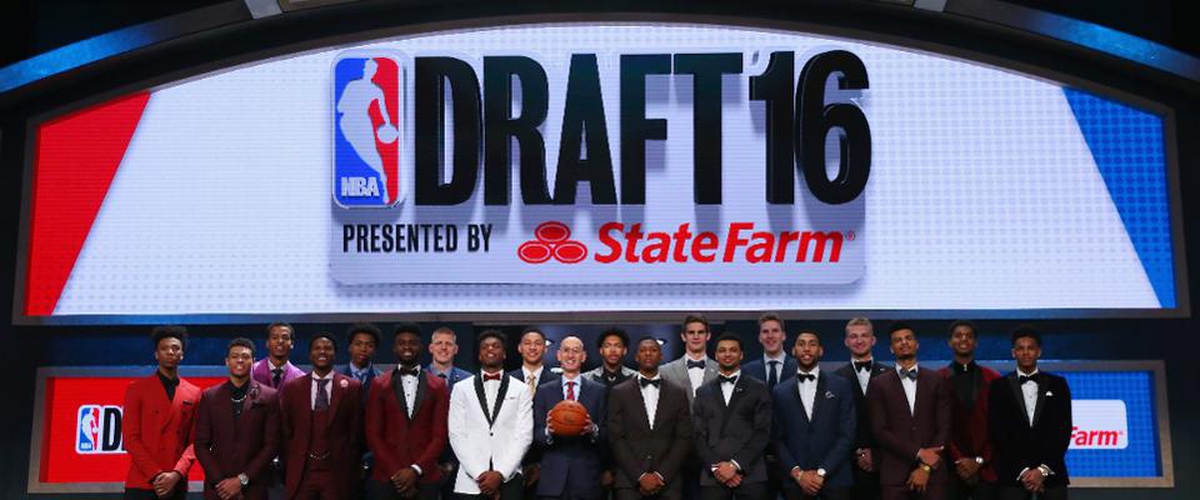 I'll spare you my emotional trauma sustained when I realized my Brooklyn Nets wouldn't end up with the #1, as well as the expletives hurled at Billy King in the aftermath. Instead' i'll just get down to brass tacks. This draft is one of the deepest in recent memory, and features some sure-fire picks early on in this draft. As in any draft, any one selection could relegate a franchise to the land my nets currently reside in or serve as a springboard for a dynasty. This draft will be felt years down the road. Let's mock, shall we?
ROUND 1
#1: Philadelphia 76ers (from Brooklyn Nets): Markelle Fultz, SG/PG, Washington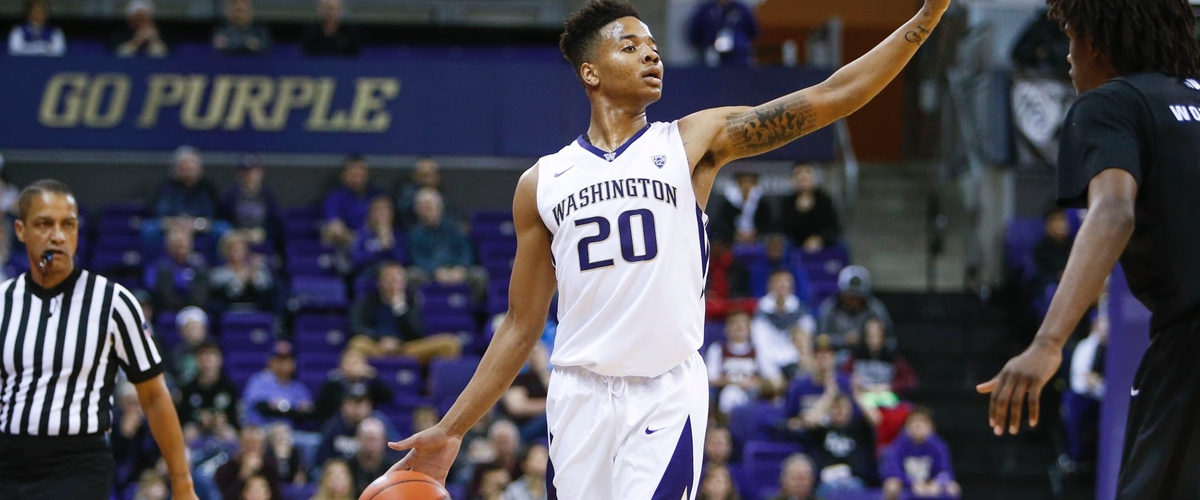 They say that fortune favors the bold, and this was certainly a bold move by Jerry Coangelo and company. With Ben Simmons back from injury and assuming a point-forward role, he and Joel Embiid will need a dynamic wing scorer to pair with them in Philadelphia. Fultz has very few, if any, holes in his game. Scoring effectively from any range, playing good defense, serving as a capable point guard and shooting guard, and being able to distribute with the best of them, Fultz is head and shoulders above anyone else in this draft. Look pass the 9 wins at Washington, as coach Lorenzo Romar failed to get to .500 despite consistent NBA talent on his roster. The 76ers fans should be cartwheeling down broad street following this trade with Boston that landed Fultz.
#2: Los Angeles Lakers: Lonzo Ball, PG, UCLA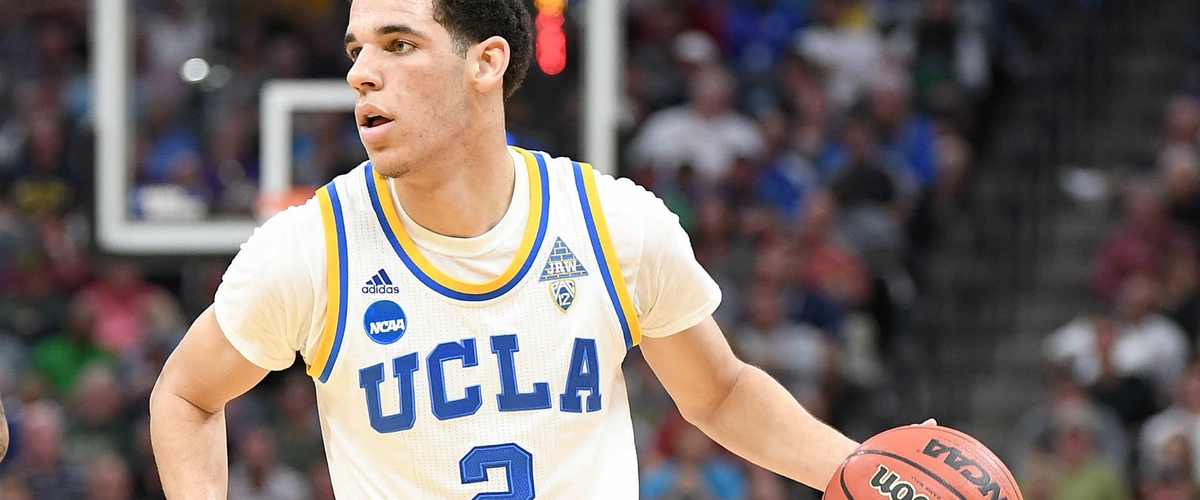 Personally, I would select De'Aaron Fox if I made decisions for the Lakers. However, I completely understand selecting local product Lonzo Ball. The best passer in this draft, Ball is overflowing with high basketball IQ and potential. Combined with his 6'6" frame and effective, if unconventional, 3 ball, and one would seemingly have all the tools for a superstar. That being said, his defense is atrocious and his shot mechanics may need retooling. His father will be a problem, as he will continue to run his mouth and put Lonzo in more trouble than he should get. If they can tune him out, Los Angeles would grab a long term starter at the point guard spot now that D'Angelo Russell is out of town.
#3: Boston Celtics (from Philadelphia 76ers): Jayson Tatum, SF, Duke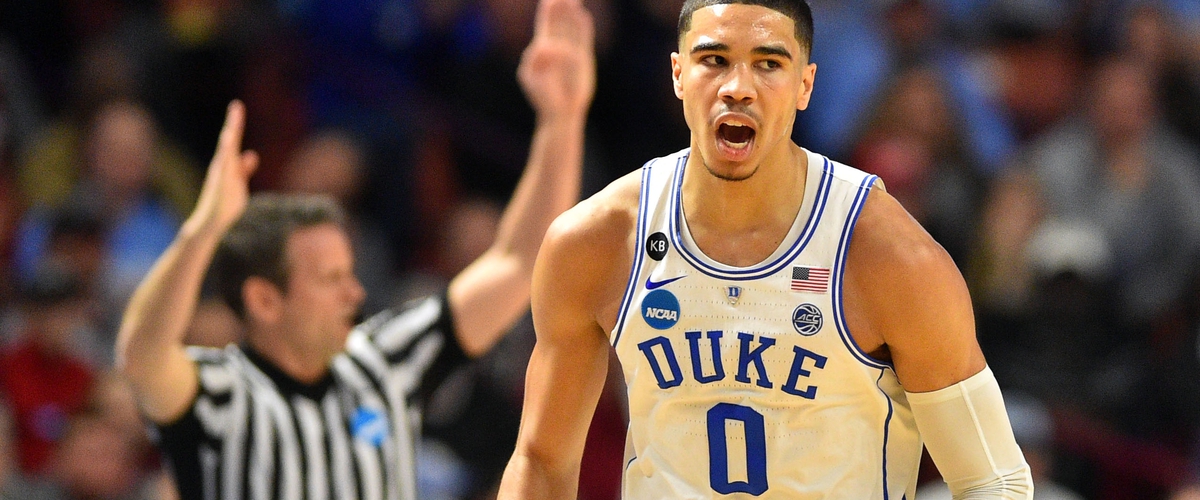 Boston could indeed come out very pleased with their trade with the 76ers. Tatum may be the best fit with the Celtics of any of the top prospects. Trading down to get him would be a stroke of genius from Danny Ainge. Tatum's defense and effort will need to be cleaned up, but his offensive potential should help the Celtics return to the high scoring teams of old. A smooth, versatile forward with post moves and a 3 point shot, Tatum would allow the Celtics to move on from Jae Crowder and his slightly expensive contract for a guy that likely profiles as a better player than both him and last years' #3 pick Jaylen Brown.
#4: Phoenix Suns: Josh Jackson, SF, Kansas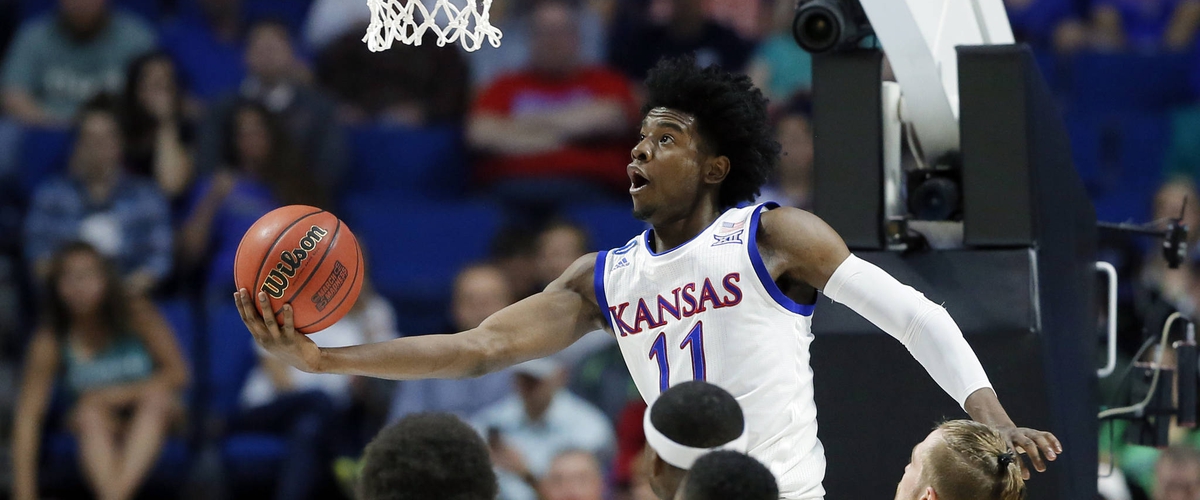 The Suns appear to be set in their backcourt. 70 point scorer Devin Booker, dynamic point guard Eric Bledsoe, and a very good backup in Brandon Knight have provided stability in Phoenix. While TJ Warren looks like a viable NBA player, adding a more explosive scorer would be a brilliant addition for them. Aggressive with the ball in his hands, a good rebounder, and a willing passer, Jackson is a prototypical 3 that oozes potential. Jackson is a #1 talent the Suns are pilfering at #4, which they have to see as a major win.
#5: Sacramento Kings (from Philadelphia 76ers): De'Aaron Fox, PG, Kentucky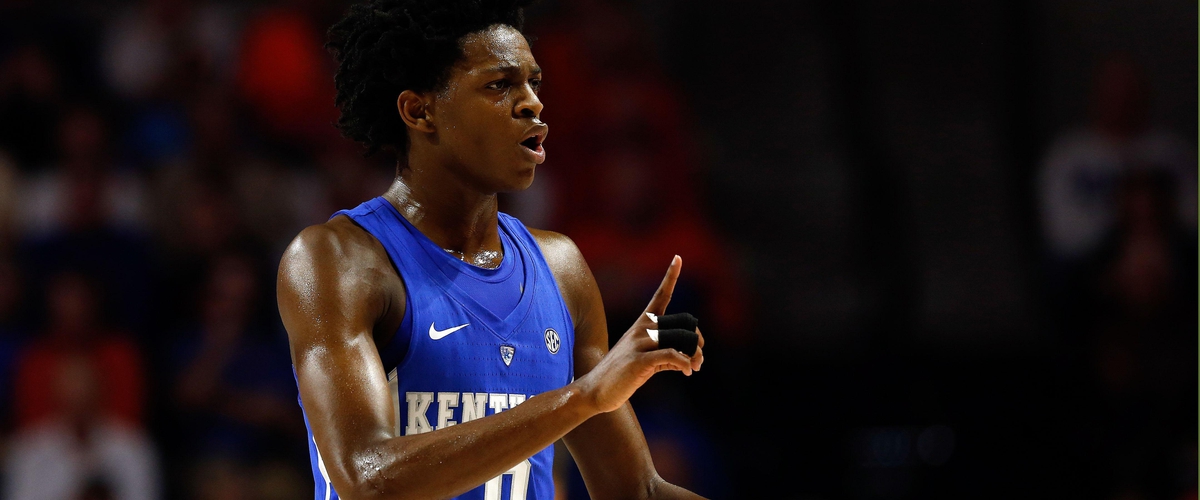 Insanely athletic, possessing great court vision, and having the distinction of being, in my opinion, the best defensive point guard in this draft, Fox is the type of player who could lead a team to the playoffs with regularity. His jump shot is nonexistent, but he makes up for it with excellent slashing ability and superb finishing at the rim. There is no doubt that scouts for the Kings saw Fox spank Lonzo Ball and UCLA in the tournament, and that contributed to his rising stock. Sacramento could be building something nice in a year or two, with Fox at the center of it all.
#6: Orlando Magic: Malik Monk, SG/PG, Kentucky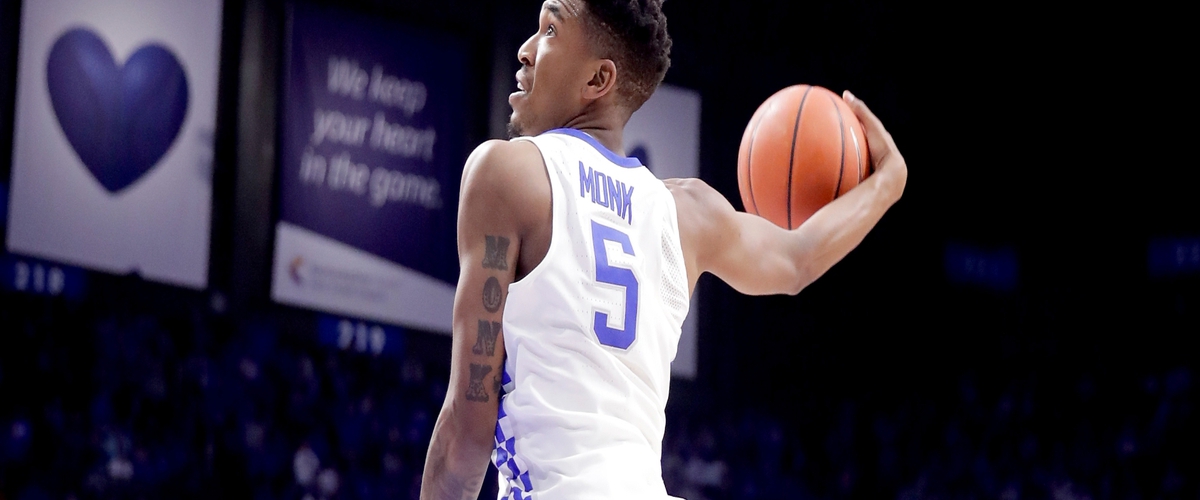 Malik Monk can flat out shoot. Monk can shoot so well that he can the seemingly unreachable Curry level wherein pullups from 30 feet are considered no doubters. More than just a catch and shooter, Monk has enough tools to create off the dribble. He evolved at Kentucky, becoming more of a true scoring threat as opposed to the streaky shooter he came in as. He still has a lot to learn, however. His on-ball defense was poor and the streakiness hasn't totally ebbed away yet. Orlando should still take the plunge however. A Magic backcourt of him, Evan Fournier at the 3, and Elfrid Payton would be too enticing to pass up.
#7: Minnesota Timberwolves: Jonathan Isaac, PF/SF, Florida State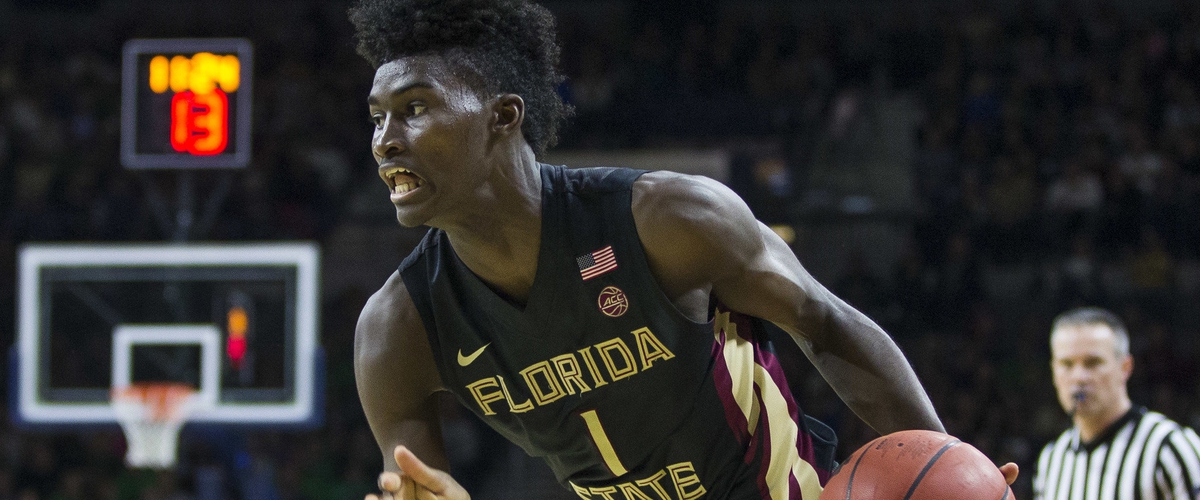 The Timberwolves have been trying to click for a while, but it feels their young nucleus of Karl-Anthony Towns and Andrew Wiggins will get them to the playoffs sooner rather than later. Adding a mega talent like Isaac would only help. Having maybe the highest ceiling in the draft, Isaac is a 6'10" forward with guard handles and shooting ability. He'll need to bulk up to stick at forward in the NBA, but his insane athleticism and offensive skill will translate regardless of how much he weighs. Isaac's talent would be welcomed by Tom Thibodeau and Minnesota.
#8: New York Knicks: Frank Ntilikina, PG, France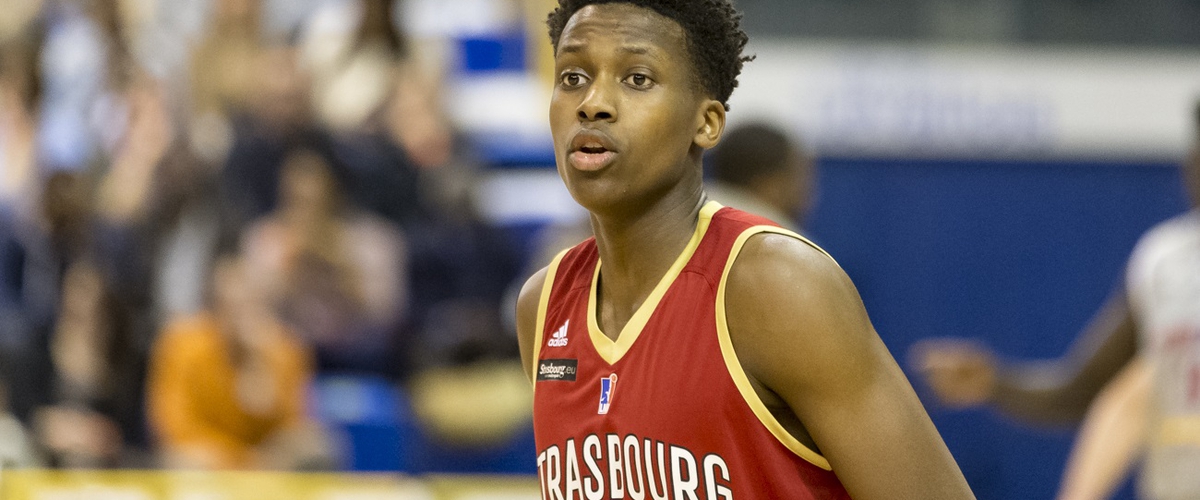 Fans may moan and groan when an international prospect is selected over a domestic product, but I doubt too many Knicks fans are booing the selection of Kristaps Porzingis right about now. Ntilikina is a pass first point guard with NBA level handles and penetration ability. His mid range jump shot is already very effective, and his 3 point shot is improving. His 6'5" length makes a great on-ball defender for someone his age. Ntilikina is still raw, but, being the best international prospect in this draft, whomever takes him will be content with allowing him to get better bit by bit.
#9: Dallas Mavericks: Dennis Smith Jr., PG, North Carolina State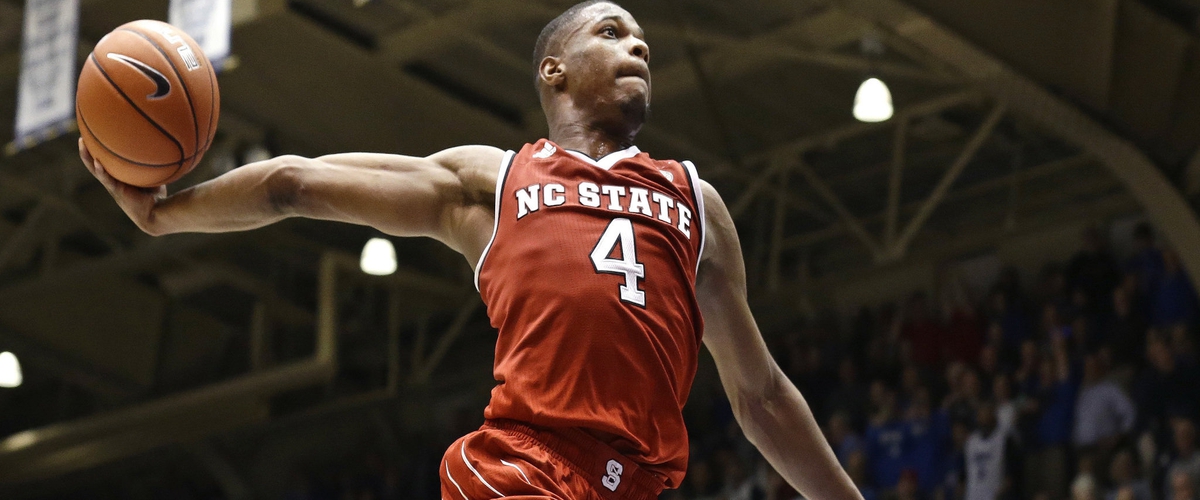 Smith is an explosive athlete that attacks the rim like a 6'8" wing despite a 6'2" frame. Seeing this was a great sign for Smith, who tore his ACL last year. More than just an athlete, Smith became a complete offensive player at NC State. His defense is just ok, but has improved since his high school days from constant horn-locking with the best of the ACC. Two big question mark around Smith that won't go away are turnover concerns and up and down effort. If he can fix that, Dallas would be getting one of the best athletes in this draft. The Mavericks need explosiveness and scoring ability from their backcourt, and Smith will provide that instantly.
#10: Sacramento Kings (from New Orleans Pelicans): Lauri Markkanen, PF/C, Arizona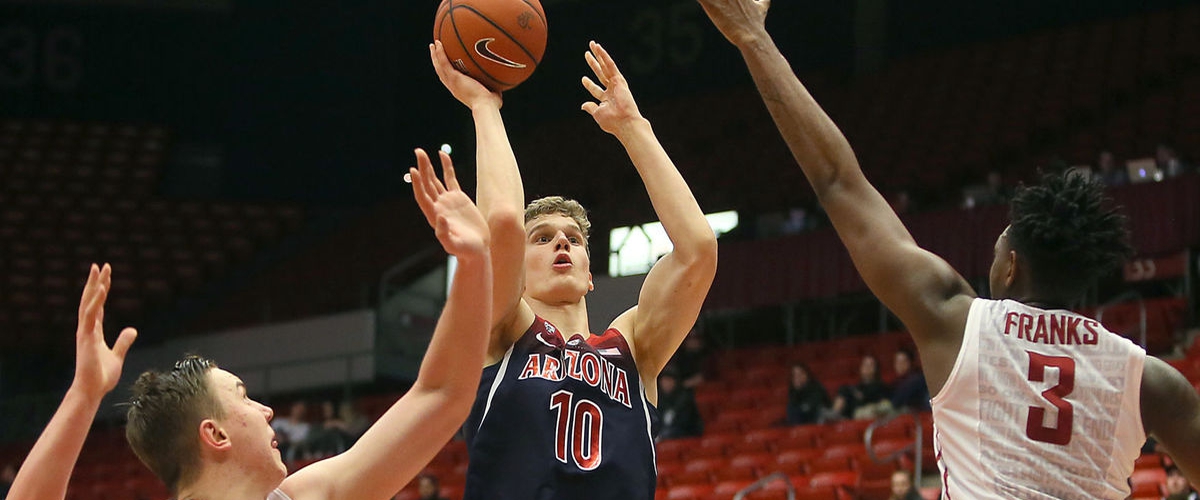 Markkanen's 3 pointer will be his meal ticket in the NBA. Shooting 42 percent on 6 attempts per game, Markkanen's shot solidifies him as the best center in this draft. Hailing from Finland, Markkanen is unique in that he dodges the question faced by many European big men. Being more physical and a better rebounder than his contemporaries, Markkanen is more NBA ready than most 7 foot big men who shoot first. The Kings need a big man to be there in the long run. Markkanen is a boom or bust prospect, but Sacramento needs to put a premium on talent, and Markkanen certainly has a wealth of talent.
#11: Charlotte Hornets: OG Anunoby, SF, Indiana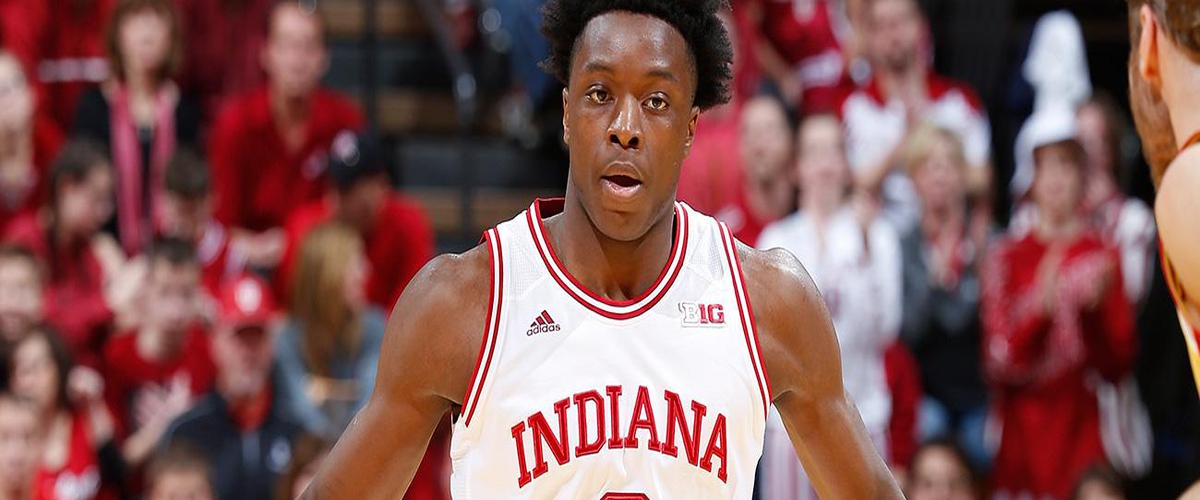 Anunoby has two majors questions to answer. Can he recover from his injury and find a defined role offensively, as he played both the 3 and 4 last year? If he can answer both these questions, than the Hornets will have taken an elite defensive stopper. Anunoby's defense won't be questioned, as he might be the best 1 on 1 on ball defender in this draft. Offensively, his jumper is good, but he doesn't create his own shot at a great enough rate. Charlotte is a good place for him to become a more refined offensive player.
#12: Detroit Pistons: Luke Kennard, SG, Duke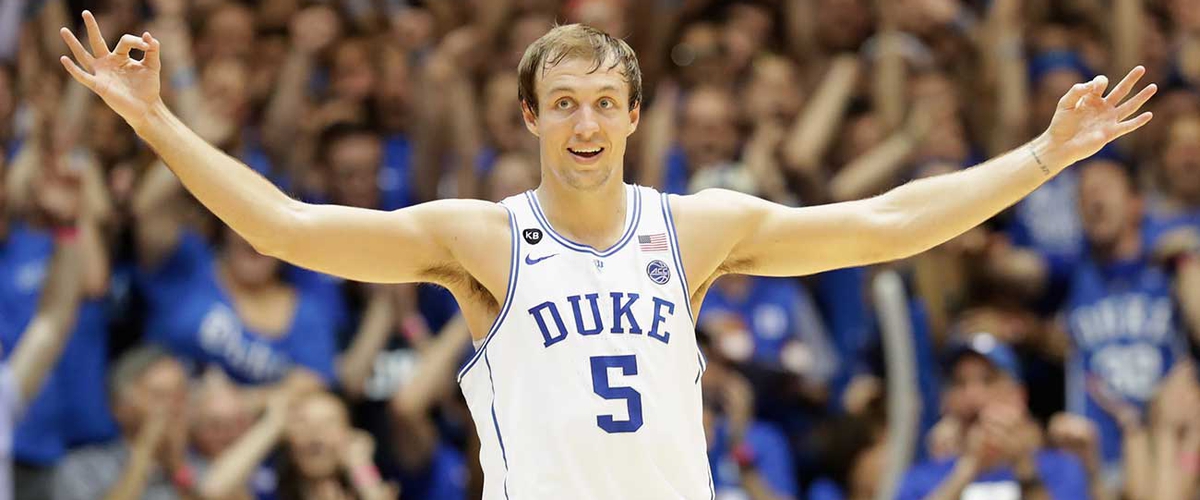 Detroit simply needs shooting. Kentavious Caldwell-Pope's future is cloudy, and none of the other guards can fill it up at a decent enough clip to push the Pistons into the playoffs. Kennard, the best shooter in this class, changed the narrative on himself in a big way. he went from "3 and D" role player to complete offensive contributor in the one season. Kennard is still not NBA-caliber with regards to his ability to create his own shot, but there was a noticeable improvement. Stan Van Gundy will have a lot of fun deploying Kennard should he take him
#13: Denver Nuggets: Justin Jackson, SF, North Carolina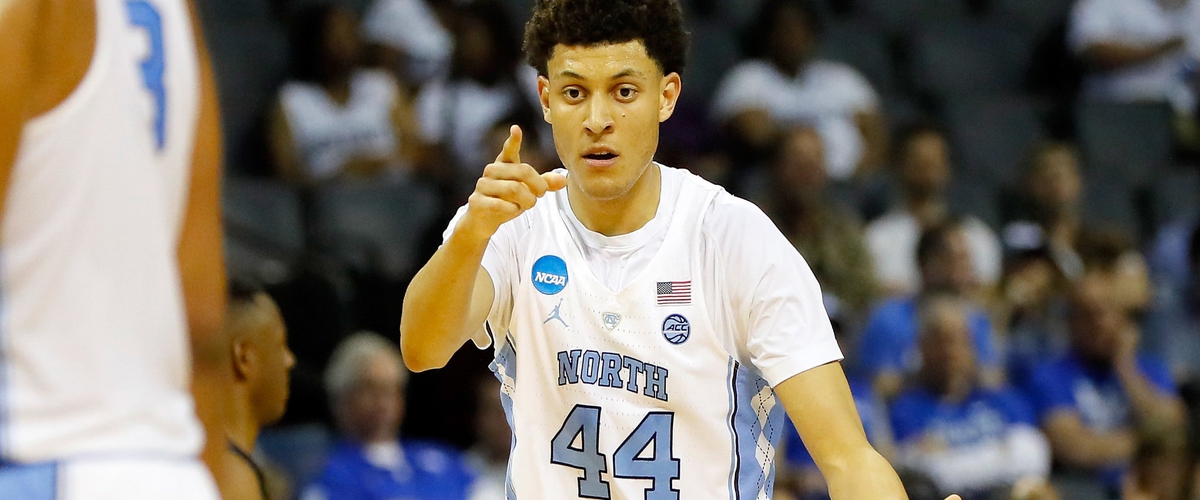 Having been the primary scorer at North Carolina, Jackson has already had a wealth of big-game experience. In these moments, we've seen him score from various depths and angles with regularity. What is most impressive about him is how he's become a more efficient shooter and willing passer as his time at UNC went on. He had some turnover problems that come from trying to do too much, however. Denver has been stockpiling versatile scorers like Jamal Murray and Emmanuel Mudiay. Brining Jackson to the Nuggets looks like a win for both sides.
#14: Miami Heat: Zach Collins, C, Gonzaga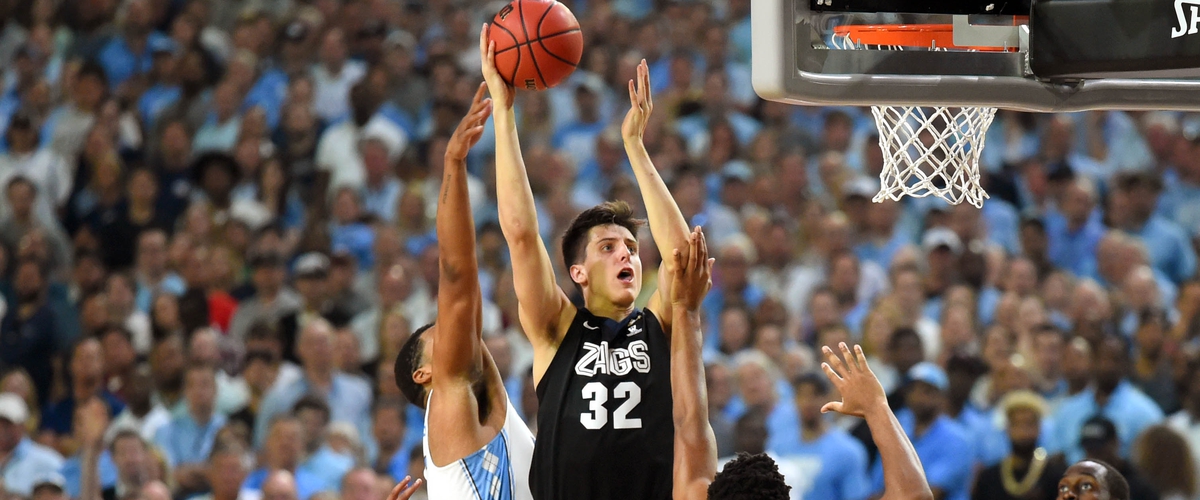 Despite only playing backup minutes as Przemek Karnowski's understudy, NBA scouts have seen a lot to like in Collins. A solid rim protector and great rebounder, Collins will make his mark with defense. As an offensive player, there is a lot that an offensive mind like Heat coach Erik Spoelstra would like. Collins enjoys contact and can score it several ways, though he id too reliant on a few kinds of post moves. Miami has Hassan Whiteside, which allows them the luxury of allowing their #1 pick to learn from one of the best. Collins is another raw pick, but looks like what a center should in 2017.
#15: Portland Trail Blazers: John Collins, PF, Wake Forest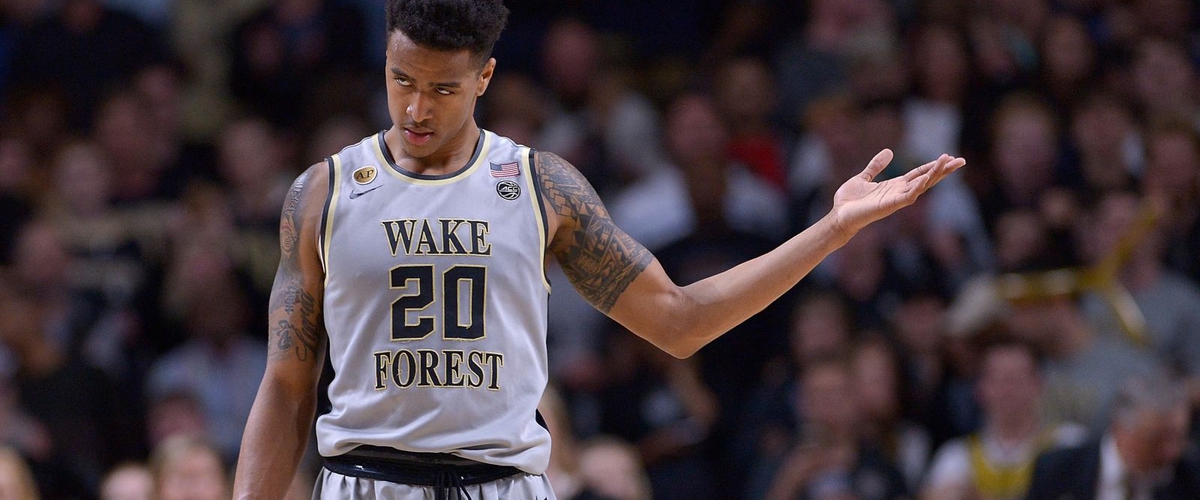 Per 36 minutes, Collins is putting up eye-popping numbers, recording 25.9 points and 13.3 rebounds. A product of Hall of Famer Danny Manning, Collins is a hyper-athletic interior presence finishing easily from anywhere in the paint. He also is the rebounding power forward in this draft. Collins will still need to work on defensive consistency and extending his range to around 12-15 feet. The Trail Blazers backcourt duo of Damian Lillard and CJ McCollum had difficulty winning without an interior presence. With the 1st of their 3 picks, Portland should grab a difference maker like Collins.
#16: Chicago Bulls: Bam Adebayo, PF/C, Kentucky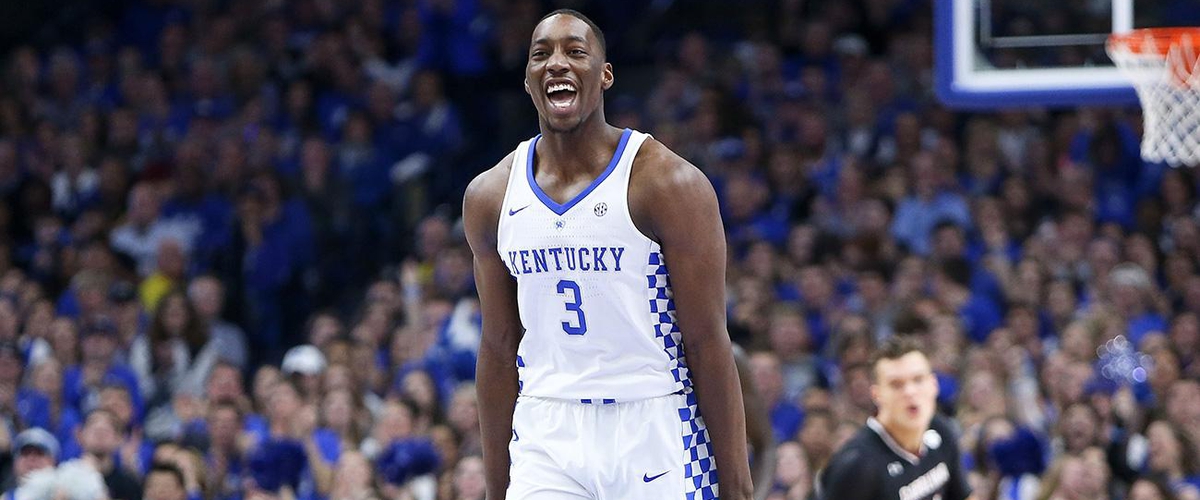 Bam is as rare an athlete at the power forward position as you're going to see. Active on both ends of the floor, Adebayo came into Kentucky as an unrefined athlete and left as a solid power forward with a face-up game and finishing ability. His offensive rebounding is head and shoulders above his contemporaries. His refinement is by no means complete, as Adebayo still needs to work on his post moves in a major way. Still, Fred Hoiberg's Bulls teams have had a knack for physicality and defense. Adebayo fits what Chicago is trying to do.
#17: Milwaukee Bucks: Donovan Mitchell, SG, Louisville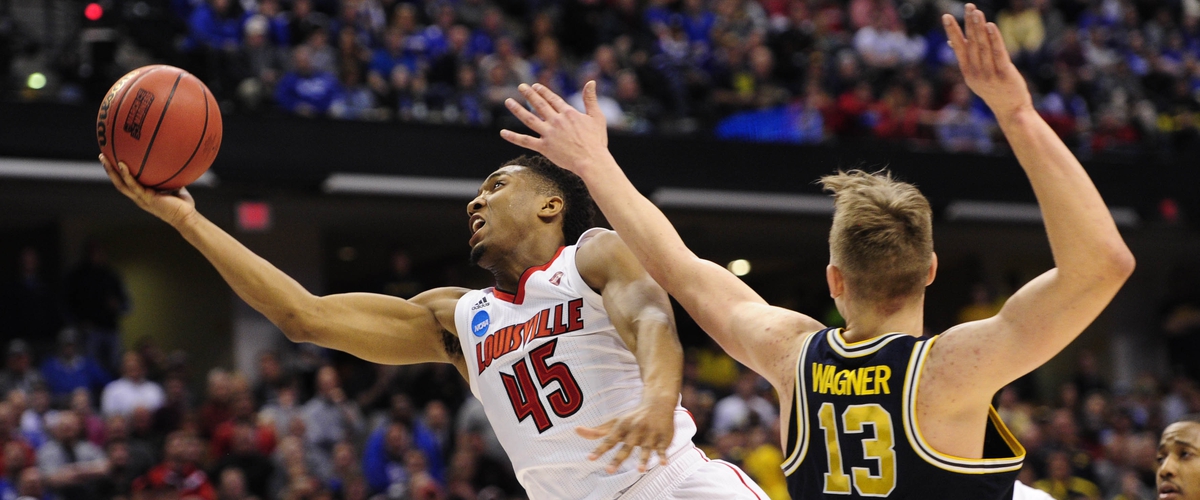 A 6'2" guard with just a decent 3 point shot going #18? Mitchell is that good of an all-around player that his height concerns are basically nullified. After blowing up the NBA combine, Mitchell can add rare athleticism to his list of accomplishments. He can guard anywhere from the 1 to the 3, and do it well, thanks to his 6'10" wingspan. Offensively, he is a slasher at this point, but an improving perimeter game would give Milwaukee hope he could become a more complete player. The Bucks have put a premium on length, and Mitchell's wingspan and defense should get him playing time.
#18: Indiana Pacers: Ivan Rabb, PF, California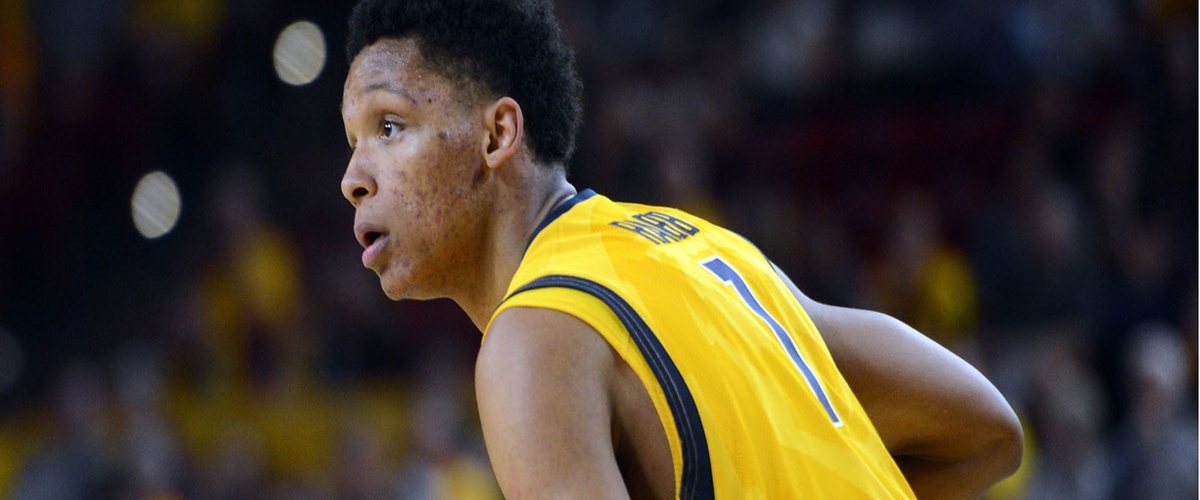 A stretch 4 for the 2017 NBA, Rabb has as much offensive potential from that spot as anyone. His soft touch near the basket, range out to 20 feet, and versatility make for an intriguing combo. His defense is not very good at present, possibly because of his undersized frame. Adding muscle and strength on the defensive end will be key for Rabb. For Indiana to entice Paul George to stay, they need to add a big scorer. The Pacers moving Myles Turner to his natural center spot, adding a scorer like Rabb, and George would be fun to watch.
#19: Atlanta Hawks: Harry Giles, C/PF, Duke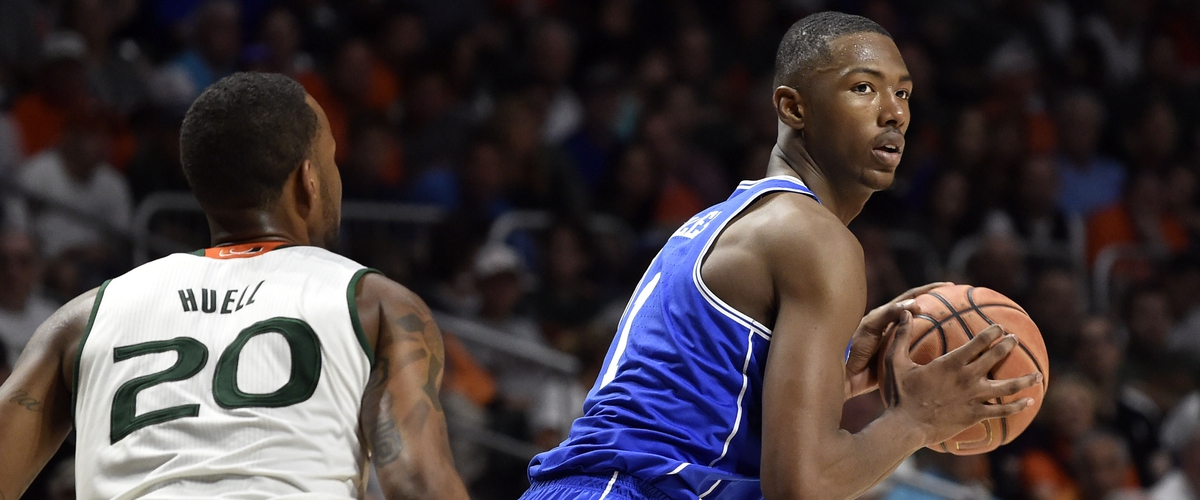 Giles was supposed to come in and dominate college basketball. However, the #1 recruit was limited by major knee injuries and failed to work his way back into Coach K's rotation. The talent is obvious and undeniable, especially on the defensive end. Even if his offense never fully comes around, his post protection and defensive rebounding will keep him in the league. Offensively, he has a limited range, but finishes well enough. The Hawks have said the wanted to bring in a young center. In Atlanta, Giles would be the heir apparent to Dwight Howard/Paul Millsap.
#20: Portland Trail Blazers (from Memphis Grizzlies): Frank Jackson, PG, Duke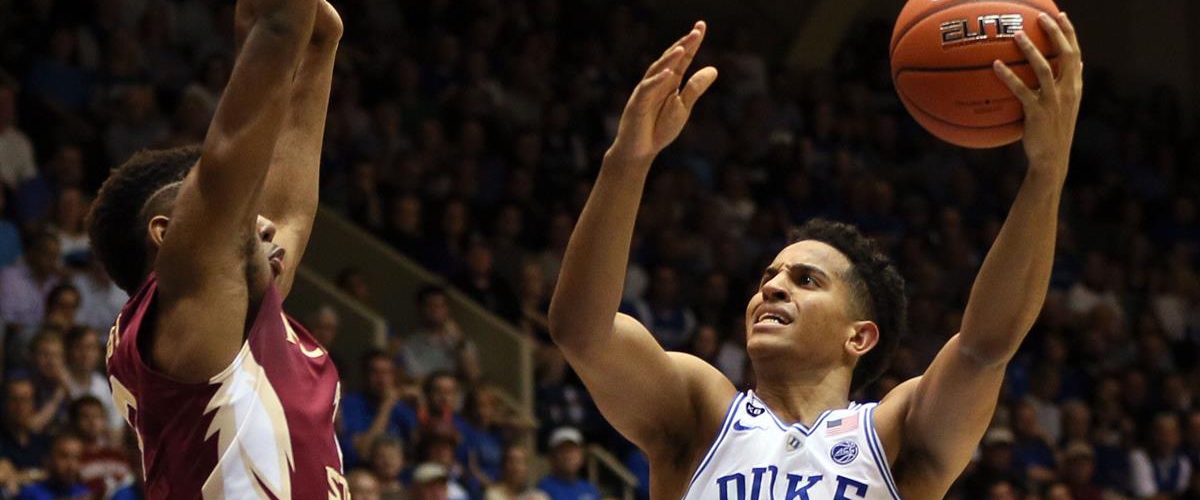 Despite being overshadowed by Jayson Tatum and Luke Kennard at Duke, Jackson is still a viable scorer and ball handler. Playing either guard spot, Jackson is a plus leaper with an improving jumper. His game right now is centered around his mid range scoring, but he has improved from the 3 point line. He is a high motor guy, which helps him play plus defense. His is a very streaky shooter, however, and this issue seemed to rear its head at the worst times. Jackson will come into a nice situation at Portland. The Trail Blazers need scoring off the bench, and a high upside pick like Jackson is just the guy to reinforce up their backcourt.
#21: Oklahoma City Thunder: Terrence Ferguson, SF/SG, Australia
Ferguson, 2017's Austin Powers Award winner for being an international man of mystery, chose overseas professional basketball over the NCAA. The Aussies got a good look at what makes him such a coveted player. He has ideal height (6'7") for the wing position, shoots near 40% from 3, and is an effective penetrator and finisher. They also saw his scrawny 184 pound body that made isolation defense a major hassle for him. Ferguson would be a great pick for Oklahoma City. The Thunder need to gamble on talent and potential to give Russell Westbrook a reliable catch and shooter. Ferguson needs to bulk up to reach his stratospheric potential.
#22: Brooklyn Nets (from Washington Wizards): TJ Leaf, PF, UCLA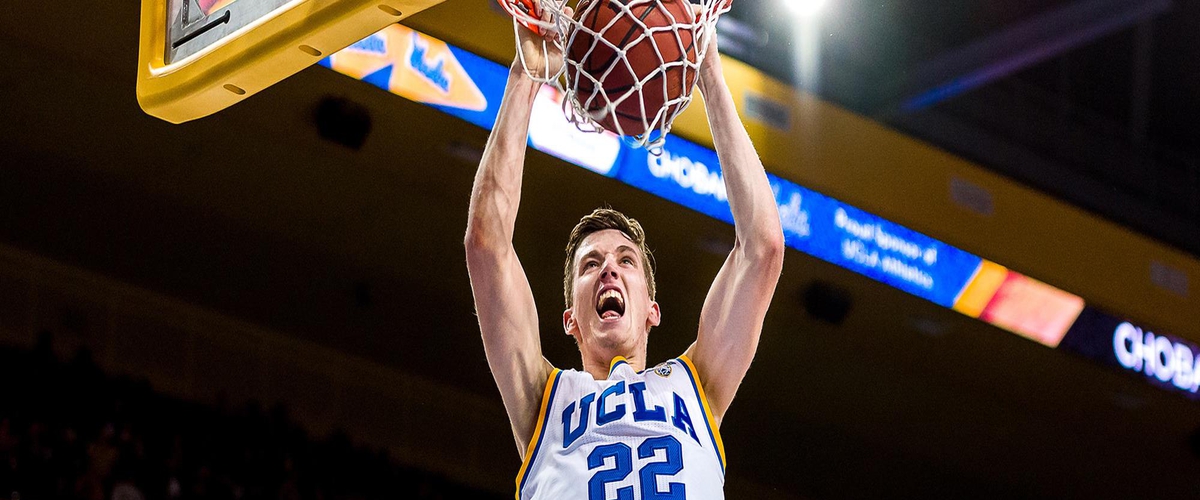 The Nets 1st pick in this draft should be used on a versatile big man with range, which perfectly fits what coach Kenny Atkinson wants to do. Leaf has NBA range, but he'll make his money with his mid range pullup game. Though he isn't advanced in the post on either end, he is showing improvement and a variety of post moves. Though Lonzo Ball garnered most of the spotlight, Leaf was excellent in big moments and games, like the tournament. Leaf will need to bulk up, but his shooting touch, superb rebounding, and solid defense will make him a seamless fit in Brooklyn's scheme. My Nets' path back to relevance would be in good hands if the D'Angelo Russell-Caris LeVert-TJ Leaf trio ever assembles.
#23: Toronto Raptors (from Los Angeles Clippers): Semi Ojeleye, SF/PF, SMU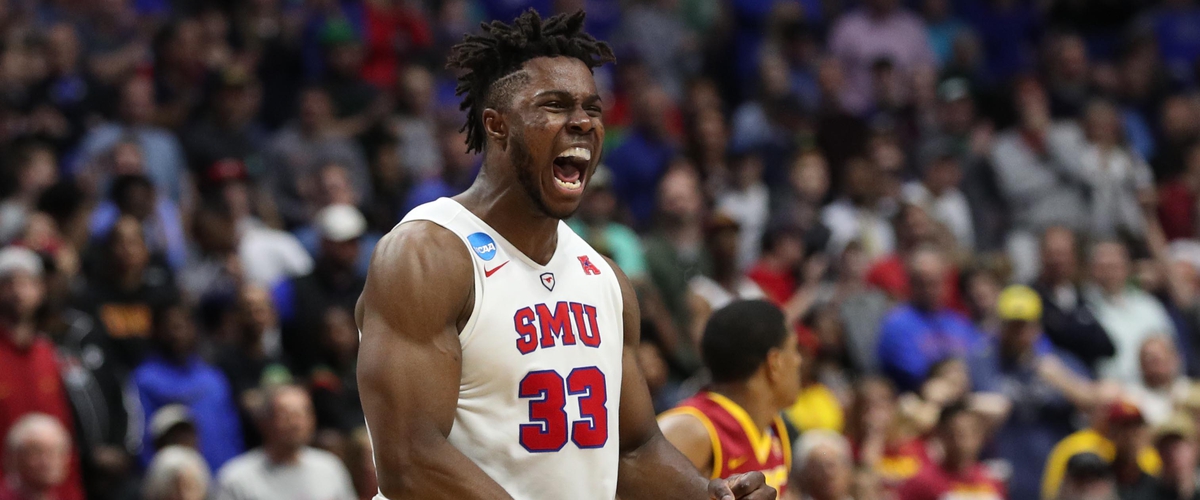 DeMarre Carroll currently mans the 3 spot for Toronto. While a great defensive talent, his offense leaves something to be desired. Ojeleye's scoring ability should warrant him NBA minutes as soon as possible. He can score from all 3 levels, but his 40% shooting from 3 point range should look particularly enticing. He also an improved playmaker and passer, as his distribution skill from the 3 spot is well above average. He is also the best rebounding small forward in this draft, though some may consider him a tweener. With DeMar DeRozan and Kyle Lowry being more penetrators and at-the-rim finishers than shooters, the Raptors could the rock solid Ojeleye at pick #23
#24: Utah Jazz: Josh Hart, SG, Villanova
Offensively, there is a lot to like in the experienced Hart. Shooting at a more efficient clip at all 3 levels at a senior, Hart led an Villanova team who lost key figures to the #1 overall seed before ruining my bracket. Hart was also an elite defensive guard in college, and his big, sturdy frame should help him translate that to the NBA. Some have questioned how high his ceiling could really go. Hart is the kind of guy Utah needs in these trying times. With Gordon Hayward considering bolting, the Jazz need a low-floor scorer like Hart.
#25: Orlando Magic (from Toronto Raptors): Jarrett Allen, C, Texas
Allen is a fantastic athlete at the center position. His leaping ability, 7'5" wingspan, and strength help him be a fantastic offensive and defensive rebounder, shot blocker, and finisher at the rim. While Allen does all those well, he needs a lot of work. He doesn't really have a face up game, and can get overwhelmed when double teamed. Orlando looks like a place for Allen to become a little more polished. Working with a face up big man with a jumper in Nikola Vucevic should help. In the mean time, Allen provides a more traditional, physical center the Magic lack at this time.
#26: Portland Trail Blazers (from Cleveland Cavaliers): Isaiah Hartenstein, C/PF, Germany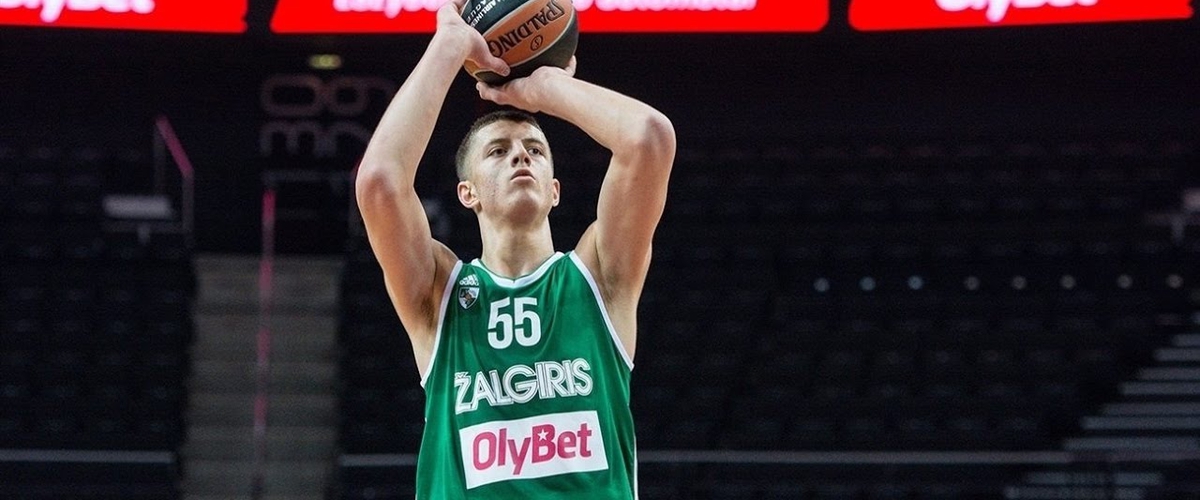 Portland will likely use one of these picks on a "Euro Stash". The best one of these in this draft is the 7 foot sharpshooter Kristaps Porzi...I mean Isaiah Hartenstein. The Porzingis comparison fits too well for Hartenstein. A good rebounder, plus shooter from 3, and effective passer, Hartenstein feels more suited for the modern NBA than most European big men that come over. A big problem he should iron out in Europe is the fact that not just his shooting, but his play in general is incredibly streaky. After a year or so of dominating in Europe, Hartenstein should be ready to join the Trail Blazers.
#27: Los Angeles Lakers (from Brooklyn Nets): Dillon Brooks, SF, Oregon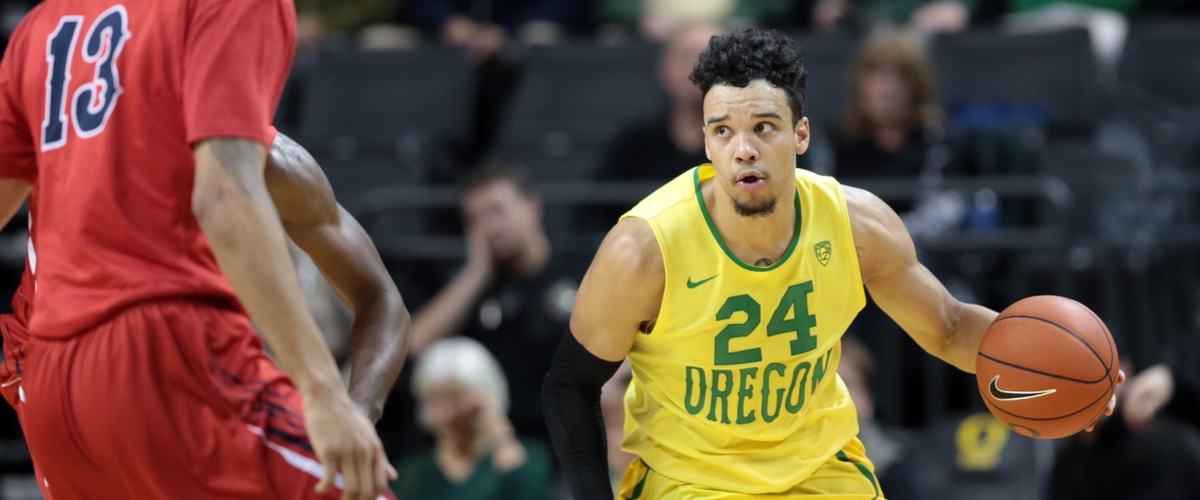 Brooks is a solid offensive player. He plays both forward spots, and can shoot 42 percent from 3. What impressed me about Brooks was his newfound ability to create his own shot off the dribble. The major unanswered question around him is his defense, as Pac 12 opponents had an easy time against him in iso defense. The Lakers' trade of D'Angelo Russell means that they lost a scorer and shooter who can take over games if he gets hot. Brooks gives them a scorer that can come off the bench and contribute in Year 1.
#28: Los Angeles Lakers (from Houston Rockets): Justin Patton, C, Creighton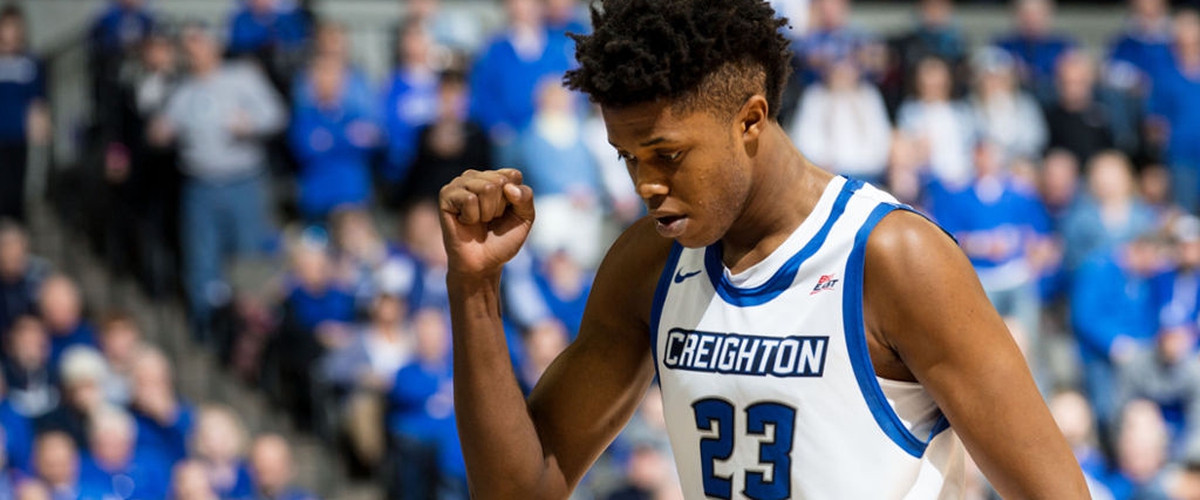 Patton is the biggest boom or bust prospect in this draft. Hailing from Creighton, Patton rose meteorically on the back of his athleticism from the center position. Patton finishes effectively at the rim, but what makes him a coveted prospect is his face up game, as he can shoot it consistently up to 18 feet. Though he's listed at 230 pounds, Patton neither looks nor plays that big. Adding weight and polish will be critical. I like the Lakers fit, as Los Angeles would likely allow him the opportunity to sit and learn, the best scenario for him.
#29: San Antonio Spurs: Caleb Swanigan, PF/C, Purdue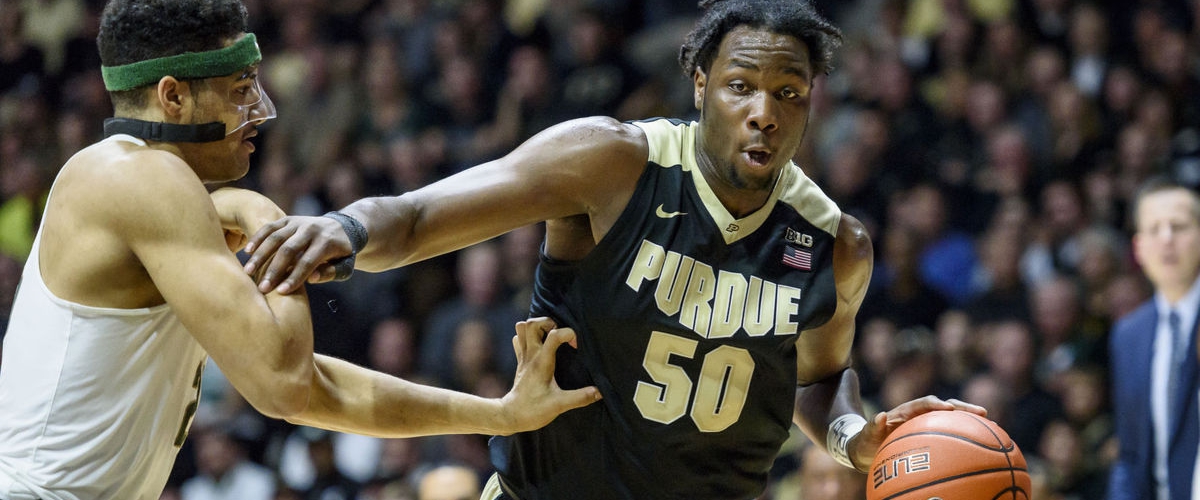 Swanigan is as good of a rebounder as you could find at the collegiate level, but, prior to this year, that was about it as far as NBA scouts were concerned. During the 2016-17 season, he added a deadly 3 point shot, post moves, and a post presence. He is an aggressive offensive talent that can score and rebound at the NBA level. His 6'9" height and physique are legit criticisms, as they may exclude him from high tempo offenses. Luckily for Swanigan, Gregg Poppovich and San Antonio utilize big men like him. The Spurs would get a unique, versatile talent in Swanigan.
#30: Utah Jazz (from Golden State Warriors): Kyle Kuzma, PF, Utah
To end the 1st round, the Jazz stay local for Utah product Kuzma. He made great strides in this most recent year, establishing himself as an up-tempo forward that can score and rebound. While his shooting his just average, it used to be atrocious. His improved efficiency this year allowed him to fly up draft boards. His pick and roll defense is already above average. Kuzma is a boom or bust player, but coach Quin Snyder has a history of working with players like Kuzma. He represents good value at pick #30.
ROUND 2
#31: Charlotte Hornets (from Atlanta Hawks): Derrick White, SG/PG, Colorado
A 6'5" combo guard with handles, maturity, and the ability to score at all 3 levels. White is exactly what Hornets coach Steve Clifford wants from a backup guard. I wouldn't be surprised if he goes round 1.
#32: Phoenix Suns: DJ Wilson, PF, Michigan
Another young big for the Suns to add to their ever growing stable. Not as big as Dragan Bender, yet not as athletic as Marquese Chriss, Wilson is still a solid pick and pop forward with size and defensive ability.
#33: Orlando Magic (from Los Angeles Lakers): Jawun Evans, PG, Oklahoma State
The 5'11" Evans will struggle defensively, but his ability to shoot from deep, finishing at the rim, and elite quickness will serve as a nice counterpart to the more passing and defense oriented game of Elfrid Payton.
#34: Sacramento Kings (from Philadelphia 76ers): Ike Anigbogu, C, UCLA
The Kings need bodies inside, and Anigbogu is a talented, back to the basket center with potential that exceeds that of anyone on their roster right now. He is still raw, but represents great value at pick #34.
#35: Orlando Magic: Tyler Lydon, SF/PF, Syracuse
Though very skinny for a 6'9" forward, Lydon's pretty 3 point shot on both catch and shoots as well as on pullups make him a guy that will earn solid bench minutes in the NBA.
#36: Philadelphia 76ers (from New York Knicks): Jordan Bell, PF, Oregon
Bell will be an undersized center at 6'8", and doesn't have a ton of upside as a scorer. However, his energy, rebounding, and shear athleticism will be both a fantastic compliment to the big men the 76ers currently have and the main way he'll make his money in the NBA.
#37: Boston Celtics (from Minnesota Timberwolves): Anzejs Pasecniks, C, Spain
The Celtics will likely stash one or more of their picks in Europe. Pasecniks' 7'2" frame and soft touch around the glass make him an interesting offensive prospect, though he needs to add muscle to compete at the NBA level.
#38: Chicago Bulls (from Sacramento Kings): Sindarius Thornwell, SG, South Carolina
A do it all guard on offense and defense that doesn't shy away from the big moment, Thornwell is the type of guard the Bulls have been stockpiling in recent years. Learing from Dwyane Wade should boost his development as well.
#39: Philadelphia 76ers (from Dallas Mavericks): Wesley Iwundu, SF/SG, Kansas State
Despite a below-average jumper, Iwundu's prowess as a leaper, rebounder, and defender make him the type of player a young 76ers team currently lacks and would welcome with open arms.
#40: New Orleans Pelicans: Jaron Blossomgame, SF/PF, Clemson
Blossomgame is a first-class athlete, and that athleticism allows him to be a deadly offensive player from the rim to 18 feet. His 3 point shot is a question, but the Pelicans have shown a propensity to gamble on raw athleticism. He'll fit in down in New Orleans.
#41: Atlanta Hawks (from Charlotte Hornets): LJ Peak, SG, Georgetown
Peak came into Georgetown a raw wing scorer and left a legitmate 2 way player. If he could work on his inconsistent outside jumper, Atlanta will have grabbed a late 1st round talent in the middle of round 2.
#42: Utah Jazz (from Detroit Pistons): PJ Dozier, PG/SG, South Carolina
A real swiss army knife who played both guard spots in college but may end up at the 3 in the NBA, Dozier's 7 foot wingspan make him a handful on the defensive end. He'll give the Jazz a defensive stopper, backup point guard, and bench scorer all in one pick.
#43: Houston Rockets (from Denver Nuggets): Alec Peters, PF, Valparaiso
A stretch 4 with a beautiful 3 point shot, Peters answered some of the questions about his physicality by becoming more of an at-the-rim finisher in his senior year. Knowing how the Rockets love stretch forwards that can rain 3s, Peters looks like a perfect prospect for them.
#44: New York Knicks (from Chicago Bulls): Tyler Dorsey, SG, Oregon
While Dorsey will have to answer questions about his frame and his ability to penetrate against NBA defenses, his shooting can't be denied. The Knicks stay domestic for their second pick, a sharpshooting 2 guard with big game experience.
#45: Houston Rockets (from Portland Trail Blazers): Frank Mason, PG, Kansas
The Player of the Year in college basketball last season, Mason's 5'11" stature pushes him to the middle of round 2. Houston would make off like bandits if the end up with Mason, a deadly shooter with leadership and experience on college basketball's biggest stages, as their backup point guard.
#46: Philadelphia 76ers (from Miami Heat): Nigel Williams-Goss, PG, Gonzaga
The orchestrator of Gonzaga's title push last season, WIlliams-Goss is a great rebounder from the point guard position, can shoot decently enough, and finish at the rim. He's a perfect backup point guard in the NBA.
#47: Milwaukee Bucks: Tony Bradley, C, North Carolina
A project big man, the physical tools leap off the screen when you watch Bradley. He'll need some seasoning before he will become a viable big man. The coaching of that staff in Milwaukee, which puts a premium on length and size, will accelerate his development.
#48: Indiana Pacers: Jonah Bolden, PF/SF, Australia
One of the most versatile players in the draft, Bolden saw time at the 3, 4, and 5 spots over this past season. Without a dynamic athetic talent on the team (excluding Paul George), taking a chance on Bolden, who can shoot and defend, wouldn't be the worst thing for Indiana.
#49: Denver Nuggets (from Memphis Grizzlies): Michael Fusek, C, Belgium
Here's the one thing you need to know about Fusek. He is 7'5" tall. While still developing a feel for the game, Fusek's towering height and stellar conditioning make him a great Euro stash for the Nuggets, who had success picking Nikola Jokic in a similar spot.
#50: Philadelphia 76ers (from Atlanta Hawks): Mathias Lessort, PF/C, France
Lessort is a big, physical forward/center with surprising speed in the open court. The 76ers would be wise to let him ply his trade in his native France for at least one more year before bringing him over, as he still needs some refinement before he can really start hitting his stride.
#51: Denver Nuggets (from Oklahoma City Thunder): Jonathan Motley, PF, Baylor
Motley's offensive game showcases a fantastic set of post moves and a jumper out to 18 feet. defense is a big question, as a 6'9" player with a 7'4" wingspan should be a better rim protector. Denver should take him simply based off of his offensive potential.
#52: Washington Wizards: Przemek Karnowski, C, Gonzaga
A legit 7'1" and 300 pounds, Karnowski is a bully in the low post. His unexpected passing ability is an added bonus. While very much a boom or bust prospect, having him study under fellow Polish center Marcin Gortat should help Washington get the most out of him.
#53: Boston Celtics (from Cleveland Cavaliers): Monte Morris, PG, Iowa State
While an extremlely small point guard, Boston has had success with a certain tiny point guard in recent history. Morris, an intelligent player who doesn't turn the ball over, is another nice addition to the Celtics' backcourt.
#54: Phoenix Suns (from Toronto Raptors): Edmond Sumner, SG/PG, Xavier
Very lanky at 175 pounds, the 6'5" Sumner carved out a niche as distributor and slasher under Chris Mack at Xavier. The Suns found a nice player in Tyler Ulis in last year's second round, and Sumner may just end up as good of a player.
#55: Utah Jazz: Cameron Oliver, PF, Nevada
Oliver has the rare distinction of being a 3 point threat and elite shot blocker. Oliver's athleticism is off the charts, and the Jazz, who have worked wonders with athletic big men, are a great landing spot.
#56: Boston Celtics (from Los Angeles Clippers): Kennedy Meeks, C, North Carolina
Meeks' build is that of a hulking rebounding machine. His athleticism is questionable, however. That is in large part to his physique. If Boston can find a niche for him as a rebounder, he'll make it in the NBA.
#57: Brooklyn Nets (from Boston Celtics): Dwayne Bacon, SF/SG, Florida State
Bacon can fill it up from a variety of spots on the court. He drops a bit because of his defense and his bad habit of forcing up shots. Luckily for Bacon, he'll end up in a Brooklyn offense that plays to his strengths, and one that could mold him into a nice NBA scorer.
#58: New York Knicks (from Houston Rockets): Thomas Bryant, C, Indiana
An intense big man with a face up game, Bryant has a lot of natural tools for Jeff Hornacek to work with. How he fits in Phil Jackson's accursed triangle offense is a question mark, but the Knicks need to roll the dice on athleticism.
#59: San Antonio Spurs: Aleksander Vezenkov, SF, Spain
San Antonio does a better job of turning European players into NBA players than anyone else. Vezenkov can shoot and handle the ball from the 3 position, and that might just be enough for Gregg Poppovich to work with.
#60: Atlanta Hawks (from Golden State Warriors): Isaiah Hicks, PF/C, North Carolina
The draft ends with a decorated college star in Hicks. His calling card is offensive and defensive rebounding. If he builds upon his improved finishing around the rim, the Hawks got a good player at pick #60.
Follow me on Twitter @TheRealLuc3