Is John Elway An Overrated Executive?
s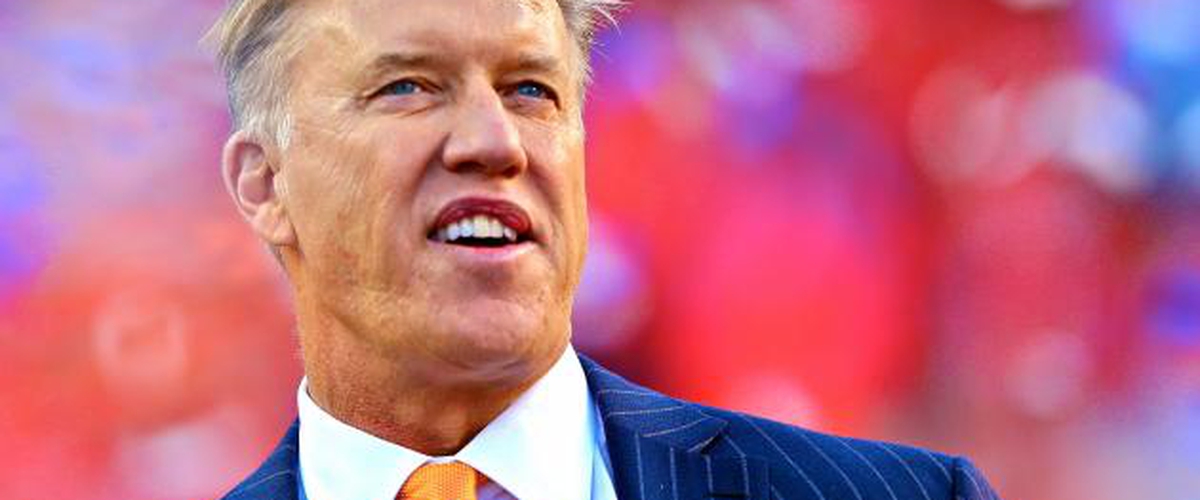 John Elway and his trademark #7 orange jersey are as synonymous with Denver Broncos football as opponents gasping for air in the restrictive mile high conditions. His playing career has put him in as rarified an air as possible. Of the coattails of such a career, Elway felt as though he could accomplish what many legendary players have tried but few, if any, have pulled off; winning a championship as an executive. His early years were incredibly successful, culminating in a Super Bowl victory. However, in light of the recent news of Paxton Lynch being beat out by Trevor Siemian for the QB1 position, and when one digs deeper into Elway's drafts, one finds someone who has an incredibly successful 12 month stretch that is being used as the main justification for his quality 6 years down the line.
In 2011, Elway was named vice president of football operations, and followed that up with one of the strongest 12 months in recent memory. He drafted Von Miller with the #2 overall pick in the loaded 2011 draft, along with fellow starters Orlando Franklin and Julius Thomas. He should also be given credit for finding starting running back CJ Anderson and All-Pro corner Chris Harris in the UDFA scrap heap. His crowning achievement at the end of this year was bringing the greatest quarterback of all time, Peyton Manning, to Denver. These moves were the catalyst for a brief run of brilliance that ended with Elway draped in confetti in Santa Clara. However, Elway's drafts since then have not yielded much return, particularly on offense. This has left the Broncos both without a solid young core and still heavily reliant on defense, a losing strategy in the fast paced, run and gun NFL of 2017.
Since 2012, here is who Elway has drafted offensively, paired with players drafted within 10 spots of the player Elway slected:
2012-2: QB Brock Osweiler-Was supposed to be heir apparent to Peyton. Signed in Houston after 4 years as a backup. He is atrocious at playing QB in basically every aspect.
Passed on: Lavonte David, Kelechi Osemele, Casey Hayward
2012-3: RB Ronnie Hillman-Struggled to lock down a starting role, was an average running back and nothing more. Currently with Dallas.
Passed on: Olivier Vernon, Russell Wilson, Lamar Miller
2012-4: C Phillip Blake-Never played a regular season game for Denver. Currently with Montreal in CFL
Passed on: Ladarius Green
2013-2: RB Montee Ball-Never assumed starter role after it was assumed he would play immediately. Cut after 2 years. Domestic violence issue ended comeback
Passed on: Travis Kelce, Eddie Lacy, Tyrann Mathieu
2013-5: WR Tavarres King-Never caught a pass for Denver, cut after 1 year. Currently with Giants
Passed on: Jordan Mills, Mike Gillislee
2013-7: QB Zac Dysert-Sleeper QB never popped. Cut after 2 years. Currently with Dallas
Passed on: AJ Bouye
2014-2: WR Cody Latimer-16 catches in 3 years from a second round pick. Not impressive in limited game action.
Passed on: Carlos Hyde, Allen Robinson, Jarvis Landry
2014-3: OG Michael Schofield-Shuffled between tackle and guard. Average starting NFL guard
Passed on: Devonta Freeman
2014-6: C Matt Paradis-Very good selection. High level NFL center in 6th round. Looking more like the exception rather than the expectation with Elway's drafts
Passed on: Quincy Enunwa
2015-2: OT Ty Sambrillo-Local product is abysmal on the football field. Routinely abused by elite AFC West pass rushers. Benched multiple times
Passed on: Ali Marpet, Tyler Lockett
2015-3: TE Jeff Heuerman-Injuries and depth at TE have limited him to 9 catches in 2 years.
Passed on: Ty Montgomery
2015-4: OG Max Garcia-Average starter. Struggled with consistency in year 2.
Passed on: Grady Jarrett, Stefon Diggs
2015-7: QB Trevor Siemian-Stats make him look better than he plays. Arguably worst arm strength of any starting QB. Uninspiring starter.
Passed on: La'el Collins, Tyrell Williams
2016-1: Paxton Lynch-Raw, but talented QB who hasn't taken a starting role in year 2. Only QBs drafted in the first round in the last 10 years to do that? Brady Quinn, Tim Tebow, Johnny Manziel
Passed on: Myles Jack, Hunter Henry
2016-4: RB Devontae Booker-Spectacular games followed by duds. Solid #2 running back
Passed on: None
2016-5: OG Connor McGovern-Didn't receive significant time in his rookie season.
Passed on: Jordan Howard
2016-6: FB Andy Janovich-Starting FB in his rookie year.
Passed on: None
By my count, we have 5 starters, 1 role players, 5 players who get minimal time or are not NFL caliber players, and 6 players not on the team anymore due to poor play. 6 contributors out of 17 is not a nice percentage to be hovering around. Their AFC West compatriots have drafted extremely well in recent years, and have subsequently formed the best division in football. Kansas City's defensive depth, flashy skill players, and exciting young QB Pat Mahomes have Chiefs Kingdom buzzing. The Raiders might challenge for a super bowl thanks to Derek Carr, Amari Cooper, and Khalil Mack. The Chargers have a young stud in Joey Bosa and a great QB/RB duo in Philip Rivers and Melvin Gordon.
While I understand any criticism of Elway's tenure can be nullified by showing off the Super Bowl bling, is it not equally fair to say that creating a rudderless ship of a team in a strong division that could keep them away from the postseason for several years not equally detrimental to an executive resume? A fresh set of eyes is needed, perhaps an assistant or a new director of scouting. If not, Denver might be doomed to another year of gambling on a QB and praying for another elite defense while the rest of the AFC passes them buy.
---