Views From The Couch Free Agency Edition
This is a brand new series that I'm debuting that talks about the week in Sports. Normally, this would be every Sunday but in honor of free agency in the NBA beginning (aka $ x 10000000000), here is the first part. Enjoy!
Goodbye O. J. Mayo
O J Mayo, 28 year old SG for the Bucks, is out of a job. The NBA announced that he had been banned from the league for violating its drug policy.
The NBA announces that free agent OJ May has been "dismissed and disqualified" from the NBA for violating Anti-Drug Program.

— Adrian Wojnarowski (@WojVerticalNBA) July 1, 2016
Under terms of the joint NBA/NBPA Anti-Drug program, Mayo is eligible to apply for reinstatement to the league in two years.

— Adrian Wojnarowski (@WojVerticalNBA) July 1, 2016
     Hopefully, during these next two years, Mayo can live off his millionaire's salary and try not to waste it on drugs. His story should serve as a stark reminder of what not to do for many athletes to come. If I was paid millions of dollars to play basketball, I'd try not to do anything that would get rid of that. Case in point, O J Mayo couldn't and as such, he has been kicked out of the NBA. This brings an end to a disappointing 8 year career which saw O J Mayo's production in a decline after his rookie year where he finished second in ROY voting behind Derrick Rose.

Big $$ => Insane Contracts
With the Salary Cap at an all time high (and looks to be increasing next year as well), NBA players are cashing in. This is leading to role players given insane contracts.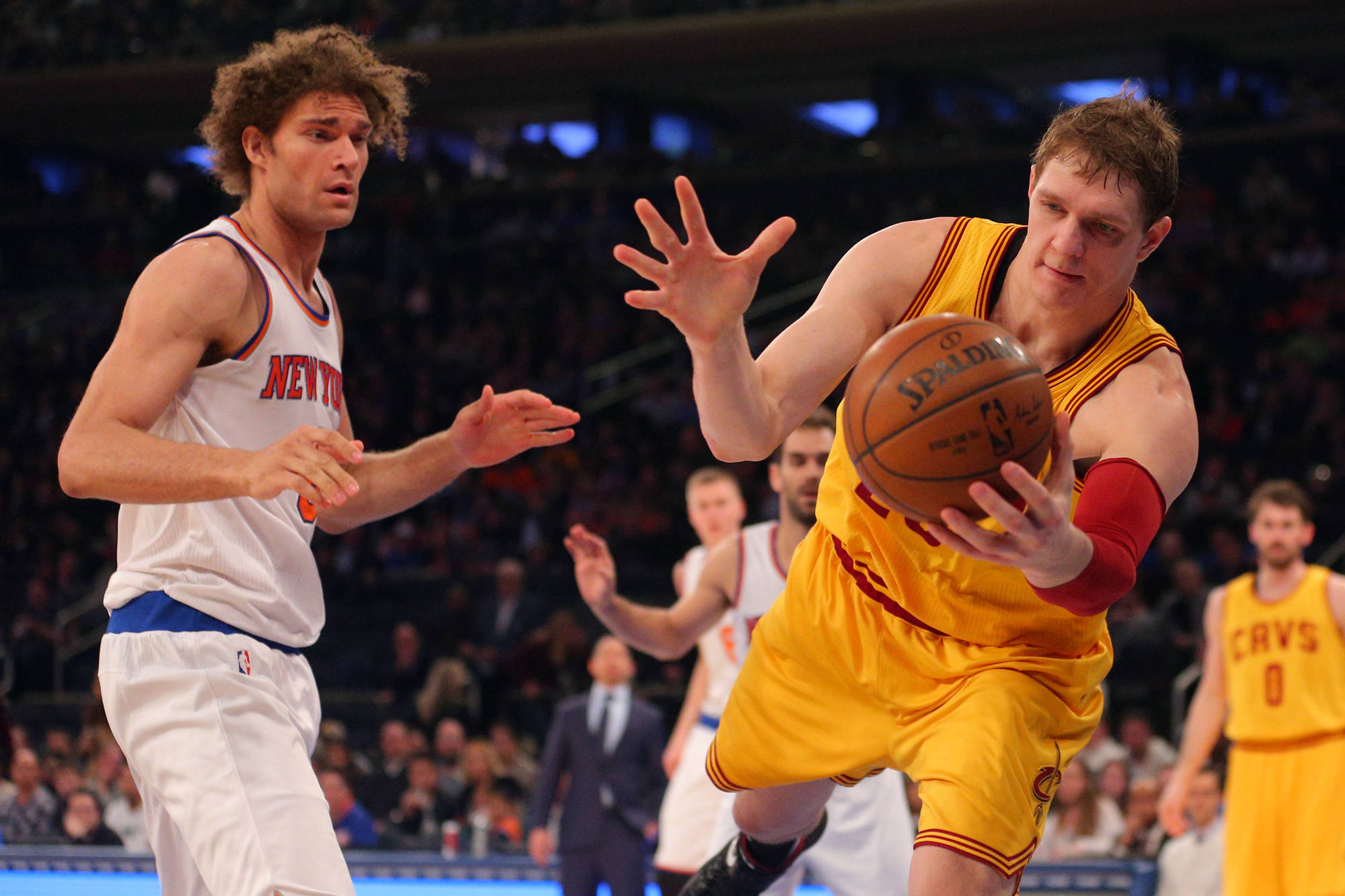 What do these two guys share? Ridiculous contracts!
Brad Penner-USA TODAY Sports
Fans of TSP knows who the Knicks Center is (actually Bulls now) and how much I dislike him, but Timofey Mozgov is one of the players who I always liked. It's hard not to root for a 7'1" beast who's most famous for this
All jokes aside, I liked Mozgov and thought he was a serviceable center. Perhaps, he'd come off the bench and get some key rebounds and blocks, and overall play great defense. Apparently, the Lakers decided that this was worth more than $60 MILLION! So they decided to pay him $64 MILLION over 4 YEARS! That's an average of $16 million per year. In other words, Mozgov, whose career stats are 6.9 PPG , 5 RPG , and .5 BPG, makes more money per year than Steph Curry, Kemba Walker, and Kyle Lowry make in a year! I don't know what the Lakers are smoking, but whatever it is should be given to O J Mayo. I heard he really likes that sort of stuff...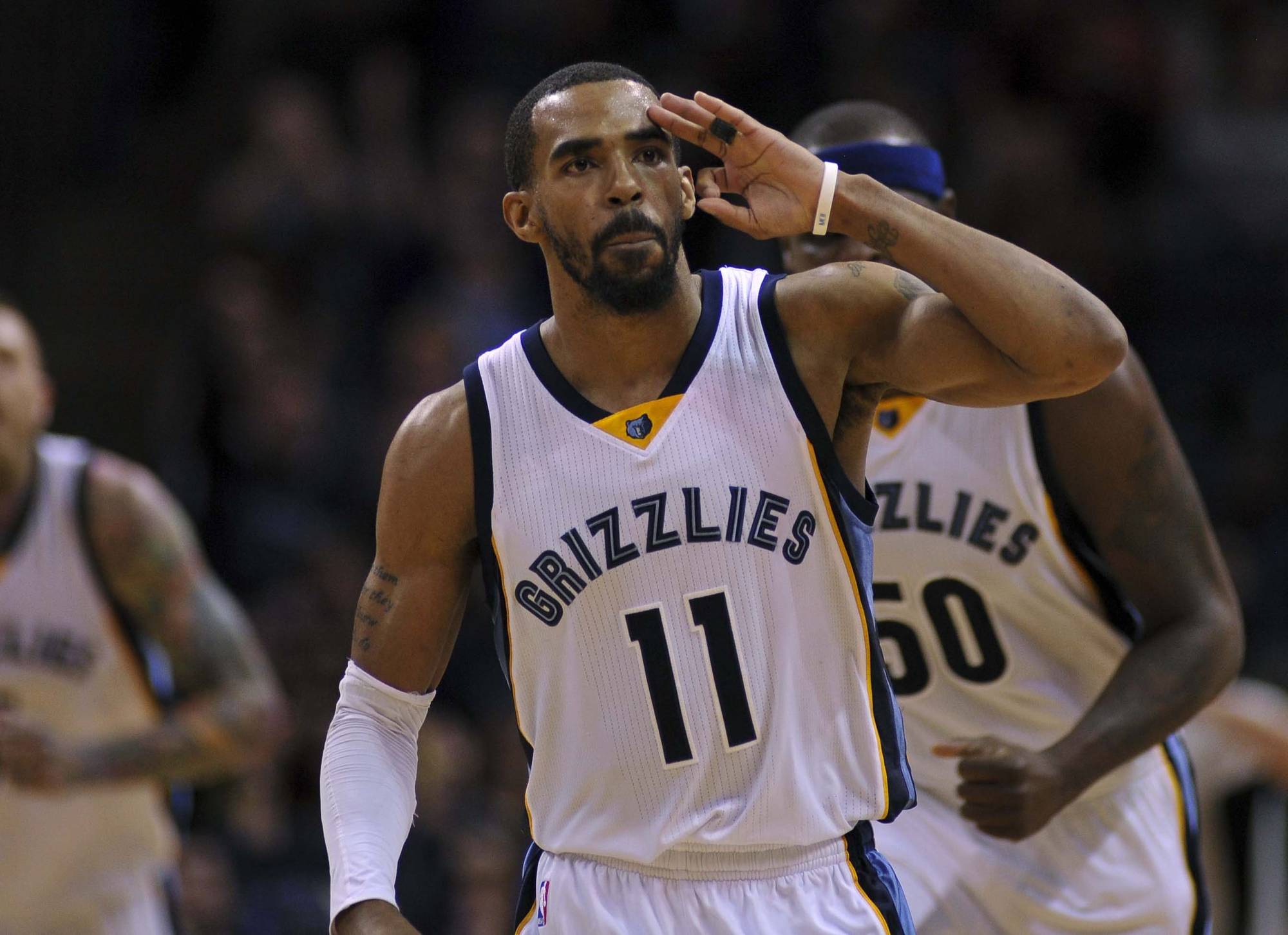 Most Underrated... more like MOST OVERRATED!
Justin Ford-USA TODAY Sports
Mike Conley is the point guard for the Memphis Grizzlies. A couple of days before Free Agency began, I debuted my All-Underrated Team, and I had crowned Mike Conley as the most underrated player in the league. I had him as my starting PG, and I had championed for him to get money.  I guess the Grizzlies ownership read my article because they gave Conley money. A lot of it. And so now after Day 1 of Free Agency, I am so very pleased to say that Mike Conley, whose career achievements are making the NBA All Defensive 2nd Team in 2013 and 2x winner of the NBA Sportsmanship Award 2013-14, is now the HIGHEST PAID PLAYER IN NBA HISTORY. That's right folks, Mike Conley is making more money than anyone in the NBA which means he's making more money than Steph Curry, Kevin Durant, Anthony Davis, Damian LIllard, Dwyane Wade, and oh wait LEBRON JAMES! Conley's getting paid $153 MILLION for 5 YEARS! So I guess the most Underrated player mantle is going to Kemba Walker (that's my pick anyway for now). 
You might be wondering who was the highest paid player before Conley. Well that honor belonged to Damian LIllard who earned $152 MILLION! Yeah Mike Conley is making more money than him (undeservedly so), but don't let Lillard know that as one fan found out...
As annoyed as I am about this contract, I can't help but respect Lillard for standing up for his fellow PG brethren. It just goes to show that though they may play against each other on the court, they have excellent camaraderie off it. My hats off to you Dame for not getting salty.  Mike Conley now has the tough task of proving to all of the NBA that he is worthy of this contract. Also, Memphis whatever you were smoking, you should throw it away or give it to former Grizzlies O J Mayo. I hear he's in the market (Ok that was my last O J joke).
Other Happenings around the League
As I had mentioned previously, Friday was the first day of NBA Free Agency. I love Free Agency and the Off Season in general. Teams either improve or fall apart, and I've always been interested in transactions and the Draft.  A bunch of FA's signed, and it'd take hours for me to gather it all up. So here are the highlights...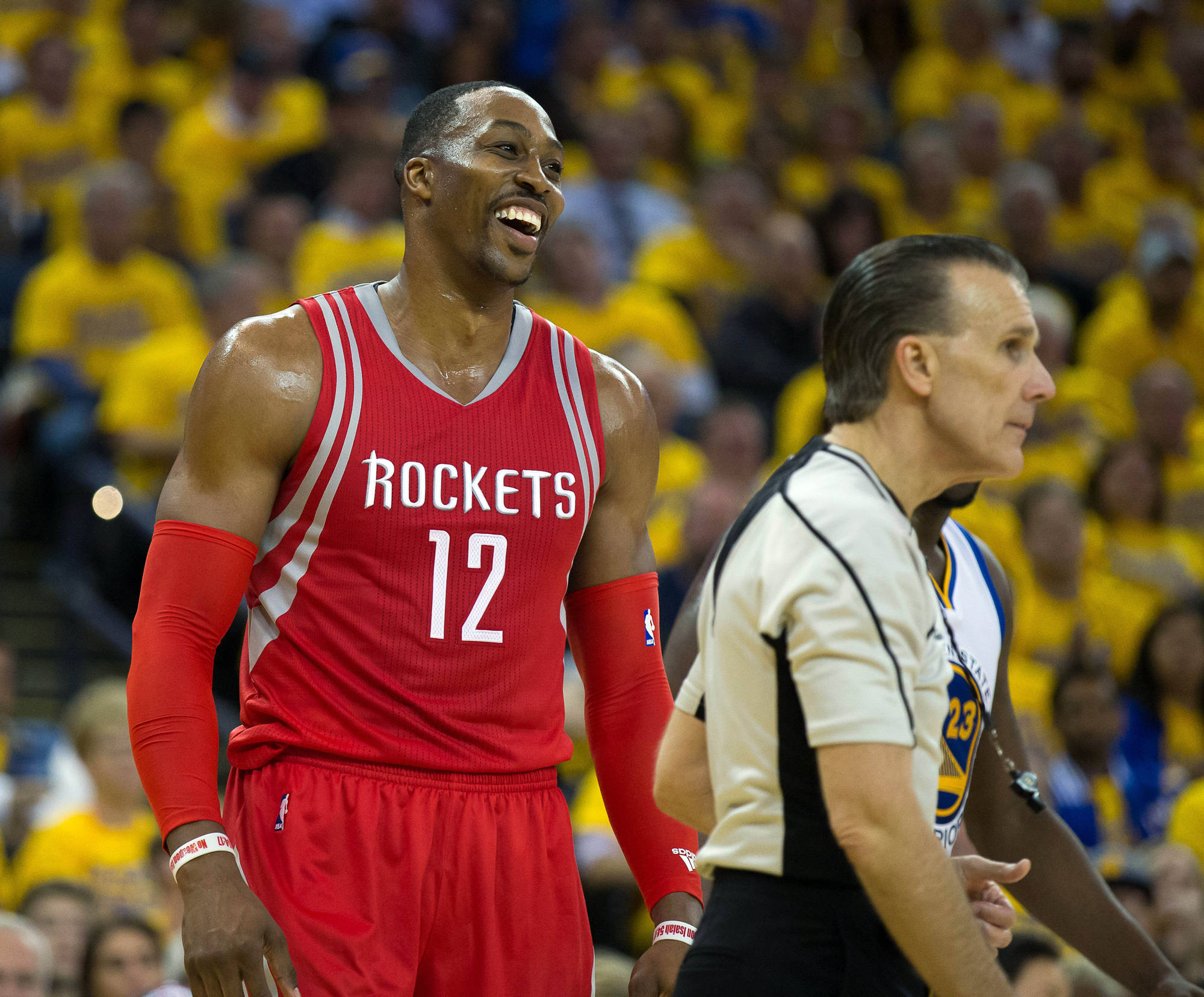 Kelley L Cox-USA TODAY Sports
Dwight Howard, the former best center in the league, is coming home. He has signed with the Atlanta Hawks on a 3 year $70 million dollar contract, thus signaling the end of the Al Horford Era in Atlanta (though if he does want to come back, the center position for the Hawks is going to be lit). This is a chance for Dwight to show that he still has something left in the tank after being derided for a lack of effort that seems to have originated in LA and stayed with him in Houston. I miss Orlando Dwight. He was an absolute monster. He was unstoppable. Hopefully, Dwight can return back to Orlando Dwight and not be Houston Dwight.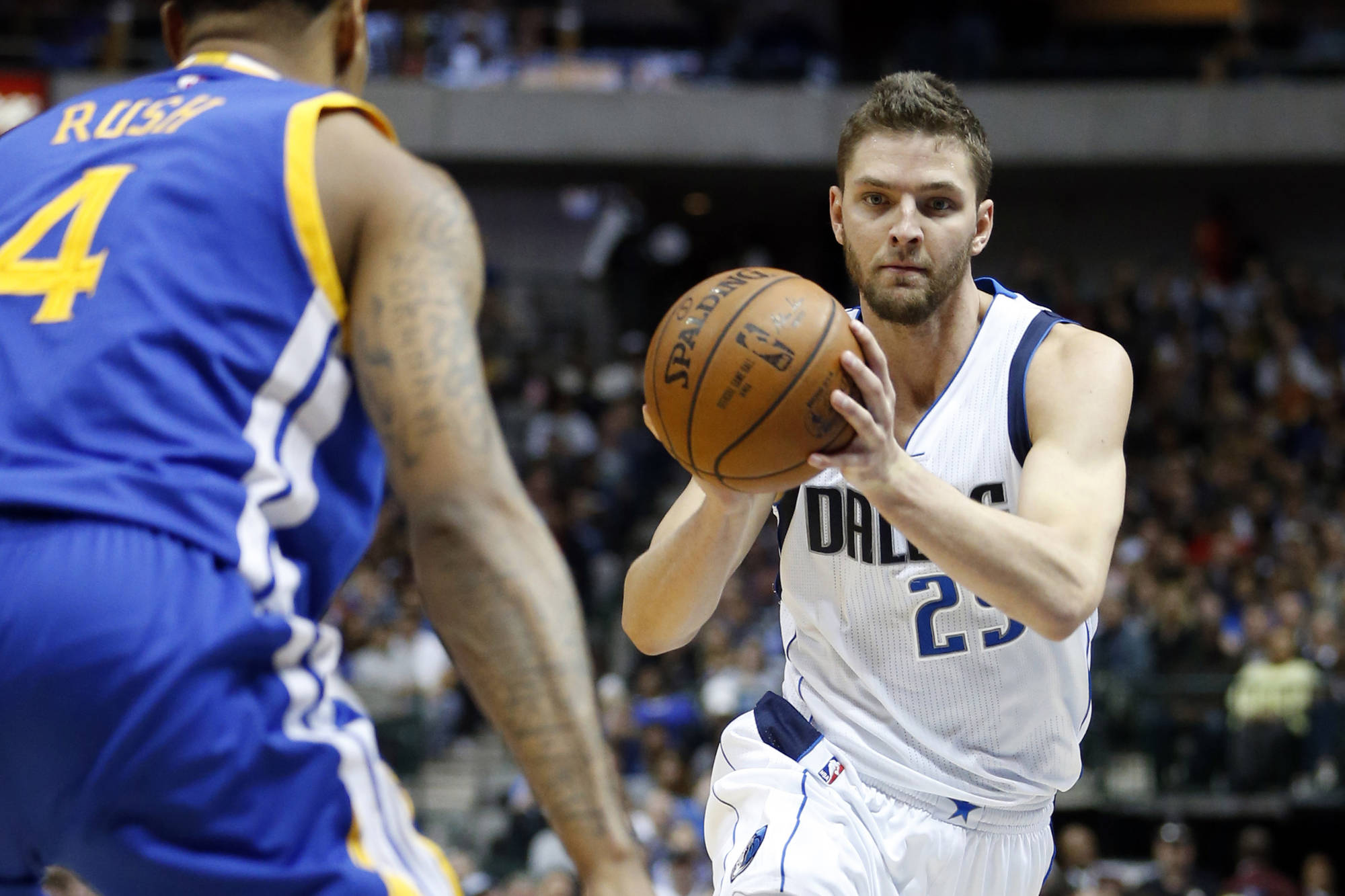 Yet another player leaving the All-Underrated Team
Tim Heitman-USA TODAY Sports
Chandler Parsons is heading to the Volunteer State (Tennessee) and is teaming up with Mike Conley, Marc Gasol, and Zach Randolph as Memphis signed Parsons to a 4 year $94 million dollar contract. This is going to be a great chance for Parsons to show that he can be more than a secondary scoring option and an actual star. If not, this contract could go down as a big bust with Parsons having injury issues. Though if Parsons does play well, this would be a great chapter in an otherwise successful story for the former 2nd round pick out of Florida.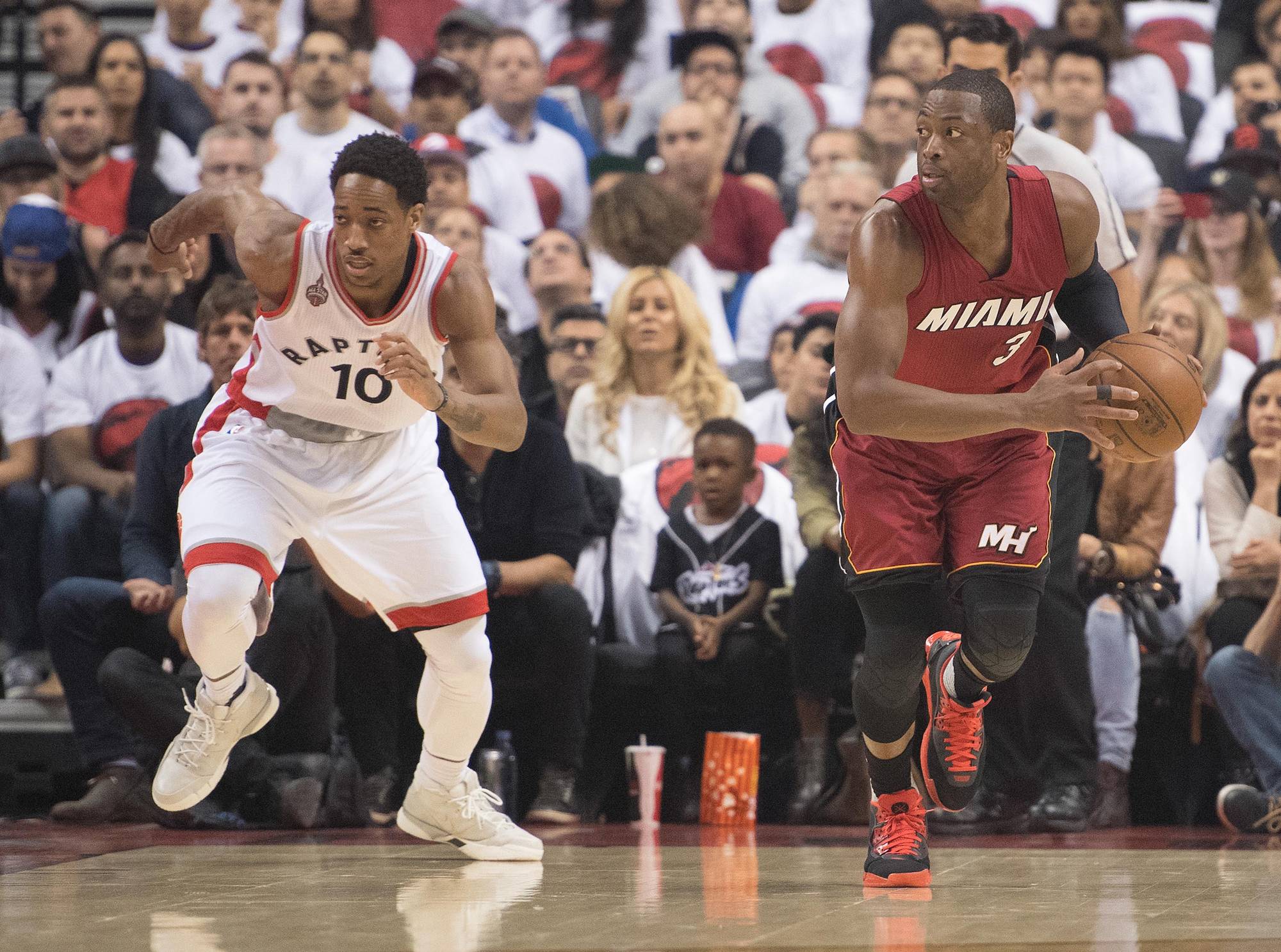 Please don't leave Wade. Don't leave. I need you to stay. Please! I"m BEGGING YOU!
Nick Turchiaro-USA TODAY Sports
Dwyane Wade, my favorite player in the NBA, looks like he won't be in a Heat Uniform next season. There have been rumblings around the league that Wade is looking at other teams such as the Bucks, or the Knicks (more on that to come), or even his hometown Bulls. This comes after Wade was apparently offended by the Heat's contract offer. If they lose Wade, this would really hurt the Heat who have already lost Deng and Johnson (and could lose Tyler Johnson). This would suck as a Heat Fan. I really hope that Pat will pay the guy so we can bring him back because the thought of Wade playing in another jersey is sickening.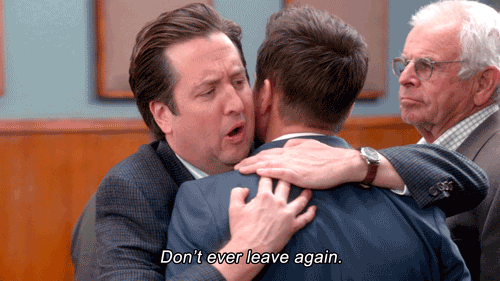 Please don't leave Wade. PLEASE!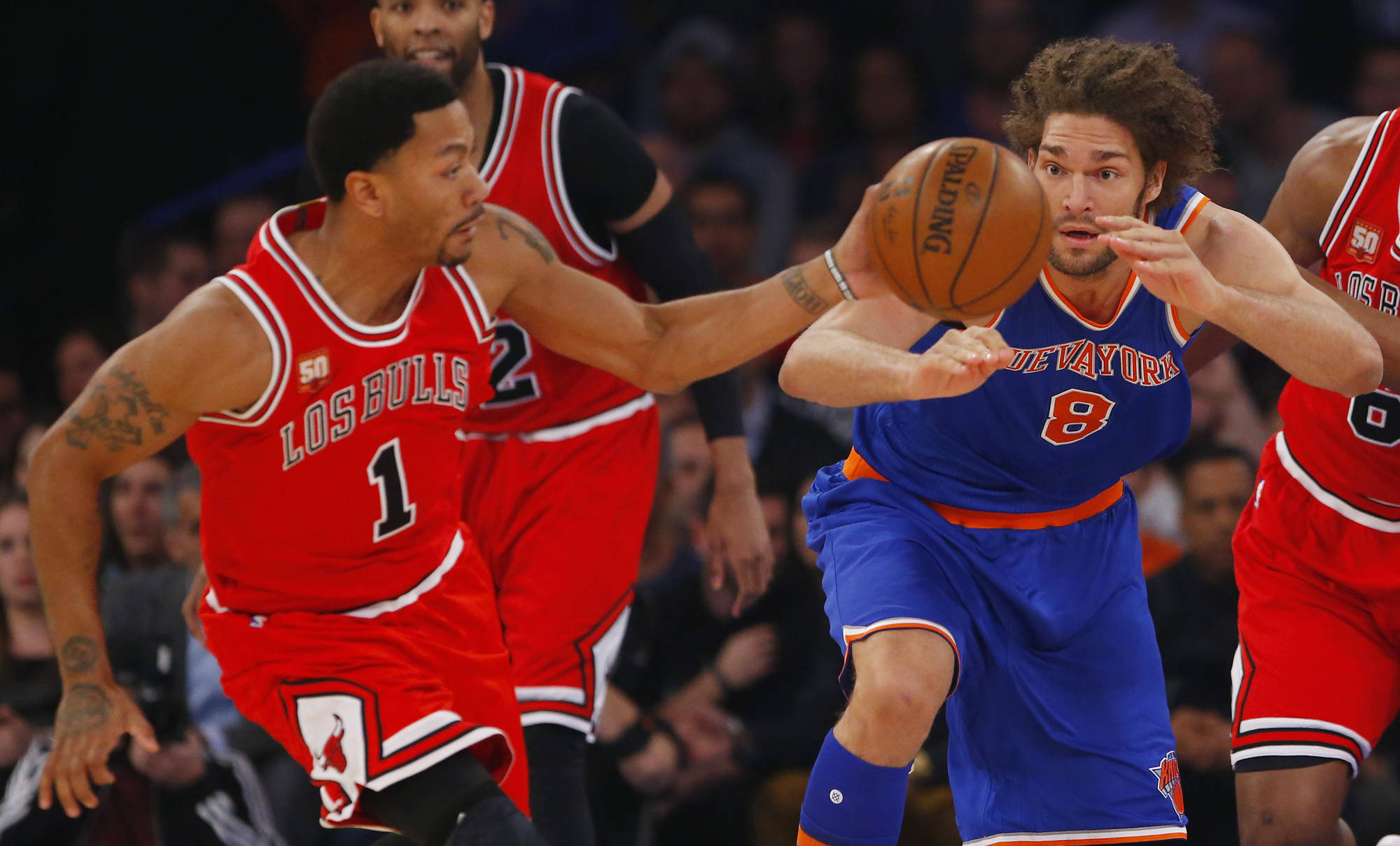 I couldn't think of a witty caption...So uh.... ROBIN LOPEZ IS OVERRATED!
Noah K. Murray-USA TODAY Sports
The New York Knicks could be on the verge of creating the deadliest lineup ever. With there being rumors of Wade joining NYC, here is a potential Knicks Lineup
PG- Derrick Rose     SG- Dwyane Wade    SF- Carmelo Anthony     PF- Kristaps Porzingis     C- Kyle O'Quinn?
This lineup would have won the NBA title perhaps.... 5 years ago. LOL!
The Knicks are banking on Rose playing at a MVP level to go along with Melo and Kristaps. I won't deny that the Knicks didn't make moves that won't result in making the playoffs. They will make the playoffs perhaps as a 5 seed. But I've to pump the brakes on Knicks fans who think they'll make the ECF. As it stands, this team is eliminated in the second round at best. Or they could be swept in the first round. Though what have they to lose. If the Knicks end up being terrible, they can always wheel and deal and tank for a high lottery pick. Rose is on an expiring deal so they can easily start over. It remains to be seen what Phil Jackson has in store for NYC and the NBA
In Other News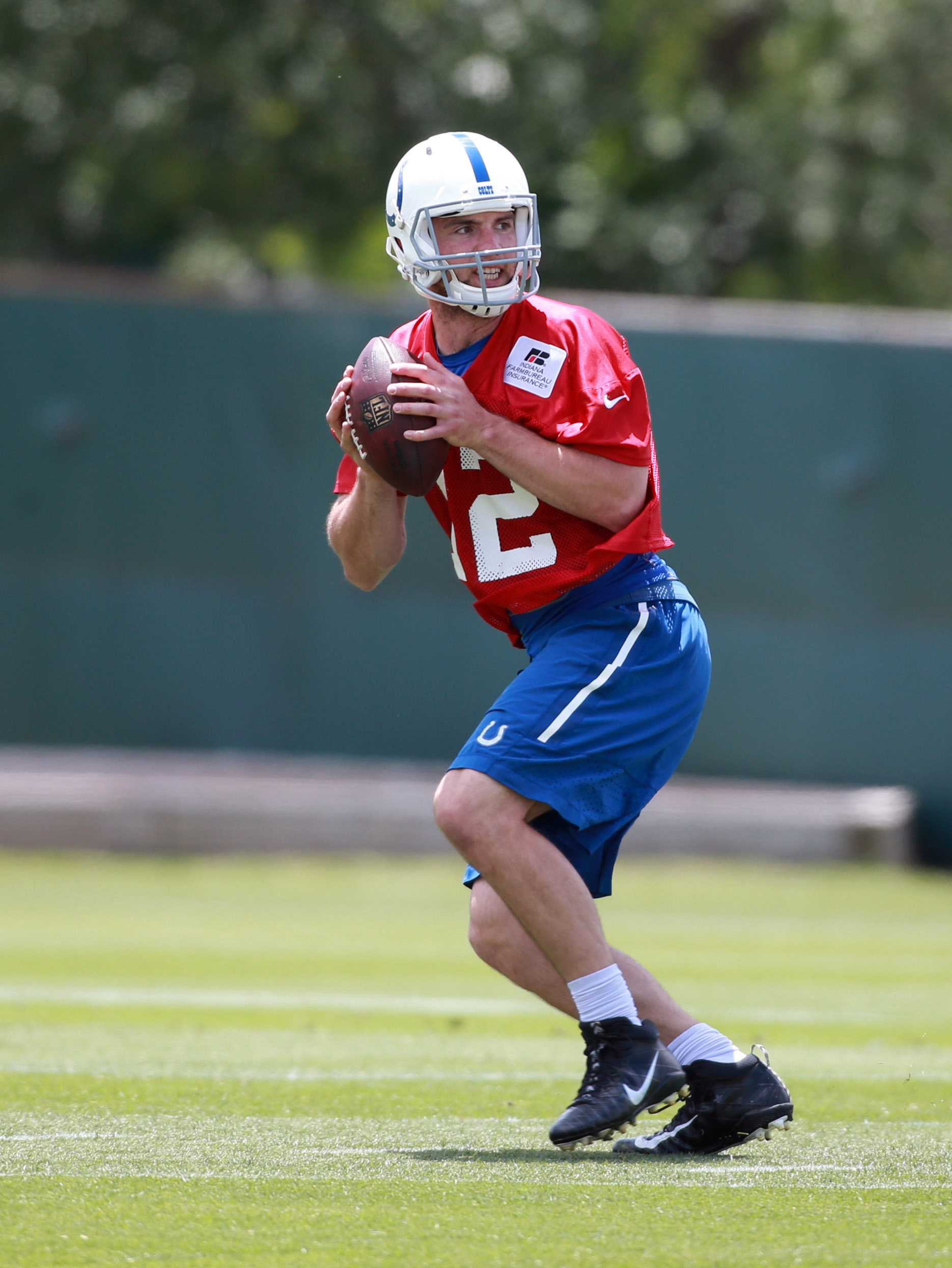 Richest Contract in NFl History
Brian Spurlock-USA TODAY Sports
Andrew Luck and the Colts have agreed to an extension.  I'll let Adam Schefter do the honors...
Details on Andrew Luck deal:

5-year extension (6-year deal).

Just north of $139 million (a record).

$87 million in guarantees (a record).

— Adam Schefter (@AdamSchefter) June 29, 2016
Luck gets a lot of nonsense from NFL fans. Some say he's overrated and all he does is throw interceptions. Some say that he didn't deserve the contract. Well, the fact of the matter is that he earned this contract. Think about it, the Colts were hot garbage in Peyton's last year. They went 2-14, and the subsequent year, the team was gutted. Almost half of the team was released or traded away including Peyton Manning. Then, Luck is drafted (along with TY, Allen, and Fleener in a very good Colts draft) and leads the team to an 11-5 record. That's right folks. Luck literally put the team on his back and took them to the playoffs 3 subsequent years all the while adding literally no one because Ryan Grigson, the GM, is not that good (though he had a good offseason this year). Luck even took this team to the AFC CHAMPIONSHIP... where they got destroyed by the Patriots, the eventual Super Bowl champions. During those years, everyone praised Luck as the next big thing. 
Enter this year. Luck proceeded to have his worst season and only played in seven games before lacerating his kidney and tearing his abdominal muscle (injuries that are similar to those in a car crash) and missing the rest of his season. Andrew Luck shouldn't be derided; in fact, I think he should be celebrated. I mean, who else can carry what has been a garbage Colts team to the playoffs 3 straight years and coming within a game of the Super Bowl. Luck has had a terrible O Line (looks to be getting better after the draft) and a not so good defense for his entire career. I, for one, am glad the Colts paid him and got him to stay because otherwise, the Colts would be in terrible shape for years to come.
Thanks for reading this article of mine. If you liked it and wish to read more, don't hesitate to hit that follow button. That way, you'll always be informed whenever another great article of mine drops. Got any suggestions how I should improve? Kindly comment down below. Thanks!
---