Projecting the Top 20 Under-25 Players in the NBA
Unfortunately, despite an instantly classic Game 1, the NBA Finals was predictably boring. However, besides that final round, the 2018 playoffs were actually quite entertaining. The games themselves weren't always close, but it was more exciting than usual because so many players rose to the occasion, especially younger ones. The terrific rookie trio of Donovan Mitchell, Ben Simmons, and Jayson Tatum all played beyond their years for stretches, but the trend went deeper than just those freshmen. More established, veteran-by-comparison presences like Anthony Davis and Giannis Antetokounmpo pushed their undermanned teams beyond popular expectations, raising their game to previously unseen heights. With all of this remarkable young talent on display in this postseason, I thought it would a fun exercise to rank the top 20 NBA players aged 25 or under (no rookies though, sorry DeAndre Ayton and Luka Doncic). This list takes into account both past and present performance, as well as future projection. Let's get to it.
Honorable Mentions
Before diving into the top 20, let's give five quick honorable mentions to players who are on the cusp of making this list, but for a variety of reasons, fell just short. Age is in parentheses.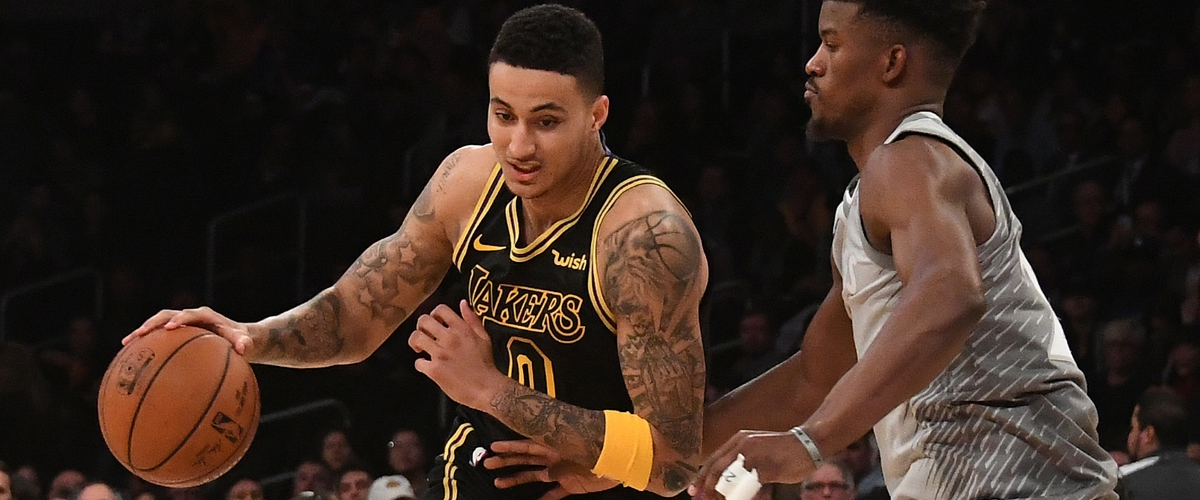 Kyle Kuzma (22), F, Los Angeles Lakers- It pains me to do this, as I am an angel investor in Kuzma stock, but he isn't ready to be on the real top-20 list. Kuzma's bag of tricks on offense is already well-developed, with several flourishes reminiscent of NBA greats. However, his lack of defensive impact is a red flag, as he ranked 81st out of 88 power forwards in defensive real plus-minus. To elevate his play further, Kuzma must improve on the less glamorous end.
Jamal Murray (21), G, Denver Nuggets- Murray received his fair share of votes for Most Improved Player, and for good reason. He's been an outstanding shooter since a horrid start to his NBA career, and has developed rudimentary point guard skills in response to Denver's lack of legitimate options at the 1. If the Canadian shows a more diverse offensive skill set and becomes competent defensively, he'll jump several players on the Top 20.
Taurean Prince (24), F, Atlanta Hawks- While you weren't watching the Hawks this season, Taurean Prince became a legitimate NBA starter. In addition to already excellent defense, he averaged 19.2 points per game on 45% shooting through March and April, recording three 30-point efforts in that time period. If the Hawks start to become a semi-relevant team with John Collins, Prince, and new franchise point guard Trae Young, his stock will skyrocket in a hurry.
Josh Richardson (24), G/F, Miami Heat- Dwyane Wade is the club legend, Goran Dragic is the All-Star, but Josh Richardson is Miami's best player. A tenacious defender who has improved on offense every season, the former second-round draft pick is dangerously close to becoming an All-Star himself, and if that happens, he'll become a household name in the process, with rim-rattling dunks and volleyball-style blocks showing up on League Pass almost every night.
Andrew Wiggins (23), G/F, Minnesota Timberwolves- Ah yes, Maple Jordan. Wiggins may be the ultimate analytics vs. eye test flash point. He owns superb raw talent, but undercuts it through inefficiency and inconsistent effort. Is Wiggins destined to be this generation's Jeff Green, a transcendent talent whose greatest opponent is himself, or will his focus begin to sharpen as he becomes the dynamic, Kawhi Leonard-style wing that was promised?
Alright, without further ado, the top 20.
20. Myles Turner (22), C, Indiana Pacers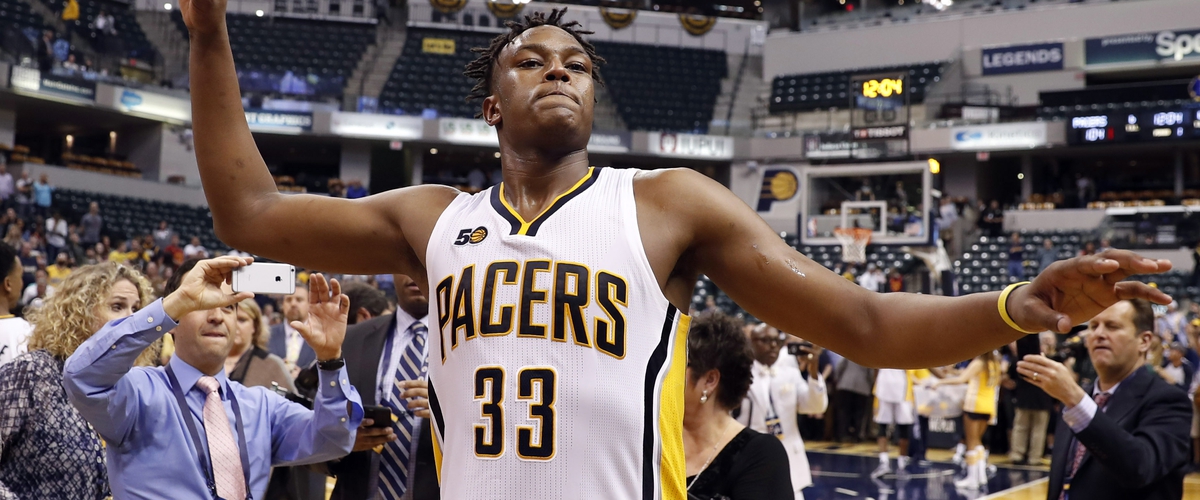 2017-18 Stats: 12.7 PPG, 6.4 RPG, 1.3 APG, 47.9 FG%, 35.7 3PT%, 16.6 PER
After Paul George was unceremoniously dumped on the Oklahoma City Thunder, it was all but assumed that Myles Turner would take the mantle as a franchise player for the Indiana Pacers heading into the 2017-18 season. However, due to both his stunted growth and Victor Oladipo's emergence as an All-NBA caliber talent, that did not happen. Turner is already an elite defensive presence, ranking third and fifth in the NBA in blocks per game in the last two seasons. It's the offense that needs work, as his jumper mechanics are funky, his efficiency is slightly below-average, and he doesn't assert himself nearly as much on that end as he should. From early summer returns (read: Instagram photos), Turner looks to legitimately be in the best shape of his life. Let's hope that translates to the court, where he could become a Rudy Gobert-type to Oladipo's Donovan Mitchell imitation.
19. Andre Drummond (24), C, Detroit Pistons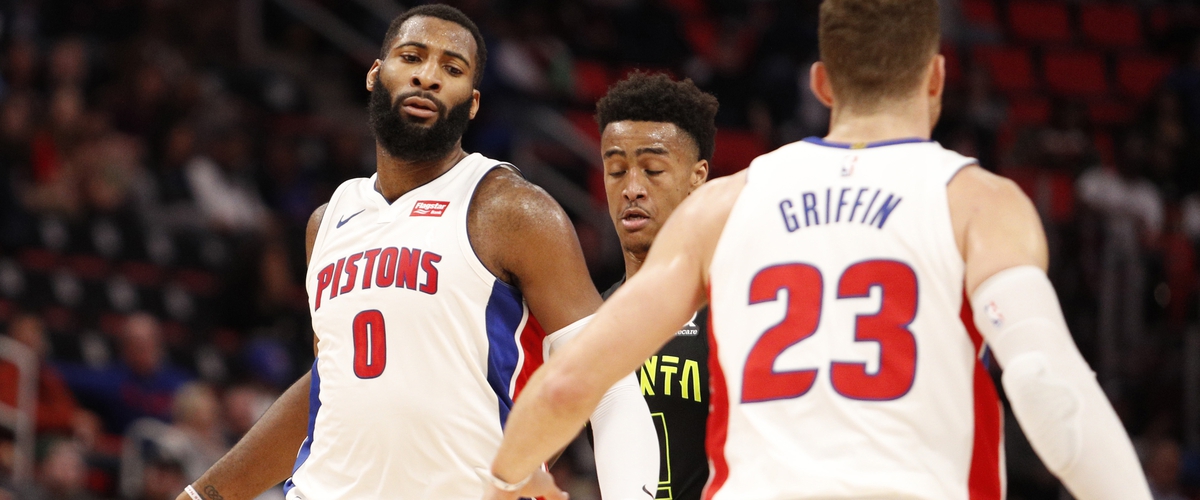 2017-18 Stats: 15.0 PPG, 16.0 RPG, 3.0 APG, 52.9 FG%, 22.9 PER
It's not Andre Drummond's fault that he plays for one of the least exciting teams in the NBA…right? He is either the best or second-best player on the Pistons, yet his skill set is ill-suited for the modern NBA. Drummond is possibly the best rebounder in the league and an underrated passer, but the skills he lacks- shot creation, shooting, defending in space- currently outweigh his strengths, to the point that Drummond would likely be unplayable at the highest levels of NBA basketball today. However, the two-time All-Star is still just 24 years old, and has already taken major strides. Drummond drastically improved his famously awful free-throw shooting last offseason, increasing his conversion rate from 38.6% to 60.5%. So, the Pistons' center has clearly shown a commitment to get better in some aspects of the game, now he just needs to keep that same energy going forward.
18. Lauri Markkanen (21), PF, Chicago Bulls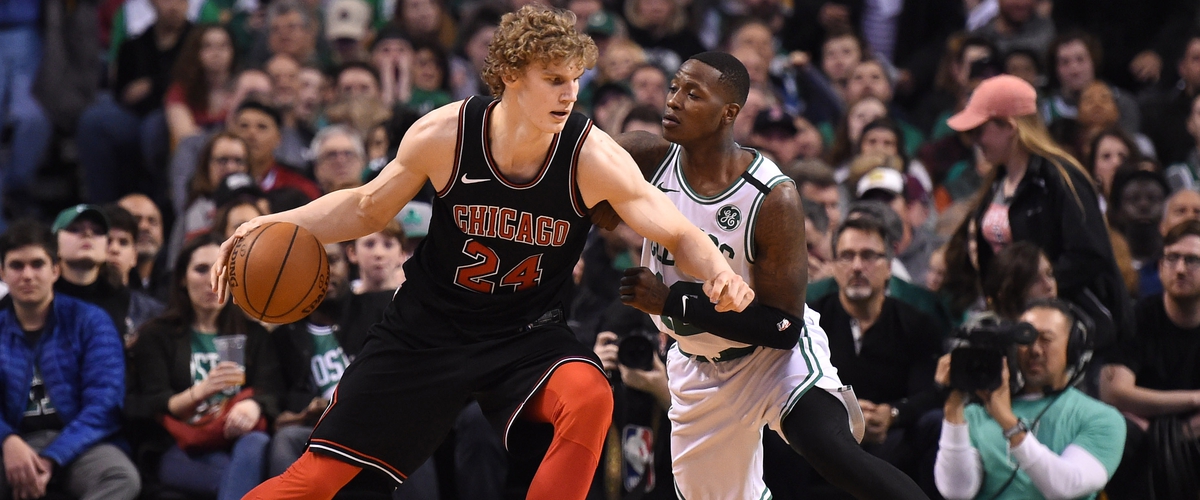 2017-18 Stats: 15.2 PPG, 7.5 RPG, 1.2 APG, 43.4 FG%, 36.2 3PT%, 15.6 PER
I promise, this is not homerism at work- if anything, I'm quite cynical about this Bulls rebuild. That being said, Lauri Markkanen is on his way to proving most of the naysayers wrong. ESPN likened him to Channing Frye on draft night, a comparison which did not give Markkanen nearly enough credit, mainly because he's much more athletic than he showed at Arizona. The Finland native showcased a developing handle and craftiness off the dribble as a rookie, and was able to hold his own on defense. And, of course, the shooting carried over quite nicely as well. In fact, not to run this unfair and slightly racist comparison into the ground, but Markkanen's offensive numbers compared favorably to the rookie statistics of Kristaps Porzingis. Obviously, Markkanen will never be the defensive presence that the Unicorn is, but if he's 85% of that player type, then the Bulls have a franchise building block.
17. Markelle Fultz (20), PG, Philadelphia 76ers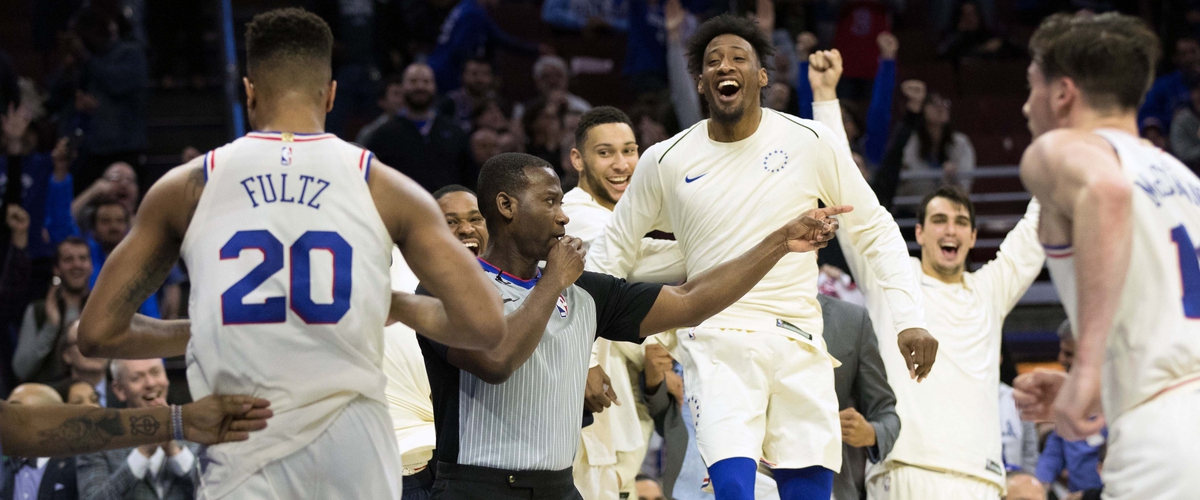 2017-18 Stats: 7.1 PPG, 3.8 APG, 3.1 RPG, 40.5 FG%
Obviously, Fultz would not belong on this list if he produced this stat line with less of a pedigree. Placing him here is a bet on a full return to form after what was undoubtedly the strangest rookie season for a top pick in recent memory. Sure, first overall selections have missed most or all of their first year due to injury before. However, Fultz' injury was somehow both physical and psychosomatic, and the Sixers' botched handling of the situation didn't help at all. Bryan Colangelo was recently fired for his connection to multiple secret Twitter accounts, some of which disparaged Fultz and his mental state in a major way. Colangelo's replacement might lend more support to the embattled former top pick, and hopefully, Fultz will spend the summer regaining his confidence to become the James Harden-style combo guard we saw throughout his freshman year at Washington.
16. Josh Jackson (21), SF, Phoenix Suns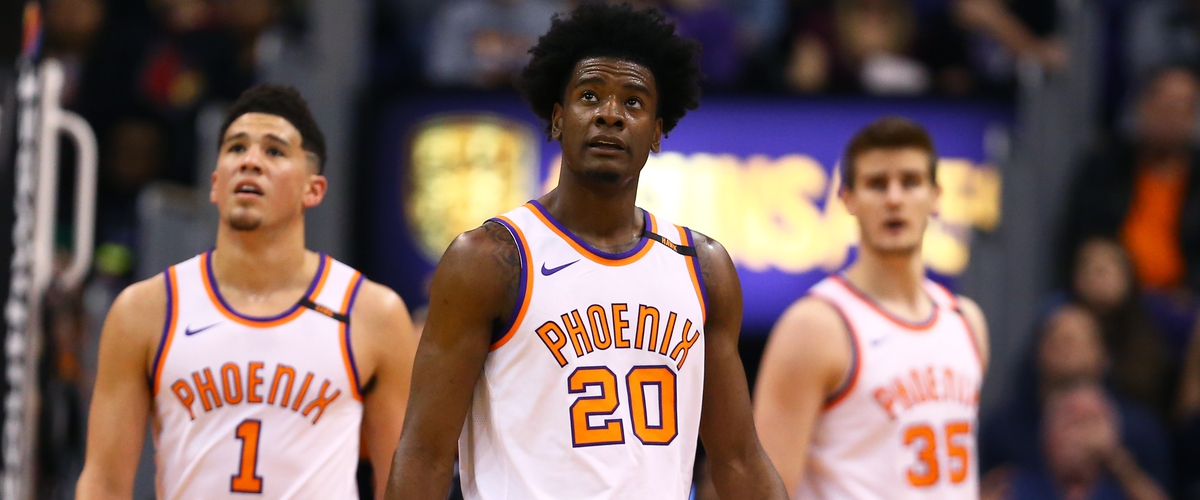 2017-18 Stats: 13.1 PPG, 4.6 RPG, 1.5 APG, 1.0 SPG, 41.7 FG%
It did not look good for Josh Jackson early in his rookie season with the Suns. Towards the end of a blowout loss in just the third game of the year, Jackson walked towards the bench, cocked his thumb and finger in the shape of a gun, and pretended to fire at opposing fans. Watching Jackson, who was the subject of several legal accusations at Kansas and before the draft, devolve into such unsportsmanlike behavior in just the third game of his career was not ideal, but to his great credit, Jackson was able to salvage a solid rookie season from that ugly moment and a generally awful start, averaging 18.7 points, 5.9 rebounds, and 2.5 assists per game in 20 games after the All-Star Break. Jackson was never efficient during his rookie year and his jumper mechanics are still abhorrent, but he showed enough signs of life to be a source of hope alongside Devin Booker and the first overall pick in this year's draft.
15. Clint Capela (24), C, Houston Rockets
2017-18 Stats: 13.9 PPG, 10.8 RPG, 1.9 BPG, 65.2 FG%, 24.5 PER
I can now retire on my Clint Capela stock. I have been pushing for him to play more since he was backing up Dwight Howard, and this season, I finally saw the gigantic return on my investment I so desperately wanted. Playing with two of the league's elite playmakers in James Harden and Chris Paul led to countless easy lobs for the Swiss big man, as he quickly surpassed DeAndre Jordan as the league's pre-eminent rim-running, shot-blocking extraordinaire. Capela even outplayed All-Star-caliber bigs in the postseason, tossing aside Timberwolves big Karl-Anthony Towns in Round One and firmly outplaying Rudy Gobert in the conference semifinals. He wasn't as effective against the Warriors, but players above the height of 6'10" rarely are, that isn't his fault. Capela will get paid big bucks this summer, likely from Houston, and he deserves every penny.
14. Brandon Ingram (20), SF, Los Angeles Lakers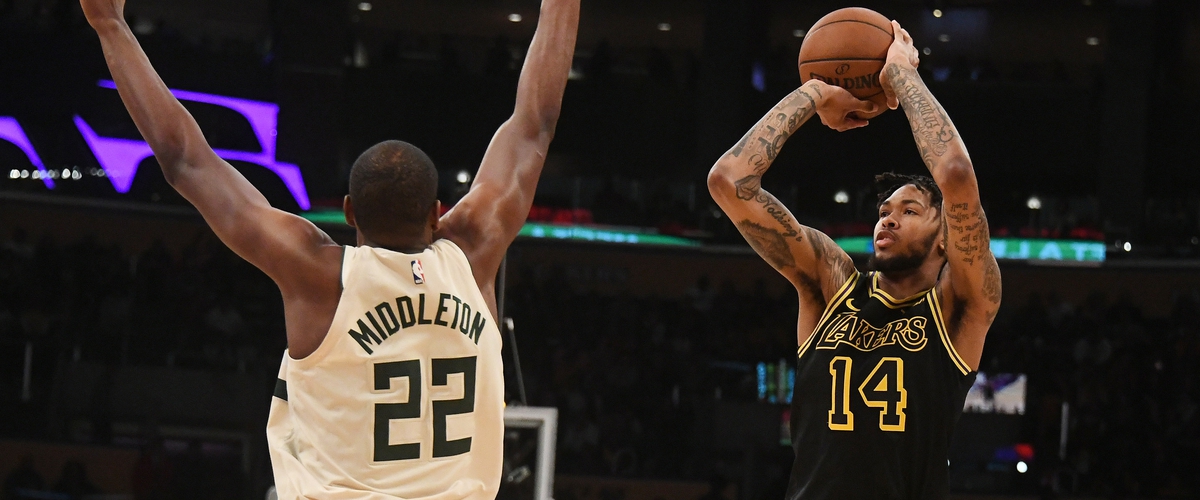 2017-18 Stats: 16.1 PPG, 5.3 RPG, 3.9 APG, 47.0 FG%, 39.0 3PT%
After a subpar rookie season, concern about the progress of former second overall pick Brandon Ingram started to surface. However, after one dominant Summer League performance, he shut everyone up and continued to improve in Year Two. Where Ingram shot 40.2% from the field in his rookie year, he shot 47.0% as a sophomore; where he averaged 2.1 assists per game in year one, he averaged 3.9 in year two. The Kevin Durant comparisons have always been silly, but the Dukie's high ceiling is still very much attainable and he is improving right on schedule. The wrinkle in this situation is the Lakers' thirst for marquee free agents. Ingram may be sacrificed in the hunt for LeBron James, Kawhi Leonard, and/or Paul George, and in that case, wherever he lands will alter the course of his career. In that case, let's hope he ends up somewhere like San Antonio rather than somewhere like Cleveland.
13. Jaylen Brown (21), SF, Boston Celtics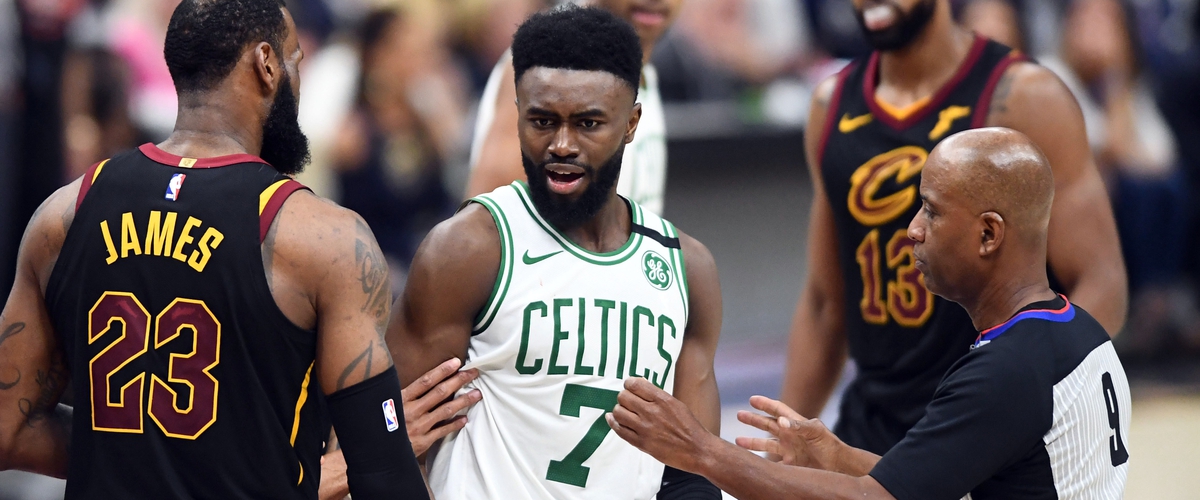 2017-18 Stats: 14.5 PPG, 4.9 RPG, 1.6 APG, 46.5 FG%, 39.5 3PT%
The Celtics entered the 2017-18 campaign with a completely remade roster, as only four players remained from the previous season, one of whom was Brown. The Celtics would be counting on Brown to play big minutes, something that represented a decent-sized gamble considering his shaky rookie season. However, the Cal product did not disappoint, emerging as one of the NBA's premier wing defenders while also greatly developing his offensive repertoire. This improvement was solidified during a playoff run where the Celtics came within a game of the NBA Finals without All-Stars Kyrie Irving and Gordon Hayward. During this stretch, Brown averaged 18 points on just under 52% from the field. He still floats sometimes and will never be a go-to scorer, but that's perfectly fine. Brown is a perfect modern NBA player on a perfect modern NBA team, and any team would kill to have him.
12. Lonzo Ball (20), PG, Los Angeles Lakers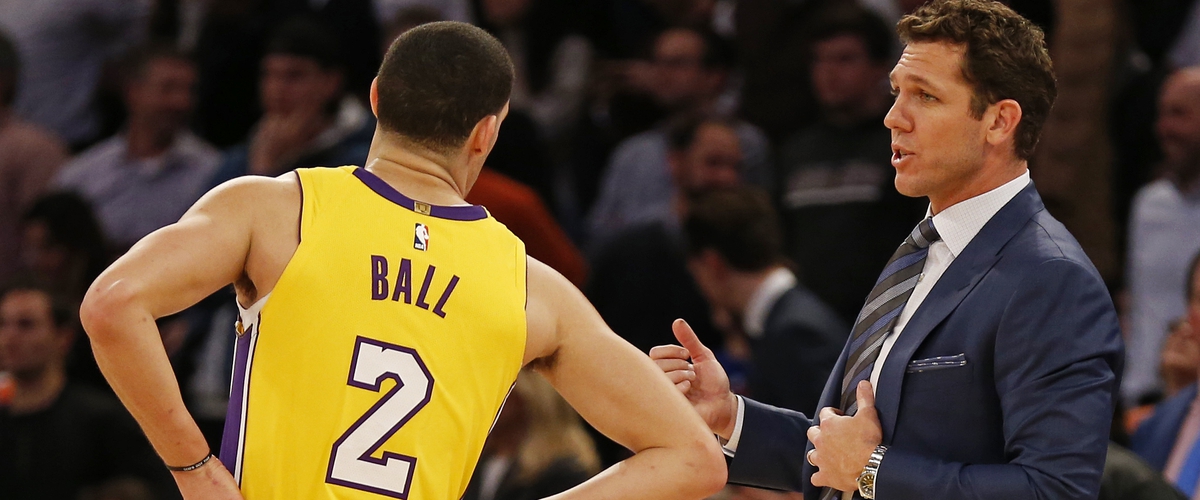 2017-18 Stats: 10.2 PPG, 7.2 APG, 6.9 RPG, 1.7 SPG, 36.0% FG, 30.5 3PT%
Everybody remembers the first six weeks of Lonzo Ball's NBA career, when it seemed like he would never make a jumper. However, after the anticipation died down and the Lakers returned to irrelevance, the Lonzo Ball worthy of the second overall pick finally emerged, albeit as a slightly different player than he was at UCLA. Yes, Lonzo is still a transcendent passer, nightly triple-double threat, and League Pass Favorite. However, he struggled with his jumper, making just 30.5% of his threes. This makes sense given his twisted mechanics, but makes less sense given that he made 41.2% at UCLA. Luckily, Lonzo's defense, an area anticipated to be one of his weaknesses, improved drastically instead, as he finished the season third among point guards in Defensive Real Plus-Minus. So, in summary, even if Lonzo's shot never returns to form, he will still be a productive, bordering on All-Star level, NBA starter.
11. Bradley Beal (24), SG, Washington Wizards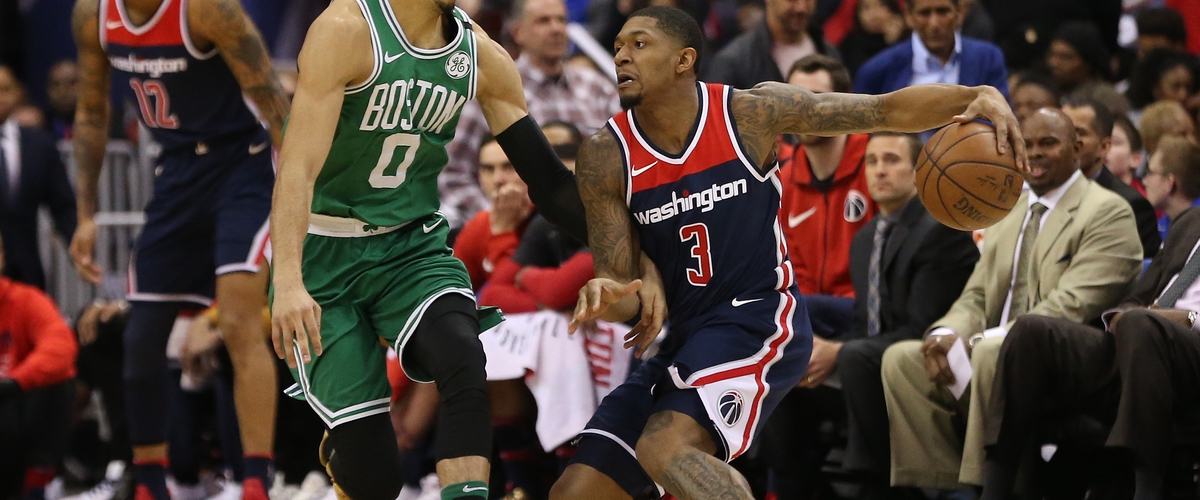 2017-18 Stats: 22.6 PPG, 4.5 APG, 4.4 RPG, 46.0% FG, 37.5 3PT%, 18.4 PER
John Wall missed over half of the 2017-18 season with knee troubles, but that was a blessing in disguise for the Wizards. In his absence, Beal emerged as an arguably better player and more capable offensive captain than Wall, who is less consistently engaged than a child with ADHD. The St. Louis native made his first All-Star team this season and continued to live up to his high draft pick. Where Wall is a bad shooter and almost literally could not be more apathetic off-ball (tracking data claims that he moves the least off-ball of any player in the NBA), Beal is an improving, willing passer who can shoot with proficiency from anywhere. Incredibly, he is only 24 years old- it feels like he's been a prominent player for years. However, Beal is still several years away from the middle of his prime, which is scary to think about for the rest of the Eastern Conference. That All-Star appearance was likely the first of many.
10. Devin Booker (21), SG, Phoenix Suns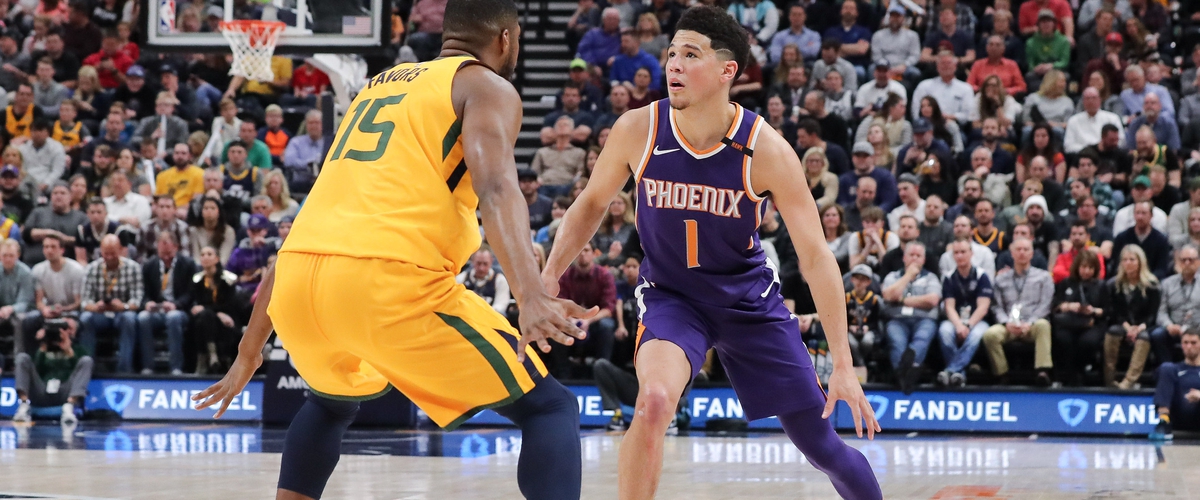 2017-18 Stats: 24.9 PPG, 4.7 APG, 4.5 RPG, 38.3 3PT%, 87.8 FT%, 18.1 PER
Devin Booker took his fair share of heat over the first two seasons of his career, and most of it was deserved. Whether it be his complete aversion to defense or inefficient scoring, Booker wasn't as good as his counting stats suggested. However, year three was different. While Booker's defense was still abhorrent, that is likely at least partially due to the load he carried on offense, where he averaged almost 25 points per game with improved efficiency numbers and showed improvement as a passer despite a supporting cast featuring people named Danuel House and Alec Peters, who are apparently basketball players. Next season, Booker will actually have something resembling a supporting cast, including the improved Josh Jackson, midrange master TJ Warren, and rookies DeAndre Ayton and Mikal Bridges. With that contingent of lottery picks and possibly veteran free agent signees, the sky is the limit for Booker.
9. Nikola Jokic (23), C, Denver Nuggets
2017-18 Stats: 18.5 PPG, 10.7 RPG, 6.1 APG, 49.9 FG%, 39.6 3PT%, 85.0 FT%, 24.4 PER
Last summer for Sports Illustrated, I wrote that for all of Jokic's great qualities, he still runs like a hungover college student. This is still true, but improbably, his below-average athleticism doesn't impede him at all on offense. Jokic is easily the best passing big man in the NBA, and his uncanny ability to toss over-the-shoulder and no-look passes puts him on a plane with only the top tier of basketball savants. This craftiness extends to Jokic's ability to somehow create space off the dribble, as his handle rivals that of any big man in the NBA. These two qualities open up the rest of Jokic's game, enabling him to pull up from range and scoop layups up and around bigger and more athletic defenders. Unless he gets in incredible shape, Jokic will forever be a turnstile on defense, capping his ability as a franchise cornerstone, but he is a remarkable talent regardless who leads a team capable of producing long nightly highlight reels.
8. Jayson Tatum (20), SF, Boston Celtics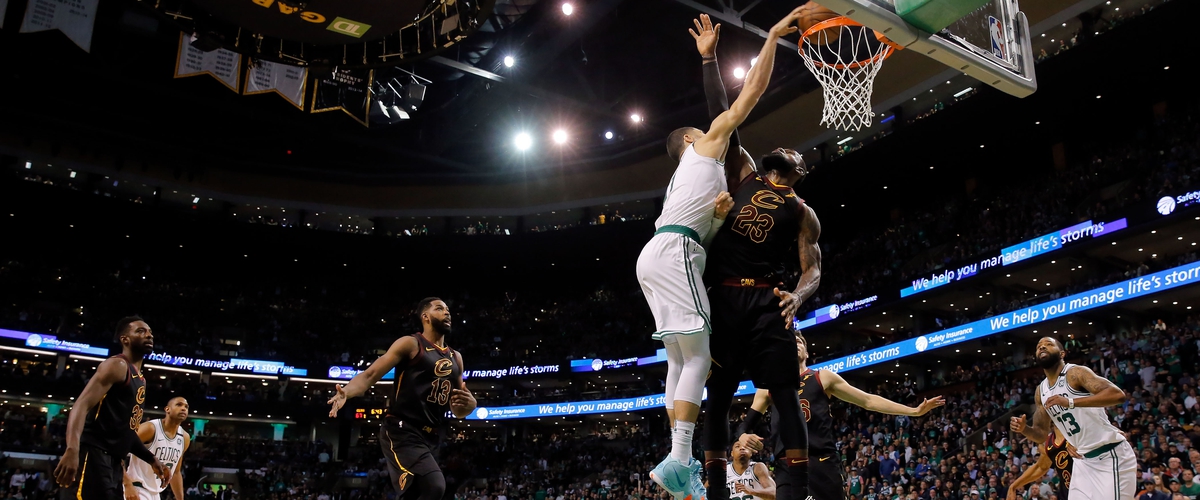 2017-18 Stats: 13.9 PPG, 5.0 RPG, 47.5 FG%, 43.4 3PT%, 82.6 FT%
If this list was based solely on regular season performance, Tatum would be several spots lower. However, his postseason campaign was so impressive that he belongs firmly in the top 10. Tatum's rookie season was relatively typical. He started the year out on fire, leading the entire league in three-point percentage for the first several months before eventually hitting a rookie wall. However, right around the time Kyrie Irving was ruled out for the season in early April, Tatum regained his composure and, as the playoffs started, became engulfed in flames once again. He led the Celtics in scoring on their postseason run at 18.5 points per game on 47.1% shooting, and though he wasn't always as assertive as he could have been, Tatum showed a unique, beyond-his-years ability to score at will on elite perimeter defenders. It is not far-fetched to say that in Tatum, the Celtics have their new face of the franchise.
7. Kristaps Porzingis (22), PF, New York Knicks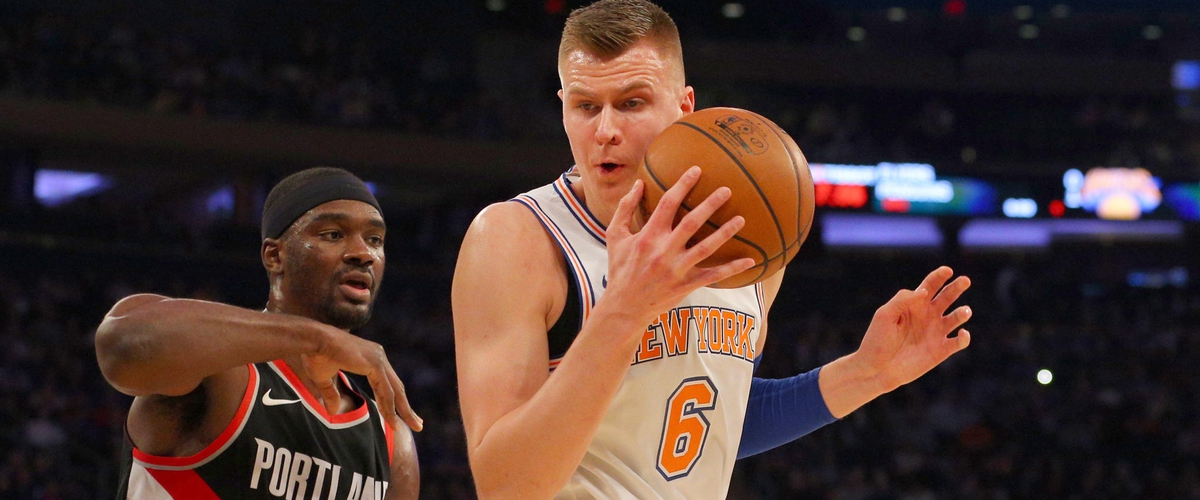 2017-18 Stats: 22.7 PPG, 6.6 RPG, 2.4 BPG, 39.5 3PT%, 20.4 PER
This is admittedly quite generous towards Porzingis, a 7'3" giant who already has an injury history rivaling that of Evel Knievel. In fact, he missed almost half of last season due to a torn ACL, an injury he is still recovering from. However, when the Unicorn is healthy, he is an amazing talent. The efficiency isn't there yet, though his three-point shooting has improved steadily every season, but Porzingis has the rare ability to score from anywhere on the court while also being a standout rim protector. For his career, Porzingis is averaging 17.8 points, 7.1 rebounds, and 2 blocks per game while shooting 36.1% from three- numbers matched by exactly zero players in NBA history. Since Kevin Durant popularized the term "unicorn" in reference to Porzingis, it has become overused, but KD was right originally- KP truly is a one of a kind player. Let's just hope he can stay on the court.
6. Donovan Mitchell (21), SG, Utah Jazz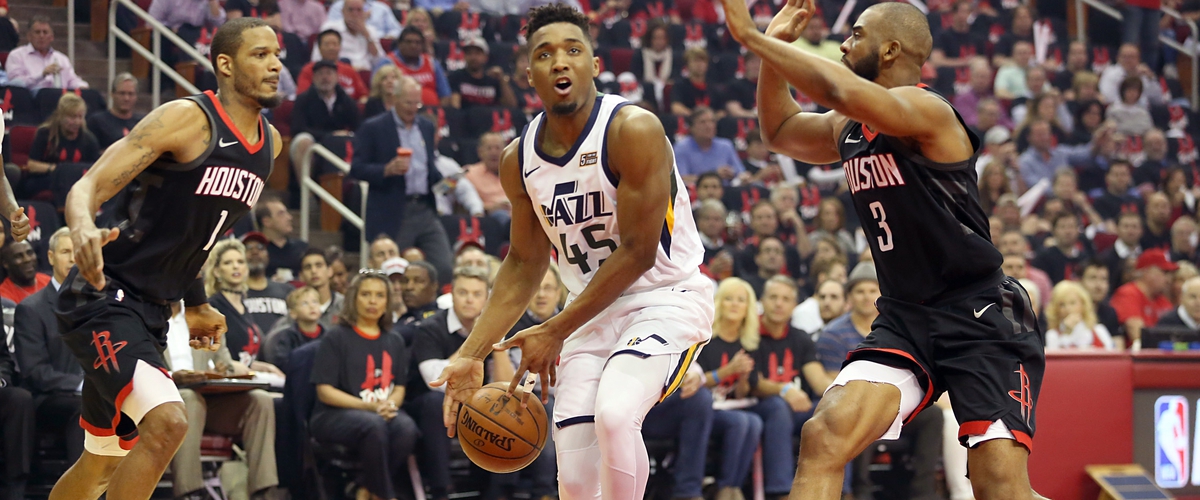 2017-18 Stats: 20.5 PPG, 3.7 APG, 1.5 SPG, 43.7 3PT, 34.0 3 PT, 16.7 PER
In the draft process last year, I loved Mitchell. I put him in a mock draft months before most did, and enjoyed his steady rise throughout the Combine and workout period. That being said, even I did not suspect what was to come during his rookie season. Mitchell shot just 32.9% from the field in October and 41.3% in November, which obviously made sense. However, once he took it upon himself to lead the Jazz towards the playoffs, everything immediately changed. The rookie averaged 22.5 points per game over the last five months of the season and led a Jazz team with no preseason expectations to the second round of the playoffs, where he went toe-to-toe with the presumed MVP in James Harden and the Point God himself, Chris Paul. If Mitchell could improve so drastically within his rookie season, imagine what he'll do with a full offseason and beyond. Mitchell and Gobert= Malone and Stockton 2.0? Maybe.
5. Karl-Anthony Towns (22), C, Minnesota Timberwolves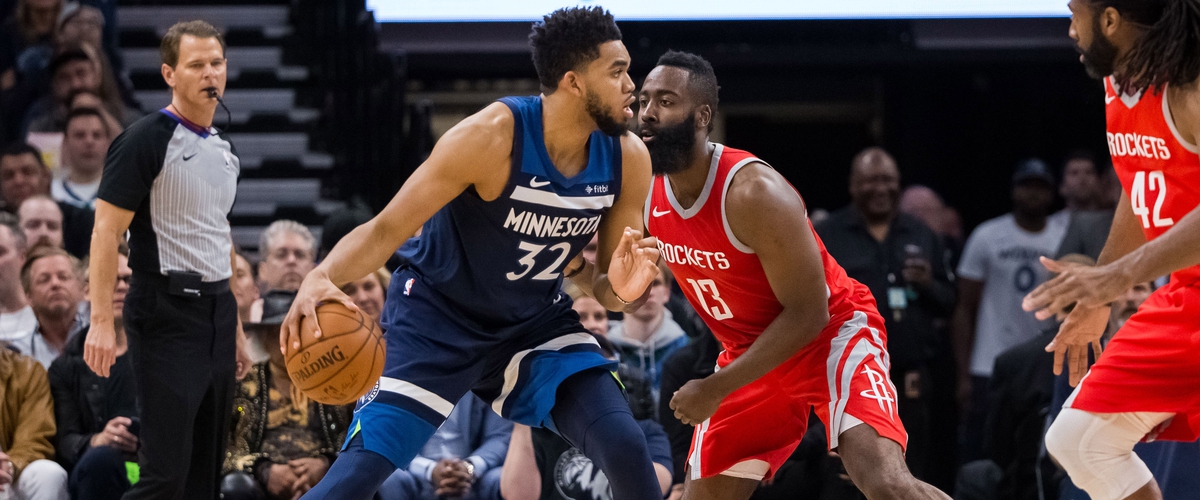 2017-18 Stats: 21.3 PPG, 12.3 RPG, 2.4 APG, 54.5 FG%, 42.1 3PT%, 85.8 FT%, 24.9 PER
In 2015, Karl-Anthony Towns was the first pick in the NBA Draft and was considered as safe a bet to become a star at the next level as any prospect since Anthony Davis. In the three seasons of his career since, Towns has averaged 21.6 points per game and 11.7 rebounds while shooting 54.3% from the floor and 38.7% from three, a stat line unprecedented in NBA history. So, why does he feel like a disappointment so far? It likely has something to do with his defense. Towns was a superb defender at Kentucky, yet his intensity on that end has wavered in the league. Several years ago, Minnesota was considered the next great NBA dynasty, but they've lost most of that luster recently. If Towns can become a consistently dominant defender without losing his superstar-level offense, then the Timberwolves have a chance at real, sustained contention.
4. Joel Embiid (24), C, Philadelphia 76ers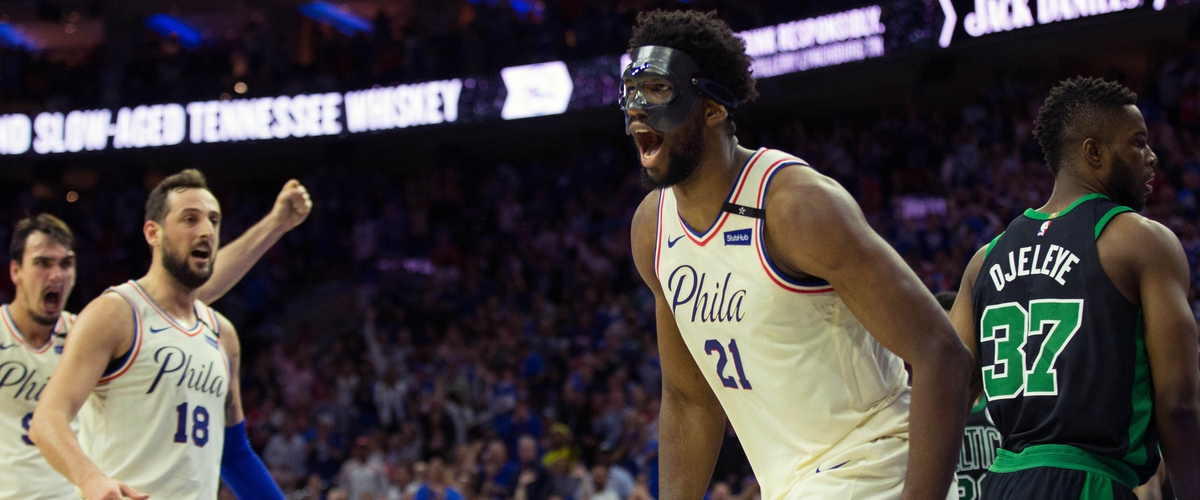 2017-18 Stats: 22.9 PPG, 11.0 RPG, 3.2 APG, 1.8 BPG, 48.3 FG%, 22.9 PER
Joel Embiid's injury history is well-documented, and despite the fact that he was relatively healthy last season for extended stretches, that injury history is not going away. That being said, Embiid's ability to stay on the court last season was inspiring, and most of the time, he played like the transcendent talent that was promised. Sure, Embiid still gets sloppy with the ball and shoots too many threes- both of which are a function of his supreme confidence in himself. Other than that, he is the closest thing to a perfect basketball talent there is. At 7 feet tall, he can score on most defenders off the dribble, boasts an Olajuwon-esque repertoire of post moves, and is an elite rim protector. Embiid was slightly marginalized by Al Horford in the playoffs, but small-ball will not last forever. Once he irons out the irrational decision-making, he will be truly unstoppable, and the most any opponent will be able to do against him is pray.
3. Ben Simmons (21), PG, Philadelphia 76ers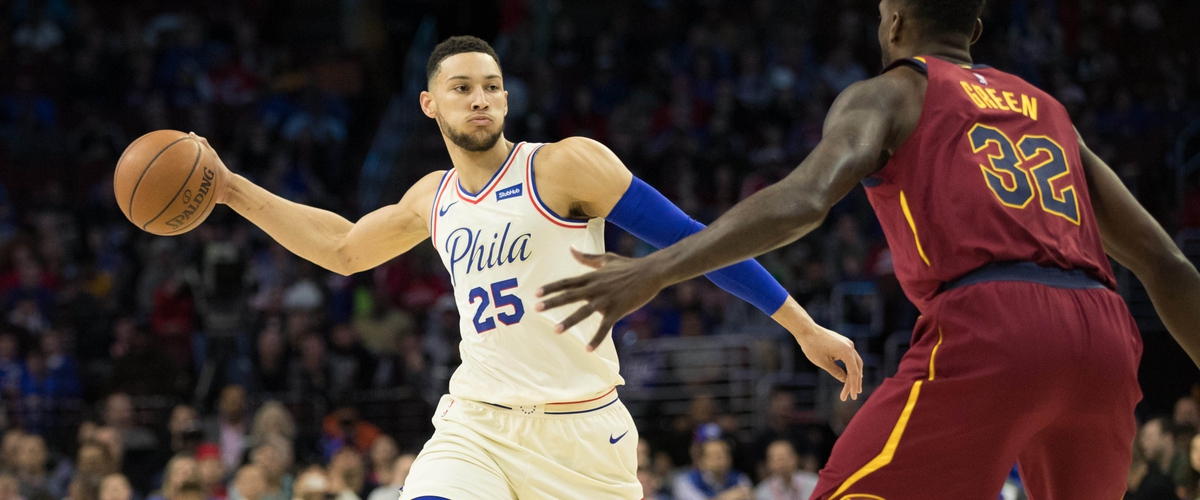 2017-18 Stats: 15.8 PPG, 8.2 APG, 8.1 RPG, 1.7 SPG, 54.5 FG%, 20.0 PER
Yes, Ben Simmons' lack of a jumper will inherently cap his ability to improve. Yes, when the Celtics faced him in the second round of the playoffs this year and seized on that idea, Simmons ran away and hid. However, let's just remember that Simmons was a 20-year old rookie this year, and played like a top-20 player for most of the regular season. Despite never shooting, Simmons did whatever he pleased on offense and erased all previously-held doubts about his effort and intensity on defense. If this sounds familiar, it should, because we had the same questions at the beginning of LeBron's career. He didn't shoot much either, and was able to skyrocket to superstardom anyway. Simmons may never improve his jumper, but anyone with his combination of height, speed, skill, and feel is almost a guaranteed perennial All-Star at worst. When Simmons and Embiid reach their respective peaks, the Sixers will have no ceiling.
2. Giannis Antetokounmpo (23), PF, Milwaukee Bucks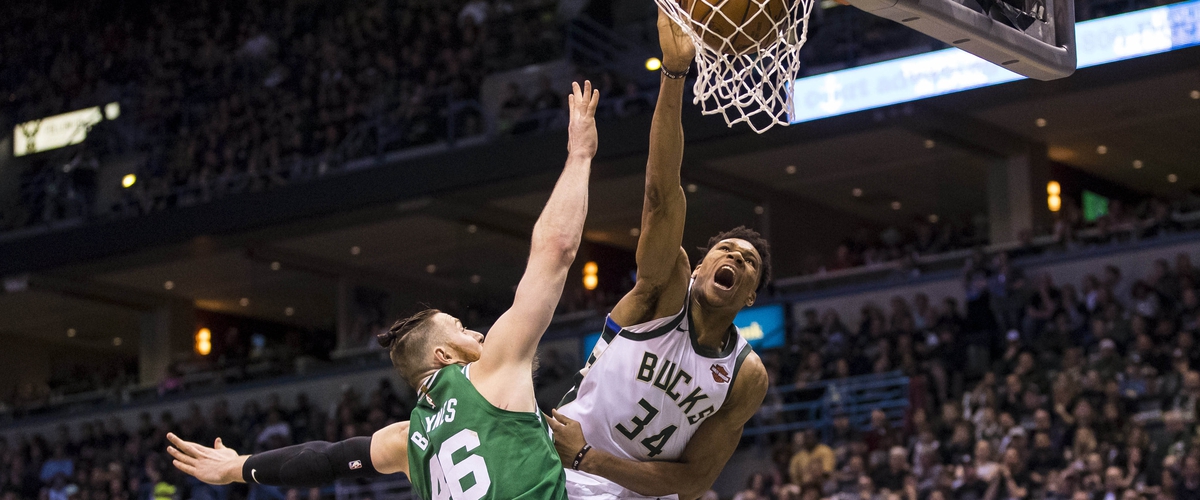 2017-18 Stats: 26.9 PPG, 10.0 RPG, 4.8 APG, 1.5 SPG, 1.4 BPG, 52.9 FG%, 27.3 PER
If I were ranking my favorite U25 players, Giannis Antetokounmpo would undoubtedly be first. That being said, his jumper is still a work in progress, whereas the top-ranked player on this list almost literally has no holes in his game on either end of the court. However, Giannis' lack of a consistent jumper should not take away from his unbelievable (in the truest sense of the word) skill set. The fact that he can play point guard with his physical tools is as unfair as anything LeBron can do, and his ability to contort his body into tight spaces and dunk from the free throw line in game settings is unparalleled in NBA history. It is extremely fortunate that he now has a real coach in Mike Budenholzer, who could figure out how to use Giannis in ways we haven't even comprehended yet. If he can do so, everybody in the NBA should be terrified. If Giannis gets any better, nobody else will win another MVP for another five years.
1. Anthony Davis (25), PF, New Orleans Pelicans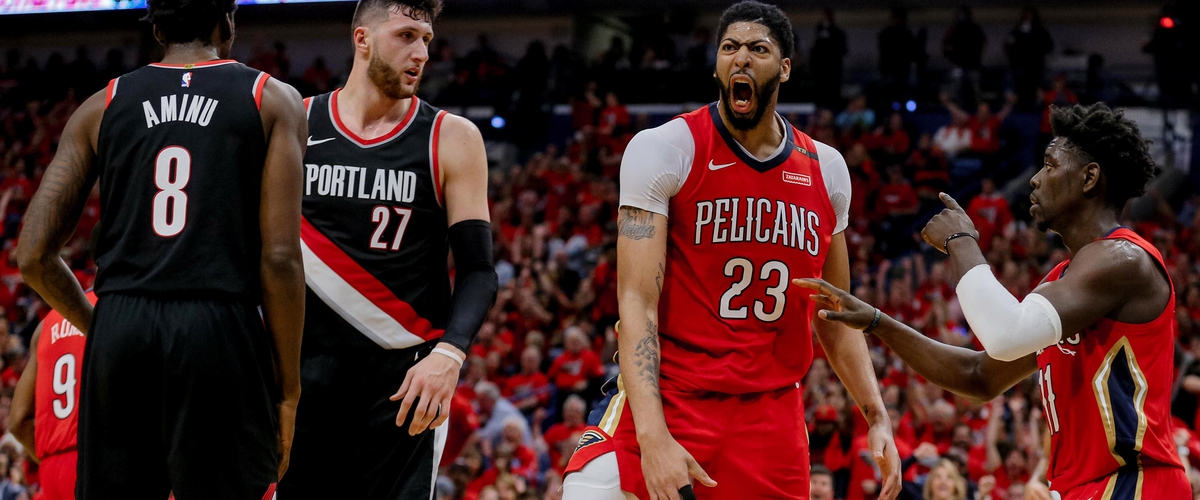 2017-18 Stats: 28.1 PPG, 11.1 RPG, 2.6 BPG, 1.5 BPG, 53.4 FG%, 28.9 PER
Finally, we've arrived at the NBA's crown jewel-in-waiting. Davis, who is somehow still only 25 years old, is a top-5 NBA player right now. The Brow has fought through myriad small injuries to become the talent that detonated in full force after his partner-in-crime DeMarcus Cousins crumpled to the ground with a ruptured Achilles tendon. Davis averaged 30.2 points and 11.9 rebounds per game in the ensuing games following Cousins' injury, and carried his team to the playoffs, through a four-game sweep of the Portland Trail Blazers, and into a second-round date with the Golden State Warriors. Nobody in the NBA marries Davis' two-way skill with his athleticism, fluidity, and intensity, and there is nobody less exciting for an opponent to see in the open court besides LeBron James. It's unclear how much more Davis can improve, but one thing's clear- in the post-LeBron, post-Warriors era, he will be the face of the NBA.
---