Meet Achanta Sharath kamal's family: The family of table tennis legends
"There may be people that have more talent then you, but there is no excuse for anyone work harder than you Do".
And for Achanta Sharath Kamal Hard work is the only key to success. Achanta Sharath kamal is a professional Indian
International table tennis player from Tamil Nadu, India. His current ITTF world ranking is 31 as of April 2020. He is the only one to win nine times senior National table tennis Championship beating kamlesh Mehta's former Arjuna Awardee record. He is 3 times Olympian since 2004 he 1st participated in Athens Summer Olympics. Hard work and dedication made Sharath Kamal to be the first Indian player to lift a mens singles trophy on the ITTF world tour and also winner of Mens singles gold at 2006 Commonwealth Games. He is undoub
tedly one of the finest ever country's table tennis athlete in history. It's very true, he is the man who holds many a first in history of Indian table tennis, winning the fourth highest civilian award i.e. Padma Shri that too being not just the first but the only one yet.
Life Is Hard Table Tennis is Harder
Many of us know who is Sharath Kamal but not aware his secrets of success, so we got him covered in an Exclusive interview with Vishal Sharma:
Tell us something about your childhood, your first coaching academy also how Table Tennis started?
I started playing at the age of 4, my father Mr A.Srinivas Rao and uncle Mr A.Muralidhar Rao were already coaching lots of National and International Champions by that time and they used to take me to that club. I used to play with elder kids but then I always had lot of interest in playing this sport and then I started playing om an everyday basis and started competing at the age of 7 or 8 in the State level tournament. By the time I reached 11th class, which is I was 14 or 15 years old, I wanted to turn professional and that's how I turned professional.
I have never played for India in junior levels, have never been in team. 1st time I played for India at age of 20 and I became International Champion at the age of 21.
Who is your first coach, tell us something about you father Mr Srinivas Rao, how he reached to Dronacharya Award and you to Padma shri?
My father Mr A.Srinivas Rao along with his brother Muralidhar Rao have been coaching lot of Champions even before I started playing like Chetan.p.Baboor who is an Arjuna Awardee and an Olympian, N R Indu who was National Champion, M.S.Mythili , Arul Selvi etc.. So, lot of players were playing with them who were doing really well, so that too is one of the main reasons why they wanted me bigger than all of them.
They said we have produced National/International players so right from the young age they used to tell me that I have to perform well in International. And than once I started winning medals at International level, I think both as player for me and coach for my father there was good recognition. Talking about Dronacharya Award, it is given only to one coach for an achievement of a player. So, that's why it was upto them either my father would applied or my uncle, eventually my father applied as he was an NIS Coach and infact he could get Dronacharya because of the performances of his players. So, As a fact my dad won Dronacharya but for me and other players who played in their club it is an award as well as big achievement for both of them.
How do you feel reaching so far in career?
I am really happy that I could play so long and really thankfull to my parents for the kind of support they gave me in my early years, also my co-players at that point of time because without them pushing me you know as much as as they were competing with me, it would not be possible that I play this sport at this level because there were years that I was not doing well in the National. But it was those players like my younger brother Rajath kamal and few more others who were working along with me and we all pushed each other and helped get better and also i would like to thank my current family that's my wife and my kids for supporting me a lot, this is one of the main reason that I am still able to play at highest level.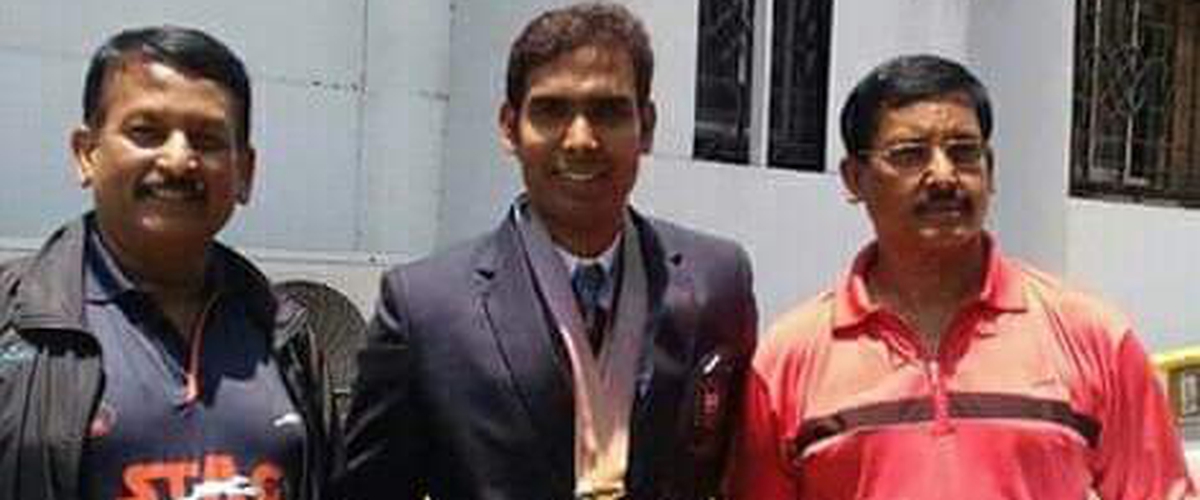 Sharath kamal with his uncle A.Muralidhar Rao(left) and father A.Srinivas Rao(right)
Future or pre Olympics plannings, how much is your training affected due to COVID-19?.
Yes it's been completely affected as you know the Olympics is been postponed and lots of International events have been cancelled by ITTF. So, really don't know how it is going to be, it's very uncertain.
Difficult times for a sportsperson, it's put you in a dilemma that when would be the next tournament gonna happen and when would be the next training sessions. All the academies and gyms are closed and there is no good player to practice and perform well in the tournament later.
Are you satisfied with your 2019 performances?
Yes, I have been doing well since the last couple of years able to maintain my rankings in the top 40. I have been shuttling between 30 and 40 whole year and ya I am really happy with how I did well. Specially in Honkong open, Korea open and Australia open. Most of the people think that I did quite well and I am happy with the way I am playing.
What do you think about Ultimate Table Tennis League, did it helped you or others reaching high in ranking?
Yes, it did help the Indian players a lot I think lot of match fights every season has helped India do well in first season Sathiyan Gnanasekaran and Manika Batra did very well and they soon started progressing in International events and same way in second season it helped Manav Thakkar and Archana Kamath and so, in 3rd season for Sutirtha Mukherjee. I think it's giving us the right kind of platform to compete against some of the best in the world because you know we are able to beat them and when you are able to beat them at UTT here, we have the right kind of confidence and we are not intimidated by the top players out there.
I Don't Only Play Table Tennis but I Live This Sports, It's In My Blood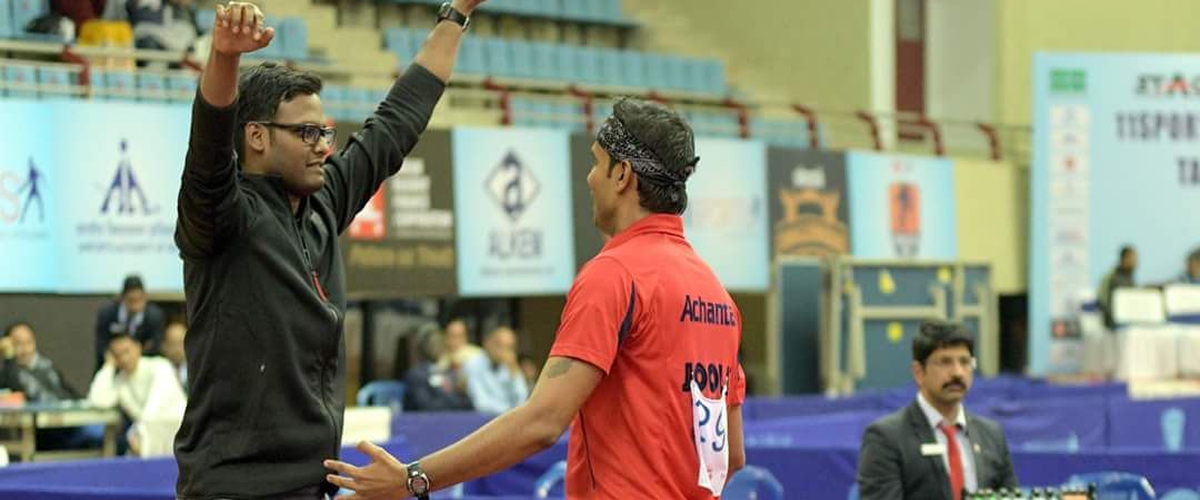 While speaking to Achanta Rajath Kamal(Sharath's younger brother), we got to know a lot about his journey
Me and my brother have three years of age difference so in under-12 Cadet category we both were doing well in the state level, Sharath was state number 1 and me as well. Tamil Nadu always had this tradition having top players, it was always meant to be top states earlier but nowadays all states are equally producing top players still Tamil Nadu , West Bengal and Maharashtra have that extra ordinary. Much before we born my dad and uncle were into coaching already so, when it comes to us there was no distraction, no other activities and not even much pressure into studies. We used to go in Academy since we were 2 to 3 years old so that's how we got interested into table tennis and we both were having similar graph those days but at same time there were not many academies as compared with today so, that time the top 6 to 8 players were from my father's Academy only.
My father has trained a lot of Legends who further producing Champions today like S.Raman(Sathiyan's coach) for about three years, B. Bhuvaneswari , Arul Selvi(Selena Selvakumar) , k.Shamini and then there are few younger paddlers like Reeth Rishiya, Prabhakaran. We have been trained in a small club with three tables only, there was not much of space , hardly 5 feet of distance in sides and back space of tables with a cemented floor as there was no mat flooring, there were not much of facilities and physical fitness equipments the only equipment those days to win was Hard work. So this is what we played in but from there only National Champions have come.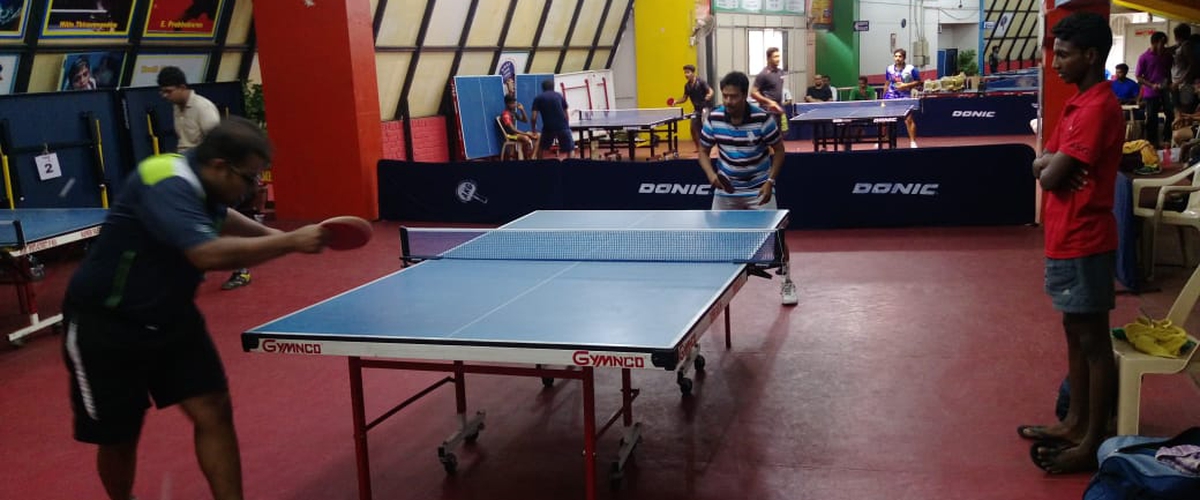 From 2004 onwards government had given us the space for the academy called AKG Academy , and that has all the facilities , world class infrastructure with the space of around 20 tables . Those days coaching was never a profession like today where it is a full time business and livelihood but earlier most of the coaches did as a part time so, my father only charge 300rs per month in 90s because they were already having the job in income tax so money was never a problem.
They both were always very much passionate and willing to teach young children. My dad played till State level, he was a defender, those days there were lot of defensive players. So as a player he has also beaten Venugopal Chandrashekhar(former 3 times National champion and an Arjuna Awardee) . He is from Andhra Pradesh that's my native place, he was playing there at State level then got a job in Income Tax and he posted in Chennai.
He also did N.I.S in 1982 but he never joined SAI authority as he was already in the job. His regret for not representing India as a player made him Dronacharya Awardee.
"when the legendary G. Jagannath suggested us why don't you do N.I.S and what you could not do in life that's in your table tennis career, you can teach other people to come up in Table Tennis. The ambitions that time me and my brother were having, we could not succeed in that so, that has driven us in coaching and produced players and that's the passion we had". Mr A. Srinivas Rao told to Doordarshan in an interview. From 1994 to 2000, He was the Indian National Table Tennis coach along with Kamlesh Mehta. In those six years , he was going everywhere along with team in the National camps, International events. It's been 31 years now he is giving coaching.
Coming back to me when we used to play there was no youth category that time also so there was under 17 category and after that straight away you need to play Seniors. when I was playing only one year I got youth and I came to finals of Youth Nationals, that's how I became Youth Nationals runner-up and Sharath didn't even played youth then. Now it's under 18 category introduced.
I was in the top 8 to 16 ranking and never represent India till I was 20 . Right from 2006 to 2008, I represented India in lot of pro tours as I was ranked between 8 to 12. In those three years I had given lot of opportunities but meanwhile I had a shoulder injury, my shoulder got dislocated.
When I consulted local doctors they said there will be an incision , they will nailed the bone and ligament together so we cannot guarantee that you can play so freely like before, so I was worried and scared as I wanted to play then I took the opinion of a physiotherapist who was renowned that time being with a cricket team he said "i will tell you some exercise for your shoulder but you could not do certain movements", so that restriction was always there for me but while playing the match you cannot control your body stances you will play to get the point in end of it.
So once I got jerk while playing and it stopped me to play further also in same year that's 2008 I completed my MBA and then my friends and relatives suggested me to do coaching in since then I have been coaching till now.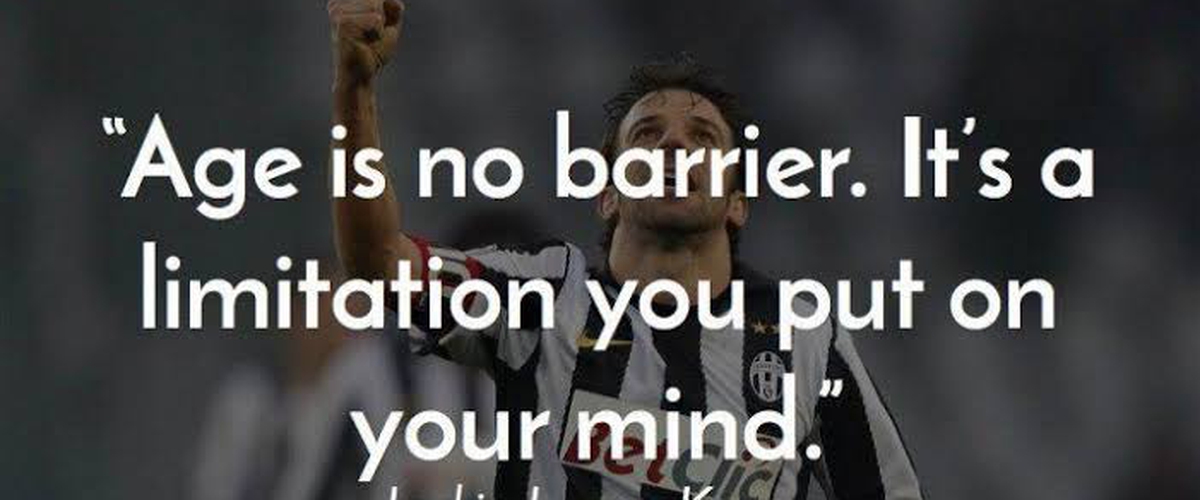 I would like to thank Sharath Kamal and his younger brother Rajath Kamal for bringing out their journey of success to us. I truly wish from core of my heart that keep bringing laurels to the country, also his father and uncle also known as Rao Brothers in the table tennis circle keep producing champions. We all are very proud for all of them in fact they made our nation feel proud.
---