Pac-12 Underrated Teams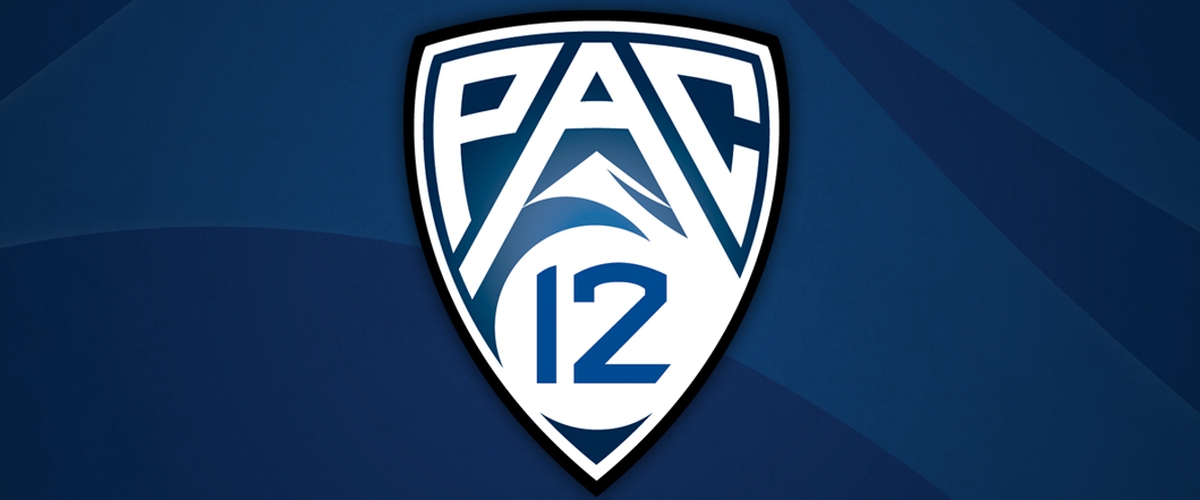 The Pac-12 failed to get a team into the playoffs and the bad losses, especially to each other, shut them out about 2 weeks before the announcement. USC, UCLA, and Washington State are the only teams replacing quarterbacks. I'm also saddened by the loss of Tyler Hilinski. It was horrible hearing about his passing.
In the North, Washington is favored to take the conference with two of their best backfields returning for their senior year (Jake Browning and Myles Gaskin). The receivers have some makeover and hopefully they can grow before conference play. Stanford and Oregon are right behind them and will try to steal their opportunity. California may have enough in their roster and experience to net them at least a bowl bid. Washington State may take a step back, but offenses under Mike Leach always find a new quarterback.
In the South, the conference is open due to USC and UCLA working in new quarterbacks. But think about the possibility of USC's JT Daniels and UCLA's Dorian Thompson-Robinson meeting up as a high school rivalry turning into a big time rivalry for the next 3 to 4 years. Just think about it. Anyway, USC is slightly favored, but don't be surprised if Utah finally gets the jump on everyone. They have enough talent to make them a viable conference title contender. Arizona has Khalil Tate and new coach Kevin Sumlin who worked with Johnny Manziel and Case Keenum in the past, but their defense has some questions. Arizona State has new coach Herm Edwards and brings a lot of energy, but can that translate into success for the Sun Devils? My South pick is Arizona because the South is wide open enough for them to snag the Top 2. My North pick is Oregon because they're the underrated team that could shake Washington and Stanford off the North title.
OREGON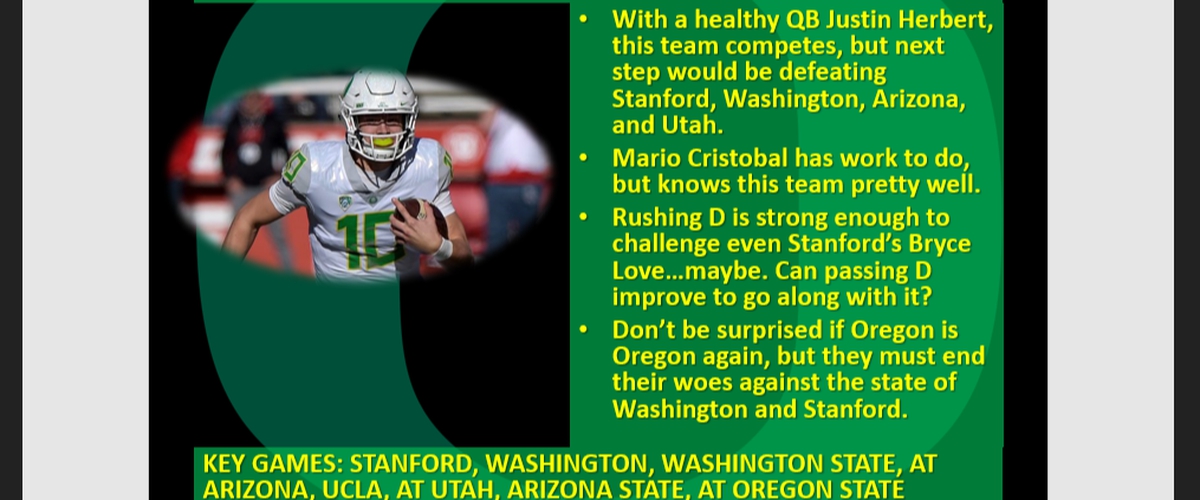 When Justin Herbert was healthy, Oregon won 6 of their 8 games. When he wasn't, they went 1-4. He definitely is the guy, but that worries the backups behind him. They lost leading rusher Royce Freeman to the NFL, but they should be fine with Tony Brooks-James. I chose Oregon because they could potentially spoil Stanford and Washington. Stanford and Washington are the favorites, but don't overlook Ducks as they seek to end their losing droughts against in the state of Washington and/or Stanford.
ARIZONA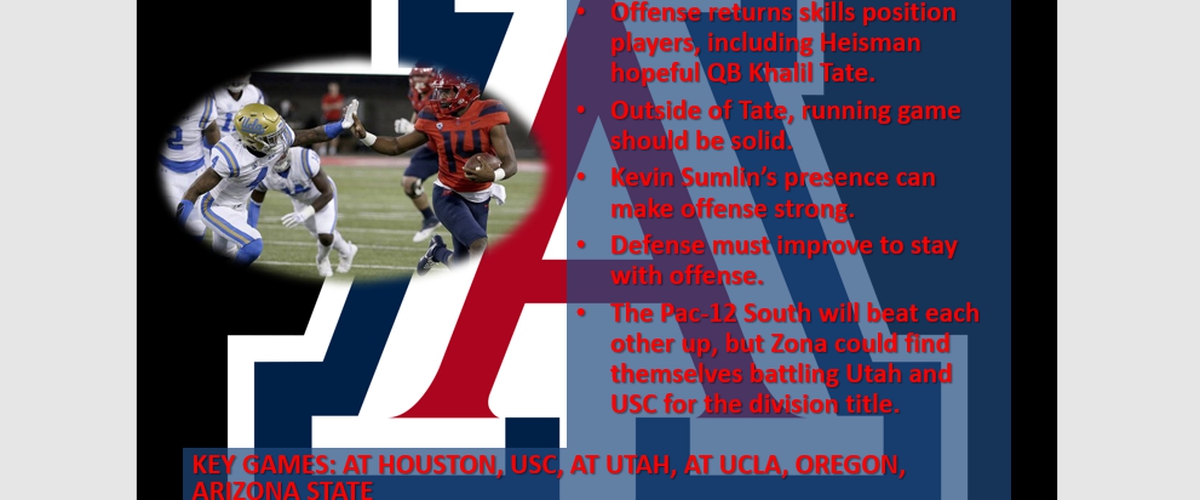 The beginning of the season had a bad outlook for Arizona after losing winnable games against Houston and Utah at home. So, Rich Rodriguez made a bold call by bringing in freshmen Khalil Tate, and he literally ran this offense. He put up Heisman stats that landed him in the spotlight for next season's race. He managed to get them 5 wins to become bowl-eligible. Now that Kevin Sumlin is Arizona's new coach, expect the offense to be better and expect Khalil Tate to add more stats to his Heisman opportunity. But can Zona win more than 7 games, can they handle another season of tough matchups in the Pac-12, and does Arizona have enough defense to keep up? Don't forget that playing at Houston won't be a cakewalk for them (but Kevin Sumlin should be familiar with it since he coached there).
---