SEC Underrated Teams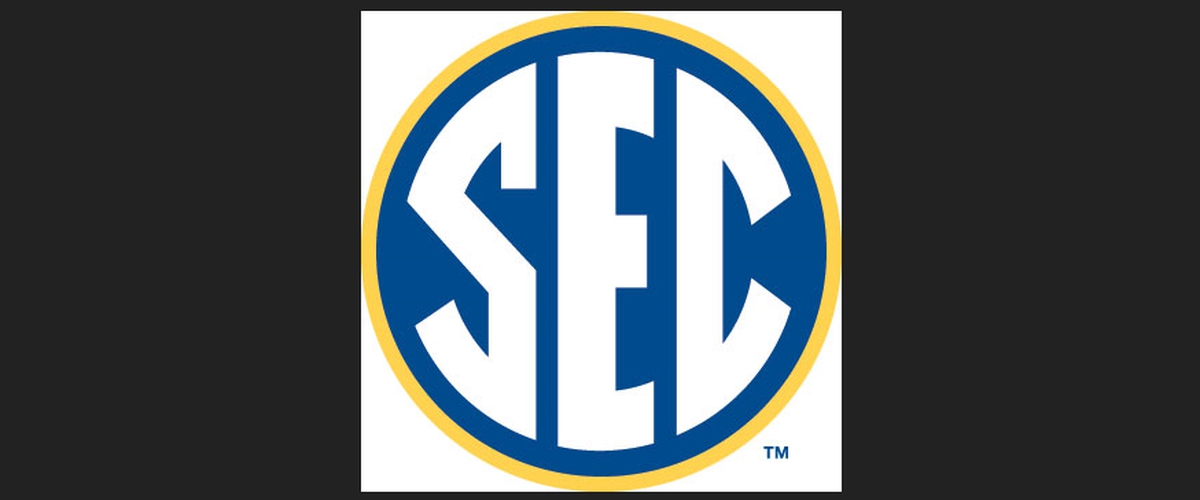 Most teams from the SEC last season had potential, including Vanderbilt, Tennessee, and Texas A&M. But the latter stages of the season affected them, including Auburn and Alabama. But in the end, it was an all SEC National Championship and Alabama triumphs again. Nick Saban dug through his offense and linebacker depth to help them pull through with what was the roughest back end of their season.
The SEC this season should be more competitive, especially in the East. Georgia is the heavy favorite, but teams looming behind them include South Carolina, Florida, and Missouri. SC and Mizzou should have a better offense and Florida coach Dan Mullen should hopefully restore his offense to what it was when he coached Tim Tebow in the past. Kentucky returns first-team All-SEC back Benny Snell Jr. and returns depth on defense, but their stats must improve. Where we are with the state of Tennessee (Tennessee and Vanderbilt) is currently unknown.
The West will be competitive as usual, but Alabama figures to run the tables once again. Auburn and Mississippi State have other plans for the Tide, but State will be without Mullen and hopefully Nick Fitzgerald is 100% healed from his gruesome ankle injury. Jimbo Fisher comes to College Station to revamp Texas A&M and make them competitive like he did with Florida State. LSU had questions at quarterback, but Joe Burrow could be the answer, but that's all up to their new offensive coordinator to make it all work. They also must search for a legit back to move on with. Ole Miss is banned from a bowl game again, but that shouldn't stop them from anchoring down other teams in the SEC. Coach Chad Morris comes in to return Arkansas to its tempo ways and hopefully make their team strong again like they were in the past.
Again, Alabama is favored to win the SEC and go to the playoffs for the 5th straight year. The SEC also could have two teams in the playoffs again. Auburn will hope to defeat the Tide back-to-back since '06 and '07. Georgia will be in the mix again but South Carolina and Florida will follow and try stealing that opportunity. My West team is Auburn because they have returning talent, including A quarterback for the 2nd straight season. My East team is Missouri because I expect them to compete and upset a couple of strong SEC opponents.
AUBURN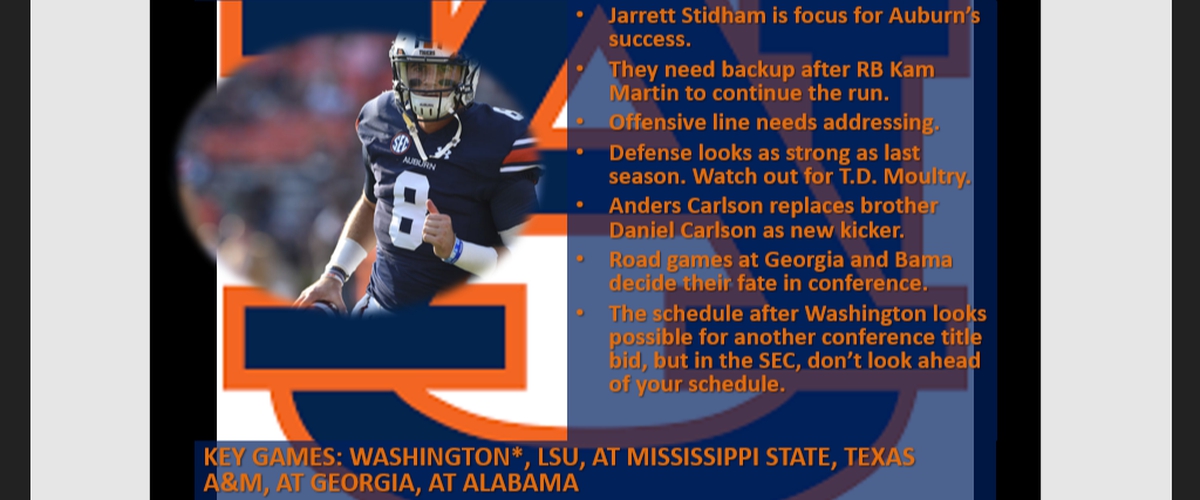 Auburn is my obvious choice but defeating Alabama twice to win the West division is like catching lightning in a bottle twice. They were one win away from winning the conference championship, go to the playoffs as #1 and be the first ever 2-loss team to do it. But they couldn't defeat Georgia the second time around, and they were upset by UCF in the Peach Bowl. Not a way to end the season, but they return key players and have talent that should step up. Having Jarrett Stidham for the 2nd season means plenty of optimism for the Tigers' offense. Their first 2 of 3 games will test how good Auburn's roster is with Kamryn Pettway and Kerryon Johnson. The last 2 of 3 games on the road at Georgia and Alabama will be Auburn's toughest task. If they can win those games and win the conference championship, Auburn is the likely favorite in the playoffs.
MISSOURI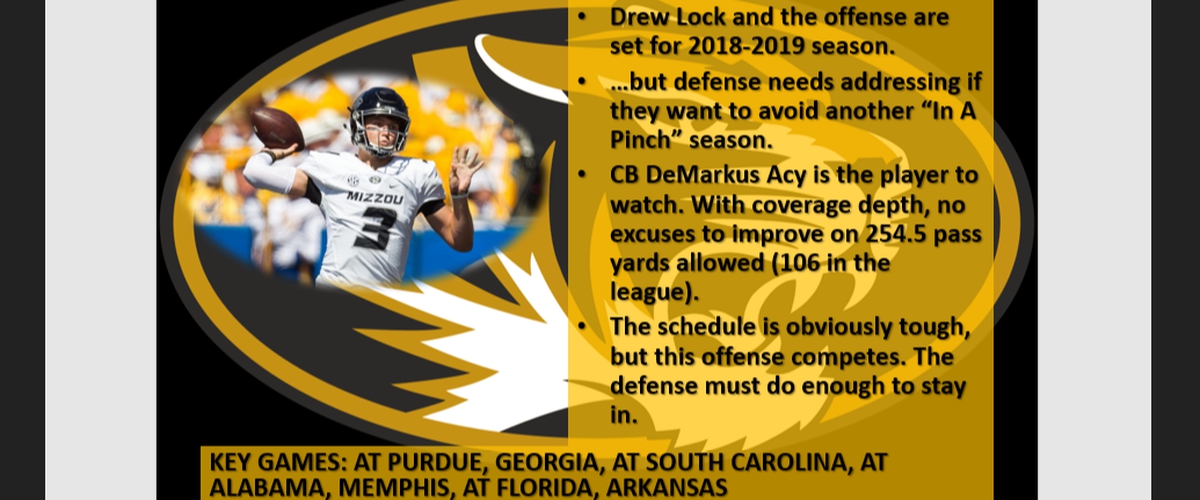 I can't tell whether to put Missouri is a risky pick or just a pick to watch out for. Last season had less to no chance of them going anywhere for the 3rd straight year after starting 1-5 and scoring less than 34 points. But desperation kicked in and the Tigers won their last 6 games and went bowling after a 2-year absence. Their last 6 wins (including the first game) came from scoring 45 plus points, especially against Florida. Drew Lock chose to come back his senior year and hopefully lead them to another bowl game and win to end his career. Missouri has key players returning and their offense should be even more lethal. 6 to 7 wins is possible and an upset against Georgia or at Florida is possible.
---