Week 8 Picks
Welcome to You Can Bet On That! This blog is dedicated to helping you successfully wager on Pac-12 Football. As a disclaimer, *I personally don't wager actual money on these games*. The Pac-12 Conference has proven difficult to figure out this year, aside from Washington. That points to a high level of competition among the other teams looking to separate from the pack (no pun intended). This week's schedule kicks off in Week 8 with Oregon at Cal tonight on ESPN at 7:30 P.M.

Oregon at Cal (-1) (O/U: 89.5)
Oregon comes into this matchup having won the past 7 meetings between the teams. Most recently, the Ducks defeated Cal in Eugene 45-28 last season. Expect a shootout in this one with very little defense. Oregon has surrendered 162 points in their last three games while the Bears have given up 40 points or more in four games this year. Oregon will look to get RB Royce Freeman going early and often: Freeman has 292 yards on the ground against Cal the past two seasons. Oregon has also led the Pac-12 in rushing for the past 10 seasons. Cal ranks 127th out of 128 FBS schools in rushing defense, allowing 283.8 yards per game. The Ducks aren't far behind, letting offenses trample them for 238 yards per game this season. The stars are aligning for a lot of yards, which usually translates to a lot of points. Cal is 7-1 at home the past two seasons, picking up wins against Texas and Utah, both ranked in the Top-25 at the time. There will be a lot of big plays in this one, as Cal has given up 85 plays of over 10 yards or more and the Ducks have yielded 35 touchdowns in their past six games. Cal has yet to beat Oregon under Coach Sonny Dykes, but they buck the trend this year. In a game where offense will triumph, I think Cal's defense will step up with the game on the line. Cal picks up the victory 45-38.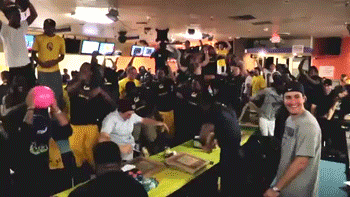 This could be the scene in Berkeley if Cal defeats Oregon for the first time in 8 tries.
Now for tomorrow's slate of games:
Washington State (-7.5) (O/U: 64) at Arizona State
Washington State comes into this one on a four game winning streak. They have been one of the biggest surprises in the Pac-12 this season, along with Colorado. A big matchup with Washington for the Apple Cup could shift the entire balance of the Pac-12. The Sun Devils started the season 4-0, but that seems like a distant memory after losing two of their last three. They expected a boost when QB Manny Wilkins returned last week, but he struggled to complete passes, going 13-35 against Colorado. Wazzu's defense has stepped up in the past few weeks, allowing less than 100 yards on the ground in three of the past four games. I don't see their defense excelling in this track meet. Against the worst pass defense in the FBS, look for Washington State's 7th-ranked passing offense to drive up the score. The over/under of 64 stands no chance in what will be a shootout. Washington State beats Arizona State 41-35.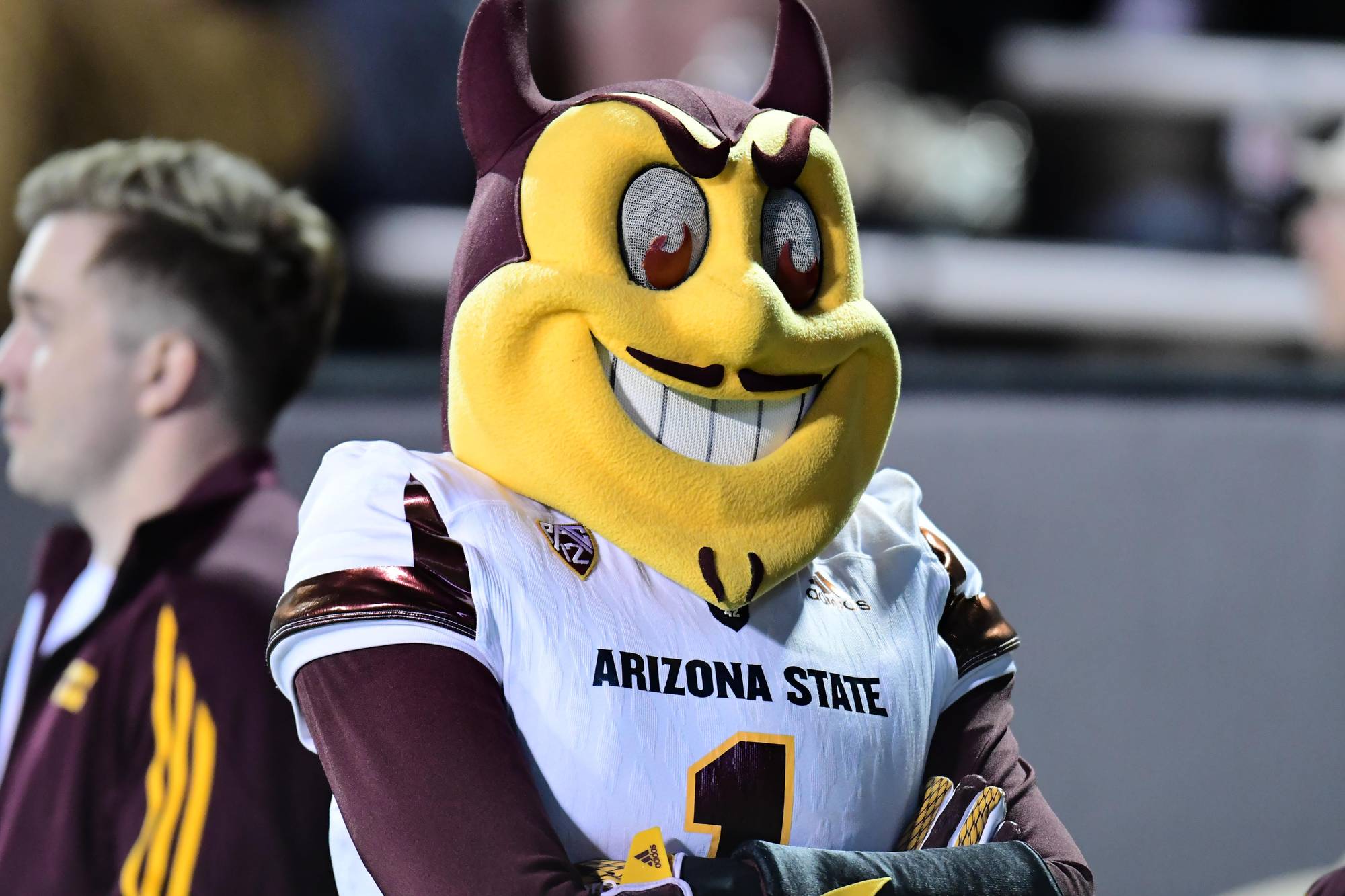 Sparky won't be smiling on Saturday. Photo Courtesy of Ron Chenoy- USA TODAY Sports
Ron Chenoy-USA TODAY Sports
Colorado at Stanford (-1.5) (O/U: 49.5)
This is the most difficult game of the week to pick. Colorado has been playing inspired football that has surprised many, while Stanford has faltered and gotten away from their ground-and-pound mentality. The Buffaloes can't afford to lose this game if they wish to contend for the Pac-12 Championship. Stanford is looking to make a statement after suffering two blowout losses to Washington and Washington State, respectively. Many considered Stanford's blowout win over Colorado last year as Christian McCaffrey's coming out party for the Heisman Trophy. With McCaffrey's injury status being kept in the dark, I expect backup Bryce Love to have a showcase game where he goes over 100 yards rushing. Stanford is nursing a wounded secondary, something that was exposed in their past two games. That may be the story of this game as Colorado has arguably the deepest receiving core in the Pac-12. Bryce Bobo, Jay MacIntyre, Devin Ross, and Shay Fields have combined for 114 catches, 12 touchdowns, and nearly 1600 yards. The Cardinal lose again and their championship defense falls short. Colorado takes down Stanford, 28-21.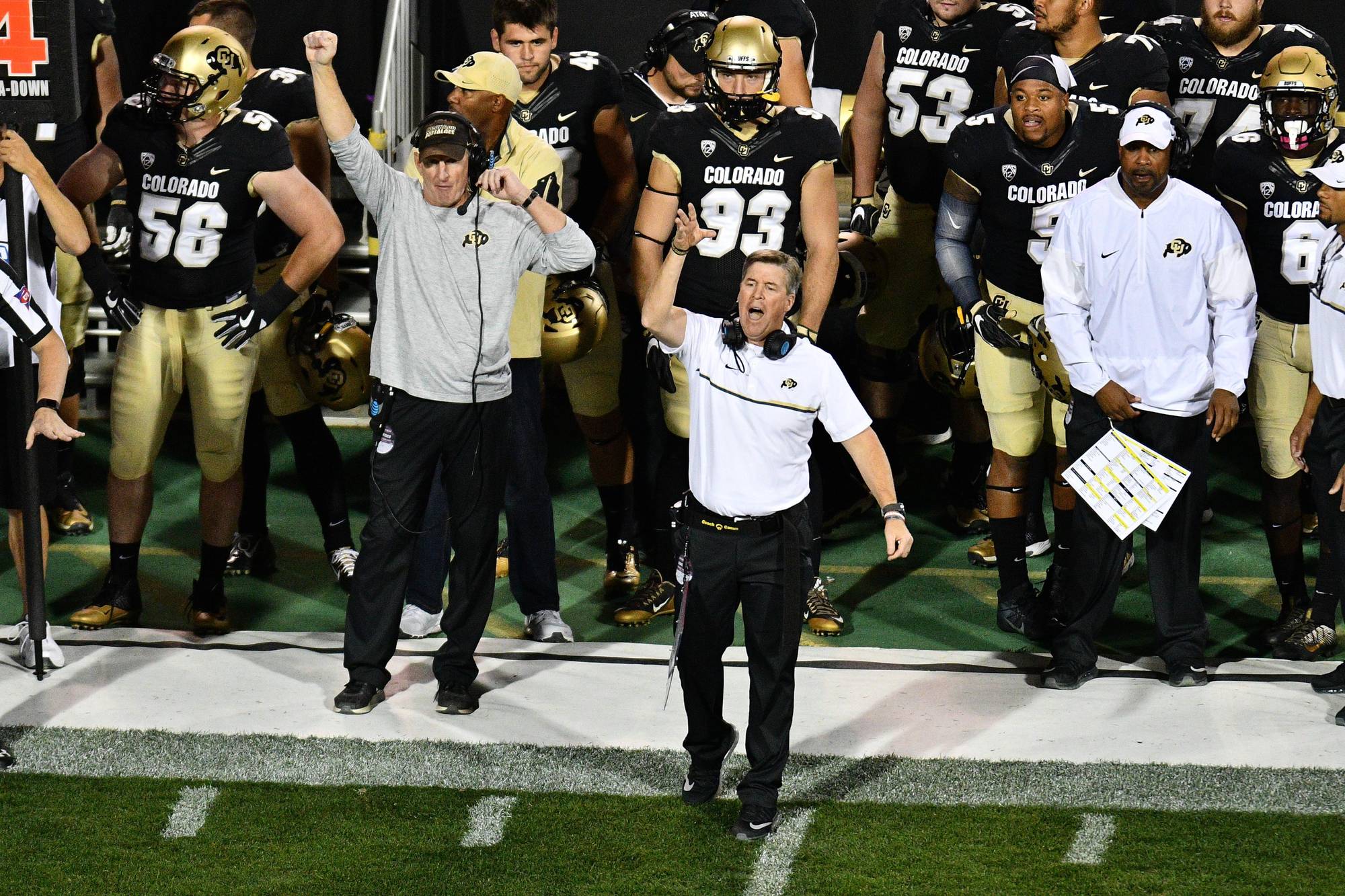 Coach Mike MacIntyre has Colorado in contention for a Pac-12 Championship berth. Photo Courtesy of Ron Chenoy-USA TODAY Sports
Ron Chenoy-USA TODAY Sports
Oregon State at #5 Washington (-36.5!) (O/U: 53)
The only chance Oregon State stands in this game is if the #5 Huskies forget to show up until halftime. The Huskies are fresh, coming off a bye after destroying Oregon 70-21. Washington's QB, Jake Browning, is a Heisman candidate who enjoys flying under the radar and into the endzone. Browning is looking to add onto his most recent conquest, a seven touchdown performance against the Ducks. Running back Miles Gaskin had 197 yards and a touchdowns on 16 carries against Oregon, and look for him to have another huge day. But Washington is not all offense, ranking #18 in the nation defensively. Oregon State lost starting QB Darelle Garretson to a broken ankle against Utah and backup Conor Blount is out with a left knee injury. This leaves the Beavers having to throw redshirt sophomore Marcus McMaryion to the dogs, specifically Huskies in this case. The Huskies continue their Pac-12 demolition, winning 49-10.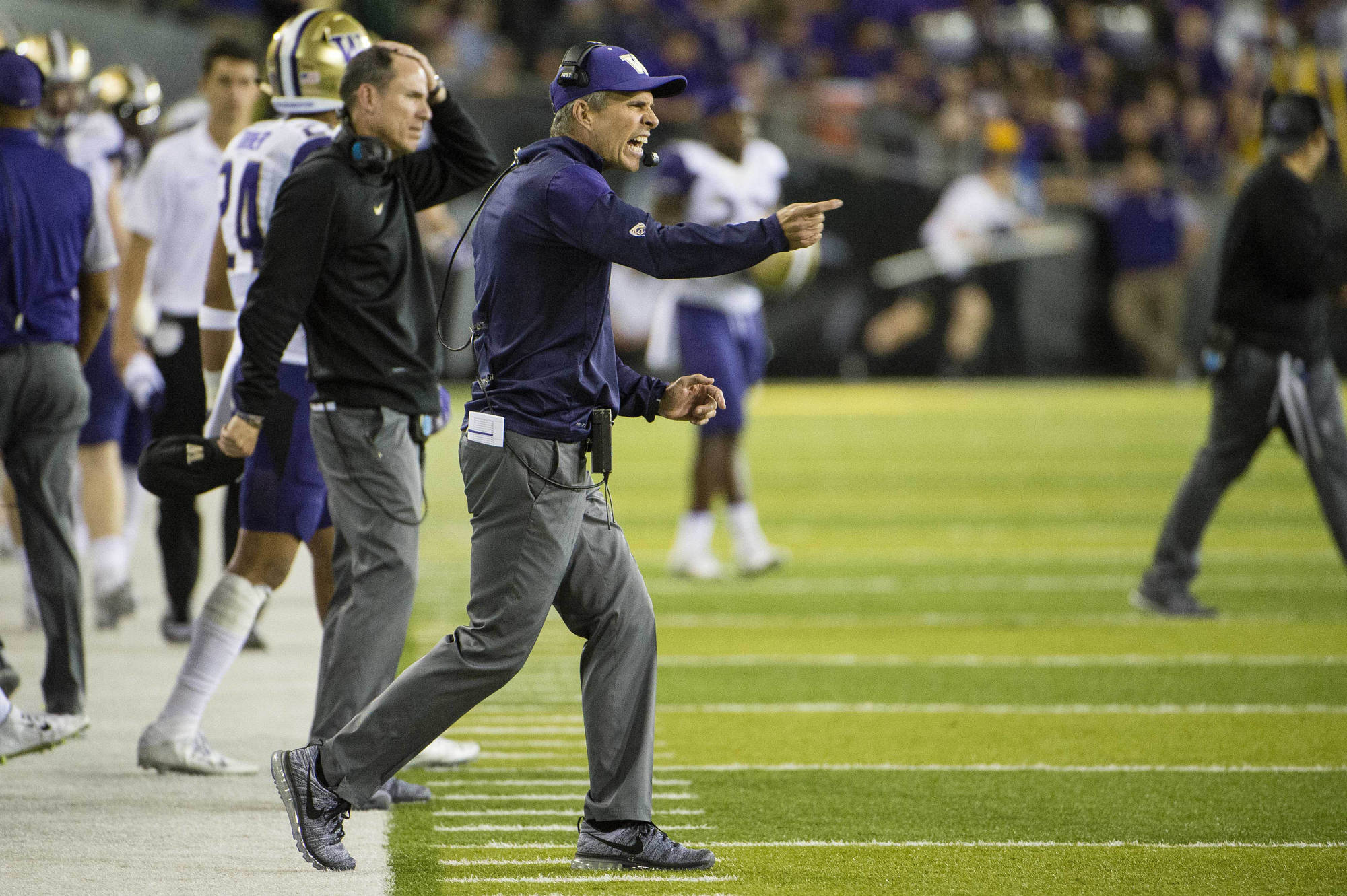 Coach Chris Petersen has the Huskies dreaming of a National Championship. Photo Courtesy of Troy Wayrynen-USA TODAY Sports
Troy Wayrynen-USA TODAY Sports
#19 Utah at UCLA (-7) (O/U: 46)
Utah should feel disrespected by the point spread. They are ranked and 6-1 heading into Pasadena to play the 3-4 UCLA Bruins. It is true that Utah has played down to some of the lower-tier Pac-12 schools, narrowly beating Arizona and Oregon State. UCLA has a Top-20 defense that may stifle the Utes offensive attack. If Utah can avoid turning the ball over, they should have success with the read-option with QB Troy Williams. UCLA has left the Utes wondering who they will be facing at QB, as they are yet to name a starting quarterback.The Utes are missing talented defensive back Marcus Williams, who leads the Pac-12 in interceptions and is Pro Football Focus' top-graded safety in the nation. Utah's defense still has plenty of star power with top-prospect Lowell Lotulelei anchoring the defensive line. This will be a hard-hitting, grind-it-out game that will leave players a little more sore the following day. Utah ranks 112 out of 128 FBS teams in red-zone efficiency, something that must change if they are serious contenders this season. The Utes lead the nation in time of possession, holding the ball for an average of 35 minutes and 48 seconds per game. If they can control the ball and convert in the red zone, the Utes will wear down UCLA's Top-20 defense. Utah wins in a low-scoring affair, 21-17.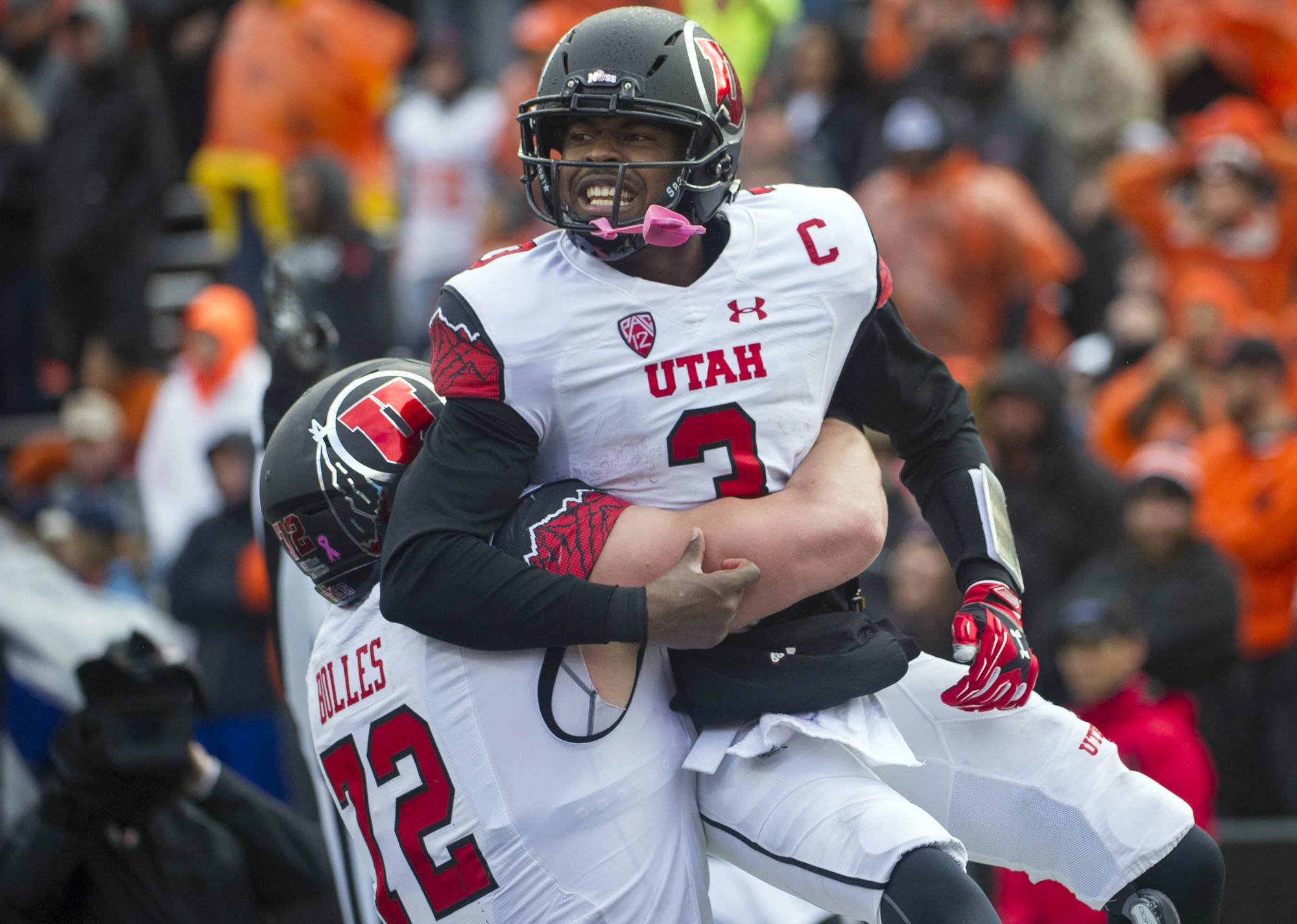 Troy Williams is a huge reason the Utes have experienced success this year. Photo Courtesy of Cole Elsasser-USA TODAY Sports
Cole Elsasser-USA TODAY Sports
Teams on bye: Arizona, USC.
That's all for this week. I will post a recap on Monday to show where I went right and what I got completely wrong. Feel free to leave critiques/comments, I will get back to you.
*All lines and over/under taken from www.vegasinsider.com*
---