Arizona State Upsets No.6 Oregon, What does it mean for the CFP.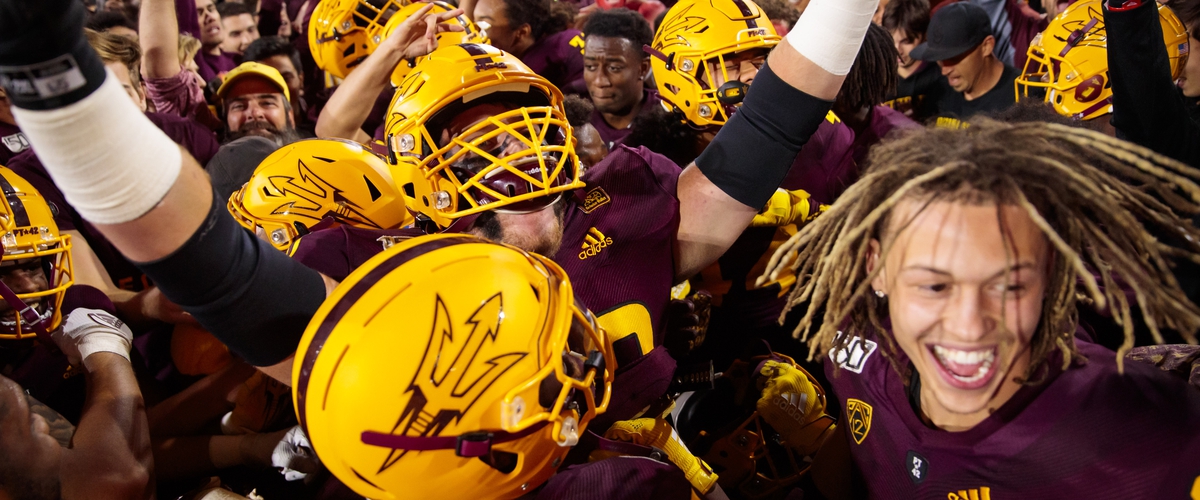 The Arizona State Sun Devils, just threw a monkey wrench into the College Football Playoff race by upsetting the No.6 Oregon Ducks 31-28.
Oregon's chances of the National Championship is now gone, so what happened in the game on Saturday night, I have the answers for you.
First and foremost, Oregon quarterback Justin Herbert was picked off twice in the game, second, The Sun Devils were 5-5 so they had nothing to lose. Third, Arizona State quarterback Jayden Daniels threw for over 400 yards.
That's the basic answers, but I have some stars form both teams that did stick out in this upset victory.
The Arizona State stars of the game..
Jayden Daniels, 22/32 for 408 yards and three touchdowns, he also completed his first 12 passes.
Eno Benjamin, he carried the ball 31 times for 114 yards, I know he didn't score but he was a big help.
Brandon Aiyulo, he had seven catches for 161 yards and one touchdown.
Frank Darby, he had four big catches for 125 yards and two touchdowns.
So their are your stars of the game..
There were some other things that did stick out in the stats battle and when you see how Arizona State pulled of the upset you'll be thinking WOW!!!!!.
1st Downs
Arizona State 22
Oregon 25
Total Yards
Arizona State 535
Oregon 458
Penalties
Oregon 3-21
Arizona State 12-90
Possession
Arizona State 36:25
Oregon 23:07
Those are just some of the numbers that stuck out in the game. Yes Justin Herbert was picked off twice and those were the two costly turnovers for the Ducks in the game on Saturday.
Arizona State head coach Herm Edwards said after the game," I am so proud of my team for the effort we gave tonight. We lost four straight and we did not lead in any of those games. Man did it feel good to upset Oregon tonight.
So what does this all mean in the short term, Oregon is out of the College Football Playoff race. Arizona State on the other hand becomes bowl eligible with this upset victory.
What Does this now mean for the College Football Playoff..
Here's my take..
First to start off with all teams in the top four won LSU, Ohio State, Clemson and Georgia. Penn State and Oregon are now eliminated. So now who can possibly jump in and take it away, I have a few teams in mind.
Oklahoma: I know it sounds crazy, but now with Penn State and Oregon losing and with the Sooners 28-24 victory over TCU it might make the case for them. But the only issue I have with Oklahoma is they like to live in the danger zone. In their last three victories it has comedown to one possession or one huge stop at the end of the game. Iowa State, they almost threw it away, Baylor, they had to comeback down 25 to win it with a late game INT. And now TCU. The Sooners need to start getting huge wins, But it's not going to be easy because they have Oklahoma State coming up and they face Baylor for the BIG-12 Championship after that. So This goes to the Sooners, stop playing in the danger zone.
Minnesota: They have only one loss to Iowa one week ago. But after a 38-22 victory over Northwestern you're thinking they're in the drivers seat. I hope you have not forgotten the fact that the play Wisconsin next Saturday and the winner will play Ohio State for the BIG-10 Championship. The Badgers are coming off of a win over Purdue and with this game being a rivalry game it's going to be fun to watch next Saturday. PJ Fleck and company better be ready for a battle because it's not just a rivalry game there's a lot more at stake this time around.
Utah: The Utes still have a chance of jumping in and taking it away. But the loss by Oregon Hurt the PAC-12's chances. But the Utes could face Oregon and yes the Ducks could play spoiler and I will say this about the PAC-12 it's been a crazy year. Nobody's talked about Utah, Maybe it's time to start talking about the Utes because they could be in the drivers seat to jump in and take it away.
Alabama: I know Tua's hurt but he did play some. But the issue with Alabama they have one bad loss to LSU. And on top of that they have Auburn Next Saturday and they had an easy time with Samford. The Iron Bowl could come down to two things. No.1 Does Alabama climb back into the playoff race, or No.2 does Auburn end Alabama's dynasty next Saturday, we will see what happens. But there's another scenario for Alabama and that is LSU beating Georgia for the SEC Crown on December 7th.
Bottom Line..
---