Ohio State is atop of the CFP Rankings Going into rivalry Saturday.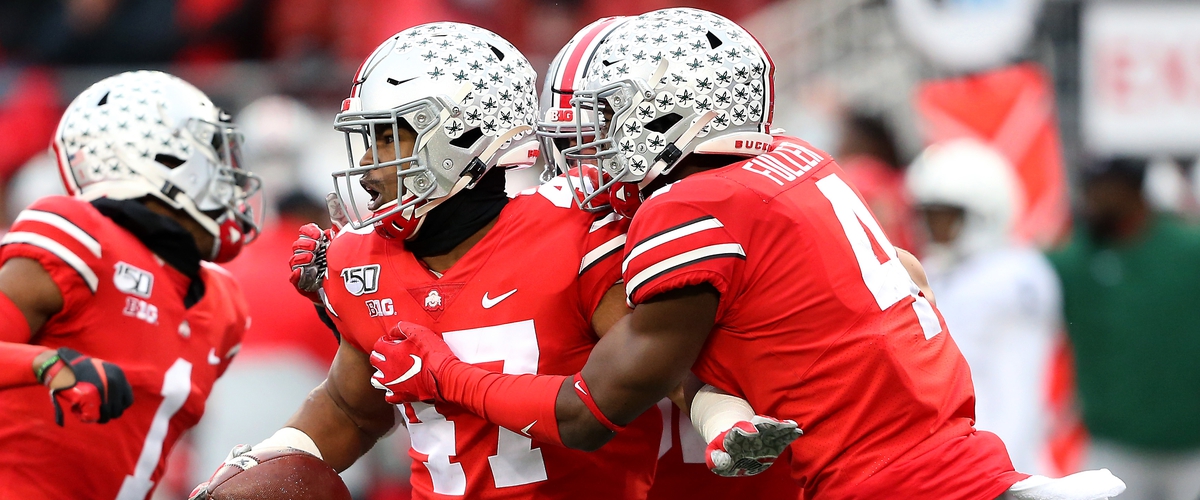 The Ohio State Buckeyes edged out LSU for the top spot in the College Football Playoff Rankings. Ohio State's huge win over Penn State was the key factor in the committee selecting the Buckeyes as No.1.
This is how the top-10 looks going into Saturday.
No.1 Ohio State.
No.2 LSU.
No.3 Clemson.
No.4 Georgia.
No.5 Alabama.
No.6 Utah.
No.7 Oklahoma.
No.8 Minnesota.
No.9 Baylor.
No.10 Penn State.
This Saturday is rivalry Saturday and there's more than just bragging rights on the line for a few teams.
No.1 Ohio State Vs No.13 Michigan: This is an opportunity for the Wolverines to spoil the Party. I know Jim Harbaugh has not beaten Ohio State in his time as head coach. The Wolverines Offense has gotten better in the past few weeks. And yes the Game is in Ann Arbor so could Michigan spoil the party. But don't forget Ohio State is averaging almost 40 points per game. And Justin Fields is the next big thing at Ohio State.
No.5 Alabama Vs No.15 Auburn: This year the Iron Bowl is going to be huge for somebody. Can Alabama beat Auburn without Tua in the lineup or Auburn knock Alabama right out of the College Football Playoff race. That is a very good possibility. Auburn head coach Gus Malzhan has already told his players what's at stake. Alabama head coach Nick Saban has already decided to start Mac Jones on Saturday against Auburn. The Tigers have nothing to lose and that's something that Alabama better think about going into Saturday.
No.7 Oklahoma Vs No.21 Oklahoma State: The Sooners are living dangerously, they have struggled in their last few games and it's not been pretty. Sooners head Lincoln Riley has told his team that this is it, the rivalry is here and the Cowboys are looking to pounce. Oklahoma State head coach Mike Gundy has said he's ready for the Sooners and they're looking forward to ending The Sooners dream of the National Championship.
No.8 Minnesota Vs No.12 Wisconsin: There's not much to say about this rivalry game except the BIG-10 West will be won on Saturday. The Winner will be in the BIG-10 Championship game on December 7th against Ohio State. Minnesota head coach PJ Fleck said that he knows what's at stake, but he also told the media that he's concerned about if his defense can stop Jonathan Taylor. Coach Fleck also has told his players, " Our road to the Promise land is in reach, one more win we're going to Indy." Wisconsin head coach Paul Chryst has said that we can spoil the Party for the Gophers and get our revenge on Ohio State for earlier in the season. Like I said everybody, the BIG-10 West will be won on Saturday.
Bottom Line.
---