Rivalry Saturday In College Football Was Something to Remember.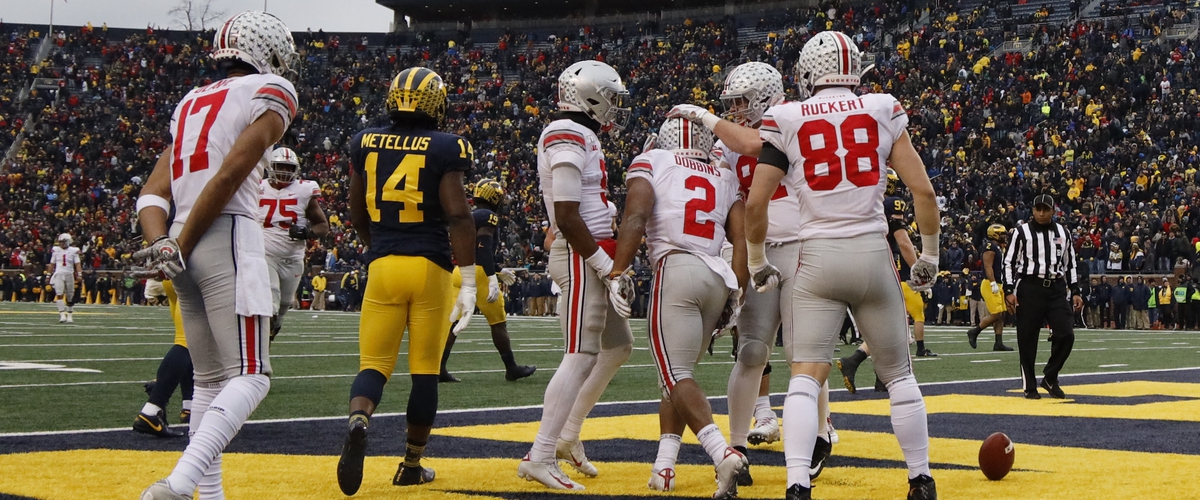 Rivalry Saturday 2019 in now behind us and what do we know for sure. Well for one thing the top-4 in the CFP will stay the same.
No.1 Ohio State.
No.2 LSU.
No.3 Clemson.
No.4 Georgia.
Some of the other things that I learned are Alabama will not be in the College Football Playoff. The next thing I learned is Jim Harbaugh will be fired as coach of Michigan after this performance. The Third thing I learned was Auburn is a team that knows how to spoil the party.
Ohio State is the best team in College Football..
Ohio State is one very dangerous team right now and it was proven on both defense and offense on Saturday. Justin Fields and J.K. Dobbins combined for eight touchdowns in the game. Fields, Threw for 302 yards as Dobbins carried the ball 31 times for 211 yards. The Buckeye Defense was on despite Chase Young did not have a sack in the game. The Buckeye Defense held the Wolverines to 91 yards rushing and Michigan only went 2-13 on 3rd down. The Buckeyes did have 9 TFL and only two sacks. The Sacks were registered by Davon Hamilton and Jonathon Cooper.
The Buckeyes will face the Wisconsin Badgers in a rematch form earlier this season in the BIG-10 Championship Game on Saturday Night. Ohio State held Jonathon Taylor in check the last time out and Jack Coan was not a factor. The Buckeyes will have to repeat the last performance they gave back earlier in the season if they want to win the BIG-10 Championship and possibly keep their National Title hopes alive.
Alabama Slept on Auburn and it cost them dearly..
Alabama was thinking ahead to see if they would make the College Football Playoff. I said it the other day, Don't sleep on Auburn because they had nothing to lose and everybody at Jordan-Hare knew it. Alabama made some costly mistakes that hurt them. 1st off, Alabama QB Mac Jones is no Tua Tagavoila he did have 335 yards passing and four touchdowns, but he was picked off twice and both picks resulted in Pick-Six's. Placekicker Joseph Bulovas, missed potential game tying field goal with just a few seconds left in the ballgame.
Bo Nix was not spectacular but he was good though. Nix, went 15-30 for 173 yards and one touchdown and he also had 6 carries for 44 yards and ran for a touchdown. Bio Nix's support came form the defense because of the two Pick-Six's. Zakoby McClain had the first pick-six as he ran it back 100 yards for this first touchdown. Smoke Monday had the other pick-six as he returned it 29 yards for a touchdown.
The Crimson Tide will find themselves on the outside looking in as far as the College Football Playoff goes because of the two bad losses to LSU and Auburn. Alabama did not play anybody and their only quality win was against Texas A&M other than that Alabama did not impress me at all. So I will say it, Yes Alabama deserves to be out after losing to Auburn on Saturday. So if I was Nick Saban I would be mad about the Crimson Tide's performance late in the game and about the way Mac Jones threw the game away by giving up two pick-six's.
Jim Harbaugh will be out after the loss in the Big House to Ohio State..
Jim Harbaugh has become a joke at Michigan. Since his arrival the Wolverines have struggled in the big games. Harbaugh has yet to beat Ohio State. I remember when he arrived at Michigan he said we will be Ohio State. Well Jimmy Boy you have yet to do that. His wins between Michigan State and Ohio State have come against poor Michigan State teams. One year ago Michigan was in the driver seat No.4 in the country, it was Ohio State Vs the World last year. Michigan was in control of their own destiny and what happened, they blew it by losing 62-39 in the BIG HOUSE. And if that wasn't bad enough Michigan lost their bowl game to Florida 44-15. Harbaugh should have been fired last year, but he was back only this time he wanted the BIG-10 and National Championship. Look at what happened this time, Michigan lost to Wisconsin, Penn State and Ohio State.
So yes in my opinion Jim Harbaugh will be fired as coach of the Michigan Wolverines if Michigan losses their bowl game. Let's face it the alumni are tied of seeing Michigan lose to Ohio State every year in the last 10 years Michigan has only beaten Ohio State once, that was back in 2011 And Harbaugh has become the biggest joke in College Football that I have seen in years.
I admit, I am a Ohio State fan but I know what losing to Michigan is like every year, all you need to know is John Cooper. But the Michigan student body, the alumni and the university I'm sure has had enough of losing to Ohio State every year. There are Ohio State fans that have said keep Harbaugh, but mark my words he will be fired at the end of the season if they lose their bowl game.
Bottom Line..
---