Baker Mayfield Really Needs To Keep His Mouth Shut.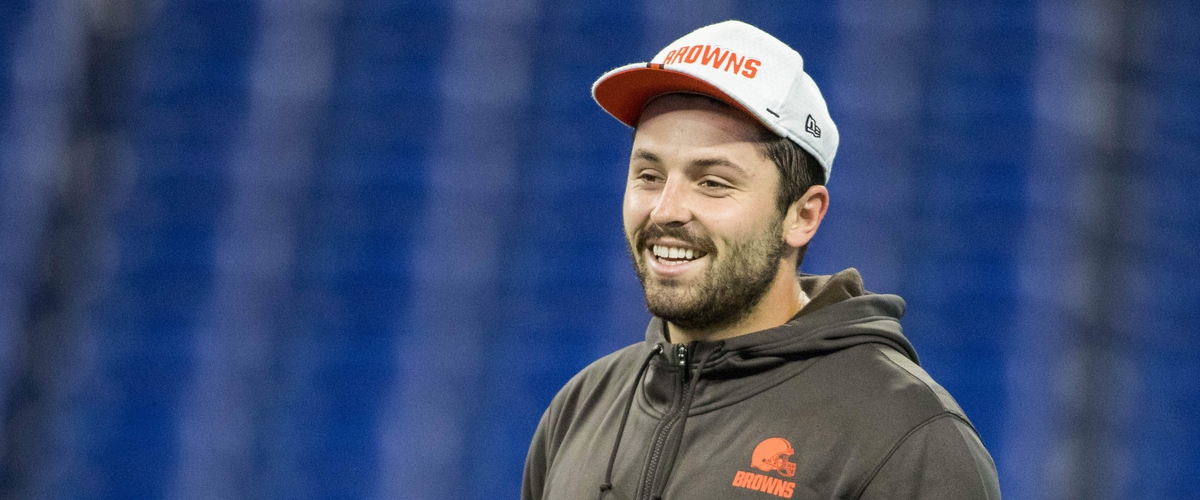 Baker Mayfield, Really Needs To Learn How To Keep His Mouth Shut And Mind His Own Business. Mayfield Did a Wide-Ranging Interview With GQ On Tuesday And He Criticized The New York Giants For Picking Daniel Jones No.6 In This Past April's NFL Draft.
Mayfield Said In The Interview " I Don't Have Any Ide Why The New York Giants Would Draft a Loser Like Jones. He Was Horrible In College, He Played For The Duke Blue Devils For Crying Out Loud. So In My Opinion The Giants Are Going To Be Losers Again."
Daniel Jones Record At Duke Was 17-19 In His Playing Days At Duke University.Later On Tuesday Mayfield Clarified His Comments In An Instagram Post. And Daniel Jones Is a "Great Player" And a Good Person.
Daniel Jones Found Out About The Interview And It Didn't Seem To Bother Him At All. Daniel Jones Said To Reporters Afterwards.. " I'm Not To Worried About Baker Mayfield. I Have My Own Issues With The New York Giants And Getting Them Back On The Winning Track."
Baker Mayfield Is No Stranger To Trash Talk..
September 2017: Baker Mayfield Planted The OU Flag At Midfield After Oklahoma's Win Over Ohio State In Columbus. Mayfield Was Asked To Apologize For The Incident And Gave a No Apology For What He Did.
November 2017: He Directed a Groin Grab At The Kansas Sideline After a Pregame Incident In Which The Kansas Captain Refused To Shake Mayfield's Hand. Mayfield Lost His Captain Stripes For Senior Day And Was Suspended For The First Half Of The Game Against Oklahoma State.
November 2018: He Called Ex-Browns Coach Hue Jackson "Fake" And He Ignored Jackson After The Browns Win Over The Bengals.
June 2019: He Gave Duke Johnson Grief Over His Request To Be Traded, Buy Saying Either You're On This Trian Or You're Not.
June 2019: Mayfield Antagonized Texas Quarterback Sam Ehlinger By Saying He's The Worst Quarterback In The State Of Texas And Mayfield Added More Fuel To The Fire In The Texas-Oklahoma Rivalry.
July 2019: Mayfield Defended Odell Beckham Jr By Ripping Giants Fans After Beckham Said The Giants Fans Turned Their Backs On Him.
I Have Some News For Baker Mayfield, And This Includes Daniel Jones. I Grant You That Daniel Jones Went No.6 In The Draft. But Let's Go Back To 2018 When Mayfield Was Not The Consensus No.1 Pick Despite Being 34-6 At Oklahoma. He Had a Near .500 With The Browns After The Browns Went 0-16 One Year Earlier.
But I Have News For You Baker Mayfield, Daniel Jones Was 17-19 In College But I Have Two Other NFL Stars That Had a So-So Career In College And Have Had Success In The NFL.
John Elway: Elway Won 2 Super-Bowls And an NFL MVP And Had An NFL Hall Of Fame Career. He Was Only 15-18 At Stanford In His College Days.
Patrick Mahomes: He Is The Reigning NFL MVP And He Took The Kansas City Chiefs To The AFC Championship Game. He Was Only 13-16 In His College Days At Texas Tech.
Here's My Take..
Baker Mayfield, Needs To Shut Up And Mind His Own Business. Right Now Somebody From The Browns Needs To Pull Him Aside And Say You Need To Mind Your Own Business. I Mean For Crying Out Loud He's Poking His Nose Where It Doesn't Belong And He's Acting Like He Was When He Was At Oklahoma. If The Browns Face The Giants You Better Believe That Mayfield Will Have a Target On Him Because Some Of The Giants Players Have Short Memories And They Will Not Think Twice About Slamming Mayfield To The Ground And Odell Beckham Jr, Will Also Have a Target On Him. And Some Of The Antics That He Tried In College Won't Get Him Far In The League. Mayfield Needs To Worry About The Browns Upcoming Season And Maybe He'll Get The Browns To The Postseason. But Right Now Mayfield Needs To Shut-Up And Mind His Own Business.
And One Last Thing..
Hey Baker Mayfield You're Not At Oklahoma Anymore. IT'S TIME FOR YOU TO GROW UP AND ACT LIKE A PLAYER IN THE NFL.
Bottom Line
---