Andrew Luck Suddenly Announces His Retirement.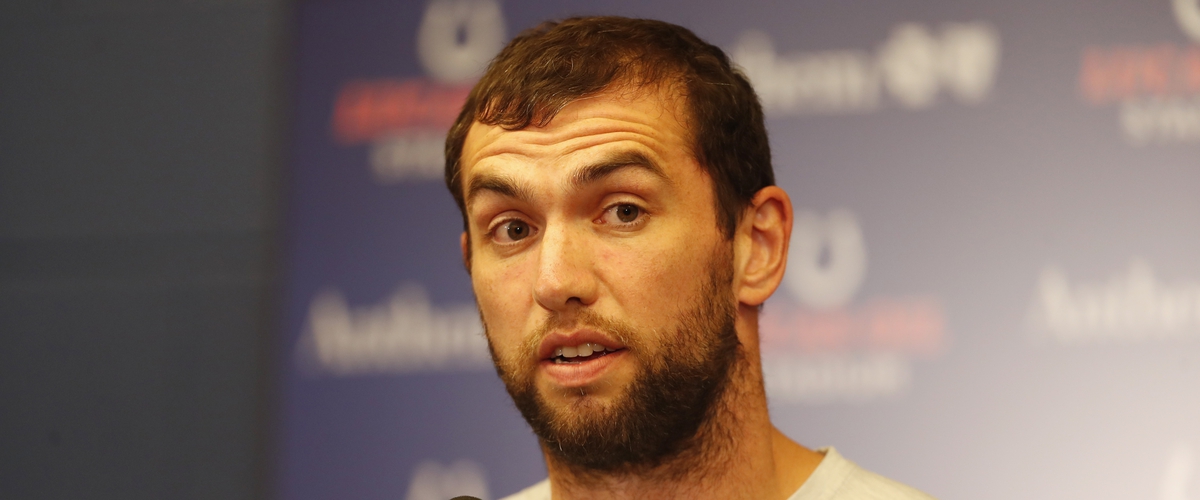 Andrew Luck, Shocked The Sports World When He Announced His Retirement From The NFL. The Indianapolis Colts Quarterback Had a Meeting With Colts Owner Jim Irsay, And It Was Decided That Luck Needed To Retire Form The Game Football.
Andrew Luck, Who Turns 30 On September 12, Said " I Hurt, And I Am Tired Of Being Hurt All Of The Time." The Colts Played Their Third Preseason Game Against The Chicago Breas On Saturday Night And No Andrew Luck On The Field, And It Was After The Game That Luck Announced His Retirement.
Andrew Luck, Was Drafted No.1 By The Indianapolis Colts In 2012, And That's When The Colts Took Off Like Lighting. In Each Of His First Three Seasons In The NFL Luck Led The Indianapolis Colts To Back-to-Back AFC South Titles And The AFC Championship Game In 2014.
But In Week 3 Of The 2015 Season Luck Suffered a Shoulder Injury, And Along With Other Health Issues That Would Put Him On The Shelf For The Remainder Of The Season And Luck Missed The Entire 2017 Season.
But Luck Came Back Last Season And Took The Colts Back To The Playoff For The First Time Since 2014. He Passed For 4,593 Yards, And Had 39 Touchdown Passes To Win The NFL Comeback Player Of The Year.
But Again Injury Would Plague Andrew Luck, Luck Suffered A Calf Strain Which Kept Him Out Of Team Offseason Activities And He Only Had Three Days Of Training Camp, And None Of Those Three Days Were As a Full Participant. That Is When Luck, At Age 30 Decided To Consider Retirement. Luck, Made The Decision On Retirement After The Colts Played The Bears On Saturday Night.
Andrew Luck, Said This At His Press Conference, " It Was a Hard Decision, But It Was One That Had To Be Made. I Am Going To Miss My Teammates And My Friends Around The Game Of Football, But It Is The Right Decision For Me."
Here's My Take..
Andrew Luck Joins a Growing List Of Players Who Have Retired From The NFL And The Game Of Football. Rob Gronkowski, He Was One Of The Best Tight Ends Ever To Play The Game, He Retired Earlier In 2019. Marshawn Lynch, He's Another One That Comes To Mind, He Retied At The Age Of 31. Percy Harvin, He Was 28 When He Retired. And Who Remembers Barry Sanders, The Popular Detroit Lions Running Back Was 31 When He Retired. I Can Go On-And-On, But I'm Not Going To.
Andrew Luck's Career Was Cut Short Due To Injury. In My Opinion Andrew Luck Would Have Had a Hall-Of-Fame Career, If He Would Have Stayed Healthy. But Just Like Some Players In The NFL Their Careers Were Cut Short, Sadly Top Injury.
I Wish Andrew Luck The Best In His Next Adventure, But I Also Wish Him a Speedy Recovery Form His Latest Injuries. And Andrew We Are Going To Miss Out On The Football Field, Hey If You Want To, Go Out And Try To Be An Assistant Coach Or Even An Studio Host Or Even a Color Commentator, So See Andrew There's Plenty For You To Do In Your Retirement.
But In All Seriousness, We Going To Miss You, You Were a Great Player And a Great Role Model To Everybody In The NFL Community.
Bottom Line.