Dale Earnhardt Jr And Family Thankful To Be Alive After Plane Crash.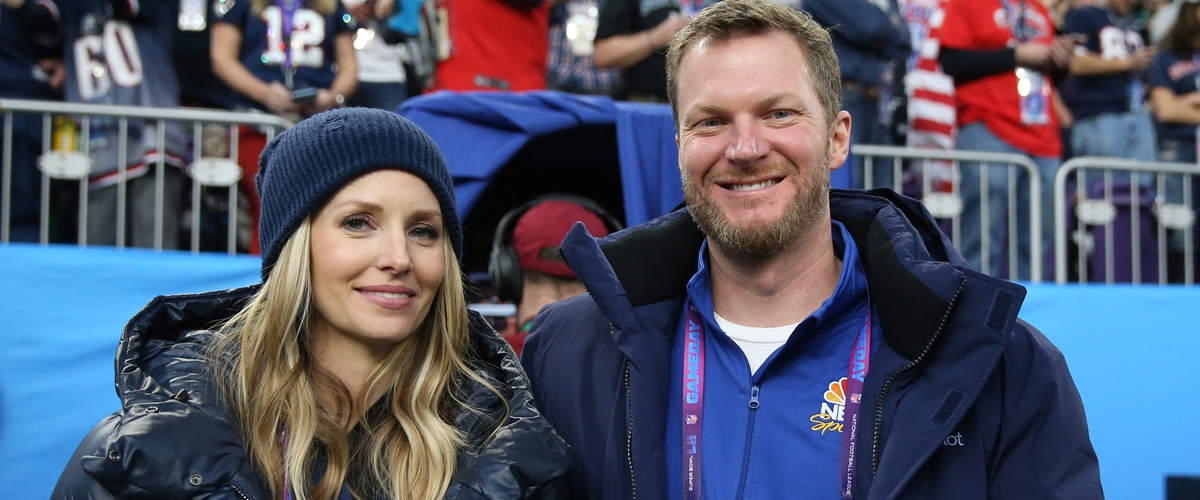 Dale Earnhardt Jr And His Family Are Lucky To Be Alive After a Plane Crash On Thursday. A Small Plane Carrying Dale Jr, Wife Amy And Their One Year Daughter And The Family Dog Ran Off The Runway Then Crashed And Caught Fire Near The Elizabethton Municipal Airport In Tennessee.
The Family Was On The Way To Bristol Motor Speedway For The 500 Lap Race On Saturday Night. Thankfully No One Was Killed In This Plane Crash, And The Most Serious Injuries Were Just Cuts And Abrasions According to The Sheriff Dexter Lunceford Of Carter County Tennessee.
The Family Was Transported To The Johnson City Medical Center For Observation But One Again I Want To Emphasize Nobody Was Killed Thankfully.
Dale Jr. Was Supposed To Be In The Booth For The Night Race at Bristol On Saturday Night But Everybody Thought It Would Be Better If Jr Stayed With His Family This Weekend.
NBC Sports Released a Statement a Short Time Ago..
"We're Very Thankful That Dale Earnhardt Jr's Injuries Are Not Serious And That He Is Okay And Is Awake And Talking. The NASCAR Community Is Also Happy About The Excellent News As Well."
" Dale Jr Was Supposed To Be In The Broadcast Booth For The Saturday Night Race at Bristol Motor Speedway. However We All Think It Would Be Better For Jr To Stay With His Family. We Will Have Dale Jr Back in The Both In Darlington."
This Is Not The First Fire That Dale Jr Has Been Involved. Let's Go Back To 2004 At Sonoma. Dale Earnhardt Jr Came Close To Burning To Death In a Practice Crash For The American Le-Mans Series Race. Dale Jr Suffered 2nd Degree Burns And He Still Has The Burn Scar On The Back Of His Neck After That Accident.
And Yes This Is Not The First Plane Crash On a Bristol Weekend. Let's Go Back To 1993 In The Spring, Does The Name Alan Kulwicki Ring Any Bells. The 1992 Series Champion Had Just Finished a Promotional Appearance In Knoxville Tennessee. Alan Was One Of Four People Killed In That Plane Crash Near The Tri-city Airport In Blountville Tennessee. The NASCAR Community Was In Shock Over That Crash And It Was a Rainy And Wet Weekend At Bristol. But The Show Must Go On As People Always Say. And Rusty Wallace Won The Spring Race And Did a Polish Victory Lap In Honor Of His Competitor And Friend.
I'm Going To Say Some Things About Jr So Bare With Me For a Second.
Dale Earnhardt Jr Was a Hard Charger. He Was Voted NASCAR's Most Popular Driver a Record 15 Times And Had 26 Career Cup Wins, Two Of Those Wins In The Daytona 500. Jr's Career Got Of To a Fast Start In Texas Back In 2000 With His First Cup Series Win. Then In 2001 Dale Jr Lost His Dad In a Final Lap Crash In The Daytona 500. Jr Won The July Firecracker 400 Using Moves Taught By Dear Old Dad. But Later In His Career Dale Earnhardt Jr Stating Suffering Concussion After Concussion And Finally Decided To Hang It Up And Go And Do a TV Show On The Home And Garden Network With His Wife Amy. But Jr's Love For The Sport Didn't Keep Him away For Long As He Decided to Work The Broadcast Booth At NBC And Yes He Enjoys That Very Much.
But On a Personal Note, He's One Of The Nicest People You Will Ever See. I Know He Drove Like His Dad For So Many Years But All In All Dale Earnhardt Jr Is a Very Likable Person.
Dale I Am Happy To Hear That You're Okay Along With The Family.
---