Denny Hamlin wins the 2020 Daytona 500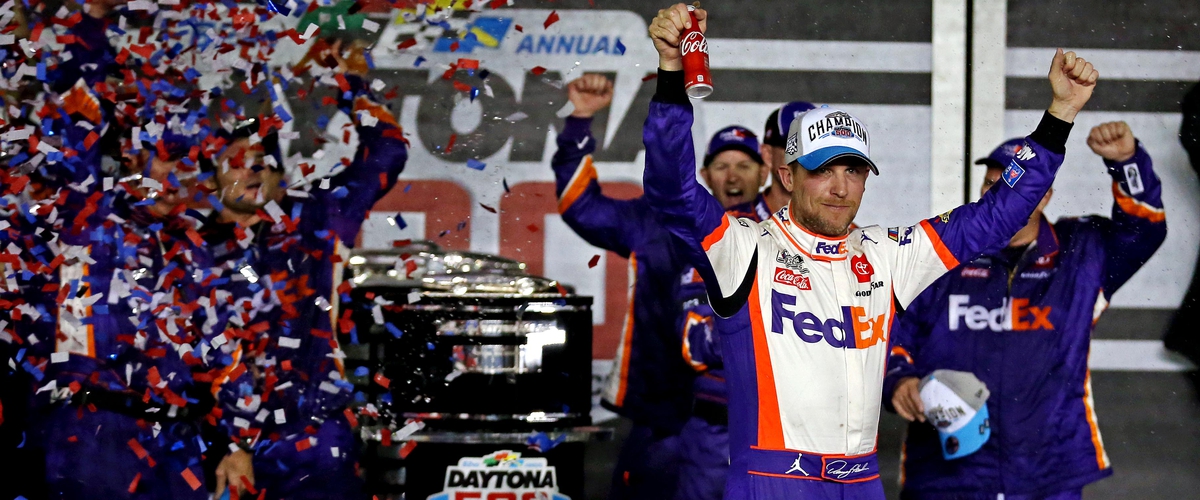 Denny Hamlin, has won the 2020 Daytona 500. He joins Jeff Gordon, Bobby Allison and Dale Jarrett as exclusive members of the three timers Daytona club. Hamlin's victory did not come easy on the final lap of the race.
Hamlin was passed by Ryan Newman and Ryan Blaney, then coming off of turn four coming to the checkered flag Blaney tagged Newman sending him into the wall and into a shower of sparks. Newman was hit by Corey LaJoie while up side down.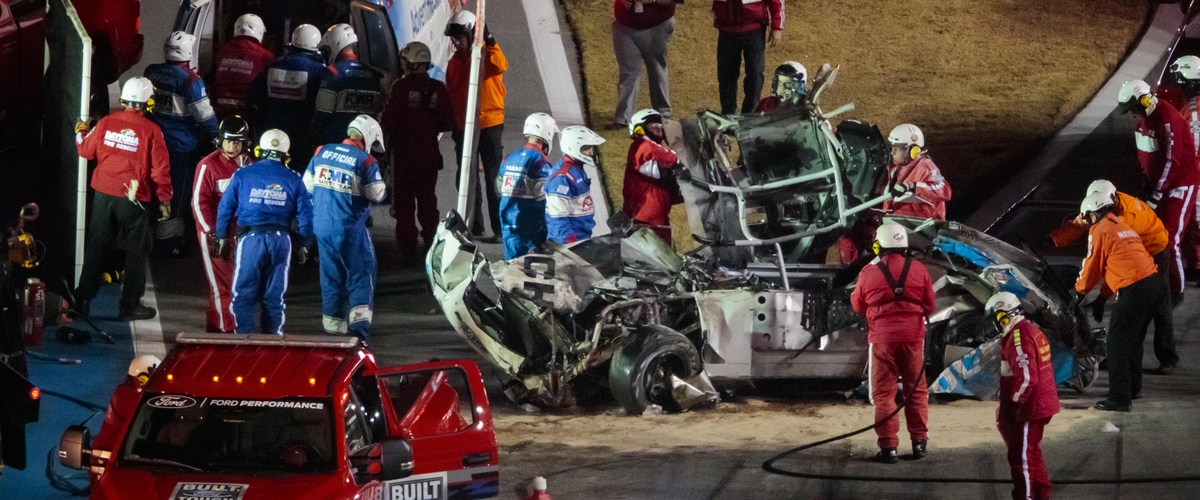 Extraction took several minutes, the Jaws of Life had to be used to cut Ryan Newman out of the car. The Latest report form Daytona is that Ryan Newman is in serious condition, but his injuries are not life threating. That is the best news to come out of this horrible wreck at Daytona.
Ryan Newman is in Halifax Hospital in Daytona and is receiving the best medical care possible. And that's what I know at this hour.
Race Winner Denny Hamlin was subdued in victory lane, Hamlin said this to reporters after the race.
" I'm happy we won the race but my thoughts are with Ryan Newman and I hope he's okay and we will be praying for him and his family.
Ryan Blaney said to reporters. " I feel bad about what I did. I wanted to bring Ford home 1-2 and have a great day. I did not mean top turn Ryan into the wall like I did. This is going to haunt me for a while."
Daytona 2020 is in the books, here are the final results.
1. Denny Hamlin
2. Ryan Blaney
3. Chris Buescher
4. David Ragan
5. Kevin Harvick
6.Clint Bowyer
7. Brendan Gaughan
8. Corey LaJoie
9. Ryan Newman
10. Kyle Larson
11. John Hunter-Nemechek
12. Austin Dillon
13. Justin Haley
14. Michael McDowell
15. Bubba Wallace
16. Brennan Poole
17. Chase Elliott
18. Erik Jones
19. Matt DiBenedetto
20. Ricky Stenhouse Jr
21. Christopher Bell
22. Aric Almirola
23. Joey Gase
24.Alex Bowman
25. Ross Chastain
26. Joey Logano
27. Timmy Hill
28. Tyler Reddick
29. Ryan Preece
30. Ty Dillon
31. Reed Sorenson
32. Martin Truex Jr.
33. Kurt Busch
34. Kyle Busch
35. Jimmie Johnson
36. Brad Keselowski
37. Cole Custer
38. B.J. McLeod
39. Quin Houff
40. William Byron
Here's my take..
It took over 24 hours, but we got the 2020 Daytona 500 in at last. We saw Denny Hamlin become a three time winner. We hope and pray that Ryan Newman makes a full recovery form his injuries after his bad crash at the finish. Everybody thought that the Toyota's would be an afterthought after the week they had. But Hamlin won in a Toyota. The Ford's swept positions 2-thru-6 in the final order with Brendan Gaughan being the highest Chevy finisher.
Ryan Newman, I repeat is in serious condition but his injuries are not life threating. That is excellent news considering the crash he went through. The Safety that is put into the Cup cars is the best I have seen in years. Ryan Newman would be dead if it wasn't for the safety put into these cars and the equipment that the drivers wear.
I hope and pray for a speedy recovery for Ryan Newman and I hope he will be back soon.
We're Praying for you Ryan..
Bottom Line..
---